Pro Tips
03.09.23
8 Helpful Tips for Making a Decision (Without a Pros and Cons List)
Let's get shit done, shall we?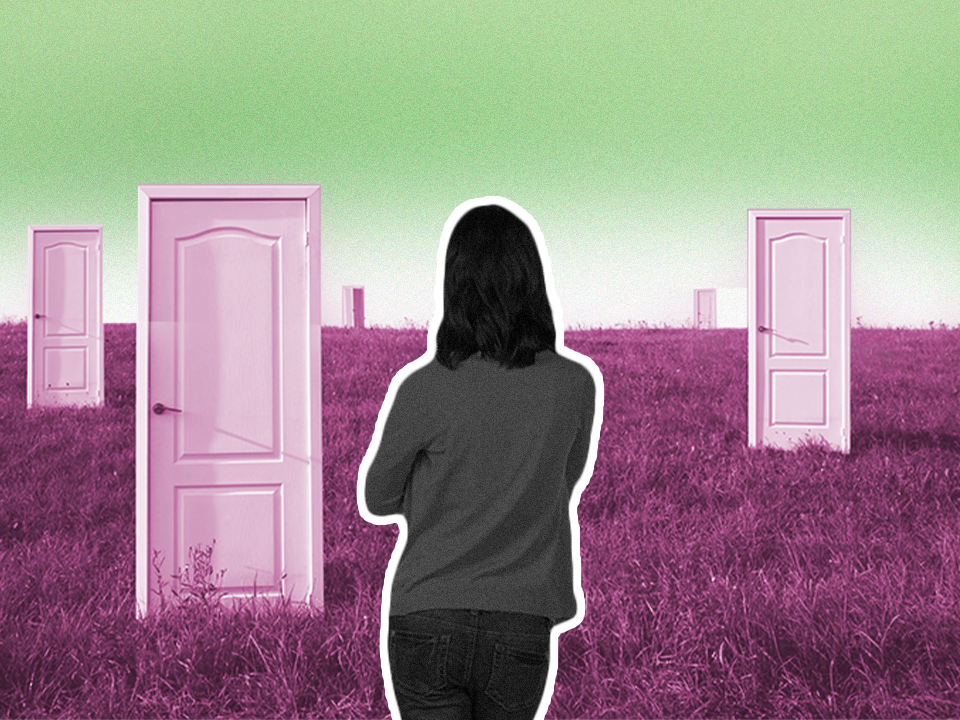 Shutterstock / Wondermind
The apartment with the views or the one with space? Cancel that random streaming subscription or keep it JIC? Fancy coffee drink because it's Tuesday or DIY drip? The number of choices you have to make just to exist is low-key exhausting. And if indecisiveness often gets the best of you, you know how freaking hard it is to make a decision.
Sometimes that's because outside opinions pressure from people close to you (see: parents, friends, society) makes you second-guess yourself. Or you could just feel so strongly about multiple options that you don't know what the hell to do, says clinical psychologist Hilary Hancock, PsyD. On top of that, if you're worried selecting the wrong choice could result in big consequences, that anxiety can prevent you from choosing anything, says therapist Dev Patel, LCSW. 
Another common cause for indecisiveness: Reaching your daily decision-making limit, Dr. Hancock says. After making decisions all day long, you might find it tough to answer seemingly basic questions like, "What do you want for dinner?" or "What should we do this weekend?" when you get home. Ah, decision fatigue. Been there.
Though there isn't one correct way to make a decision, there are some strategies you can use to work through feeling stuck. Here, you'll find mental health professionals' tips for making a choice you feel good about—no matter what you're debating.
1. Think about how you'll bounce back from a "wrong" decision.
As you've probably realized by now, worrying so much about making the "right" decision can hold you back from reaching any decision at all. But since there's often no way of knowing what decision will end up being the "right" one, getting comfortable tolerating some amount of uncertainty in your decision-making process is crucial when you need to choose. One way to do that is thinking about how you'd handle the worst-case results of your decision, which can make your options feel a little less risky, says Patel. You're basically giving yourself a realistic, I-can-do-hard-things pep talk in the face of uncertainty.   
Say you're nervous about choosing the right classes next semester. The worst-case scenario might be that you wind up picking something you later decide to drop, leaving you short a few credits to graduate. However, there's always summer school to make up for it, even if that means having less time off. It might suck, but you'd get through it. 
2. Find the space between your logical side and your sentimental side.
In dialectical behavior therapy (DBT), the idea that you can find middle ground between your analytical thoughts and emotional ones is called using your "wise mind," says Dr. Hancock. This can be very helpful when you're torn between the most reasonable thing to do and the thing ~your heart~ wants. Say your college friends are planning a reunion, but you're trying to save money this year. Instead of buying a plane ticket and four nights in a hotel, stay for a couple nights or see if you can plan the trip somewhere you can stay for free. Compromise!
3. Think about what you value in life.
Basing your choices on the things that are important to you (aka your values) makes decision-making easier because it eliminates the, Am I doing the right thing? narrative living in your brain. And by keeping who you are and who you want to be top of mind, your choices have more meaning and purpose—which can also boost your mental health, Dr. Hancock explains. Ask yourself: Which option moves me toward who I see myself as and what's important to me?
Maybe you're deciding between a job that pays the bills and one focused on giving back (two offers?! Good for you!). If you value compassion, you might choose the option that's more about helping people. But if you value financial stability, maybe a big check is more in line with you, says Dr. Hancock. If they're both important, you could use that knowledge to find a creative solution, like earning enough money to donate to charity every month or finding a side hustle that enables you to work full-time in a space you feel passionate about. 
4. Visualize your options.
When you're really unsure which option is a better fit, taking a second to see yourself doing the thing or living your life after you've made a choice can help you tune into your instincts. Close your eyes and imagine that you've just decided to end an it's-complicated relationship. What are you doing that you wouldn't if you were still attached? What does your day-to-day look like? Do a body scan and see if any physical sensations or feelings come up for you, suggests Dr. Hancock. Are you super tense and terrified? Relaxed and happy? Try on sticking with the relationship to see if you feel the same or different.
5. Remember: This might not be permanent.
Knowing that, in a lot of instances, you can change your mind takes the pressure off of making the right decision from the jump, says Dr. Hancock. Obviously, you can't control what happens after you choose—you are not a wizard—and, of course, some agreements are final-ish (breaking a lease is never fun), but in a lot of situations, you can implement changes. Making the best decision for where you're at right now is all you can do, she adds.
If you're not sure that your decision was that great after all, check in with yourself regularly about how you're feeling, says Dr. Hancock. If your check-ins usually result in not-so-great emotions, maybe take the initiative to go back on your choice or plan for a better move when it's possible.
Also, in case you needed to hear this, you don't need to stick with something just because you invested money or time into it, says Andreas Wilke, PhD, chair of psychology and professor of psychology at Clarkson University who studies decision-making. "You need to be happy in the long run and be true to yourself."
6. Take a damn break.
When you're stuck in an anxiety spiral, taking a minute to let your subconscious process everything can help you think more clearly, says Patel. He suggests doing a few minutes of meditation, going for a walk, or even turning on Netflix to get some space. Got a deadline? Spend as much time as you reasonably can chilling out before considering your options again or tell whoever's asking that you need to think about it for a sec, suggests Dr. Hancock. Otherwise, take as long as you need to come back with a fresh perspective. That's especially true if you're debating something that won't impact anyone else, like getting a tattoo. In that case, don't force yourself to decide by a certain time, she says.     
7. Don't stress about what others think.
When we aren't sure of the right thing to do, it's natural for us to imitate people we assume know what's best, like deciding to order steak after hearing other restaurant-goers order it, says Dr. Wilke. And, yeah, sometimes it's just nice to get outside opinions (anyone else spend way too much time reading Sephora reviews?). But everyone is biased in some way, and you don't want those biases inhibiting your decision-making powers, says Patel. So, if you do want to consider others' advice, think about why they might be advising you in this way, he adds.
8. Talk it out in therapy.
Therapists are sounding boards who can help you unpack your options. While they can't make a decision for you—and usually won't tell you what they'd do—you often reveal what you want as you speak with them, says Patel. Instead of swaying you in either direction, Patel says he and other therapists might point out that, based on what they hear, you want to do X thing or Y thing and ask what's standing in your way.
Wondermind does not provide medical advice, diagnosis, or treatment. Any information published on this website or by this brand is not intended as a replacement for medical advice. Always consult a qualified health or mental health professional with any questions or concerns about your mental health.