Q&A
03.06.23
Kelly McCreary's Saturn Return Played a Major Role in Her Mental Health Journey
The 'Grey's Anatomy' actor opens up about her favorite mental health tricks and breaking down stigma.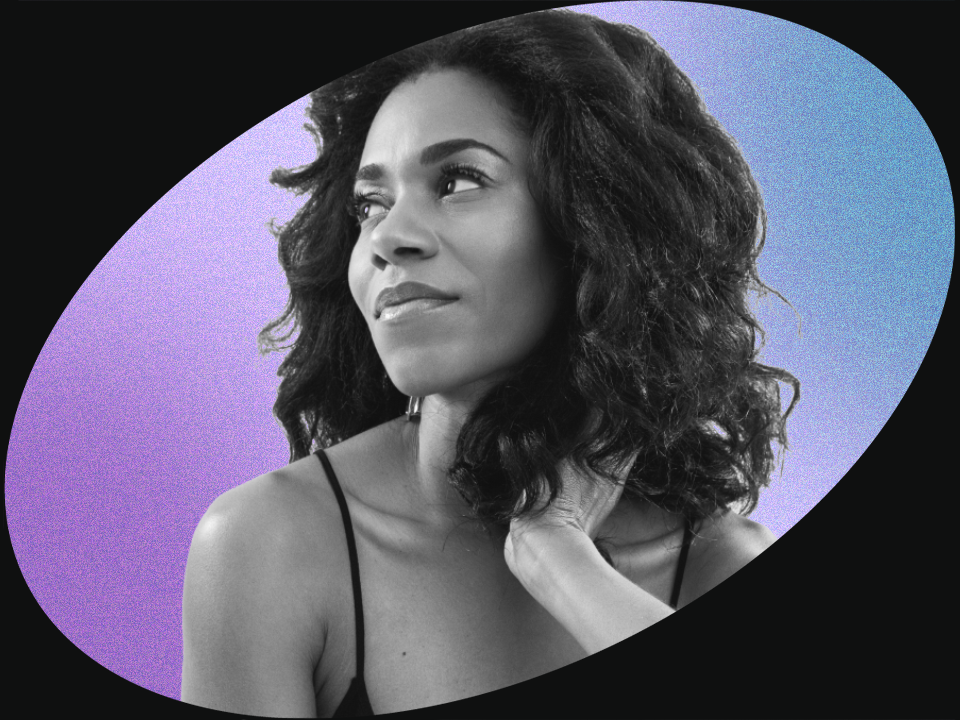 Photo Credit: Kevin Scanlon
You probably know and love Kelly McCreary for her nine-season run (so far) as Maggie Pierce on Grey's Anatomy. And fortunately, despite other recent cast shakeups, we still have plenty of episodes with Meredith Grey's sister to look forward to. While McCreary has had a longstanding career, complete with a couple of Scandal episodes, there was a period of time when she stepped back from it all for the sake of her mental health and to figure out her identity outside of her acting credits.
McCreary credits her Saturn return (an astrology term for when the cosmos encourage you to take stock of how your life is really going every 30ish years) for helping her regroup and later return to acting with a new outlook and healthy coping tools.
When she's not acting, McCreary is focused on maintaining those mental fitness exercises, sticking with therapy, and being more compassionate. Here, she tells Wondermind how she's embracing being in the present moment for her daughter and how her community's collective healing is helping her.
[Sign up here to never miss these candid conversations delivered straight to your inbox.]
WM: How are you doing lately?
Kelly McCreary: I'm doing really well lately. I'm feeling good about some new habits I've been adopting and feeling good about staying on top of my to-do lists and trying to be gentler on myself. I'm doing OK.
WM: What are some of those habits you're building?
KM: They're habits I've always been able to turn to when life gets busy, and they just have been deprioritized periodically over time. [I try] journaling, meditation, stretching my body, being mindful of the amount of water I'm drinking, vigorous exercise, and eating. I mean, I'm doing all of it right now, and this is probably why periodically things just sort of fall off. It's like, Oh my god, I can't do all that. I don't have time to do everything, so I'm going to do nothing. [It's that] all-or-nothing thinking. But it's all sort of working well right now.
WM: What stands out to you in your mental health journey?
KM: My Saturn return, which happens, I think, every 25 to 30 years, right around age 27 for a lot of people. Saturn, the taskmaster planet, returns to its position in your natal chart [when you were born] and makes you take a hard look at what's working and what's not in your life.
Around that time was when I realized the way I'd been approaching the hustle of my career, and probably the way I would've approached any pursuit I had, was really taking the joy out of it for me. The reason I wanted to [act] in the first place, the access to my creativity and the access to my compassion for other human beings, was all getting caught up in this, I need a job. I need a job. Give me that job. I want that specific job. That was a time where I was like, Yuck. I don't like how I feel. I don't like the person I'm showing up as, and it's time to take that hard look at what's working.
That was when I really started journaling in earnest. I did The Artist's Way for the first time, which is like a 12-step healing program for a creative artist; it's a 12-week exercise book. It really helped me get into some really good daily and weekly practices for caring for myself and my mental health.
Also at that time, I decided to quit acting and move to Spain and be an organic farmer instead. Ultimately, all of that led me back to this work. I had begun to conflate my commercial identity with my value as a human being, and I remembered I had value as a human being and my creativity had worth. I could [use my creativity] no matter what; nobody could stop me from doing it. Not getting that job didn't mean I couldn't still be creative and expressive. So I was able to come back with a renewed sort of relaxation around it. That was a big one.
WM: What makes up your identity today?
KM: I'm a mother. I am a partner to my husband. I'm a daughter and a sister. I'm an actor, which some days is really a creative pursuit, and most days it's really like an interpretive art form. The qualities that all of those identities bring out are curiosity about other people and how their minds work and what makes them tick and what drives them and makes them who they are. More and more, I cultivate compassion for all of that and figure out how to be helpful and be a supportive person.
WM: How do you like to approach journaling now?
KM: I free-write first thing in the morning. Sometimes I'll even have an agenda of, Today, I really want to write about that thought or that event from yesterday and process that. Before I know it, the second my pen hits the paper, I'm writing about something completely different, and it's just my brain emptying itself out. I try not to censor or force myself to write about those other things; I try to respect the fact that that's not what I needed to reckon with today.
I've been making a point every day to write down something that delights me about my daughter or some new thing that she's doing just to keep a record. I could spend all morning writing about that.
WM: Is it just for you or do you hope to give it to her one day?
KM: It's 100% for her. I want her to have a record of how we took note of things and delighted in her and paid close attention to her. … Because [life] goes so fast and the mind is so occupied with so many things, I don't want to forget these special things. When she asks me, I want to be able to say, "Yeah, you did like broccoli." Those are the things you forget.
WM: And when your parents don't know, it's like, "Why not?"
KM: Exactly. I'm the youngest of four children and nobody remembers anything about my childhood [laughs]. I know that's not true, but it's just that, in a house like that, it was so chaotic. Our house can feel chaotic even with our one child. It's just that people don't take note, and over time, you forget things. I'm just trying to take note.
WM: Are there any stigmas or misconceptions about mental health that bother you the most?
KM: Yes, is the short answer. You know what, though? I'm so heartened by the fact that there's been a major transformation in just the last five to 10 years around the stigma of going to therapy and having a professional person to talk to. I think that has actually changed tremendously in a really beautiful, positive way.
The idea of unpacking uncomfortable thoughts and emotions and having to sit in a room with them and sit face to face with them and feel them again, it's scary and it's painful and you don't know what you're going to be like on the other side of it. You can't be sure. That can be really, really scary. People's personal fears and anxieties around that really contributed to the stigma in a way that I think we've really seen a huge release and breakthrough recently, which is really beautiful. I'm so happy for people. 
There's so much more openness around it now than there has ever been. Particularly as it relates to Black mental health, we are really calling out the fact that there's trauma in our community. There's genetic historic trauma; there's day-to-day systemic microaggressions that cause trauma in our lives, and it's OK to say that we need help with it. Our collective healing is helping my healing too, knowing that we're sort of on the journey together.
WM: Do you mind sharing if you are currently in therapy?
KM: Yes, I've done all kinds of therapy. I'm actually seeing a hypnotherapist right now, which is really fun.
WM: What are your sessions like?
KM: You sort of go into a meditative state and are thereby able to access the healing in a little bit of a deeper layer. I've done a lot of talk therapy over the years, and I do feel like I kind of get it; I get what's going on inside my head. I don't really need to talk about it that much anymore. Now I really want to start doing whatever it takes to really heal behavior patterns and psychological habits.
WM: What's one of the best lessons you've learned through therapy?
KM: I learned to identify the reactions of my inner child and to tell her that there is an adult on the outside who is going to take care of things and that she can calm down, which, by the way, is a practice.
I have a toddler, so I'm getting to practice that in two ways. Through my child, I'm getting in the habit of saying, "You are going to be OK. It's OK. I'm going to take care of you. I'm going to do my best to understand you and heal your little heartbreak from not being able to have the cheese. We're going to get through this together, and I'll be here for you." I'm trying to do that for myself too.
This interview has been edited and condensed for length and clarity.
Wondermind does not provide medical advice, diagnosis, or treatment. Any information published on this website or by this brand is not intended as a replacement for medical advice. Always consult a qualified health or mental health professional with any questions or concerns about your mental health.