Pro Tips
04.28.23
How to Make a Five-Year Plan Without Getting Overwhelmed
Because if one more person asks what we're doing with our lives we just might lose it.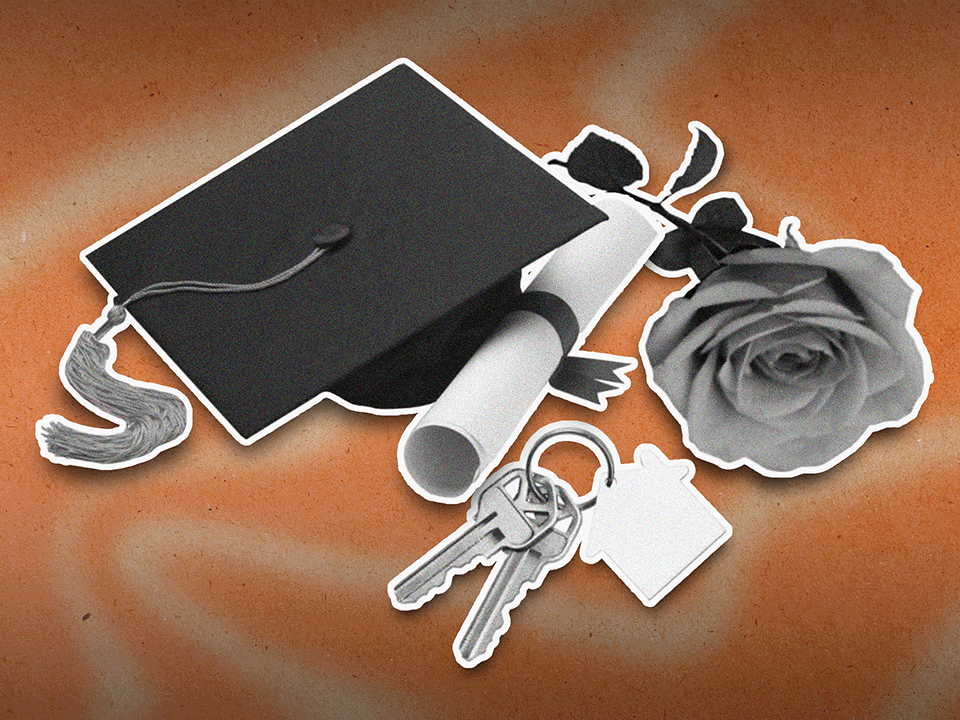 Shutterstock / Wondermind
Anyone else feel like everyone but you is out there making big life goals with total ease? Meanwhile, some of us can't even decide what we want for dinner before every Postmates restaurant shuts down for the night. If you're someone who's anxious about pretty much everything and avoids uncertainty like it's a full-time job, then the whole goal-setting, five-year plan thing probably makes you freak out. Because who knows what's going to happen in five years?! Isn't the world supposed to be ending soon? Are we really moving to Mars? Do I need an advanced degree just to make ends meet up there too? Will an AI bot run for office and ruin our lives? 
Coming up with a five-year plan is hard, even for those who do have specific dreams they want to reach but struggle to spring into action. But if the thought of setting a goal feels like you're just asking for disappointment in a world where failure happens all the time and you can't seem to control anything, you might be someone who feels especially stuck and anxious about the future. Which is understandable. 
When planning for the future makes your brain hurt, it can be really tempting to just…not. And while bopping through life without a clear direction isn't necessarily the worst thing, it doesn't actually make your anxiety and uncertainty go away. Sure, you might eliminate the fear of failure if you take away the stakes, but this plan of having no plan can also be a form of self-sabotage. You might end up talking yourself out of something you really want, letting life pass you by, or convincing yourself that you can't actually do big things. All that can do a number on your mental health and keep you trapped in a cycle of being anxious about the future, avoiding any action at all, then getting anxious about not having a plan, and so on. 
Even though it might feel like everyone around you is setting and crushing their goals, trust me when I say you're not the only one who feels trapped and unsure of WTF to do with their life. Case in point: I recently spoke at a vision board party to people who wanted to start the year with a plan they could actually picture themselves doing for the year ahead. As we worked together, it became clear that the barrier between them and their ideal life (or even just what they were doing beyond that weekend) wasn't going to be solved with simple goal-setting. Many of the attendees had internalized every disappointment and failure in their life to the point that they couldn't even begin to think about their future without panicking.
As a therapist, I'm no stranger to helping people manage their anxiety and uncertainty, so I got you. Here are some stress-free ways to start formulating a five-year plan without letting your fear of the unknown get the best of you.
1. Start by acknowledging why you're stuck.
I've noticed that the idea of setting a five-year plan often completely overwhelms people because they're worried about failing, worst-case scenarios, what people will think, and how daunting some goals can be. All that can push you into one or more of these common coping responses: fight (pushing against what you want to do by procrastinating, for example), flight (letting imposter syndrome win and opting out of cool opportunities), or freeze (paralyzed by  overthinking and deciding to do nothing at all). And when we're overwhelmed, our bodies and minds can't function the way they usually do—you're basically an overheated phone that's been in the sun too long and needs to chill. 
If this sounds like you at any point in this planning process, pause, take a step back, and do some deep breathing for a few minutes while practicing some self-compassion. You might've heard this before, but talk to yourself like you would a friend when they're struggling with something. Be generous with your words of encouragement (like: "It's not about being perfect, it's about starting where you are.") and go on a walk, grab a fun lil drink, or take a warm bath to help you chill. Mostly, remember to be patient and give yourself credit for trying to do the damn thing even when you feel really overwhelmed.
2. Interview yourself to gather information about who you are and who you might eventually want to be.
It can be tough to think about who you want to be in five years if you barely know who you are now, so start by getting to know you. Ask yourself what matters to you right now and what you think might matter to you later in life (like maybe being a parent? Or someone who is just vibing?).
Next, mull over what your current values and needs are (an endless flow of Diet Coke and your besties?) compared to what you think they might be down the line (financial security to be a reliable caregiver for a loved one?). You could also take note of your current strengths and areas for growth in your professional and personal life, which can help you along the way, even if you don't know what direction you're headed yet. When you explore these prompts, you get a better grasp of your starting point and your future hopes, needs, and values, which can help you make that elusive five-year plan a reality.
3. Think about how you want to feel in five years.
It can be absolutely miserable and, in some cases, impossible to make a plan from a place of fear and anxiety, so try leaning into the other emotions you want to be feeling five years from now and use those to ground your five-year plan. Some worthy ones to chase down: Feeling content, confident, secure, or stable.
With that in mind, plot some points on your five-year roadmap that will help you get closer to those feelings. If you want to feel more financially secure in five years, that means you probably want to have a job that provides you with more cash flow and better benefits. If you don't have that kind of job right now, your overall plan should probably include dusting off your resume and applying to new jobs. It might also mean getting a new degree, certificate, training, or more interview skills to make you a more attractive candidate. Or maybe you want to feel adventurous. That could signal that you want travel and new experiences to be a part of your five-year plan, which could also mean shifting your budget more toward activities and away from accessories.
4. Embrace the fact that life happens.
A lot of hesitation around making plans comes from anxiety, which pretty much makes you hate uncertainty and want to eliminate it whenever you can by overcompensating and becoming controlling about some other aspect of your life. The problem is, it's impossible to eliminate uncertainty altogether. Ish will inevitably happen because that's just how life works. I know that's not exactly comforting, but it's helpful to recognize. And here's the good news: You can increase your tolerance for uncertainty.
One way to help you manage this fear is to think about a previous time when you faced uncertainty, like applying for a job or college. How did you manage your discomfort back then? Maybe there's a positive affirmation you can repeat like, "Even though uncertainty is uncomfortable and it sucks, I can still handle it."
Another way to deal is by talking through different scenarios to help you see that you can weather unexpected setbacks and whatever else is lurking in The Great Unknown. Ask yourself: What is the best thing that could happen if I achieve this? And what's the worst thing that happens if I don't? Then, reflect on the opposite: What is the best thing that happens if I don't achieve it? What's the worst thing that can happen if I do achieve it?
Say you're trying to go back to school, for example. Remember that even if you crash and burn (which you likely won't), no outcome is all good or all bad, so chances are you'll come out of that learning something. You might be out of a lot of money and time that you can't get back, but you'll at least add new skills to your toolkit and know more about who you are as a person, which is never a bad thing. You might even have more time to pursue another passion of yours that would've conflicted with midterms.
When you consider how you've dealt with hard things in the past, prepare yourself as best as possible, and keep some flexibility with your plans, dealing with the unknown and potential setbacks becomes a little easier.
5. If one big plan is too stressful, come up with a bunch of mini plans.
Whether you know what your goal is but struggle to get there because of anxiety or don't have a big goal at all because, you know, anxiety, this tip is for you: Come up with mini plans that will help you reach your ultimate goal or just help you feel better about life in general if you don't have anything specific in mind. And to make any goal less abstract, just remember to make them SMART: specific, measurable, attainable, realistic, and timely. Otherwise, you risk them being too big and vague to actually be helpful.
Let's say you have a goal of being a well-read person but currently only cite TikToks (no shame), then break up that lofty goal into mini ones. Start by returning to your preferred genres and formats, like romance audiobooks or murder mysteries on your e-reader. If your goal is to read one book per month, break that down into reading 20 pages per day, or 10 in the morning and 10 at night. Another mini goal you can make is to make reading easy and accessible by having your book close by, like near your bed where you usually reach for your phone.
6. Soothe the part of you that feels like failure is unacceptable.
So much anxiety about the future is rooted in our fear of failure, or things not working out how we wanted and feeling awful as a result. Mini psychology lesson: Your brain and body definitely remember the very first time you had to handle adversity and how crappy it felt, and your past can color how comfortable you are with taking risks today. But if you practice some self-compassion, you can train your brain to trust that whenever you leap in the future, the fall (if any) will be way more manageable. Making a plan becomes so much easier when you fully accept that hiccups are gonna happen, and you can survive them.
If you're down, try this exercise to get a little more clarity on your current mindset around failure:
Have you always been afraid to fail at something? Where do you think you picked that up? If your mind takes you to a specific memory, acknowledge the emotions you felt back then, like guilt, embarrassment, or shame. Can you let yourself grieve by accepting those emotions and understanding they were valid in the moment? Try closing your eyes and letting out the emotions you've been hanging on to and mentally (or physically) give your younger self a hug. Then, think about what life would look like if you viewed failing as a normal part of the learning and growing process, rather than a sign that you're less than.
After you reflect on that, remember all the coping tools and resources you have now that can help you keep any situation or emotion from fully consuming your life. You're probably way better at handling failure now than you were as a kid.
7. Make your plan visual—and fun.
Like I said, I'm kind of a vision-board-party pro, and they can make this whole five-year plan thing feel less intimidating by helping you create those long-term and short-term goals in a more lighthearted way. They can also help you take control of your thoughts and (literally) visualize what you want to achieve, which can help reduce anxiety spirals and increase how empowered you feel.
If you have an idea of what you'd like your future to look like, put it on the vision board and think of it as your North Star. You can also break up your goals into a few smaller boards (like the size of a journal page) to make it easier on yourself. For example, one board can be about all the travel and adventures you wanna do, the next can be about love, and another can be about career goals.
If you get overwhelmed thinking of all the amazing possibilities that the future holds, then use different vision boards to try on some of the goals you think you want to explore the most. When you make a vision board, it helps you narrow down what speaks to you the most and what's more realistic before you craft a step-by-step guide to your finish line. Oh, and the second something doesn't feel right, you can change your mind and pivot to a different vision board and see where that one takes you. Let this be a reminder that, as you grow and evolve, your goals may change, and that's totally OK.
You can bring in some joy to this sometimes stressful activity by having a vision board party (solo, with friends, or even your therapist) complete with refreshments, your favorite jams, and fun craft supplies like magazines, stickers, stencils, and gel pens.
8. Go easy on yourself.
Yeah, getting to the point where you're actually plotting out your plan and working toward that final stepping stone is going to feel so damn good, but it's important to celebrate all the smaller milestones in your journey too. That includes giving yourself a pat on the back for even thinking about how you can start making a plan despite all the fear and uncertainty swirling in your head. After all, it's not every day that people decide to conquer their fears. And when you honor these wins, your brain stores those accomplishments in your long-term memory, which helps you build confidence over time, quiets imposter syndrome, and will keep you inching along to your ultimate goal.
Wondermind does not provide medical advice, diagnosis, or treatment. Any information published on this website or by this brand is not intended as a replacement for medical advice. Always consult a qualified health or mental health professional with any questions or concerns about your mental health.