Pro Tips
04.26.23
How to Make Positive Affirmations That Actually Work for You
Because we could all use a realistic pep talk once in a while.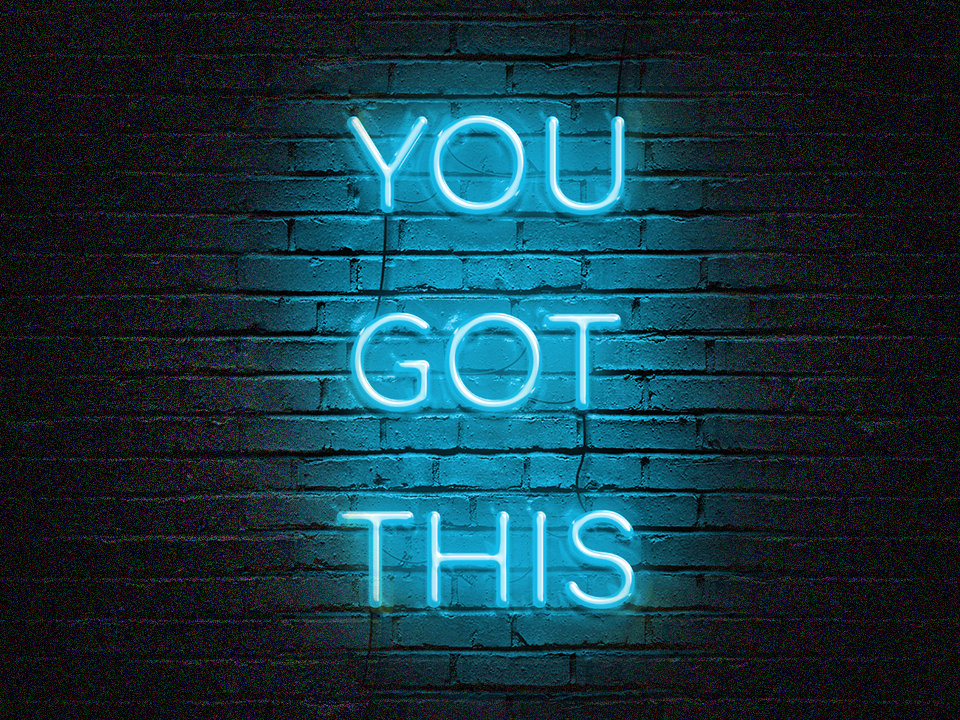 Shutterstock / Wondermind
If you could stand to bring a little more healthy self-talk and understanding into your world but rarely relate to the generic clichés that everyone seems to keep repeating (please cut it with the "I attract abundance" line!), then you've come to the right place. As a therapist and author of Affirmations for Black Women: A Journal, creating positive affirmations, or quick and uplifting statements that boost your mental well-being, is my jam.
In my experience, a solid affirmation ritual can be a game-changer for your confidence and overall outlook on life. These pep talks can help us see how awesome we are, the greatness we're capable of, and that there's always something to be grateful for or look forward to—even when life is a dumpster fire.
But when you just pick a random affirmation you found on Pinterest because it sounds cute, you're missing out on the mental health benefits that come from an affirmation that's created for your exact circumstances. That could be because you don't fully believe that you're ~attracting abundance~ or because an annoyingly cheery statement doesn't mesh with your glass-half-empty personality (no shame!). But when you craft an affirmation that's specific to your life and where you're at right now, it's way easier to internalize the message.
Before we get into affirmation boot camp, a few important caveats: Affirmations are not an instant fix-all for your problems and insecurities. Think of them as one tool for managing your emotions in a healthy way over time. Also, if you're navigating a big mental health concern like depression, where your self-esteem and motivation may be at their lowest, you already know it can be hard to believe whatever positive words you're repeating. So give yourself some grace and keep in mind that affirmations aren't a substitute for mental health care (no matter what you saw on Instagram).
With all that said, affirmations are a worthy addition to your mental health toolkit when used properly, so here are nine tips to help get you started.
1. Start by picking an area of your life you want to focus on. 
The first step to creating your own affirmation is thinking about one specific area of your life that could use a little extra love and attention. Is it your thoughts about your body? Maybe it's how your job is making you feel. Or could it be how you feel like crap when people share their good news with you? Whatever it is, keep that in mind.
Trust me, honing in on one mental health issue or one life concern is way more manageable and less discouraging than zooming in on all the things that bug you at one time. The latter can feel overwhelming and zap the energy you need to do the things that boost your well-being, like practicing affirmations and the actions you should pair with them (more on that later). Also, it can be really hard to create an affirmation that addresses every area of your life you want to change (hence why those generic Pinterest ones tend to miss the mark).
2. Then find an outcome that'll make you happy. 
Once you know what you want to work on, you can figure out what change would make you feel better. If you're focusing on your jealous streak, life might feel more chill if you could stop comparing your situation to your friends' when they share good news with you, right?
Once you have a change in mind, think about whether it's realistic. Having a goal—any goal—is great, but if it feels doable, you'll be more motivated to work toward it using affirmations. If being happy for your friends without judging your own life feels literally impossible, try on another related goal, like celebrating with your pal even if the news makes you feel a little weird about your life.
One way to test if your goal is realistic is by envisioning yourself achieving it. Can you see yourself cheering for your friend and making time to process the news in your journal later? If you focus on that second, more realistic goal, then your affirmations won't feel like a waste of time. They'll remind you that you're capable of improving your outlook.
3. Channel your best self. 
Now that you have a goal in mind, it's time to work on a statement that aligns with the thing you want to do or the person you want to become. That statement should come from the perspective of your future evolved self. If thinking like your ideal self sounds impossible, imagine tapping into an alter ego—one with tons of self-assurance, like Beyoncé in her Sasha Fierce era.
Let's say you're struggling in your toxic workplace, feeling overworked and underappreciated. Still, you're finding it hard to leave because you're not sure if you can hack it somewhere else. Your ideal future self, who is more content with their life and has a healthier work-life balance, would probably tell you that you're worthy of much more. In this case, a great affirmation would be: I deserve a workplace that treats me with respect because my contributions are valuable and lead to the success of the company.
Even if you don't feel that way right now, an affirmation like this (paired with visualizing yourself at a much better job) can help you channel a mindset that is linked to a happier you. And that can kickstart your goals and increase your self-confidence.
4. Go neutral if you need to. 
If those super positive statements feel like another impossible-to-meet expectation, forcing yourself to say them and believe them won't help you. At best, they'll go in one ear and out the other. At worst, saying those affirmations without believing them will make you feel like a failure.
My suggestion? Lower those expectations. Seriously, the bar can be on the ground here if that helps get you started. Using an affirmation like, Simply surviving the day is more than enough, can help you transition from a negative outlook to a neutral one. And, once you start to believe that, you can modify it to be more positive like, My work is consistently good, and I am a valuable part of my team. However long it takes to go from neutral to positive, don't rush it.
5. Think about what you'd say to a friend. 
If we were as mean to our best friends as we are to ourselves, we probably wouldn't be buds for long. And since it's so easy for us to be our worst critics, borrowing a friend's perspective can help us come up with affirmations that feel supportive.
Say you're struggling with your identity, for example. You'd never tell a friend that their struggles are B.S. (unless they're out here yelling about "reverse racism"). Because you love them and care about their feelings, you'd say they can use whatever label feels right and take all the time they need to figure it out. When you flip that back on yourself, your affirmation could look like: The identity I choose for myself is valid, and I am allowed to explore it.
6. Tag team it. 
When your ideal affirmation has something to do with the collective you belong to, like your racial identity or age group, it can be really helpful to connect with others who know the struggle. Even though it can feel sort of uncomfortable to reach out or make those connections for the first time, doing so can feel healing and less lonely than going solo.
For example, if you feel like you don't fit society's beauty standards and a recent romantic relationship left you feeling insecure, meeting up or chatting with people who look like you can feel validating. They can offer words of encouragement and help you see that you deserve better, even if it's hard to believe that right now.
By linking with your people, you can use your collective experiences to create a powerful affirmation like, I am beautiful, and people who look like me are capable of finding love and deserve to be loved.
Side note: If you struggle to connect with others in the first place, try creating an affirmation that speaks to cultivating healthy relationships like, I am capable of finding supportive and loving friendships that affirm my identity.
7. Find a time and place to practice.
There's no one-size-fits-all for doing affirmation work (or anything in this world), so try different methods to figure out what works for you. The biggest thing is that you choose a ritual that's motivating and consistent. So, no, you don't have to repeat it in the mirror every morning for it to work.
Say you're all about structure. You might like using a journal to regularly write your affirmation down a few times. If you're not into handwriting, pull up your Notes app. If that feels like a lot, put 'em on a sticky note in your favorite corner of your home and check in with it when you hang out there. If you're worried about your roommate or whoever judging your sticky note or morning check-in (you're not alone), saying affirmations in the shower or right before bed might be more realistic.
You can practice weekly, daily, or even every few hours if your affirmation is related to something that happens throughout the day. (Raise your hand if you gotta repeat I can handle whatever life throws at me when your work nemesis messages you.) Just make sure you can keep up with the cadence and do it often enough to remember your positive reminders.
8. Remember: Multiple feelings can exist at once. 
Don't get sucked into toxic positivity, aka the belief that no matter how horrible life is, you have to focus on the bright side. The best affirmations acknowledge what is going on in your world, emotionally and physically, while focusing on your future. That realistic perspective will help you move forward while holding space for all of the complicated feelings bubbling up.
So if you recently got out of a romantic situation that was not good for you, you can recognize the sadness of no longer being in a relationship or missing your ex while you also affirm, I deserve a relationship that makes me feel good.
9. Check in with yourself. 
After about a month of practicing your affirmation, ask yourself how it's going. Think about how you're keeping up with the cadence you initially aimed for and what your favorite way to reflect on these affirmations is. If you've been practicing daily or weekly, has that been too much or too little for you? Have you noticed an improvement in your mood or behavior? Would it be helpful to repeat your affirmations more or less often? What adjustments would make this feel more worthwhile?
At some point in your affirmation practice, you should go from repeating statements to making displayed actions that align with your goals. So instead of just repeating that your body is perfect as is and capable of so much, you might go out in that fire outfit you've been scared to wear or ride a bike around your neighborhood. Of course, that won't happen overnight or even within the first month, especially if your affirmation is about something like accepting your body, which takes time to internalize. So be patient with yourself. The fact that you're even making a commitment and trying to be a better friend to yourself is already something to celebrate.
Wondermind does not provide medical advice, diagnosis, or treatment. Any information published on this website or by this brand is not intended as a replacement for medical advice. Always consult a qualified health or mental health professional with any questions or concerns about your mental health.