Sponsored By Fidelity
02.07.23
Presented By

The Definitive Guide to Navigating Awkward Money Convos
How about we don't split the bill?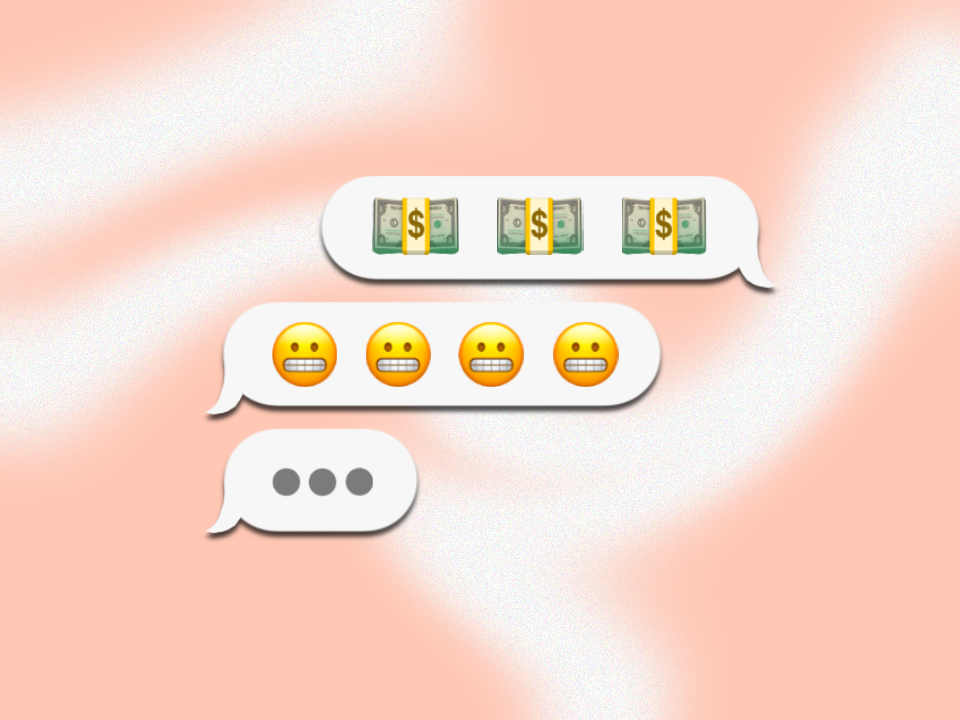 Shutterstock / Wondermind
Who among us has been at a meal with a friend when you realized—gulp—the menu was way over your budget? Or maybe you're hanging out with a bunch of people and an activity gets suggested (that everyone is clearly stoked about) that will single-handedly demolish your savings. Clueing people into what you can afford can feel so awkward that you want to enter the witness protection program. But we're here to say that it's time to end the taboo of talking about money. We consulted the professionals to get their advice for navigating awkward money conversations.
Know your money situation—and have some go-to phrases.
First things first, in order to have more productive and comfortable conversations about money, you'll need to understand your finances. And yet, 57% of young Americans dread the thought of budgeting and 65% admit they avoid thinking about their finances altogether, according to a Fidelity study. But knowing what you can and can't afford is the first step to beginning to feel better about your finances, says Lorna Kapusta, head of Women and Customer Engagement at Fidelity Investments. "You're going to feel so much more confident about where you stand with your finances the moment you wrap your head around it," Kapusta says.
Having a basic understanding of your budget is so important, agrees Minaa B., LMSW, licensed therapist, social worker, writer, and founder of Minaa B. Consulting. It's a lot easier to say "let's go to the cheaper matinee performance" if you know the Friday night outing will eat into your vacation fund or your rent budget, for instance.
If saying "no" or adjusting money expectations with people is still new for you, try having a few go-to responses in your back pocket, Minaa B. says. For example, "Heads up that I can only pay for my own meal right now so I don't want to split the check." Or "Thank you so much for including me, but I'm actually going to opt out [of the baby shower/Secret Santa/surprise party group fund]."
That might feel uncomfortable at first—especially if you're used to people-pleasing. But keep in mind, you might not be the only person feeling this way, says Kapusta. In this economy, people are paying more attention to their finances. In fact, a recent Fidelity survey found that more than half of women (53%) cut back on non-essential expenses and entertainment in the past year. So don't feel bad about saying something is out of your budget for now, says Kapusta. "Others might be feeling similarly and are too nervous to speak up!" 
Trying to make other people happy is "why a lot of people go broke," Minaa B. says. Finances can be a bit of a loaded topic for many, so here are some tips for having a productive dialogue with your family (or really anyone).
Be specific to avoid any awkward misunderstandings.
When trying to navigate money conversations, it's easy to slip into vague language like "affordable," "budget-friendly" or "cheap," says Kapusta. But those words mean something different to everybody and can lead to misunderstandings for people who aren't on the same page financially. Instead, get specific with what you can afford, like: You can spend $20 on lunch today, or $100 per night for your share of vacation lodging, or $50 on a gift, etc.
Also be clear about how you're going to handle shared finances—whether it's with your partner, roommate, or friends. Will you split things equally or assign responsibility for different costs (like streaming services, groceries, etc.)? Leaving less room for ambiguity is always a good idea.
Stay focused on shared goals.
"Money conversations can become more difficult when we don't understand where the other person is coming from or what they're trying to achieve," says Kapusta. So start there. For example, let's say you're trying to plan a vacation with friends. Talk about what part of the vacation is most important to them—is it lounging on the beach? Is it doing activities together? Is it partying all night?
This can help determine where you're aligned and where you're not, so you can better communicate about what you can and can't participate in. Or you might discover that everyone in the group is expecting a very different vacation, in which case, it's better to realize in advance that maybe you're not the right companions for that particular trip.
Reframe your thinking around money conversations.
For those of us who have spent our whole lives trying not to talk about money, it might take a while to unlearn some of the beliefs that kept us from being frank with family, friends, or partners. Be especially on the lookout for what Minaa B. calls "cognitive distortions," or unhelpful and untrue thoughts like, They'll never invite me again if I say I'm not going to dinner, or, My partner/parents/etc. will hate me if I bring this up.
One way to push back against cognitive distortions is to reframe it into a positive or look for evidence to the contrary. This reframing can help you from spiraling into self-judgment or shame, which are feelings that often keep us quiet about our finances.
Practice talking about money often.
Want to know the fastest way to make something less awkward? Do it. A lot. The same goes for money conversations, says Kapusta. "Money has been such a taboo topic, but we've got to challenge ourselves and make money part of an ongoing conversation," she says.
The first time you start being open with friends or family about money, it might feel a little weird—especially if they're usually hush-hush about it, too. But with time, the more you practice talking about money, the more comfortable you'll be.
Keep in mind that the people around you may be a little shock-horrored about openly talking about money. "People might react emotionally, especially if they aren't understanding your perspective or comfortable with money conversations," Kapusta says. That's OK. For situations like combining finances with your partner or talking to your parents about their finances, it might be worth bringing in a third party like a financial advisor to help guide you.
And remember there are communities, such as Fidelity's Women Talk Money, you can join to learn from and talk with others who are committed to figuring out their finances—helping you become more confident in talking about and managing your own money.
Wondermind does not provide medical advice, diagnosis, or treatment. Any information published on this website or by this brand is not intended as a replacement for medical advice. Always consult a qualified health or mental health professional with any questions or concerns about your mental health.