Essay
11.21.22
How to Deal With Panic Attacks While Traveling (From Someone Who Knows)
Because 'just calm down' is wildly unhelpful.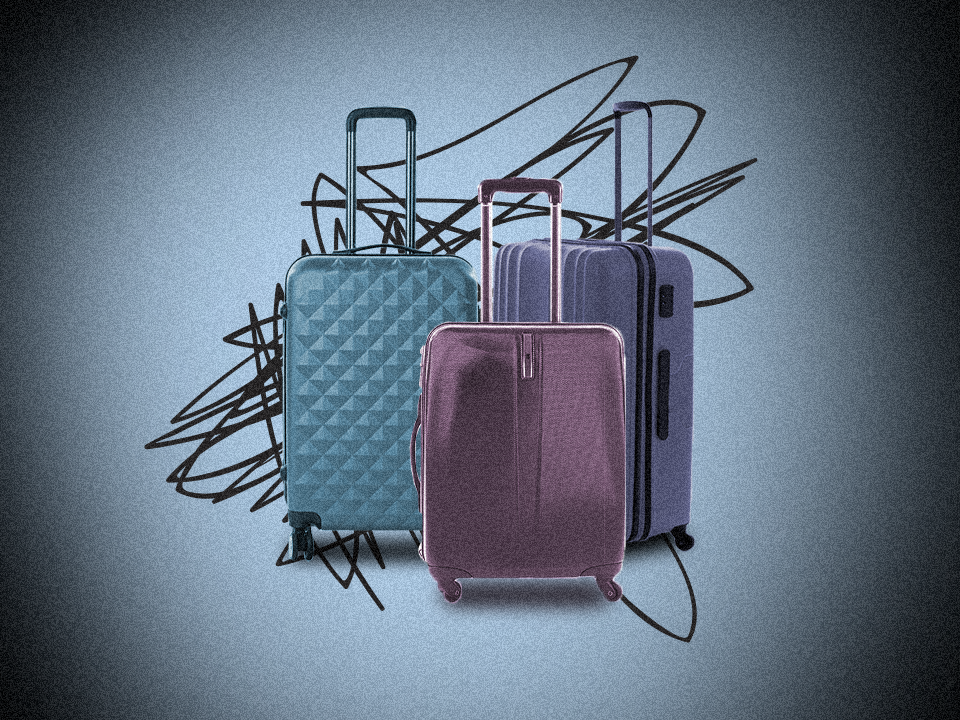 My husband and I had just boarded a flight heading to the so-pretty-it-hurts island of Maui. I was super excited for a tropical paradise, but my heart started racing as soon as we settled into our seats. For the next five hours, I was jittery and sweaty and felt stuck in the metal capsule zooming us over the Pacific Ocean. There was no escape, and the walls of the plane felt like they were closing in on me. I couldn't catch my breath.
This was a panic attack. I've had them since I was a young girl, and I was diagnosed with panic disorder and agoraphobia in my early thirties. I've also had episodes of depersonalization and derealization (DPDR). For those unfamiliar with these incredibly unpleasant symptoms, depersonalization is "feeling disconnected from your internal experiences, such as your thoughts and feelings and how you're feeling in your body," explains clinical psychologist Jessica Stern, PhD. As for derealization, "that's when you feel disconnected from what's happening around you, like things aren't real," she adds. If you've ever had a panic attack, you may unfortunately know what we're talking about.
As much as I appreciate seeing new places and experiencing different cultures, it's a huge challenge for me. Travel anxiety, feeling stressed and scared about travel plans and the fear of being out of your comfort zone, can affect anyone, but it's especially difficult for people who have anxiety and/or panic disorder, like me.
For me, pre-travel anxiety begins months before an actual trip. Not only is the planning part of the process overwhelming (for…basically anyone), but worrying about how I'll physically get wherever I'm going can spark anxiety too. Hypotheticals like turbulence, the plane crashing, missing a departure, or being away from familiar people and surroundings can easily send me spiraling.
This pre-travel anxiety gives me conflicting feelings of wanting to go but also wanting to stay put in the comfort of my own home. "When anxiety dictates what's possible for us, that's when it starts to grow and takes over more of the decisions we make. It can feel like our world is shrinking when that anxiety is in control," says clinical psychologist Ben Johnides, PhD.
Once travel day arrives, I encounter a whole new set of anxiety hurdles, like being stuck in traffic on the way to the airport, waiting in long baggage-drop lines (crossing our fingers the bags don't weigh too much), and standing in another line to pass security. Plus, there are the crowds, making it nearly impossible for me to chill.
When we've made it to our destination (happy, but exhausted), it's usually time for another round of travel anxiety. It's disorienting to be in a new environment, a different time zone, and sometimes a different culture. Enter: the frightening thoughts of DPDR.
The best way I can describe this is that it feels as if I'm in a fog or dream. When I look at my reflection in the mirror or take a selfie with my daughters, it's like I'm staring at someone I don't know, wondering if I'm in the right body. My face feels numb, like a plastic mannequin. My arms and legs are heavy and feel like they don't belong to me. My voice doesn't sound like mine, I think to myself. I wiggle my fingers to make sure my brain is connected to my body. Objects look blurry, sounds distorted. I question where I am, as if a glass wall separates me from reality.
And each location and its beautiful differences have the potential to trigger me, like when I went to Oktoberfest in Munich, Germany, and ended up smooshed between thousands of people, unable to find a pocket of breathing room. These sensations are terrifying enough on a regular day, but being in an unfamiliar place can make the dissociation and anxiety even worse.
How I manage anxiety and panic attacks while traveling.
Trips with my family are some of my favorite memories, and I refuse to let fear get in the way of me venturing out and experiencing life with them. So here's what I've learned over the years and some tips on managing travel anxiety, courtesy of the experts.
1. Remember why you're doing this.
When I'm feeling anxious about travel, I try to manage it by reminding myself that I love spending quality time with my family, seeing the world, and embracing life. Thinking about my why motivates me to travel despite the anxiety and reassures me that I'll get through a panic attack. And once I do, adventures are waiting for me.
2. Prep your meds.
A big worry for me is forgetting my medication or not having enough for the trip. At least one week before traveling, I count out the amount I'll need, order more if necessary, and organize them in containers so I'm ready to go.
Some countries can be strict about the types of medications they allow in, but talking to your doctor before you pack can help you figure out what's legal and what's not, says Dr. Stern. JFYI, that's especially important if you're part of a clinical trial, she adds.
You'll also want to plan for how to manage without medication in case you can't bring anything in or you're met with a surprise crackdown when you arrive at border control. If you have a therapist, talk to them "about coping strategies, such as grounding, that you can use in the meantime while you are potentially in the absence of that medication," she suggests. If you don't have one, consider keeping this handy collection of extra travel anxiety tips bookmarked.
3. Take note of what freaks you out.
Before each trip, I go through each of my triggers, like being in an unfamiliar place, the unknown, and my routine being out of whack, and figure out what I'm most concerned about and how to ease my worries.
It might sound super obvious, but when you feel some anxiety kicking in, take a sec to sit down and identify what's going on for you, says Dr. Stern. If you notice a pattern of things that make you anxious, you can get ready to encounter those little suckers by telling yourself, "OK, this is something that has happened to me before that often triggers my anxiety, and I know what to do," she adds.
When it comes to planning, my family understands how overwhelmed I get, so they take over the spreadsheets and itineraries. I do my best not to feel bad about that and remind myself that it's better to ask for support whenever possible.
Still, Googling hotels we'll stay at, places we'll visit, and what we'll eat helps me manage that uncomfortable feeling of being out of my comfort zone because I have an idea of what to expect.
And when it's time to leave our house, we leave extra early (I'm talking three-to-four-hours-before-departure early) to avoid any obstacles and extra stress.
4. Notice anxious thoughts and let them go.
Too much what-iffing can cause unnecessary anxiety. I admit, this is one of my major pitfalls, but I really try to keep it in check.
So when I start stressing about having a panic attack or my DPDR kicking in, I acknowledge the thoughts and then picture them floating up into puffy clouds and drifting away. Cute, right? I also like to journal about what's stressing me out, even if I can't fix it. Chances are, whatever it is I'm nervous about won't ever happen. If it does, I'll get through it. I always do. I'm braver than I give myself credit for, and you are too.
5. Let the panic attacks do their thing.
Let's be real, panic attacks might still happen. And if they do, one of the best ways to get through it is to accept that it's happening, breathe, and let it run its course, Dr. Johnides says. "The more we try to fight the panic attack and try to get it to go away, we realize we're not in control of it. So the scarier it becomes, the bigger it becomes, and the longer it can last," he says.
During a panic attack, you might take fast, shallow breaths, filling your body with oxygen, Dr. Johnides explains. It sounds like a good thing, but that can make you lightheaded, according to the The Diagnostic and Statistical Manual of Mental Disorders, (DSM-5-TR). So try the 4-7-8 breathing technique: inhale through your nose for four seconds, hold for seven, and exhale through your mouth for eight seconds.
When I'm feeling panicky, deep breathing helps me get calm. Then I use grounding techniques, like thinking of three things I see, three I can touch, three I hear, three I smell, and three I can taste. Or I'll repeat an affirmation, like "I am safe" or "I will get through this." All of that helps me stay in the moment and reminds me that I am real and so is the world around me. "By using grounding techniques, you're bringing yourself back into the moment and experiencing the anxiety; you're not avoiding it," Dr. Johnides says.
6. Ask for support.
If you're around people when you're having a panic attack, don't be afraid to ask for help, Dr. Stern encourages. "People have a lot of shame around having a panic attack when in fact, many people have them."
So, it's super possible that the person you're asking for help might've experienced this too. They can coach you through some deep breathing or remind you that you're safe and that you'll get through it.
7. Travel more often.
Consider this your excuse to book that dream vacation: If you're scared to travel, doing it more often can make it easier over time, Dr. Johnides says.
This was so true in my case. When my daughters were little and my husband and I would go on trips (even short weekend getaways), I'd have so much anxiety that I couldn't wait to get back home. But with practice and intentionally preparing for each trip, I learned how to keep it in check over the years.
The bottom line: Traveling can be anxiety- and panic-inducing, but there are ways to make it more manageable. As someone with panic disorder and DPDR, I never thought I could be an adventurous person, leaving my comfort zone to travel with my family. But these tools and support from my family through the years has helped me make amazing memories.
Wondermind does not provide medical advice, diagnosis, or treatment. Any information published on this website or by this brand is not intended as a replacement for medical advice. Always consult a qualified health or mental health professional with any questions or concerns about your mental health.