Pro Tips
12.02.22
How to Deal With Holiday Party Awkwardness
Happy social anxiety szn to all who observe.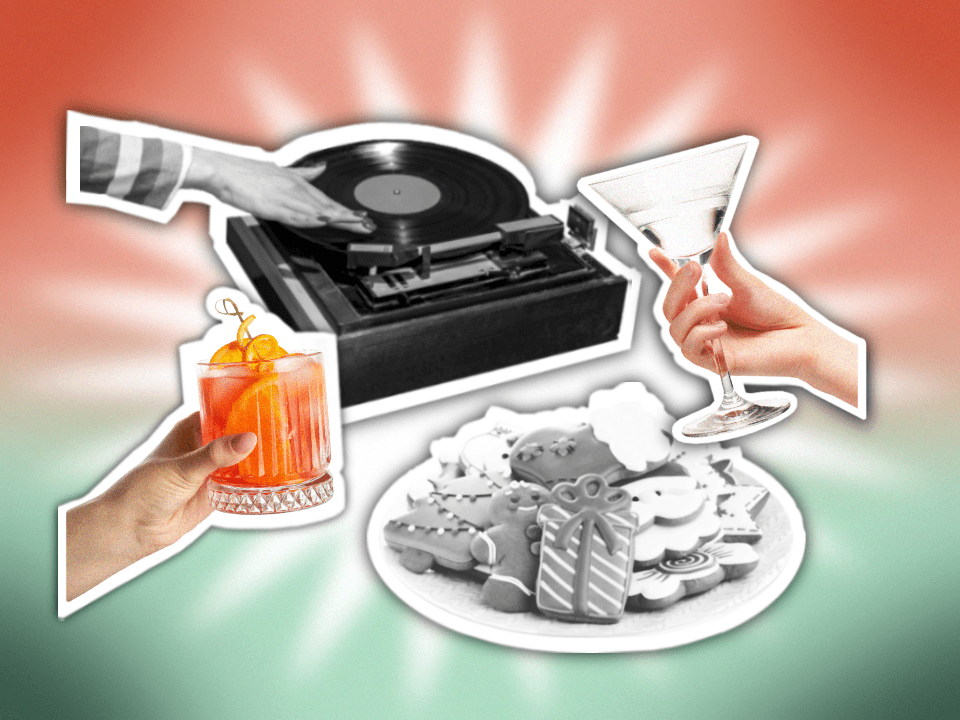 Shutterstock / Wondermind
It's so rude of party anxiety to swoop in as if you weren't already burnt out from tons of holiday stress! Even sweet, sweet eggnog and fake smiles can't cut through the terrible awkwardness of holiday shindigs. I mean, maybe they can help, but there's still a chance that you'll get super uncomfortable when a coworker airs out work gossip a little too loudly or your cousin's cousin—who you aren't sure why/how your mom invited—wants to know every last thing about your life.
If any of that sounds relatable, you might just hate holiday parties (and we don't blame you). But if these get-togethers make you nervous or nauseous or both because you're worried that you'll say the wrong thing or embarrass yourself somehow, that's a sign that you could be dealing with social anxiety, says licensed clinical psychologist Helen Odessky, PsyD, author of Stop Anxiety from Stopping You.
Good news, though: Everyone experiences awkwardness even if they love socializing, and people generally won't think about weird moments nearly as much as you do, says Dr. Odessky.
Whether you're worried about seeing family, nervous you won't know anyone at the event, or not so sure you can pretend to enjoy yourself, check out these brilliant ways to navigate social anxiety, meh small talk, and convos you really don't want to be involved in.
1. Prep one-liners for when you don't want to talk about certain things.
If someone you barely know starts asking "How's single life?" or your mom's bringing up your "loner" middle school (and high school) phase in front of her running friends, keep sentences handy to pivot the convo, says Dr. Odessky. You could have generic statements—like "It's fine! What's new with you?"—stored in your noggin and ready to release on the spot. Or you could prep specific phrases. For example, "I'm not dating anybody at the moment, but you'll be the first to find out when I do (random stranger)!" You're setting boundaries with people to show that you're not into the topic of conversation.
Of course, you can just say you don't want to talk about whatever it is point-blank, but if you're worried that's too confrontational, softening the sentence can feel less intimidating than putting your foot down.
You can also take this one step further by practicing these statements before the party in front of the mirror or with a friend or therapist, Dr. Odessky suggests. This may help you get more comfortable being assertive, she notes.
Just don't over prepare to the point that rehearsing these lines is all that's happening in your brain before or during the party, says licensed clinical psychologist Robert Yeilding, PsyD, board member of the National Social Anxiety Center. That can take away from being in the present moment, he says.
2. Have an escape plan.
Sometimes establishing boundaries doesn't work because people either don't get the hint or just (*cringe*) don't care. But you can always divert the convo by saying you're heading to the bathroom or getting a drink, says Dr. Odessky. If you're afraid they'll follow you, be creative! Maybe say you see someone you have to catch up with across the room or that you need to step outside to make a call. You have options! (Pro tip: it's probably a good idea to make sure you actually do the thing you say you're going to do so that it doesn't get even more awkward.)
3. Focus on connection.
If it's hard to get through small talk, challenge yourself to learn three new things about the person you're speaking with, and then make it a goal to tell them three things about you, suggests Dr. Yeilding. If this stumps you, just try to find a common interest to help you stay engaged, he says.
4. Talk to someone you know (or know-ish).
You can also look for people you're familiar with, suggests Dr. Yeilding. This could be a family member you're close with, a friend, or a friend of a friend. Think of these guests as mini panic rooms you can escape to when you need an out from other conversations. Don't stick with them the whole time, though, since that might interfere with you making new connections or rekindling old ones, says Dr. Odessky.
5. Join a group convo.
Obviously, jumping into a convo between two people in the corner of a room is probably not a great way to reduce awkwardness. But if a few people are having an open discussion about something relatable like sports, holiday shopping, or awful traffic, you can totally jump in. By joining a chat with a few party-goers, the pressure is off of you driving the convo, Dr. Odessky points out. It makes connecting with people (hopefully) more doable.
6. Maybe hold off on drinking a ton.
Some liquid courage isn't a big deal (if that's what you're into), but drinking might make you feel even more anxious later on because you're not sure if you embarrassed yourself or said something you maybe shouldn't have, says Dr. Odessky. Yep, that's hangxiety. And slowing your roll might make it less of a thing tomorrow.
7. Take a literal breather.
There's nothing wrong with excusing yourself to mellow out with a mini break, says Dr. Odessky. One mindfulness tool she likes to suggest for anxiety is belly breathing, where you inhale and exhale deeply while focusing on the rise and fall of your stomach. Another is describing the details you see in a room to concentrate less on your anxiety. If you're in the bathroom, are there tiles? What do the lights look like? What about the walls? Do whatever you need to protect your peace before you get back out there.
8. If you're hosting, set a time for people to leave.
It's hard to round up guests to vacate a holiday party, but if you're worried about that, you can try to avoid the awkwardness by putting a start and end time on your invite, says Dr. Odessky. There are always some people who might take a bit longer to leave, which just comes with the territory of hosting, though having parameters about your party's length may help.
9. Think of this as a ~fun experiment~.
Before you go to your holiday party, consider what might be causing you worry. Can't stop imagining yourself tripping in the middle of the room with your dinner plates? Dreading having to address a breakup or layoff? These are your hypotheses of what will happen, says Dr. Yeilding. Your goal, now, is to see if those end up actually playing out.
Viewing a holiday party as a chance to prove your anxiety wrong can help you stay engaged and get through it. Anxiety generally assumes the worst will happen and underestimates your ability to handle it, Dr. Yeilding explains. When you evaluate what happened after the fact only to realize that you survived weird moments and things weren't THAT bad, you'll get more confident at going to these types of events in the future, he says.
Wondermind does not provide medical advice, diagnosis, or treatment. Any information published on this website or by this brand is not intended as a replacement for medical advice. Always consult a qualified health or mental health professional with any questions or concerns about your mental health.