Pro Tips
07.24.23
4 Ways to Social Media-Proof Your Brain—From TikTok Therapists Who Get It
If you're extremely online, this is for you.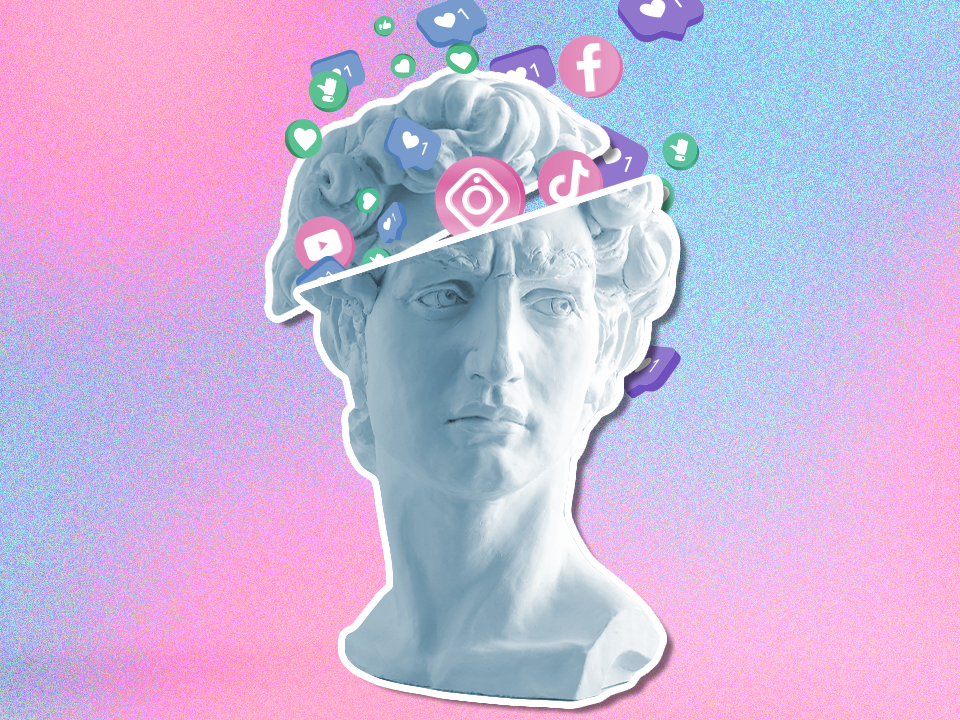 Shutterstock / Wondermind
Despite how good it can feel to window shop Instagram, stay in touch with your peeps, monitor the news you care about, and also watch every single "Attenzione pickpocket!!" TikTok, sometimes social media can make you feel mentally and emotionally shitty.
And that's especially true for the youths. ICYMI, Surgeon General Vivek Murthy, MD, recently issued an advisory highlighting concerns about how the apps can lead to an increased risk of depression, anxiety, and disordered eating in adolescents and young adults.
But whether you're a 10th grader or a grown adult, social media can mess with anyone's mind. I mean, fretting about how many likes you got or whether turning them off makes you look like a loser can make a dent in your emotional wellbeing no matter how old you are. Plus, seeing the best parts of everyone's lives play out on your tiny screen can trigger intense FOMO and even depression. And then there's the hard-to-avoid body and beauty comparisons that can lead to low self-esteem. Basically, there are endless ways the garbage in your algo can hurt you, says therapist Jeff Guenther, LPC. Ugh.
Scrolling for hours on end can also mean you're not chilling with your friends or making time for the 12th hobby you've tried to pick up this month, says psychologist Thai Alonso, PhD (aka Dr. T). And all that can make you feel lonely, isolated, and like you're not making the most of your day, she adds.
That said, it's possible to social media-proof your brain (to some extent) so you can enjoy the good stuff and avoid the rest. So, given that we're pretty much all online all the time (with no end in sight), these two extremely online therapists are here to school us in healthy scrolling. 
1. Flex those block, mute, and unfollow muscles.
When your feed shows every person and their mother seemingly having a Tomato Girl Summer chartering boats off the Med, and your life is more…borrowing your mom's old Prius to go to TJ Maxx for the A/C, it sucks. In these less-than-picturesque situations, it's super easy to fall into the trap of comparing your life to the unrealistic or idealized images splashed across social media. That can lead to feelings of inadequacy, low self-esteem, and depression, says Guenther. Yep, fun.
To ward off harmful comparison habits, be mindful about what content you engage with and follow, he suggests. That could look like unfollowing, blocking, or muting accounts that make you feel less-than, he adds. Then, you'd replace them with other (ideally, diverse) creators who promote values you believe in and/or anyone whose content seems like they might build up your self-confidence, suggests Dr. Alonso.
Despite your best efforts at curating an algorithm that's enjoyable and benefits your mental health, once in a while, a post pops up in your feed or on your Explore or For You page that makes you wanna throw your phone away. When that happens, channel your uncomfy feels into tapping that "not interested" button on TikTok or Instagram or use the mute setting so you won't see similar content on your feed as much.
Over time, your social media feeds can become a space where you feel free to relate and share and create a sense of community, rather than feeling excluded, judged, or otherwise criticized (by others OR yourself). "By adopting these habits, you can reduce feelings of inadequacy and increase feelings of self-esteem," Guenther says. When you're able to remind yourself that life is not a competition and what you see on your screen may not be representative of reality, you could start to feel less anxious or stressed by unrealistic expectations and standards.
2. Act like a strict parent.
Do you consistently plow past those, "You've been scrolling for a while now" PSAs but also feel overwhelmed by information and compelled to be online all the time? If so, boundaries are gonna be your friend here. Essentially, Guenther says to think of it like you're a parent who wants to make sure their kid has other stuff going on beyond cyberspace.
When you place limits on how and when you use social media, you may feel less overwhelmed and anxious and find it easier to focus, Guenther says. He suggests setting timers for your apps and taking advantage of your screen time report to monitor your daily usage. So if an app always leaves you feeling bad (no matter how little or how much time you spend on it), then you'll want to decide how much you can realistically cut back. That might look like setting a time limit or just not reaching for your phone on your lunch break or making Sunday an app-free day. When you get more comfortable being without your phone, you could challenge yourself to spend even more time away from the apps.
For those of us who need to be on social media for work (like these extremely online mental health pros), it might feel impossible or at least v. difficult to set these boundaries. In that case, try to maximize the time you don't spend on your phone. Enjoy your offline hours by focusing on tech-free activities (like puzzling, going for a walk, rearranging your bedroom—again) or just getting shit done that doesn't require gazing into the pixelated abyss.
3. Sound the alarm if you need extra help.
Unfortunately, being online means there's a chance you might face web-based harassment when User09876329374 or a literal bot refuses to GTFO of your DMs and comments. And that can cause significant emotional distress and trauma.
If that ever happens to you, "report and block bullies immediately," Guenther says. If you're a student or a kid and this happens, you'll also want to tell a trusted adult or a school authority. And if the harassment is work-related, contact your supervisor or your HR department. "It is important to remember that you do not have to face this alone. Do not take this lightly," Guenther adds.
While there's no federal law on bullying, there are some harassment laws and criminal laws that might overlap with what you're experiencing, so reporting to your local authorities is important if you want to take legal action. And, in doing so, you can help create a safer online environment for the rest of your community, Guenther notes.
One more thing on this: It's very OK to make your account private or limit who can interact with it—embrace a mysterious enigmatic new personality! Or, at the very least, make people look you up on LinkedIn, where you can see who's creeping.
4. Be skeptical of mental health advice.
Obvious statement: There's a lot of inaccurate information on social media, and I'm not just talking about outrageous political ads. It seems like every influencer these days is trying to convince you that looking up an actor during a movie def means you may have ADHD (even though you already talked to your docs about this the last time ADHD was having a moment on TikTok).
By being a skeptical consumer of mental health info you see on social media, you'll set yourself up to better judge what's legit. Noticing misinformation and unfollowing accounts that promote junk can help further curate your feed in a way that makes you feel less anxious and stressed that something is wrong with you.
If you struggle to decipher what's factual, Dr. Alonso suggests cutting out the middleman by checking in with reliable sources. Say you see someone talking about the trauma-busting benefits of tapping, which sounds too good to be true. You could search for other experts in the trauma field to see if they have any takes on this mental fitness technique and cross-check the info, Dr. Alonso says.
If you're stumped on what counts as a reliable source (whether you're doing your own research or a supposed expert randomly appears on your feed), use your detective skills to verify the person's licensure or certifications. For starters, look to see if their degrees and/or state license information is on their website and matches state records. (BTW, each state will have their own database, and it will look something like this one from Texas.) If you have a therapist, you could also straight-up ask them what's what in your next session.
And, finally, looking to large, research-based organizations is a great way to get to the bottom of big mental health claims, she says. A few favorites include the National Institute of Mental Health (NIMH), the National Alliance on Mental Illness (NAMI), the Anxiety & Depression Association of America (ADAA), the American Psychological Association (APA), and The Trevor Project.
Wondermind does not provide medical advice, diagnosis, or treatment. Any information published on this website or by this brand is not intended as a replacement for medical advice. Always consult a qualified health or mental health professional with any questions or concerns about your mental health.