Explainer
01.26.23
What Actually Causes Bipolar Disorder?
Get ready for a lot of gray area.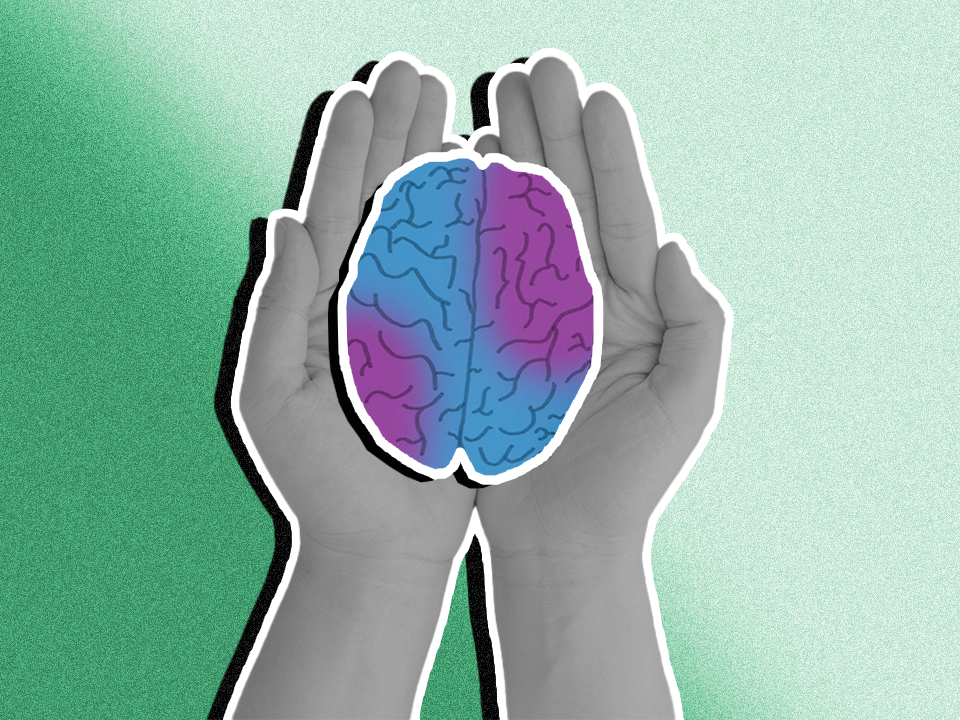 Shutterstock / Wondermind
When you find out that you have bipolar disorder—or any mental health condition, for that matter—it's not unreasonable to wonder, Why is this happening to me? A diagnosis from a professional is cool and all, but if you don't understand why you are the way you are, the symptoms of a mental illness might seem even harder to deal with. So, what causes bipolar disorder anyway?
Let's start with what we do know: Bipolar disorder is characterized by significant shifts in energy and mood that can interfere with your life. There are a few different types of bipolar disorder that you can be diagnosed with, depending on your symptoms. A bipolar I diagnosis means you've experienced mania (an elevated, restless, and oftentimes impulsive mood state) and usually features depressive episodes too. A bipolar II diagnosis means you've experienced both depressive episodes and hypomania (a milder form of mania). There's also cyclothymia, which happens when people have ongoing hypomanic and depressive symptoms that never quite reach bipolar II level.
We know you want a clear-cut answer here, but experts say there's no one cause of bipolar disorder. Instead, research suggests that multiple factors—like your genes and things in your upbringing—can come together to cause it. Plus, the equation for what actually causes bipolar disorder in one person isn't going to be identical to someone else's, says Sarah Sperry, PhD, assistant professor of psychiatry at the University of Michigan and an associate director in the university's Heinz C. Prechter Bipolar Research Program.
Basically, researchers know bipolar disorder can be passed down in families, is correlated with certain childhood environments, and could be caused by something happening in people's brains, but they're still narrowing down exactly how those things can come together to produce this mental health condition, explains Po Wang, MD, Stanford University clinical professor of psychiatry and former director of the university's Bipolar Disorders Clinic.
So answers aren't 100% set in stone (because...science!), but continuing to dive into these theories will help mental health professionals fine-tune treatment for people like you or your loved ones who have bipolar disorder. Very cool and very necessary!
Ahead, you'll find some risk factors that can up your chances of developing bipolar disorder. Though you won't be able to say for certain why you or someone you know has bipolar disorder, it's helpful to understand what parts might play a role.
Family history
Though genes alone won't determine if you have bipolar disorder, this mental health condition often runs in families, according to the National Institute of Mental Health (NIMH). It might seem like common sense, but you share more genes with your immediate fam members, so the handy dandy genetic coding that puts you more at risk for bipolar disorder is often passed down through those people (think: parents), Dr. Wang says.
For example, if your mom or dad has bipolar disorder, you have a 5-10% risk of being diagnosed with it, whereas the risk for the general population is about 1%, according to the Diagnostic and Statistical Manual of Mental Disorders (DSM-5-TR). No one knows the exact genes that dictate your bipolar risk, but we do know that there are hundreds of genes that can come together to cause that risk, Dr. Sperry notes.
Childhood trauma
Research suggests that experiencing trauma growing up can also add to your risk of developing bipolar disorder, particularly earlier on in life, according to the DSM-5-TR. FYI, that trauma can include things like violence and sexual trauma, but it can also look like extreme neglect where you don't have enough food or a stable support system at home, says Dr. Sperry.
Not to sound like a broken record, but it's not clear why exactly childhood trauma can trigger bipolar disorder, Dr. Sperry says. One theory is that trauma may reduce the brain's ability to adapt and change on the fly (aka its neuroplasticity), and without adequate ability to adapt to challenges, people could be more vulnerable to mental health issues, including bipolar disorder, she says.
Plus, facing childhood trauma can cause a supercharged fight or flight response when stressful life events happen in the future, Dr. Sperry adds. That stress response could lead you to cope by turning to substances (think: alcohol, cannabis, and stimulants) that might actually add more fuel to the fire, she explains. Just so you know, if you're already at risk for developing bipolar disorder, it's possible that substance use can set off manic symptoms for the first time, according to the DSM-5-TR.
On that note, some of the research that Dr. Sperry is working on right now has her diving into the idea that these substances further mess with your circadian rhythm, or your body's internal clock that helps you know when to sleep, which may up your bipolar risk and can trigger mood episodes like mania, she says. It's all ~connected~.
Neurological differences
Research suggests that brains of people with bipolar disorder work differently in some ways than those without bipolar disorder, according to the NIMH. Studies show some type of dysfunction in parts of the brain that deal with emotions like your amygdala and your anterior cingulate, Dr. Wang says. It's unclear why or if it's something that can outright cause bipolar disorder versus something that's happening because of the bipolar disorder, but researchers are digging into it, he adds.
There's more: Just like putting gas in your car and running on fuel, the brain (specifically the mitochondria in the brain) burns through different molecules to give your body energy, Dr. Sperry explains. Research suggests that there's something off with how the mitochondria produce energy in people who have bipolar disorder, she says. During a manic episode, people seem super energized and restless, so some experts believe this reflects that the brain is producing too much energy, and the opposite goes for when you're depressed, she explains.
The bottom line: A number of things can come together to cause a person's bipolar disorder, and research is ongoing (because, again, science!). The great news is that bipolar disorder is treatable regardless of the type, and you can read more about that here. The Depression and Bipolar Support Alliance also has info on risk factors and where to find support, if you're interested.
Wondermind does not provide medical advice, diagnosis, or treatment. Any information published on this website or by this brand is not intended as a replacement for medical advice. Always consult a qualified health or mental health professional with any questions or concerns about your mental health.