Explainer
08.17.23
Help! Why Can't I Cry?!
Nope, you're not an emotionless monster.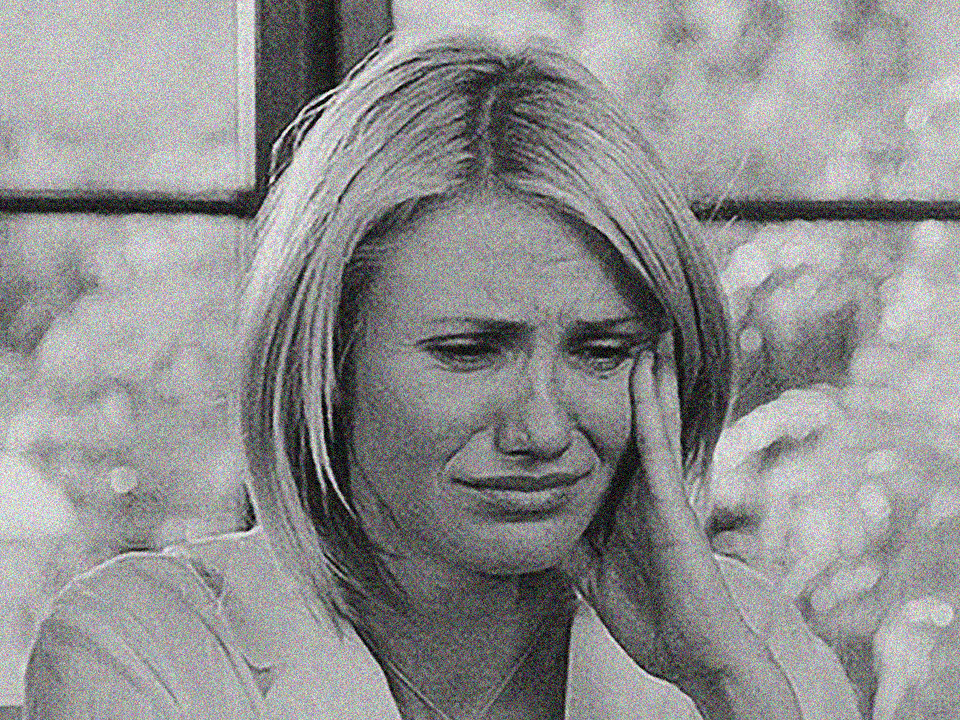 Universal Pictures / Wondermind
When you're overwhelmed with emotion (honestly, any one of them), a solid cry can feel super satisfying. That physical opening of the floodgates tear ducts to let it all pour out is basically the definition of cathartic. That's kinda why those who need a release but can't seem to let it flow—which might be a lot of people, according to Google—are out here looking for some answers. If you've ever asked the internet overlords, "Why can't I cry?" you know how unsatisfying that feeling is.
It's not just you: There are other people out there who feel sad and even get the urge to cry, "but something interrupts it," says clinical health psychologist Brooke Palmer, PhD, an assistant professor at the University of Minnesota Medical School.
That sensation can feel like built-up pressure. Like a valve needs to be opened to let it all seep out, but it's stuck shut, explains clinical psychologist Lauren Bylsma, PhD, who also researches emotional processing at the University of Pittsburgh.
But all hope is not lost for the tearless. Here, experts explain why it can sometimes be so damn hard for us to cry and what you can do about it.
First, why is crying a thing?
Not to be annoying, but the reason crying can feel so dang great is still a bit of a mystery, Dr. Bylsma says. But, based on the few studies that've dug into the benefits of crying, it might have something to do with the "fight or flight" reaction your body experiences when faced with something stressful or scary, she explains. "Crying tends to occur around the peak of arousal, or the peak of the sympathetic response," she says. It can serve as a transition or a "coming down" as you shift from preparing to run or confront whatever you're facing to "rest and digest response," Dr. Bylsma adds. That doesn't mean crying causes your body to relax, but it "seems to mark that shift when we're coming back to homeostasis after an emotional experience," Dr. Bylsma says. Good to know!
And, despite how nice it can feel, tearing up is not always guaranteed to give you a sense of chill. In fact, some people feel worse, Dr. Palmer says. "There are a lot of individual differences and situational factors," she explains. "People may report more positive emotions if the process allowed them to see things differently or work through a challenge or elicit helpful support. But if they cried in a situation associated with shame or had no supportive people around, then they might feel worse." (Dr. Bylsma's research actually demonstrated this.)
So, why can't I cry?
There are a lot of possible reasons why you might feel a little stuck, Dr. Bylsma says. Sometimes physical conditions like dry eye and Sjogren's syndrome, an autoimmune condition that causes the body to attack moisture-producing glands, can impact tear production and make it so that you can't cry actual tears. Medications that dry out your eyes can have a similar effect too.
Some mental health medications can also affect you emotionally and inhibit crying, like the selective serotonin reuptake inhibitors (SSRIs) that are often prescribed for depression and other conditions. "SSRIs can increase the threshold to cry," Dr. Bylsma says. "People with depression often report a flattening of emotions on SSRIs." That said, feeling numb can also be an overlooked sign of depression, Dr. Palmer adds, so it's possible you might feel an inability to cry with depression whether you're treating it with SSRIs or not.
And then there's the internalized stigma that tells you it's bad to express your emotions. "A person raised in an environment where they were criticized or invalidated for crying could have difficulty crying later," Dr. Bylsma says. No matter what your early childhood was like, if crying makes you feel extra vulnerable now, you might be able to cry by yourself but not in front of others, she adds. Thanks a lot, shame!
If you want to really open the floodgates, those are all things worth confronting on your own or, ideally, with the help of a therapist.
Do I need to cry?
Nope, not necessarily. Crying can certainly be helpful when it comes to processing feelings, Dr. Palmer says, but it's not mandatory to cry. The only time not crying can become a problem is if you're actively trying to avoid or suppress your feelings. "When people rely on suppression as their primary emotional regulation tool, it's usually associated with poorer mental health, including more anxiety and depression," Dr. Palmer notes.
That said, if you need to delay crying for any reason, that can be sorta helpful too: "If crying is going to bring about undue stress, you can do something in the moment to tell your brain to hit pause and allow yourself to deal with the emotion later," she says. Key phrase here: "Deal with the emotion."
But shedding a few can also be an easy way to signal to others that you're going through it at the moment and might need an assist. "When we see people crying, we want to help them," explains Dr. Palmer. "Without it, we could miss out on that ability to communicate effectively to ourselves and others."
How can I process my emotions without crying?
OK, so you don't need teardrops on your guitar to work through your emotions. While it can be helpful, there are lots of other ways to feel your feelings. Dr. Palmer suggests deep breathing and progressive muscle relaxation, which are both forms of mindfulness that can help you focus on the present moment. If you're more of a physical person, Dr. Bylsma says a silly little mental health walk, exercising, or playing sports can help you release your emotions too.
Using journal prompts for your mental health, talking to people you feel comfortable with, or anything else that enables you to feel what's coming up is great. That could even mean listening to sad bops or watching an emotional movie, Dr. Bylsma says.
The more you make an effort to be with your emotions, the easier it will be to confront and process them—even sans tears. And, who knows, actively facing sadness, anger, or even happiness might help you turn the waterworks back on after all.
How do I know it's time to see a professional?
If the inability to cry makes you want to…cry and other coping mechanisms aren't working, Dr. Bylsma suggests asking yourself if it might be helpful to navigate this with a mental health professional—even if you don't feel like you necessarily need therapy. "They can help you work through healthy emotional processing, especially if you don't already have people in your life that feel safe and comfortable to open up to." 
That said, if your stress comes from comparing yourself to others who cry quite often, here's your permission to stop worrying about that. "Some people feel they should cry more because they see other people crying," Dr. Bylsma says. "But everybody is different." Tears aren't the only sign of being in touch with your emotions, so as long as you're able to cope with your emotions in another healthy way, you do you.
Wondermind does not provide medical advice, diagnosis, or treatment. Any information published on this website or by this brand is not intended as a replacement for medical advice. Always consult a qualified health or mental health professional with any questions or concerns about your mental health.