Explainer
11.14.23
Does ADHD Show Up Differently in Women?
A complicated answer to your very valid question.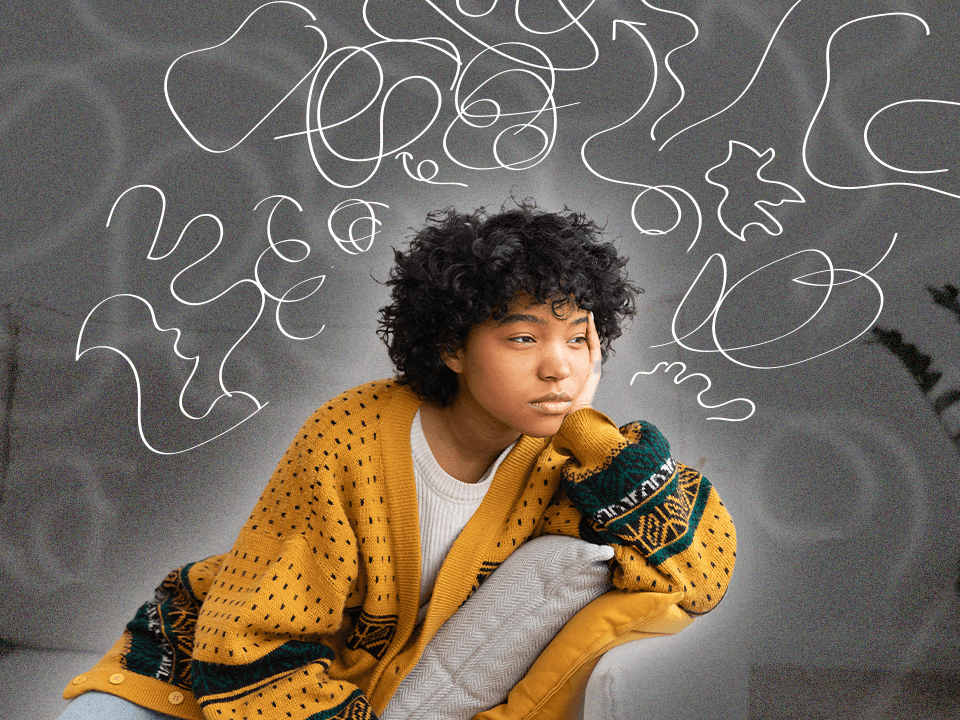 Shutterstock / Wondermind
If you could time travel back a decade or two, you might notice that the conversation around ADHD (attention-deficit/hyperactivity disorder) leaned pretty heavily on loud, disruptive boys who couldn't sit still in class. But snap back to the present and you've probably noticed that more and more adult women are getting diagnosed with ADHD. It's enough to make you wonder if ADHD symptoms in women are somehow different from the ADHD symptoms we always associated with boys and men.
The truth is that it's complicated. While there aren't actually gender-specific lists of ADHD symptoms, the research on how ADHD presents in cisgender men and women is interesting and points to a few reasons why we might be seeing more women getting diagnosed later in life. Add to this the fact that gender is complicated (and also just a construct?) and that there is hardly any research on the unique ways that ADHD might present in transgender and nonbinary folks, and it's easy to see why this topic is so complex.
Here, we get into what we do know about ADHD symptoms in women and why it matters.
Girls often have inattentive symptoms.
In case you didn't know, there are three different subtypes of ADHD, per the Diagnostic and Statistical Manual of Mental Disorders (DSM-5-TR). There's predominantly inattentive ADHD, which is exactly what it sounds like: you might have a hard time staying focused on work or talking to people or get distracted and struggle with getting things done on time. Then there's the predominantly hyperactive-impulsive presentation, where you might fidget a lot, interrupt other people, and struggle to sit still for long periods of time. For the third type, or "combined" presentation, you'd have both kinds of symptoms.
Compared to boys and men with ADHD, girls and women tend to show more of those inattentive symptoms than the hyperactive and impulsive ones, says clinical psychologist and assistant professor Julia Schechter, PhD, co-director of the Duke Center for Girls & Women with ADHD. That could look like being disorganized, overwhelmed, or not super motivated in school, according to experts. 
The anecdotal evidence on this seems pretty solid, but researchers are still looking into what's behind ADHD symptom disparities between genders. Though the reason could be biological, it could also be a result of heteronormative stereotypes and expectations. And, because most research historically focused on boys and men with the condition, we still need a lot more data to fully understand ADHD trends in women, says Dr. Schechter.
Girls are diagnosed less often than boys.
For a long time, medical and mental health professionals—and basically all of us normies—saw this disorder as mainly a boys' problem, and those kiddos were diagnosed a lot more than girls. Though that's definitely changing, boys are still around three times more likely to get an ADHD diagnosis today than girls are, says Dr. Schechter. Weirdly, as adults, men and women are diagnosed with ADHD at roughly the same rate. And some research suggests that this difference between childhood and adult diagnosis in females could mean girls with ADHD are still being overlooked.
Because ADHD is historically associated with loud, disruptive boys, many experts hypothesize that girls (especially those with more inattentive symptoms) are less likely to spark concern in teachers and parents, which means they might never make it to a doctor for an assessment. For example, you might look like you're reading even if you're just staring at the words. That matters for kids, whose diagnoses rely on a parent or teacher flagging their behavior to a doctor, per the Centers for Disease Control (CDC).
Girls with ADHD who go undiagnosed miss out on treatment that can help manage their symptoms. They might also grow up feeling like something is wrong with them and blame themselves for it, according to a systematic review.
Girls may hide their symptoms.
Masking, or compensating for your symptoms in ways that make them less noticeable to others, can be common in girls with ADHD, explains clinical psychologist Jessica Stern, PhD. Though it's not a clinical term or diagnosis, masking can look like fighting the urge to talk over friends or pulling an all-nighter to get work done, says Dr. Schechter.
While masking isn't a girls-only thing, it is something you tend to see more often in girls than in boys, notes Dr. Stern. Research suggests that's because girls worry about being judged by other people for acting differently. "Additionally, girls often have higher rates of perfectionism and people-pleasing which can lead them to hide or compensate for their ADHD symptoms," Dr. Stern explains. "Unfortunately society often places stereotypical expectations on gender presentations that can affect how people behave," she adds.
And if girls are hiding what they're going through from other people, that could also make them less likely to get a diagnosis.
Women with ADHD tend to be misdiagnosed.
Since some of the symptoms of ADHD and anxiety or depression can look the same, sometimes it's hard—even for mental health pros—to tell the difference, says Dr. Schechter. For example, anxious and depressed people can forget things, seem super restless, have trouble focusing, and fidget too, she says.
It's also possible that doctors misdiagnosed women in the past because they didn't think ADHD was even an option for someone of their gender or age, says Dr. Schechter. "A lot of current medical and mental health professionals were all trained on studies that had male samples, and that's centered our understanding of what ADHD is," she explains. "So I think it's hard for a lot of these providers to even know that they should be looking for ADHD in a girl or a woman."
That said, women with ADHD are more likely than men with ADHD to also have anxiety or depression, research suggests. So even if their diagnosis is technically right, doctors might miss their ADHD because it's "covered up" by the other conditions, says Dr. Stern. For example, they could be super anxious or depressed, but their doctors might not realize that undiagnosed ADHD is making them anxious about not getting anything done or depressed because they're falling behind in school, says licensed psychologist Russell Ramsay, PhD, co-founder and former co-director of University of Pennsylvania's Adult ADHD Treatment and Research Programs.
Of course, ADHD can be mistaken for disorders aside from anxiety and depression too. Wondermind's co-founder and CEO Mandy Teefey says she was diagnosed with bipolar II disorder in her early 20s but found out years later that she was really dealing with ADHD and a history of trauma. "It was very isolating and frustrating," explains Teefey. "I spent my life educating myself on living with bipolar and did a lot of work on myself. After I learned about ADHD, I realized that, had someone just recognized the [symptoms], my life could have been less challenging."
Women are often diagnosed with ADHD when they bring their kids in for help.
Between 2020 and 2022, the number of women between the ages of 23 and 49 who were diagnosed with ADHD nearly doubled, according to an analysis of health care data. Maybe that's not super surprising given that there's been a spike in adult ADHD diagnosis in general, but it's also possible that more women are finally recognizing their symptoms and getting help. (Thank you, TikTok?)
But there's also a common narrative about women taking their kids to the doctor to be checked out for ADHD and realizing they've had symptoms their whole life too. Take Meredith Bryan, a magazine editor who previously wrote about her diagnosis for Wondermind: "My journey to an attention-deficit/hyperactivity disorder (ADHD) diagnosis began—as I've read it often does for women my age—with my 11-year-old son's diagnosis. Only then did I actually begin reading about ADHD, a condition I'd never taken seriously despite a longtime understanding that I require uppers to do almost anything." This scenario is definitely happening to a lot of women, says Dr. Schechter.
To be clear, it's not that women are suddenly developing ADHD—any grown person with a diagnosis needs a history of symptoms starting before age 12. They also need to have at least five of those inattentive or hyperactive/impulsive symptoms, per the DSM-5-TR.
What's likely going on here: The medical community and those who suspect they might have the condition are becoming aware of what ADHD in women can look like—and they're finally getting the help they need.
So, are ADHD symptoms different in women?
Signs point to yes, and as research continues, experts are sure to learn more about how ADHD may impact girls and women specifically. What we do know is that they're more likely to have symptoms that are harder to spot and easier to hide. And, because the people who would refer them to a doctor—or the doctors themselves—may be more likely to miss their ADHD symptoms, they're often diagnosed later than boys.
If any of this resonates with you, seeing a doctor or mental health pro for a legit assessment will be more helpful than trying to suss it out yourself. Most of all, try not to be so hard on yourself for not getting diagnosed sooner, says Teefey. "Don't hold onto what could've been—just be! ADHD gets to view life in its world, your unique world. What is better than that?"
Wondermind does not provide medical advice, diagnosis, or treatment. Any information published on this website or by this brand is not intended as a replacement for medical advice. Always consult a qualified health or mental health professional with any questions or concerns about your mental health.