Q&A
04.26.23
Camilla Luddington Gets Real About PMDD and Postpartum Anxiety
Plus, the aha moment that changed her mind about antidepressants.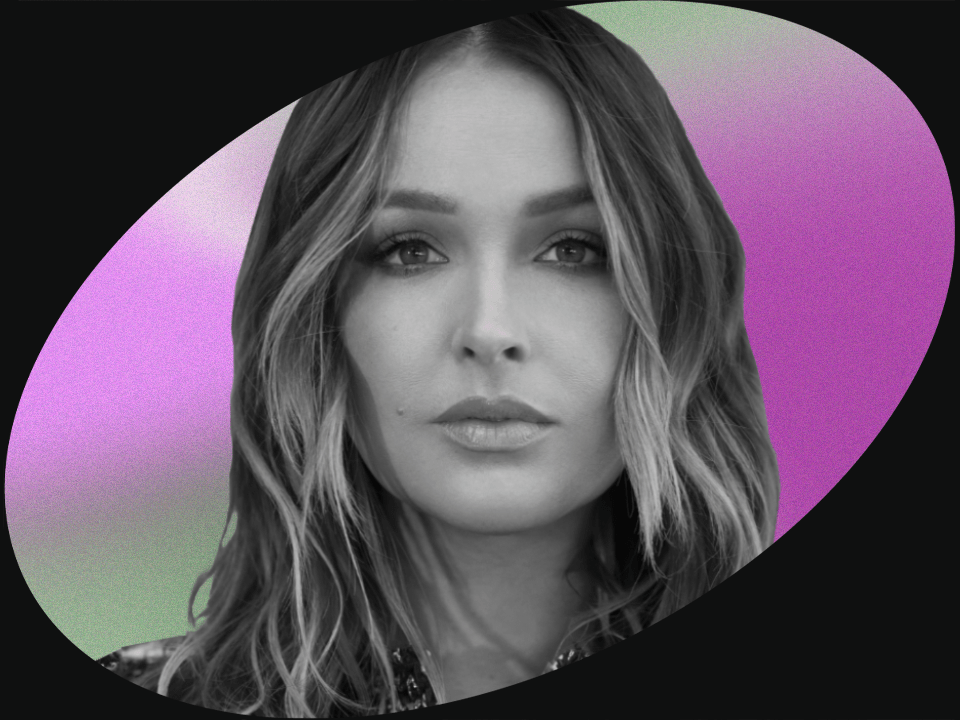 Photo Credit: Sarah Krick
When Camilla Luddington puts on scrubs, she turns into kickass Grey's Anatomy doctor Jo Wilson. But, in typical Grey's style, Dr. Wilson has been through some stuff, including childhood trauma, an abusive marriage, depression, and inpatient psychiatric treatment. Getting mental health support is actually one thing that Luddington could relate to on a personal level. The actor shared with Wondermind that she went to therapy for postpartum anxiety and she started antidepressants this past year for premenstrual dysphoric disorder (PMDD), a mood disorder considered to be a severe form of PMS.
Looking back, Luddington knows there's no shame in finding help, but she was definitely skeptical about antidepressants up until she had an aha moment at the vet (of all places). "My dog Gus went to the doctor, and [the vet said], 'It sounds like he has anxiety, and he can get medication for it.' And I was like, 'OK, great! Of course!'" Luddington explains. "And I was like, Wait a second. I'm not telling my dog to just hold off on the medication and see if he can just get through it himself. There's something that can help him, and [I'm saying] he should take that. But I can't do that for myself? " Hello, reality check.
Here, the actor talks more about PMDD and postpartum anxiety, getting on mental health meds, and learning to ground herself amid worst-case-scenario spirals.
[Sign up here to never miss these candid conversations delivered straight to your inbox.]
WM: How are you doing lately?
Camilla Luddington: That's such a great question. How am I doing lately? You know what? I just started hiatus, which means that we're not filming this week. We won't be filming again until maybe August, so I think I've gotten to breathe a little bit for the first time. But I am tired this week, and sleep is huge for my mental health. I have kiddos that are getting sick back to back, and so I feel not all there, to be honest, because of lack of sleep. I'm hoping that's something that I'll be able to catch up on because it's just important for me and for everybody while we stop working.
WM: What helps you when you're having lulls in your mental health or a bad mental health day?
CL: If I'm having a really tough mental health day, honestly, knowing that I have a therapist appointment that week is super beneficial for me because I feel like, in my mind, I can unload. At that point, I know there's an hour just for myself to [get] all these things out, so that feels really good for me. And sometimes just stepping away from a situation even if it's going to take the dogs for a walk. Even getting that 20 minutes just to be by myself is also really, really helpful.
WM: You've said previously that you started therapy after your daughter was born. How was that experience for you?
CL: The funny thing is, I don't sound it right now, but I'm British, and it's a very British thing to not really seek therapy. So I remember one day being on set and realizing: Wait, I think Americans go to therapy. I think everyone's going to therapy—I was the odd man out. Maybe I should do that.
But I never felt like I needed to, and then my daughter was born. I now look back and realize I had postpartum anxiety, which I didn't know was a thing. I knew about postpartum depression, and I knew I didn't have that, but I had so much anxiety.
And that's when I was like, I can't parent from this place of anxiety all the time. It's not going to be healthy for my kids either. I don't want them to feel that constant anxiety from me. So I sought therapy. ... My mom passed when I was younger, and when you have a kid, it can be super triggering. It can bring up constant worst-case-scenario [thinking] for you, where you feel like, Oh, I will die young because that's what happened to me. That's what I knew. That was my reality. It was super intense, and I had never felt that way before. And so I was like, OK, I need to do this for myself. I need to gift this to myself, gift this to my family, and go seek therapy.
WM: What did your therapist teach you about combatting that worst-case-scenario thinking?
CL: She talked about separating my legacy from my mom's. My mom passed from a medical procedure that went wrong. She had surgery, and she ended up getting necrotizing fasciitis, a flesh-eating bacteria, and she passed very quickly. So it was a complete anomaly. Very, very strange.
Something I felt was [that I'd] inherit passing young. My mom was 43, and so one thing [my therapist] made me do is she made me go back through my lineage, and [she'd] be like, "Well, how long did your grandma live till? How long did this grandma live till?" She made me look at my whole family tree. Is everyone passing early? No, that's not true. That's not actually my lineage. And so it was just helpful to separate myself from that, and, also, she tells me all the time, "That's a story you're telling yourself."
I mean, I'm a storyteller, I'm an actor, so it's been really hard to be like, OK, that's a story. That's not really real. That's not what's happening right now. That's a story I'm telling myself. So that's two things: What am I really inheriting, and what is my story?
WM: Is there anything else you tell yourself to help you in the moment through that anxiety?
CL: My anxiety manifests, like a lot of people's, physically too. And so I can feel myself physically getting anxious, which is a vicious circle [because] it gives me more anxiety to feel the anxiety. I feel anxiety, for example, in my feet. My feet start to tingle—that's how I know I'm starting to get anxious. There are different parts of my body that I then start honing in on, like my heart racing.
[My therapist] tells me to find a place in my body that feels neutral, and, the funny thing is, I always think of my butt [laughs]. My butt is never racing like my heart or tingling like my feet or hands. And actually honing in on that part of my body, or any part of [my] body that is not feeling the anxiety, is something that, in the moment, can kind of cool me down. ... I know it [might] sound funny to some people, but figuring out an area of my body that is not manifesting that physical anxiety really helps me.
WM: Grey's Jo Wilson checks in to a psychiatric facility at the end of season 15 when she goes through a period of pretty bad depression. How did you mentally prepare yourself to play that out on screen?
CL: It's really hard because, first off, we film nine months of the year, right? So when your character's going through something like that, it's almost like you're going through it with them. We're in it with them. We're kind of in the trenches with them.
I don't necessarily know if there was a way to prepare myself for that, but, as an actor, it really helps me to pull from my own life and trauma. Her depression started with things to do with her mom, and so that was pretty easy to pull from my own traumatic experiences and mix it with hers and sit with it.
But I love that journey because—and I hope that people feel this way—I feel like we did a pretty good job of showing how depression can definitely sit with you and what it looks like to do the work to come out of that. Because it takes work. It does.
WM: That makes me think back to the episode where they show Jo throwing things at the wall with her therapist to get her anger out.
CL: Yes, that reminds me of something that we talk about in [my own] therapy. There are times, if I have anxiety, my therapist tells me to push against the wall. I think it's about getting that energy out, like pulling it up and out. And I feel like every time Jo threw, she was able to take some of that pain and bring it up and out of her own body. It wasn't just like, I'm mad so I'm going to throw something. It was a way of directing some of that energy against the wall. I really loved that scene.
WM: Given that you've been through your own mental health journey and you're on a show that brings up a lot of different mental health topics, what do you want your two kids to know about it all?
CL: I don't think it's because my parents were trying to keep it a secret, but mental health just wasn't really talked about. I think it's really important for [my kids] to know to not be ashamed of seeking help or taking medication...any of those things that can reset your mental health.
That's why I like talking about this because I feel like there's still a stigma, and I just want to be able to be open and [want them to] understand: Hey, mom has anxiety. I had PMDD after my son was born, which I had never experienced before and didn't know could happen. I want them to know that it doesn't [show] weakness to seek help.
WM: Can you walk me through your experience with PMDD?
CL: I never really had PMS growing up. ... I hadn't suffered from depression before [either], so I didn't really understand what was going on. I just felt like there were times when, for a few days, I was just sad. Just depressed. My son was born during Covid in August 2020, so I kind of chalked it up to: This is hard; this year's hard. There are a lot of sad things happening in the world, and I'm just having one of those days.
But then it became pretty consistent. ... I realized after a while, Oh, it's coinciding with my period starting—the days before. So when I went to go see my [doctor], I said, "I'm kind of noticing this happening every month." I described my symptoms, and she said, "Well, that's PMDD." And I had never even heard of that before. 
Eventually I was like, You know what? I don't want to experience this every month. And so I went on Zoloft for the first time this year [after meeting with a psychiatrist my new therapist recommended], which I think is important to talk about because I feel like there's still a stigma about medication. I was nervous about going on it because I was like, I'm an actress. Can I still be in touch with my feelings? Will I be able to cry on camera? Will I feel different? Will I seem out of it? [But] honestly, it has been super amazing for me, and this is the first time I'm talking about it. It definitely took away my PMDD, so I don't have that dip every month. But then, also, it just helped any general anxiety I have. I feel like I'm a lot less anxious.
I did not want to go on medication. [It was] a last resort for me to ever do that. [But] I was just tired. I was tired of having that dip every month, and I thought, Why am I depriving myself of something that could really help me? ... [Now,] I can still do my job, but I don't have that depression I was experiencing every month, and that's incredible to me.
WM: What do you want younger Camilla to know about where you're at now with your mental health?
CL: I wish I had known that postpartum anxiety existed. I did not know that. I also just wish I had known what PMDD was because I think I would've been a lot less confused as to what was going on. ... And talking about it and seeking help is super important. ... I would tell her that it gets better. "You don't have to live with that." That's what I would tell her.
This interview has been edited and condensed for length and clarity.
Wondermind does not provide medical advice, diagnosis, or treatment. Any information published on this website or by this brand is not intended as a replacement for medical advice. Always consult a qualified health or mental health professional with any questions or concerns about your mental health.