Q&A
03.23.23
Chloe Veitch Is Thriving, Thank You Very Much
The Netflix star is embracing her most authentic self.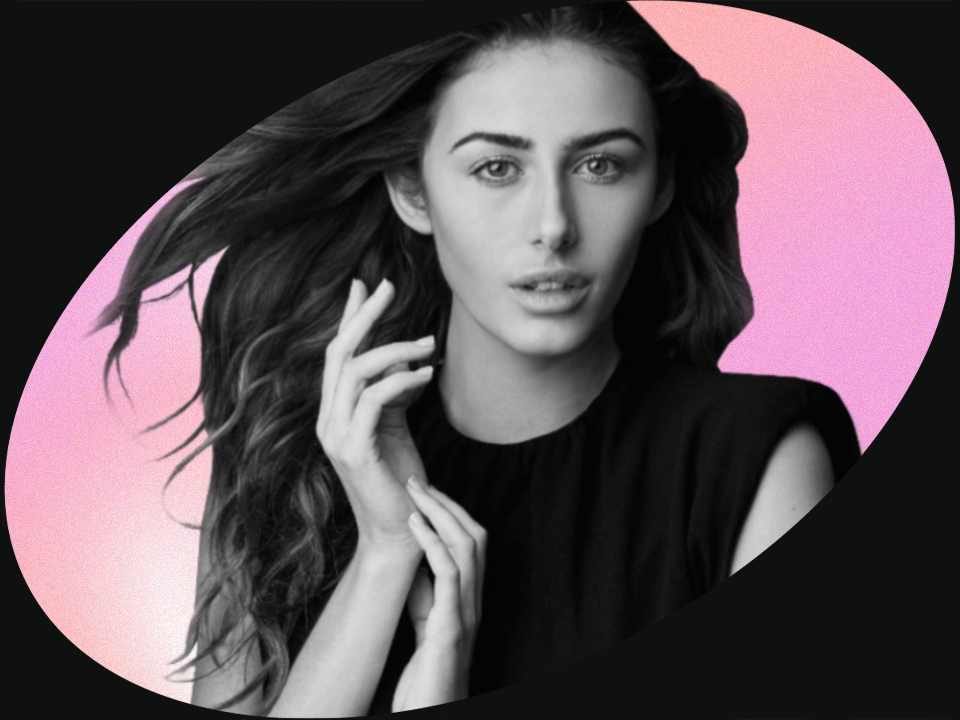 Photo credit: Irena Eastington
On reality television, nothing is quite as it seems. Conversations might be edited out of context or cut entirely, and your whole persona is being ruthlessly scrutinized by strangers on the internet. But for model and Netflix star Chloe Veitch, that's just another day in the office.
With appearances on shows like Too Hot to Handle, The Circle, and Perfect Match, Chloe is a veteran when it comes to the ins and outs of Netflix stardom. While learning to deal with her overnight success, Veitch took it upon herself to do the work and delve deeper into her own psyche to find her most authentic self.
Below, Veitch opens up about her sobriety (which can be difficult on shows that offer near unlimited alcohol to participants), what she looks for in a partner now that she's in therapy, and how finally getting an ADHD diagnosis changed her life for the better.
WM: How are you doing lately?
Chloe Veitch: I'm feeling very wholesome at the moment. I'm with my family. I haven't seen them in two and a half months because I was with my partner in LA. I was also obviously working, doing back-to-back interviews, and meeting Netflix. So it was very busy, but it's really important for me to just be grounded with my family once in a while. So yeah, I feel very wholesome.
WM: In Perfect Match, we saw a little bit of a different side of you in a really lovely way. You're so good at apologizing even when you don't need to. You are just so authentic and so wholesome about it. What do you think the key to a good apology is?
CV: That's a really good question. It's probably the best question I've ever been asked. I'm glad that people have noticed that sometimes I apologize when I don't need to. Being in recovery and sober has taught me that, because I never used to be like that. I think it comes with age as well, because if someone has done something to me to upset me, but then I've also reacted in a certain way that's probably upset them, it's really important for me to keep my side of the street clean.
It's hard to explain. I can get caught up in thinking I don't need to apologize because they've done me dirty. But actually, when you take a step back, you had a part to play in it. So, it's kind of accepting that accountability in that scenario and just saying, "Do you know what? I'm really sorry." Because it takes away my peace otherwise. That is the most important thing to me, my peace. I need to push my pride aside. I need to push my ego aside. I need to just say, "Listen, if I upset you, I'm really sorry, from the bottom of my heart."
The key to a perfect apology for me is accepting accountability and meaning it, and then showing an example of what you're sorry for and showing them that you are trying to put yourself in their shoes to say, "Hey, listen, I'm not ignoring your feelings. I'm not pushing your feelings aside. Nor am I justifying how and why I upset you, for whatever reason. I'm deeply sorry."
WM: What is it like being sober while filming a show that seems to center around alcohol as a bonding mechanism?
CV: I'm not going to lie. Sometimes it is really hard to be around how much alcohol there is when you film a show. Perfect Match, there wasn't a limit as such. So, at certain points in the day, I had to take myself for a little breather. Or if I was experiencing a confrontation with someone that was really drunk but I was sober and I couldn't make sense out of them, I would just walk off and go talk to a member of the production.
I won't say their name, but there was this guy who [worked in production]. I remember mentioning that I was sober. He actually was 15 years sober and he'd experienced all of this. That really helped, just asking for help or five minutes time out, just to recenter myself.
But honestly, being sober on all of these shows is such a godsend for me because I have more control over my emotions. I'm not sloppy. I'm not going to make as big a mistake as what I would do if I was drinking anyway.
Knowing the impact and the ripple effect that I will create by being sober on such a widespread Netflix show, to other people that are either trying to get sober or are sober that are struggling or people that have got a problem with addiction, it just goes to show that it doesn't matter who you are, where you are, what color you are, what sexuality you have. Addiction doesn't discriminate. … Me and my dad created a charity called Stand Recovery Centre a couple of years ago. We're currently fundraising to get money for a housing association to home people that are suffering from alcoholism and addiction and build their self-esteem up and help them combat their addiction, to reconnect them with their families, and take them off the street. It's all in God's name.
WM: Are you open to sharing a little bit more about your sobriety journey?
CV: I started my sobriety journey one year, eight months and 29 days ago. I think so, anyway. The 18th of June is my sobriety date. It had come to a point where I just needed to really evaluate my life. I wasn't going out and committing crime or anything like that. It was different for me. For me, I had everything that I ever wanted. I had the money, the car, the family, the friends, the job. I was on Netflix. It was amazing. But why was I still depressed? Why was I still upset? Why was I still unhappy? Why was I questioning whether I wanted to be here or not?
It was a moment where I felt so low that I had to reach out to someone—my dad—and say to my dad, "I really need help." He said, "We need to go to a meeting." I went to one and I haven't stopped. Every week, three times a week, I'll continuously go in.
I think anyone could do the 12 steps, honestly, because it is just amazing. I will shout it from the fuckin' mountains if I have to, just to get people to do it, because I love it. I owe my life to it because I know that I wouldn't be here if it wasn't for that. I wouldn't be happy. I wouldn't be myself. I've been on many shows since being in recovery and it's been tough, but I mean, I'm strong. So just got to push through it.
WM: How has being sober changed the way you approach dating?
CV: Oh listen, my type back in the day was someone who used to normalize my drinking; I would have to be with someone that drank as much as me, otherwise it just wouldn't work, because then I would have to actually look at myself. Whereas now, oh, that just makes me feel sick. If I get with someone that drinks a lot or takes substances, I'm like, "I'm sorry, I can't do it." So that's number one.
Number two is I'm more aware of the fundamentals in a relationship now. I need respect. I need someone that's going to be vulnerable with me. I need someone that's going to open up to me when they're upset and not close themselves off or someone that at least is willing to. So then I can do the rest of the work.
Someone that is a family man. When I was in the height of my addiction, I wasn't really seeing my family that much. I was just in my own little world. So, me reconnecting with my family now and being in the best place possible with them, it's really important for me to find a man that has that and someone that has a career, that's happy.
I don't care if you work in a zoo. I don't care if you work painting or at Chick-fil-A. I really don't care. But someone that has a good work ethic, that wants to get up and go to work. So yeah, being sober has helped me see that.
I'm very much aware of emotions in a relationship. So, instead of drinking to forget my pain and suppressing my own emotions, I'm more aware of my own emotions now. When I'm in a relationship, I can understand why I'm upset. Has that person provoked me to feel in that way? Because if they've provoked me to feel in that way, if we can't resolve it, then I'm gone. My sobriety helps me see the toxicity in them.
WM: What would you say to someone who's thinking about getting sober but might be scared to take the first step?
CV: I'm just taking myself back to when I was really scared. What have you got to lose? It can be a life-and-death situation. It's a progressive illness. It gets worse and worse. And in this moment, if you're feeling like you have got a problem and you need help, there are millions of people in the same boat as you are. You are not alone.
WM: You're also very open about your ADHD diagnosis. When were you first diagnosed, and how has the diagnosis impacted your life?
CV: My mother tried to get me diagnosed when I was 11, but back in the day it was very hard to get women diagnosed with ADHD because I think it was just sexist. Women can't have ADHD. It's a men thing. But my brother was diagnosed around the same time, so my mom kind of knew I had ADHD from my brother's diagnosis. She put me in different after-school clubs. She would keep thick diaries on my behavior, what I used to eat, how I would act, and how I handled my emotions because she knew that she'd need that one day.
After all of that, I hit adulthood. This was a couple of years ago, when I've moved out, I have my money now from Netflix. I'm living in a flat apartment on my own. I'm getting default payments. I'm missing bills. I'm losing all my charges. I'm losing my car keys. I'm overwhelmed with work. It's getting to a point where I'm sleeping in all day, every day because I cannot cope with the stress of my life. Then it was just spiraling out of control.
I remember, one day I broke down in tears because I was that stressed about doing my own washing. I didn't know how to separate the colors, what temperature to put it on because I forgot. I'm like, how can I forget this? I used to ring my mom all the time. She used to come over and help me. It would get to a point where some days I'd want to clean my house and I'd be on it. And then other times it would be really hard for me to even get up and brush my teeth. So then my physical and personal hygiene levels started dropping.
I remember just saying to my mom, "What is wrong with me? Why can't I just live a normal life, do normal things without getting overwhelmed?" I would miss meetings. I would be late to things all the time. I didn't have that function in my brain where I could focus on a conversation and actually take in what they were saying. So, people say, "Oh, she's really ditzy. She's really dumb. What's going on with Chloe?" I am. That is a part of me, but that's also my ADHD. I have a short attention span. I can't concentrate on something for too long, otherwise I just get really overwhelmed.
Last year I actually got diagnosed. I went to a specialist. I gave him all of the documents from when I was a kid, that my mom wrote, thank God. He said that I have ADHD combined type. Being diagnosed has helped me stop getting angry with myself because it used to get to a point where I used to get really upset. I used to be like, Why can't I be normal? Why can't I just go out the house and remember to put diesel in my car? But instead I'm at the side of the road and I've run out of diesel, I've run out of petrol. Why? So instead of beating myself up about it, it was accepting and acknowledging that, OK, this is ADHD and this is normal. Loads of people have it.
WM: What are some ways that have helped you cope with your ADHD?
CV: It's surprising because since knowing I've got ADHD and having the diagnosis, I can't remember the last time I got stressed at myself. I think just knowing that I have it is a coping strategy. Just knowing, OK, no, this is normal, it's fine, Chloe. I talk kindly to myself now.
But also having a conversation with my friends and sitting them down and educating them. Like my friend, for example, Nicole. When I went to America, I spoke to her, but I didn't speak to her enough because it's kind of out of sight, out of mind, lack of empathy sort of thing, which is tied to ADHD. She didn't understand. So I had to have a conversation with her and say to her, "Nic, it's also a part of my ADHD." Some people can't see that. They just assume because I look fine that I'm OK, but actually I don't mean to upset you or annoy you.
Long story short, having certain conversations with my family members and friends [has helped], and letting them know that these are symptoms—don't hate me.
WM: Can you tell us a bit about your therapy journey and why it's so important to you to destigmatize going?
CV: I love therapy. I remember the first time I went to therapy, I was in primary school. My nan passed away, so I started speaking to some woman. She used to just ask me how I am and then get me to paint little pictures. That was amazing because it took my mind off it.
Then, getting older, I think we underestimate how hard it is to just wake up every day and do normal things: pay bills, do the washing, but then also understand our emotions, be aware of our emotions, and then maintain relationships, keep other people happy, check on our friends and family. Sometimes it's nice to just have a conversation with someone and to just offload a little bit because, for me personally, I felt like I was going insane a good few points in my life. I'd recommend therapy to anyone.
I went to therapy [again] when me and my partner split. It felt like bereavement therapy. It was really intense. It was six months of intense therapy twice a week. For me it was educational because not only is she helping me understand and visualize my own emotions, she's helping me and educating me on how to deal with certain things that may arise again. So, instead of just walking through life and winging it and just accepting the fact that I'm a little depressed sometimes, it's knowing how to deal with it.
If I was to have a conversation with someone that's really upset or if I was to have children one day, I can then sit them down and say, "Babe, you're fine. This is probably why you're feeling like this. This is how we're going to overcome it." So yeah, it's a ripple effect. I think it can help. If you have it, it can help generations.
WM: What's one piece of advice you'd give to your younger self?
CV: Don't try and control things that you have no control over, because that is one bane of my life that I have learnt the hard way to overcome. Yeah, that would be my one bit of advice. Once you realize that the world owes you nothing, then you'll start to understand. My dad said that to me the other day and I was like, I like that.
Wondermind does not provide medical advice, diagnosis, or treatment. Any information published on this website or by this brand is not intended as a replacement for medical advice. Always consult a qualified health or mental health professional with any questions or concerns about your mental health.