Q&A
05.24.23
Emily Tosta Isn't Buying Into Hollywood's Hustle Culture
The 'Mayans M.C.' star opened up about therapy, self-care, and living with a chronic illness.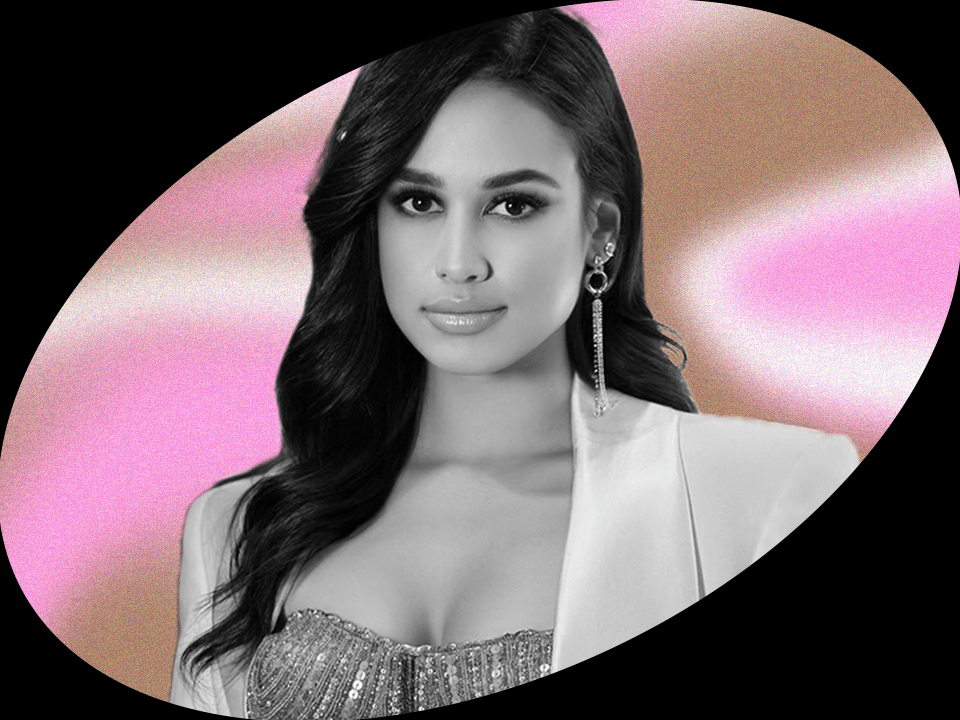 Photo courtesy of Emily Tosta
Sitting with your own emotions is never easy, but when you're balancing your own life and playing an entirely different one on TV, things can get…a little messy. Thankfully for Emily Tosta, she's a pro.
Best known for her breakout role as Leticia "Letty" Cruz on Mayans M.C., Tosta is no stranger to dealing with heavy topics during a day at work. The spin-off of the biker series Sons of Anarchy, Mayans M.C. brings brutal violence, vengeance, and murder to the forefront of nearly every season.
"You almost have to find a balance of not bringing your work home," Tosta tells Wondermind. "But sometimes it's a little bit tough because we get so in it and we can be dealing with these really heavy emotions and really heavy storylines."
Ahead of the show's fifth and final season, we spoke with the actor about coping with Hollywood hustle culture, taking care of her mental health after being diagnosed with an autoimmune disorder, and why she thinks it's so important for the Latin community to talk about their own mental health journeys.
[Sign up here to never miss these candid conversations delivered straight to your inbox.]
WM: How are you coping with the enormity of Mayans M.C. coming to an end after so many years of playing a fan favorite?
Emily Tosta: It's been a lot of emotions, especially shooting this last season. There's almost these stages of grief when it comes to leaving a character that has lived with you for so long and leaving people that have been with you for so long. I feel like this show was such a pivotal time for me in my career and I grew so much as an artist and as a woman on the show, so it's a lot. You have to find coping mechanisms. You have to find ways of letting go.
WM: What are some of the coping mechanisms you've used?
ET: Something I have found that's really important with just dealing with the industry overall is pouring back into myself: my own self-care, my own self-value, activities that help me, like journaling. Journaling has been a huge thing for me. Keeping up self-care activities such as meditation or prayer. It can look different for everyone. Spending time with myself and letting go of the character and more so stepping into who Emily is. And it's also kind of going through a whole restructuring of who I am now without this character and without this project, and planning for the future.
WM: Trying to rediscover who you are after this part of your life comes to a close. What is that looking like for you?
ET: Right now we're going through a writer's strike, which I think is a very important situation that's happening in our industry right now. And I think that we should all stand in solidarity with each other, so when it comes to looking for new work, it's a tricky time because of what's happening.
I am working on a really exciting project where I'm coming up with an affirmations deck because I think that the power of word is so important. And I think that for our mental health, the way that we speak to ourselves, the way that we speak to others, and our words are so powerful. … I think this project has always been something that I've held really dear to my heart, and it feels like the perfect time to share it with the world.
WM: How have positive affirmations affected your own life and what are some of your favorites?
ET: Affirmations have been really influential in my life. I was born and raised in Dominican Republic, and I moved to America when I was almost 13 years old. And that was a really big culture shock for me. … When I came here, I feel like I was going through a lot of self-discovery and a lot of almost like self-hatred, in a sense, because all of the things that my entire life I thought made me who I am, when I came here, it was almost like I was being put down for them. Stuff like my accent or where I come from. It made me feel very less than and I had to rediscover myself. I had to redefine who I am to myself without letting outside opinions or outside forces affect that self-value for me.
In that journey of discovering who I was as an artist, being in this industry as a young woman trying to grow up in this industry, I discovered the importance of self-care. And within that self-care, a practice of affirmations was so important to me, which was something that became a part of my morning routine. And I realized I would not believe anything I was saying in the beginning. I would just repeat it to myself in the mirror hoping that something was going to click or something was going to work. And I would pair it up with meditation, I would pair it up with prayer, I would pair it up with other self-care activities. But eventually, it did click.
I think that our words are so powerful and we can truly retrain our brains to believe something. And sometimes we underestimate the power of mental health and we underestimate the power of our brains and the power that we have to take charge of our lives. And I think that that was such an important part for me growing up here in LA, and also during those times when I felt like everyone else was telling me that I didn't belong here, that I wasn't good enough. It's almost like I had to reaffirm that to myself that I was.
WM: You've also had some health struggles while you were filming the show. Would you mind talking a little bit about that experience and how it impacted your mental health?
ET: In 2020, I was diagnosed with an autoimmune disease and I was hospitalized for almost two months. Being in there struggling with my health and almost struggling to live taught me so much. That was such a pivotal point in my mental health journey, and also my physical health journey. I learned the importance of truly taking care of yourself. I was allowing my body to be under an environment of so much stress without finding coping mechanisms, without finding ways to release that stress, without finding ways to recenter myself and rebalance myself. I was just so go, go, go. Like hustle. I have to make money, I have to ride this momentum.
I was doing Mayans, I had booked Party of Five, it was my first lead in a show, and I had booked my first film where I was the lead alongside Nicholas Cage. It was just like, I need to ride this momentum, I need to continue to work. And that's kind of like what this industry almost instills in you. It's like, you have to work, work, work. Hustle, hustle, hustle. Let's wake up today and be like, How can I make money? What am I going to book today? And I was letting go of myself. I wasn't paying attention to Emily. I wasn't paying attention to the signs that my body was giving me. I wasn't paying attention to symptoms that were showing up in my body because all I could think about was, What's going to be the next move in my career?
And my body literally forced me to be still. My body literally forced me to take a deep breath. My body was like, "Em, we need to slow down." And I ended up going into the hospital and then I was diagnosed. And I was in there literally fighting for my life; it was such a moment of restructuring myself. And it was really hard to share with anybody because you don't want to be a liability. You don't want to be someone that people think of as like, "Oh, she's diagnosed with something. Could we work with her? Is this going to be tricky now?"
So it was just going through a lot of mental health struggles, but at the end of the day, it made me so much stronger. It made me understand the importance of being calm, the importance of being still, the importance of taking the time to actually take care of yourself. And it's OK to take a day off. It's OK to take a day where you go get a massage. It's OK to do those things. And I just hope that no one has to go through unfortunate situations to understand that. Just as much as we hustle and just as much as we work hard, it's also equally as important to take time off, and it's OK to do so.
WM: In the Latin community, sometimes it's really hard to talk about mental health. What's been your experience in opening up and talking about these things that we grow up being told we shouldn't be talking about?
ET: It's such a stigmatized topic, especially when it comes to our culture because you almost have this [idea] you have to be strong all the time. And for the men in our culture too, it's like you can't show emotion, you can't show vulnerability. But at the end of the day, that is just continuing to play towards our trauma, towards our struggles, towards bottling everything in, and then it's going to come out in some way. Look at me, I was bottling all of this stress and I was keeping all these emotions inside of me and then it came out in something else.
I think that we have to understand that [mental health is] very, very important, and I'm really glad that we have new tools now. That we have spaces like these where we can talk about it openly; we have social media where people are talking about it more loudly; we have celebrities and we have leaders that are now speaking about the importance of it. I think that, as a culture, we definitely should also step up to the plate and teach our kids that it's totally OK to be vulnerable. It's totally OK to show emotion. Mental health is a huge thing. It's something that we should be talking about in school. I think it's something that we should be educated on in the school system here in America, and in my country, all over the world. It's something that has to have more light shined on, and I think we're making progress towards it, but there's still so much more to do.
WM: So speaking of emotions, what emotion is the hardest for you to express, or the hardest for you to work through?
ET: Something that's been really tough for me is, and I don't know if this is necessarily an emotion, but I guess when I am stressed or frustrated. I'm still working with learning how to show people. Sometimes I keep everything inside and it's a little bit tough to show those "weaker" sides of myself, which is the word that I'm trying to restructure and not think of it as a weakness. But I would say that it's a little bit hard to express sometimes. And I'm learning that it's OK to have bad days and it's OK to not be perfect.
WM: What aspect of your mental health still feels like a work in progress?
ET: I would say that we tend to underestimate how much our childhood experiences reflect on the rest of our adulthood. And sometimes when you go back and you really tackle those, it can be heartbreaking. It can be really tough. So I think for me, that's a work in progress still, working on some childhood trauma and understanding how it's affecting my day-to-day life, and how I can cope with it and how I can transform it and how I can allow that to be more of a testimony.
WM: Would you be open to talking more about your own journey with therapy?
ET: Therapy has been a very important tool for me. I remember my first time going to therapy. It was in D.R. and I was not really aware of what it was. I'm young, I'm trying to use this as a tool to cope with the things that are happening at home. At first, I was a little bit on the fence. Where is this going? Is this really going to help me? You're a little reluctant towards it. And then I kind of dropped it as a child and then I picked it back up as an adult. And I think that was really life-changing for me. I was more open to it. I had developed almost a desire for it.
Sometimes therapy can be really helpful with helping you cope with things. When you have an outside perspective of a professional, it can really bring a new awareness and a new perspective into your life. And it's been so helpful for me.
I know that some people struggle with sharing experiences, with sharing things that are going wrong in their lives with their friends or with their family. And I used to be that person. I used to be the person that if I was having a bad day, my family wouldn't know. My friends wouldn't know. Only my therapist would know. And it's like, at least I had that one person that I could come to that was a safe space for me, that I could talk to about the experiences I was going through and they were helping me work through them. And then eventually my therapist was the one that taught me how to open up to other people.
Wondermind does not provide medical advice, diagnosis, or treatment. Any information published on this website or by this brand is not intended as a replacement for medical advice. Always consult a qualified health or mental health professional with any questions or concerns about your mental health.