Q&A
06.01.23
Emira D'Spain Is Learning to Feel All the Feels
"For every one person that's being negative, there's 10 people saying something positive."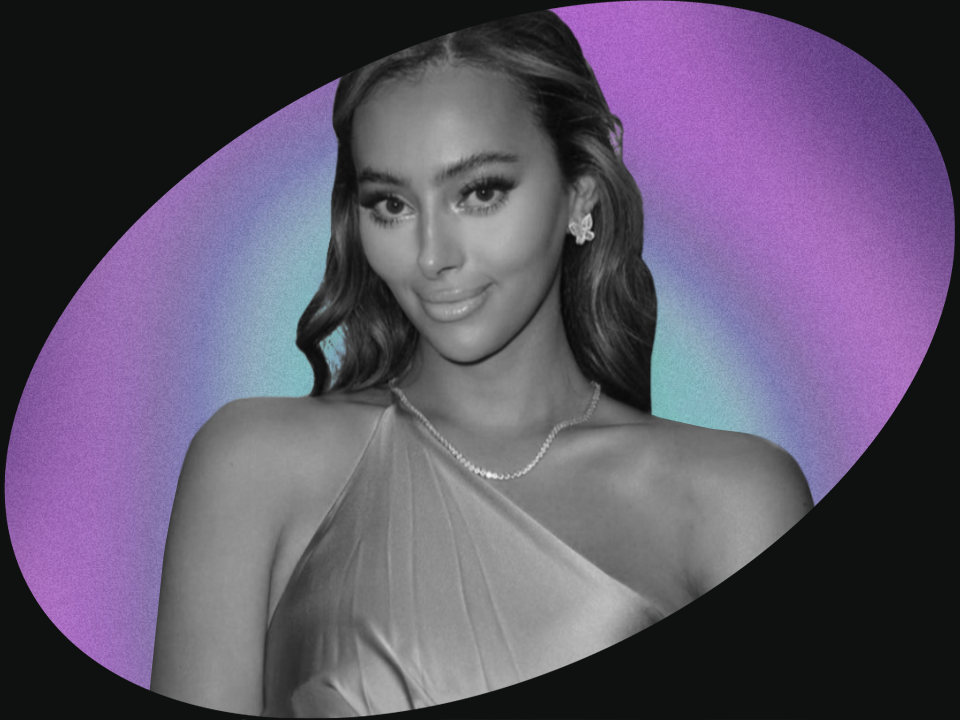 Photo courtesy of Emira D'Spain
As a content creator with over 1 million followers on TikTok and the first ever Black trans Victoria's Secret model, Emira D'Spain is no stranger to giving others a candid glance into her life—even on the bad days.
This vulnerability is new for D'Spain, but it's a change she hopes will inspire other creators to share their own mental health journeys with their followers. "I was one of those creators, I would never talk about my mental health online, you would never see me in a moment of sadness because all my content is very centered around positivity and just being yourself and being confident and happy and looking at the bright side of things," she says.
After a particularly jarring incident of online harassment, D'Spain broke her silence and has become more forthcoming about the hate she's received. "I'm happy I was given the opportunity to talk about it, because I think that it's better than going back at these people saying something nasty or trying to defend myself. I'd rather just share the impact that had on me with my audience to let other queer people know that it's OK [if something] hurt your feelings. You don't have to say something, you don't have to feed into it."
From her lifelong struggle with anxiety to coping with mass amounts of unwarranted online hate, D'Spain opens up to us about all things mental health.
[Sign up here to never miss these candid conversations delivered straight to your inbox.]
WM: How did it feel when you found out you were going to become the first-ever Black trans Victoria's Secret model?
Emira D'Spain: It felt amazing. It wasn't something that was planned, so I feel like the pressure was on ever since then. And I put a lot of pressure on myself, as I feel like most creators do. I don't know, it was amazing, I feel like I now am trying to one-up myself. I'm working through that.
WM: What are some of the ways you're working through it?
ED: Trying to live in the moment and not trying to always think about the next best thing or trying to push yourself so hard that you... I don't know, you want to just soak it all in.
WM: How did you mentally prepare to take on this international role in the spotlight, especially with a brand that wasn't always inclusive in the past?
ED: Again, it was something that wasn't really planned, so it was just crazy how it blew up. And I was getting so much hate online the first day. It was 50/50—half really positive and half negative. It was interesting to try to manage the two. But I feel like the positive always outweighs the negative in those scenarios.
WM: What's one mental fitness habit you make time for while working a highly demanding job and managing a massive social media platform?
ED: Every night I do my little thing of gratitude. And it sounds really cheesy, but it really is really cute. I'll say 10 things that I'm grateful for, and they have to be different every single time. So it starts out really easy. You say the obvious, "Oh, I'm grateful for my apartment, I'm grateful for my family, I'm grateful for my friends." But then you get into the nitty-gritty, and you're like, "I'm grateful that I have the money to buy this toothbrush. I'm grateful for having hair on my head that I can brush before I go to bed." Things like that.
WM: You've said before that TikTok is your safe space where you can just be you. And then you recently opened up about facing mass amounts of internet hate. How has that impacted your mental health?
ED: It's so funny because I was actually just talking to one of my friends about this and I was like, "There needs to be more therapists or people in the therapy space that focus on creators or focus on people in the public eye." Because I feel like, for the majority of people who go to therapy, they're not teaching you coping mechanisms for that. And it's been interesting, I think over the past six months I feel like I found more internet hate online than I [ever saw] before. It went away for a while and then it spiked back up.
And I think, as I grow, that's just how it's going to happen because it's more eyeballs on you. So I'm trying to figure out ways to cope with it. I'll let you know when I find one. But a good cry [helps]. I try to not let it get to me, I try to think about how, for every one person that's being negative or saying something horrible, there's 10 people that are saying something positive or impacted by my content in some way. That's the mental process I'm trying to work through.
WM: What could society or app creators be doing to support the mental health of creators?
ED: I feel like a lot more creators should talk about their mental health openly. I think it's becoming less and less taboo, but I feel like it definitely takes some time.
Not too long ago, I actually found a conservative Twitter thread about me and it broke my heart a little bit because I guess I hadn't seen that much hate in a while. And it just made me so sad that I was like, "I have to talk about this."
So I made a video of me crying, sitting on my kitchen floor talking about that. Just being in that moment and sharing that with my audience, the response from people was positive, of course, my fans were like, "Thank you for sharing this." But they were also saying, "We never knew that you would deal with that. We couldn't imagine that that was something that you would have to deal with." It felt good to share. And I think more creators can find peace in sharing that, which I know sounds weird because it can be even more anxiety-inducing to share that part of yourself.
WM: What was your thought process before you posted such a vulnerable piece of yourself online?
ED: I actually FaceTimed my mom and I was crying. And she was busy, she was at the gym or something and I didn't want to bother her. I felt bad that I'm going to interrupt her workout or her day or whatever. So I was like, "It's fine. I'm fine." I hung up and she's texting me frantically, "Are you OK?" But I was like, "Let me share this with my audience." Even though they can't respond, and it's not going to be the comfort of a FaceTime call. I think it would be more impactful to share this with the people that I love and that I am creating my life with.
WM: Do you have any advice for other young trans people, especially those who are being bullied?
ED: It's hard because I didn't transition until later on in my life and I don't think that I ever really had an experience with bullying growing up for being trans, so my advice might sound a little cliché, but it really does get better. I think that you have to look long-term and just think about the life that you're going to create for yourself. And [if] you're not living in the community or the space that is welcoming to you, you have to know that you will eventually have that when you create it. Because any person who is identifying as trans knows in their mind exactly what they want. You truly do know. And so I have no doubt in my mind that at some point in their lives, they will figure that out. They will have the space and the community and the love and everything that surrounds them, because you already have the drive to—not publicly, but internally—transition.
WM: You've talked a little bit more about dealing with anxiety and depression throughout your life. Would you mind telling me about your journey?
ED: I feel like I've always had a little bit of anxiety. I used to do theater and acting and such, and that was my little outlet to help dissipate that anxiety that I was feeling. But now that I don't do that anymore, I've had to find new outlets to release my anxiety and I think it's just been creating content. And that, at times, of course does give you anxiety, it can feed into it, but it really is such a freeing moment to be like, "This is what I'm creating."
WM: Have you been in therapy?
ED: I'm currently not in therapy anymore, but I have benefited from therapy in the past. Mostly through talking out my problems. I think that I very much get in my head, and I will have things going on that spiral. One thought will come in and it's like a sandwich that just never stops, it keeps going. And [you wonder], when's the top of the sandwich going to be put on? But it just doesn't. It keeps going. So I think I learned in therapy to really put the top of the sandwich on, close that thought, let that have its moment, feel the emotions, don't try to stifle the emotions. 
And if there are other people involved, express your emotions because that's something that I'm very bad at. I will hold my thoughts in, I will hold my emotions in. I was taught that growing up, and it's something that I'm working on relieving myself from. But yeah, therapy definitely helped me to look at it in a different perspective of just feeling the emotion, letting the thought happen, putting a cap on it, and moving on. And it's OK to do that.
WM: Are there any aspects of your mental health that you would describe as a work in progress?
ED: Definitely learning to express my feelings and my thoughts to other people instead of holding them in. That is a work in progress for sure. I think learning to deal with anxiety in the public space is also something that I'm working towards. I get really anxious with events or social interactions. I'm an introverted extrovert, so I definitely love being around people, I love interacting with people, but it does give me a little bit of anxiety. So I'm working on trying to manage that and getting out of my head and just embracing it, being in the moment, not trying to overthink things or overanalyze situations or overanalyze other people's emotions or physical responses to things. I just have to let it go, just live, just be me, just embrace the moment.
WM: What is one piece of advice you'd give to your younger self?
ED: Never stop being you. Other people are going to try to tell you to change this, change that, do this, do that, but just never [lose] the core of myself. Keep that light on, keep it burning, and never stop being you.
WM: What moment in your mental health journey are you most proud of?
ED: God. Oh, are we going to get deep? OK. We're going to get pretty deep. So, in 2016, I was sexually assaulted and it really took a toll on me and really impacted me, as [you'd expect]. But I worked through that in therapy, I worked through that with my family, my friends, everybody who was around me, and I got through it. It happened in Paris, and I vowed that I would never return to Paris again. I was like, "Fuck this city." I was like, "I'm done. I'm never going back there." And on the five-year anniversary of it, I actually did go back to Paris. It was a big mental health moment for me that I was able to do that and that I had worked through that—not on my own, but I worked through that over those five years.
Wondermind does not provide medical advice, diagnosis, or treatment. Any information published on this website or by this brand is not intended as a replacement for medical advice. Always consult a qualified health or mental health professional with any questions or concerns about your mental health.