Q&A
11.16.22
We Talked to Emulsify About Art, Abortion Access, and Immigration Status
The artist got real about how immigration, pregnancy, and working in reproductive justice impacts their mental health.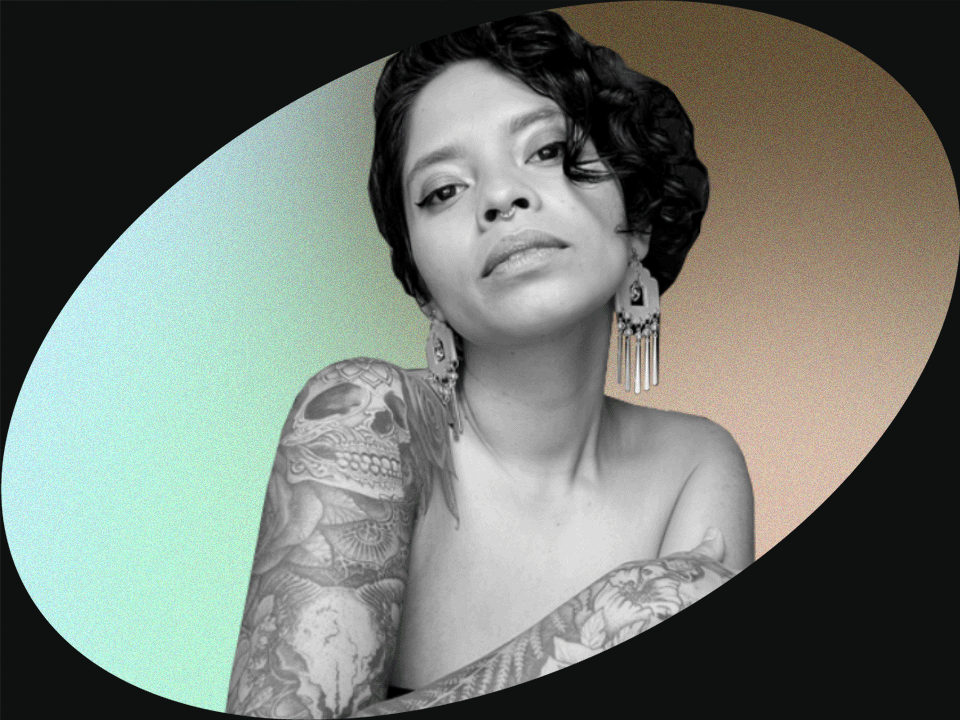 Photo Credit: Courtesy of Emulsify
It's no secret that American politics continue to be a hot mess complete with threats to reproductive rights. To do their part, artist and activist Emulsify teamed up with The Center for Cultural Power, which amplifies artists and the issues they're passionate about, to continue creating art that educates and empowers. Here, the illustrator behind the What's an Abortion Anyway? children's book talks to Wondermind about the mental health impact of bodily autonomy and immigration, the excitement of choosing to be pregnant, and the tough emotions that can come up when starting therapy.
[Sign up here to never miss these candid conversations delivered straight to your inbox.]
WM: What's invigorating you lately?
Emulsify: I've been giving a lot of attention to two different things: A lot of my work intersects with the reproductive justice movement: I've been a trained abortion doula since 2016 and am part of a doula collective, and I make art about abortion access and reproductive justice. As a collective, we've been developing a support hotline for folks who are undergoing a medication abortion.
I'm also six months pregnant, so that's been taking up a lot of my intellectual and emotional energy. It's been awesome getting to learn with my body and witness all the physical and spiritual and emotional changes that my body is going through. [And I'm] just processing that I'm going to have a tiny person in this world that I will be responsible for and that I will be forming a bond with. [Editor's note: Emulsify gave birth in November 2022.]
WM: Can you talk about those emotional changes you're experiencing during pregnancy?
Emulsify: As someone who is in the reproductive justice field and primarily focuses on abortion, it's been really affirming to be pregnant and to understand what this feels like, given that I am choosing to be pregnant and that this is something that I want. [Along with the joy], there's definitely been a lot of struggles. My mood changes, and it's affected my mental health. I can't rely on the same coping mechanisms that I used to. I was a huge weed smoker before I was pregnant; that was one of the main ways I coped with anxiety and depression.
And while I feel connected to [my body], there are parts that I also feel disconnected to. Yesterday I was talking to a friend at the beach about how the body holds trauma and how intergenerational trauma is passed down in our bodies. It can be hard to connect with that knowledge and how my body's also been passing down the knowledge of how to make a baby and what changes need to happen. … [The changes have] just been happening, but it allows me to feel present in my body, which is something that I've struggled with in the past. I dissociate a lot, so it's been nice to welcome that and find new coping mechanisms and new ways of adjusting to the changes in my brain.
WM: What was getting diagnosed with anxiety and depression like for you?
Emulsify: I am an immigrant and migrated here when I was seven with my mom. We came here from Ecuador, and I think migration can be really traumatizing, especially coming to the United States. I grew up undocumented for most of my life. When we moved here, we were coming to meet my dad, and my mom found herself in an abusive relationship. It shifted my life in so many ways that impacted my mental health.
I was a young person who was given much more responsibility than most young people should have. I was doing a lot of caretaking for my mom, and I was a big [source of] emotional support for her—she was a young mom who got pregnant at 19 and had me at 20. So while we were very close, sometimes the lines were kind of blurry, and I grew up very anxious; I think I was depressed for most of my teens and early adulthood. Being undocumented was a big factor in that, particularly once I was older and felt the impact of not being able to get a license or apply to the schools that I wanted to go to, not being able to travel, and just feeling all these limitations and witnessing how it impacted my parents.
Around 22 or 23 years old, I went to therapy for the first time, and that was hard…because I was the first person in my family to go. It's affirming when someone's like, "Yeah, shit's really fucked up for you." But also, you don't really want that affirmation. At least, I didn't want that. It almost made things very real. I began feeling a lot of emotions that I had pushed [though] and ignored.
A couple years after starting therapy, I graduated college and started my first full-time job in the city. I was doing all these great things, and I was feeling really shitty. I had a breakdown; I was exhausted.
Eventually, I collapsed and couldn't push forward. I was hospitalized for a week for exhaustion and depression, and I was diagnosed with bipolar disorder. Receiving that diagnosis has been an interesting journey because for so long, I wanted my therapist to be like, "This is what you have," so I could read a book and be like, "OK, how do I fix it?"
From there, I was given a lot of prescriptions…and I spent two years trying to figure my way out through meds, which wasn't a successful journey for me. … Around the same time, I started developing a consistent art practice…and processing feelings through my art, like immigration status. Through my art, I found other people who felt like me or shared similar experiences with me and found my art healing and helpful. That was affirming and gave me an opportunity to develop it in a practice that felt like therapy in a way.
WM: Which piece of art helped you the most with your mental health?
Emulsify: One piece has a dark blue background and an affirmation that's yellow and very bright. It says, "Even in the darkest times I have the capacity to find light within myself." That was one of my early pieces, and I felt connected to it because…I am an anxious person. For me, that means I struggle with suicidal ideation. When something grabs me, I feel devastated—it could really be all I see. That affirmation has been helpful for me in being able to remember the simple things around me that are good and point toward the light.
WM: Going back to your work in reproductive justice, how do you think destigmatizing abortion intersects with mental health?
Emulsify: I connect it to bodily autonomy and having the agency to tell someone how we feel and have that be received and believed and not questioned…that can be instrumental in not being traumatized. The moments that have been the most traumatizing for me have been when I have felt a certain way and nothing around me affirmed or reflected that.
When people know that's the decision they want to make with their body and they want to end their pregnancy and need an abortion, it's important that there is a system of support for them that is not there to judge them or to question them. [It should be] to offer support and to facilitate whatever needs to happen to make access to abortion safe and not make them feel bad for those decisions.
I've never had an abortion…and I want to honor that I can't speak from that specific experience, but talking about abortion and normalizing it and destigmatizing it allows more people to feel more empowered in making those decisions. Being able to choose and do what you want with your body is directly connected to how you feel in it. Destigmatizing abortion goes hand in hand with supporting people being their best selves and taking care of their mental health.
This interview has been edited and condensed for length and clarity.
Wondermind does not provide medical advice, diagnosis, or treatment. Any information published on this website or by this brand is not intended as a replacement for medical advice. Always consult a qualified health or mental health professional with any questions or concerns about your mental health.