Stories
09.06.23
12 People Who Were Ghosted Share How They Moved On
Still bitter? That's cool.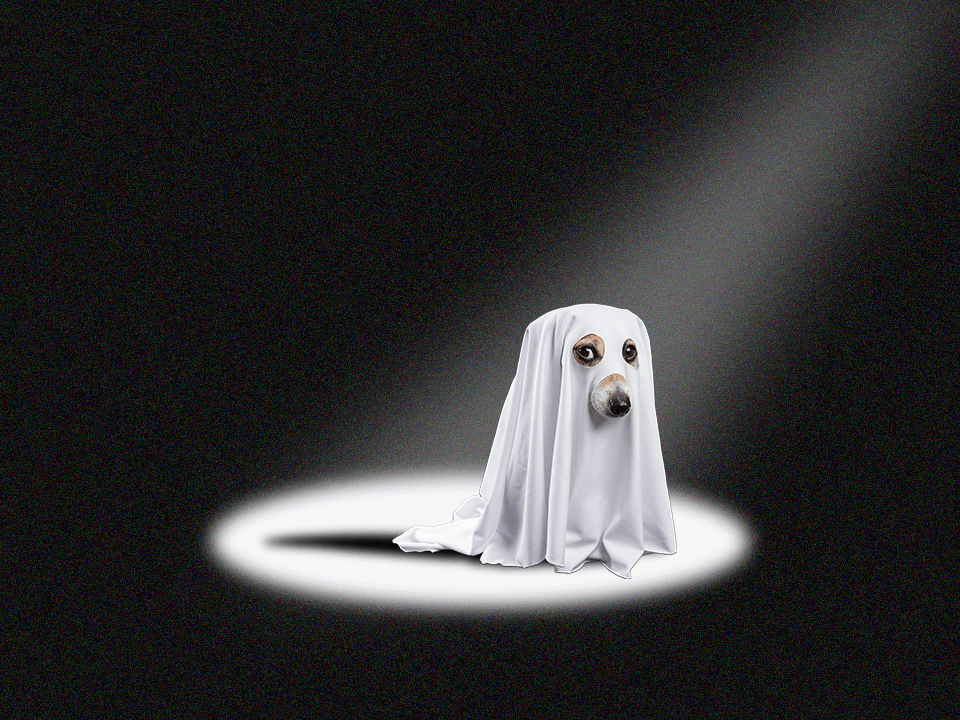 Shutterstock / Wondermind
There's nothing quite as perplexing and panic-inducing as being ghosted—whether it's someone you've been talking to on Hinge for weeks, a friend you've had for years, that recruiter you swear you clicked with, or even someone in your own family. Suddenly you're blocked, ignored, left on read, and you don't know WTF happened.
Ghosting is when somebody you've been consistently communicating with and think you have a connection with stops answering your calls or messages without warning, says psychotherapist Genesis Games, LMHC. And it sucks. You might lose sleep thinking that there's something wrong with you and start feeling insecure, says therapist Tina Setteducate, LMFT, coauthor of BreakUp & BreakOut. "[When we're ghosted] we often turn the mirror on ourselves and think, What could I have done differently to avoid this? And oftentimes the answer is nothing," says Setteducate. Even so, getting ghosted can make it hard to trust that other relationships in your life won't just vanish into thin air too, Games notes.
It's easy to blame the ghoster for being a horrible human, but people often ghost because they don't want to have hard conversations, says Setteducate. It takes guts to break off a relationship and risk hurting someone's feelings. That can feel really uncomfortable and bring up lots of tough emotions, she explains. Whether they hate conflict, confrontation, or just being vulnerable, communication is not their jam, Games says.
It's also possible whoever ghosted you assumes you know why your relationship ended, Games adds. Or they may not think you're close enough to need an explanation, says Setteducate. This reasoning definitely isn't great, but it's not totally evil either.
So how do you deal with a ghost? Setteducate says some people might feel empowered by reaching out to the ghoster to tell them how they feel. "This could sound like, 'Hey, I'm disappointed I never heard from you," she says. Even if they don't get back to you, this might be a way to reclaim the narrative or say your piece, if that's something you're after.
Besides sliding into their inbox, there are tons of ways you can handle this not-great feeling. In fact, we found a bunch of people who did exactly that. Here's how others put things into perspective, found acceptance, and moved on after getting ghosted.
1. I know it's them, not me.
"A close friend ghosted me and my wife the day we announced we were having our first child. He deleted and blocked us both on all social media. That was six years ago, and I've never heard from him since. I was really mad about it at first, and I still think about calling him out sometimes, but, in hindsight, I think it was a good thing. I don't have the time or energy to deal with people who don't want to be around me anyway. I have many other people in my life, including my wife and two kids, who keep me happy.
Thanks to therapy, which I started earlier this year, I've been re-evaluating my relationships and actively choosing who I want to spend my time with. While I wish [this person] said something to me rather than ghost me, [the fact that he didn't] shows me that we never had that type of relationship to begin with. I've also realized that he may have had some issues that I wasn't aware of." —Joseph N., 44
2. I thank the universe.
"I've had my fair share of ghosts on this dating journey. Very recently, I re-downloaded Bumble after a long hiatus, and there was one guy I was particularly excited to chat with. His profile seemed to hit all the right spots. We had lots in common and continued to hit it off once we matched. After speaking for about two months straight, one day he didn't reply to my message. I thought he was just busy, so I gave him the benefit of the doubt. After a week of crickets, then two weeks, I knew he wasn't interested anymore. My hunch proved right the next day when he unmatched with me!
It was a hard pill to swallow, and, a year ago, I would've wallowed in self-pity and would have asked, 'Is something wrong with me? Am I not worthy of love?' about a dozen times. But 2023 has [given me a] different perspective. I now believe that rejection is redirection and the universe is working overtime to remove the people who are not meant to be in my life. Maybe this guy would have absolutely crushed me if we were more involved. Who knows! Adopting that mindset has been a game changer." —Anonymous, 26
3. I remember I'm not alone.
"When a situationship ghosted me after they started seeing someone seriously, I was hurt. Since we were friends first, I would have expected him to tell me when he started dating someone else and wanted to end things with us. I would've felt more respected and less paranoid if he was direct and told me the truth instead of leaving me to figure out why. It helped to know I wasn't alone in this kind of thing. I moved on by trying to spend more time with people who made me feel good about myself." —Anonymous, 27
4. I tell myself I'm avoiding bad business.
"Getting ghosted in a professional setting is as upsetting as getting ghosted in a romantic situation. Maybe even more so. I'll spend time cultivating a relationship with potential clients, send them a proposal or contract, and then I hear crickets. This happens even when we seem excited to work together. It is highly unprofessional and leaves a very bad taste in my mouth. I find comfort thinking that the project didn't end up in my hands because it wasn't for me—I dodged a difficult client." —Stanley V., 41
5. Therapy helps.
"Last year, I was ghosted by my 'best friend.' We were sorority sisters in college, like family. The betrayal is still unbelievable. To be honest, I am still not 100% over it a year later. I've been in therapy and have learned a lot about myself, setting boundaries, codependency, and reciprocity. I've learned to trust myself more and recognize what is most important to me in my relationships. I'm more thoughtful and intentional with my energy and time." —Cassie D., 32
6. I remind myself I deserve better.
"To my knowledge, things were moving well with someone I was dating for a few weeks—until it wasn't. He stopped texting me back and would leave my messages on read. It feels hurtful because you begin to think to yourself, Why do people do this? Why can't they just tell me they don't want to see me anymore and leave it at that? The way I've made peace with being ghosted is by reminding myself that sometimes having no answer is your answer. I wouldn't want to be with someone who treats me that way or treats confrontation that way. Being ghosted taught me to have a stronger guard up. I don't allow myself to get emotionally attached to someone as easily as before, and that's a good thing." —Danny P., 24
7. I had to grieve.
"I was in a situationship with someone I've known for three years, and we made plans for me to spend a couple of days at his place. The actual day came around, and there was no word from him about our plans. I never heard from him again—not an apology or anything—but he still views my stories and likes some of my posts. I had a hard time with it and tried to ignore that I was hurt, but it caught up to me eventually. I had to let myself officially grieve. I did a lot of reading, writing, praying, painting, and talking to my support system. I even cried to let it all out. I felt sadness and anger in order to fully say goodbye and close that door." —Jeni C., 29
8. Talking to friends helped.
"I dated someone semi-seriously for a year, and it ended in him taking another girl on the trip that we had been talking about for months. He never spoke to me again after that…zero explanation! It hurt until one day it just didn't. Talking it out with friends is what helped me get over it in the end. They always prefaced the subject by asking me, 'Do you want to talk about it? Or would you rather just do the opposite?' This courtesy was the first step in making me more comfortable opening up about my hurt rather than wallowing in it all by myself. My friends also planned activities that weren't just related to drinking or partying, which was integral to feeling better. Going on hikes, to brunch, and to the beach were great opportunities to connect while still doing something fun." —Brooke A., 27*
9. I stayed busy.
"At school, I was seeing a wonderful therapist. She kicked ass and was crucial for unpacking decades of trauma that impacted my education and life. I went home for the summer, and, when I returned, I never heard from her [even though] we talked about picking back up once I got back. I called a couple times and sent an email. I didn't follow up [after that] because I thought it was my fault, like I was a bad patient or my mental health wasn't as important as someone else's. It's entirely possible that I was reaching out at the same time as everyone else coming back for the school year and I just wasn't persuasive enough, but I still took her actions personally.
That year was really hard for me. I just kind of hardened to things that would have made me more vulnerable. I started working all the time. I had several jobs, worked hard, and did passion projects. It might seem like staying busy is a bad thing, but, in this instance, it kept me from sinking into a pattern of thoughts that made me feel forcibly ejected from getting help. Staying busy helped me not focus on my 'inner saboteur,' as RuPaul might say—the thoughts that told me my mental health wasn't important." —Anonymous, 28
10. I still find meaning in our time together.
"In March, one of my closest friends stopped answering me. We met in college, were long-distance friends, and got close so quickly. Initially, I thought she was busy with school. A month went by and, still, I got no messages from her. At the end of the day, I can't beg for someone to stay in my life if they don't want to. It's all about boundaries and healing now. I understand that friends can go from being people you know to people you don't. But that doesn't mean their time in your life had no meaning. Everyone, even the ones that hurt you, teach you something." —Diana R., 24
11. I did stuff I like doing.
"There was one time when I connected with someone through a dating app, we went on a few dates, and we seemed to be looking for the same kind of relationship. It seemed like our goals and values aligned, and we consistently communicated and spent time together. Then, one day, they just went MIA when we had a date coming up.
[What helped in this situation was] investing my time and energy in things that add value to my life and make me feel good about myself. As a healthy distraction, I love going to the beach, and so spending time there was really healing for me. I also went on some extra long walks with my dog. I spent time with friends, not necessarily talking about what happened, but just having a good time with them." —Genesis Games, LMHC, psychotherapist
12. I blocked the ghosters.
"I was ghosted by two different friends: one in college and one post grad. I felt I was used and put in the trash. After the initial shock, I just blocked both of them on social media, I blocked one of their numbers, and my life has been better ever since. I'm 30 today, and I don't need people like that in my life. Thank you, next. It's about dignity." —Ursula F., 30
*Name has been changed.
Quotes have been edited and condensed for length and clarity.
Wondermind does not provide medical advice, diagnosis, or treatment. Any information published on this website or by this brand is not intended as a replacement for medical advice. Always consult a qualified health or mental health professional with any questions or concerns about your mental health.