Pro Tips
08.31.23
10 Very Good Ways to Deal With Hopelessness
Not sure what the eff to do? Start here!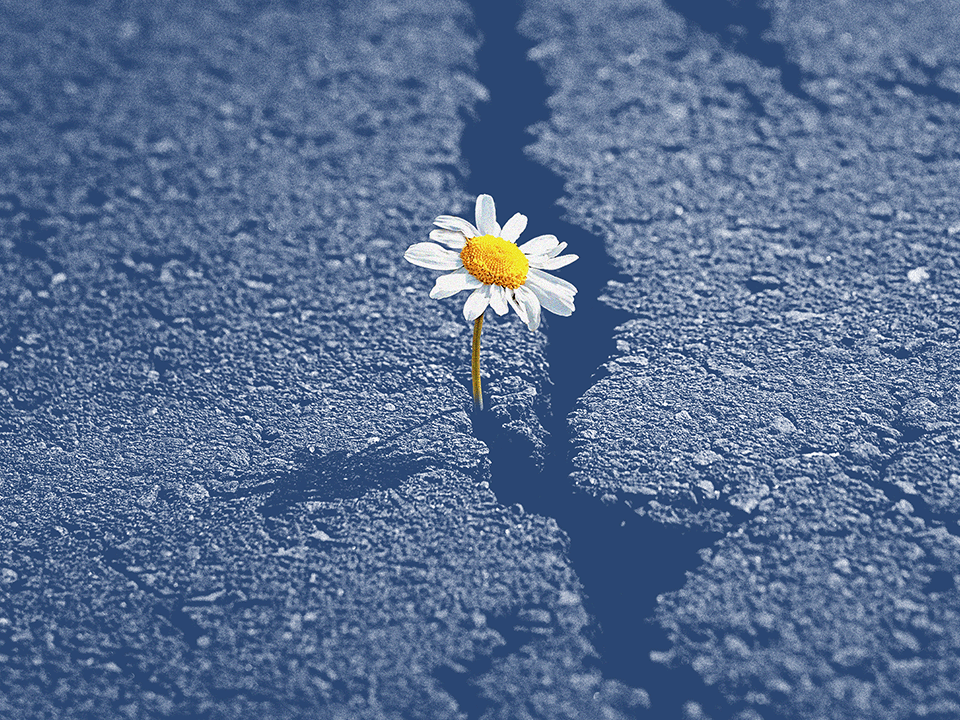 Shutterstock / Wondermind
Hopelessness is an emotion that feels pretty damn scary, but it's actually a normal reaction to something in your life going wrong in a big way, like breakups, layoffs, or medical issues. When that shit happens, you can feel like things will never get better—and that's hopelessness, says licensed psychologist Christina Robinson, PhD. Majorly upsetting news (hello, climate anxiety) can trigger that tough emotion too. Whatever the situation, hopelessness happens when you really want to change or fix something but you can't or don't think you can, explains therapist Rebecca Ruiz, LCSW. You are without hope. You are hopeless. (I mean, you are not, but you know what I'm getting at.)
For some people, hopelessness can be a symptom of a mental health condition like depression, and it's often (but isn't always) associated with suicidal ideation, according to the American Psychological Assocation.
So, yeah, regardless of how you got here, it's hard to crawl out of an emotional place where the vibes are very much NOT good while you're super aware of all the stuff that sucks, Dr. Robinson says. Still, these therapist-approved tips can help you feel less overwhelmed and maybe even a little bit optimistic.
1. Track your hopeless feels.
When you can't see things that are going right around you—especially if you're in a depressive episode—it can seem like you're gonna feel this way forever, says Dr. Robinson. But one way to prove to yourself that hopelessness isn't everywhere all the time is to keep track of when this emotion strikes, she suggests. "Emotions are sort of like waves. They might be little waves or big waves, but they always crash into shore. They're always temporary," she notes.
Write down, on a scale from zero to 10, how hopeless you feel in the morning versus at night for seven days, Dr. Robinson suggests. You'll probably notice that the intensity of those feelings fluctuates throughout the day. And that's proof you could be less hopeless tomorrow than you are today or even by the time you go to bed.
2. Take baby steps.
Hopelessness can feel like you're facing a mountain of overwhelming problems you can't solve, says psychotherapist and researcher Thomas Vance, PhD. So breaking down those challenges into smaller, more doable steps can help you regain a sense of control, he notes.
Here's what you can do: Write down what you're hopelessly overwhelmed by. Then, think of the smallest action you can take to address that situation ASAP. When that's done, move on to the next step, then another and another…you get it. This helps build momentum so you can actually see and feel the progress, Dr. Vance says.
If financial stress brings you down, try paying one bill at a time before creating a spreadsheet of what you spend and eventually having money convos with your roommate or partner about your budget. If you're totally lost, call up a friend who's just paid off their student loans (or is great at money stuff) for advice on where to start. Go in whatever order makes sense to you.
3. Celebrate your smallest wins.
If hopelessness is impacting your day-to-day functioning, like if you're grieving or in the middle of a depressive episode, giving yourself props for everyday accomplishments, as in getting out of bed, can help, Dr. Vance says. That's because hyping yourself up for what you have done boosts your self-esteem, he explains. Plus, it distracts you from what you haven't done or can't do, he adds.
So, give yourself a mental fist bump, play a song you love, or eat your all-time-favorite snack after you do stuff like sorting your mail or taking out the trash.
Also, be sure to celebrate those baby steps (see above) that target the root of your hopelessness, Dr. Vance says. Oh, and tasks that directly help you process your feelings, like journaling, reaching out to friends for support, and/or looking into therapy, are worth celebrating too, he says.
4. Focus on what you can control.
When you feel powerless, making a list of what you can do something about and what you can't may help you be more realistic about the situation, says Dr. Robinson. Write out two lists side by side: What you can fix and what's out of your control, she suggests. Say you feel hopeless about your job. You can't control passive aggressive co-workers or the company's CEO, but you can apply to other positions and try setting boundaries for a better work-life balance.
P.S. If you're a spiritual person, it might be helpful to think about what the universe or the higher power you believe in has planned, suggests psychotherapist Sarah Ahmed, RSW. This is a "kind reminder that the things that are meant to be for us will come at a time that is right for us [and] at a pace that is beneficial for us," she says.
5. Find nuggets of hope.
After losing your job or going through a devastating breakup, looking at the bright side is not helpful. However! Taking an inventory of the meaningful things that are going OK for you serves as a reminder that not everything is falling apart, Dr. Robinson says.
Think: Are any of your relationships going well? Are you happy with your hobbies? Are you winning pickleball games against your mom? There's gotta be something! Keep reminders of upcoming trips, memories with your fave people, and some hopeful goals in your phone's Notes app or photo album to look at when your brain can't come up with anything good, says Dr. Robinson.
6. Challenge your "I'm f*cked" thoughts.
It's easy to assume everything is going to shit, but taking a minute to challenge your worst-case-scenario brain can put things into perspective, says Dr. Robinson. Dig for evidence that the problem you're worrying about is going to play out like you're imagining, she suggests. Chances are, you won't have any, she adds. If all the dating apps suck, and you know for a fact you'll die alone because you'll never find someone as awesome as your ex, consider: Is this definitely probable? Was your ex reallyyyyy that amazing? Did you feel the same way about someone before your ex? Do you literally think there's no one at all you could be interested in? Exactly.
If this feels too hard, ask your friends or family. "Loved ones are great at being like, 'No, no, no, no, that's not true.' That can shift us out of isolation and self-critical thinking," Dr. Robinson explains. So, call your long-distance BFF or your super wise sibling.
7. Stay connected.
This might seem obvious, but hanging with your people can make you feel like you matter when you're in a hopeless spiral, says Dr. Robinson. Whether you tell them about how you're feeling or not, you can reap the benefits of their company—which Dr. Robinson vouches for when she's grieving some sort of loss or change in her life.
8. Be a beginner.
Feeling hopeless, especially if you're depressed, might mean that you're not amped up to do a-ny-thing, says Ruiz. Learning something brand new can shift that uninspired mentality into I-want-to-do-cool-things energy, she explains.
If you didn't hop on the bread-baking trend during the height of Covid, it's never too late to start! Follow drawing tutorials online! Learn a different language! Best-case scenario, you've just found yourself a cool hobby. Worst-case scenario, you move on to something else.
9. Do the opposite of what hopelessness wants.
Hopelessness can look like staying in bed all day because you don't see the point of getting out. Since your emotions can follow your behaviors, doing the reverse of what sounds best when you're feeling hopeless—called opposite action—helps you start to feel good again, says Dr. Robinson. "Opposite action is not about trying to push away negative emotions. It's about working towards how you wish to feel," social worker and therapist Hayden Dawes, LCSW, LCAS, previously explained to Wondermind.
If hopelessness is saying, "Bed before everything," just move rooms. If it's saying ignore your friend's text, respond to them anyway. Over time these little changes can make a big difference.
10. Reach out for mental health support.
If hopelessness lasts for a couple weeks and impacts your sleep and eating habits or how you show up in your daily life, check out therapy (if it's accessible to you), says Dr. Robinson. Therapists deal with hopelessness all the time, so they can help you cope, she notes. They can also assess if you're dealing with a mental health condition like an anxiety disorder or depression, which can be treated with the right therapy and/or medication, she adds. 
And if you feel like you're in a crisis, are having thoughts of suicide, or need help ASAP, you can reach out to the 988 Suicide & Crisis Lifeline.
Wondermind does not provide medical advice, diagnosis, or treatment. Any information published on this website or by this brand is not intended as a replacement for medical advice. Always consult a qualified health or mental health professional with any questions or concerns about your mental health.