Q&A
07.25.23
Hunter Hayes Loves Being Vulnerable
Plus, the meaning behind his paper airplane tattoo.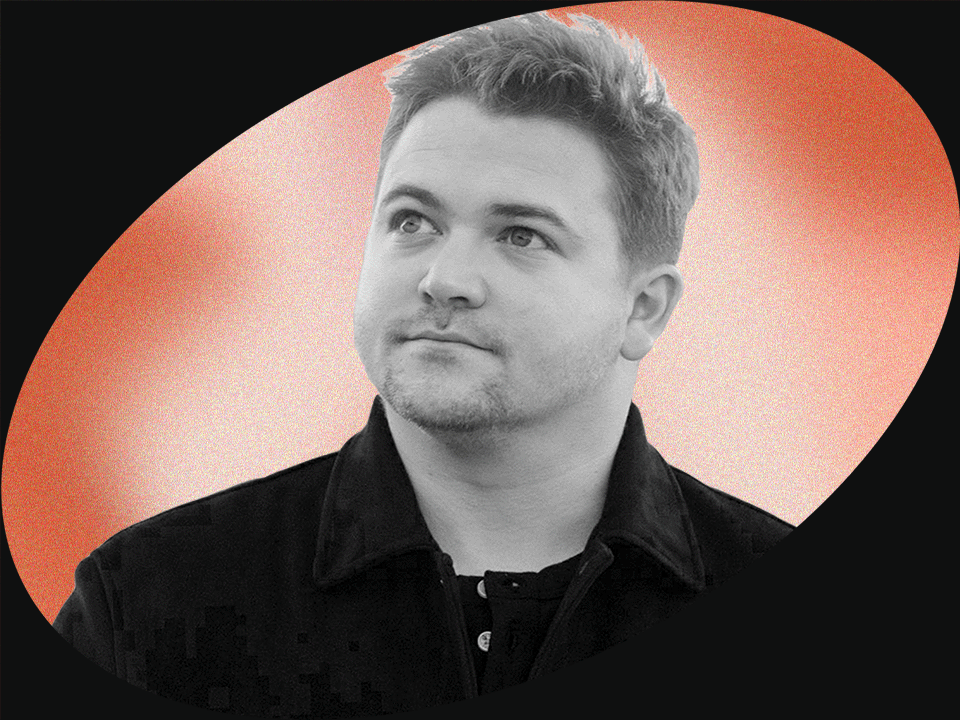 Photo Credit: Andrew Zaeh
When Wondermind sat down with singer-songwriter Hunter Hayes earlier this July, he had just taken a month off after a successful tour promoting his new album, Red Sky. The album, his first fully independent one, is packed with vulnerability—but he's used to that. Since he started writing music as a boy, it's been a safe space for him to express his feelings. All of them. And he carried that into his career.
Hayes says he wants Red Sky to encourage people to have a better relationship with themselves. "It touches on things through the lens of learning about yourself and understanding yourself and respecting yourself and, eventually, loving yourself," Hayes says. For example, he ends the album with "Victory," a track about self-discovery and accepting that your journey is not always going to be perfect. Some of the lyrics go, "My pain has set me free / I'm finally finding me / And that's a victory that I can believe in," and also, "It's two steps forward and one step back / I think I'm OK with that."
Ahead, Hayes talks about going to therapy over the years, separating his self-worth from how well songs do, and managing the anxiety spirals he still gets stuck in sometimes. Like his new album, Hayes is an open book.
[Sign up here to never miss these candid conversations delivered straight to your inbox.]
WM: How are you doing lately?
Hunter Hayes: I'm doing great. I'm so happy. I've worked for three or so years on Red Sky, we finally put it out in April, and then I went on my first tour in, like, four years. It was a breakthrough tour in so many different categories for me just personally, professionally, performance wise, all of the above. And then I made the wild decision to take a month off, which I've never done. So I am just re-entering the professional world from a month of just celebrating and being in gratitude for all that happened on the tour. It went by so fast, but it also kind of felt like a lifetime because there was just so much to experience. So I'm in such a great place right now, and I'm enjoying it while I'm here.
WM: You've talked about how music is healing for you. Can you tell me about that?
HH: I think early on, just listening to music made me feel seen or heard or like I wasn't alone. There's just something about hearing a song or the lyric that hits you, especially in middle school when you're starting to feel a lot of things for the first time. That was really when writing became crucial for me because it was a way for me to process and do something with the things that I was experiencing.
Getting my feelings down on paper helped me feel less "crazy," whatever the thing is that you tell yourself at that age. It felt like everything I went through had purpose. And then recording the song and working on the demo was just a series of wins. You record something and it sounds good and it gives you good energy. And so it just becomes this really beautiful circle. And I just fell in love with the process.
It's still like that [for me]. Getting back into the studio for the first time after being gone for three months really reminds me how much I live for making things out of experiences in life. … I've just really come to appreciate that there's value in everyone's story and everyone is creative and everyone has some sort of outlet to share their experiences with the world for other people to feel seen and heard and less alone. And so music is mine.
WM: In the song "Normal" from your new album, the beginning lines talk about going to therapy. Have you personally gone to therapy?
HH: I am so grateful that the people who listen to my music and appreciate my music also appreciate the conversation around normalizing the word "therapy" and normalizing just fucking taking care of yourself and understanding yourself. … I really loved [therapy] the first time [around 2011] because it was a chance for me to just talk through things that I didn't know how to talk about with other people. … I was wound so tight when I started touring. I was just like a giant stress ball, and in the first session, it was like: Alright, here are things that might help you, like, chill the fuck out during your day.
[I learned] little things like when you're walking from the bus to the stage, walk slower. [And my therapist] also gave me mindfulness exercises when I felt like I couldn't nap and breathing techniques to help me before meet and greets or interviews. So it started as that, and then I started seeing somebody else who got to some of the deeper things and scarier things and fear-based things.
And then when the pandemic and lockdown happened, I started realizing so much of what fed my music and my art didn't exist, and I realized how much that was taking a toll on me, so I signed up for an intensive, which gave me my life back. … It led to this endless hunger to continue working [on myself]. And so, [when I can,] I work twice a week in talk therapy.
WM: What's the most valuable lesson you've learned in therapy?
HH: I don't know that there is a "most valuable." [But in] my top three greatest hits of what I've learned in therapy is how much power you have to give. It applies to the stories you tell yourself about yourself. It applies to the stories you tell yourself about other people and your interactions with them. It applies to what you're capable of and giving yourself credit when you need to and really empowering yourself.
I am of the belief that we have so much more control over our feelings than I think we give ourselves credit for. That's not to say that you can just flip out of being sad. But I think that you can set yourself up for success to be happy and create happiness and create good energy in the world around you and create the things you want more of in your life, you know? My wish is for more people to know how powerful they are in creating those things.
WM: Was getting vulnerable in therapy scary for you at first?
HH: I love being vulnerable [laughs]. I enjoy a safe environment where I can be vulnerable, and I think that music has taught me that there are safe places to be vulnerable. [With therapy,] you can decide what you want to accomplish. You can decide if you wanna be vulnerable or if you wanna just talk through things. If and when you find the right person to work with or people to work with, it's totally your call. It's whatever you need it to be. And if people trusted that or understood that, I think there's a lot of [them] who might feel a bit more safe in trying [therapy] for the first time. Because there are no expectations, and you make the goals and you get to achieve them however works best for you.
WM: Are there any mental health topics that you feel like you write about the most?
HH: Self-worth has been something that I've noticed as a pattern in my music. I started playing music when I was 6 years old, and so my relationship with performing and acceptance is really complex and it only got more complex as I signed up to do it 200 days a year and go for the goals that I had and achieve the things that I really wanted to achieve. … I used to hate hearing the sentence, "You have to love yourself," because I was like, "How is that possible?" But I think it went from, "I have to love everything about myself" to … [I can] talk about myself like I'm talking about my best friend.
How would I treat my best friend, my favorite person in the world? How would I tell you about them? How would I introduce you to them? How would I talk to them when they're having a tough day? How would I pump them up when they're doing something really well? Why wouldn't you talk to yourself the exact same way? And it's not selfish, it's not egotistical, it's not coming from a place of narcissism or anything like that. That is how I grew in how to love myself and value myself. I think that's the theme I enjoy sharing the most. … Lyrically, it's [also] the easiest thing to put in a song.
WM: Love that message! Is that something you learned in therapy or in your life outside of therapy?
HH: Both! … One of my favorite songs on the album is "Someone Will" because—and I've told this story to all my fans—I was riding in the car and I had a song I was really excited about. I really wanted to send it to this one person. [But] I also had this preconceived [notion] that they were gonna hate it. So, in my mind, I played out this entire thing. I was like, OK, well, if they don't get this song, then does that mean they don't get me? Am I stuck? Is it me? Am I the problem? Am I doing all of this wrong? Like, what if I send this and all of this means all of these things?
And the voice in my head just said, Well, if they don't get it, someone will. And it was so shocking that my mind said that, but I think I was just trying to stay positive. I rode on that feeling for a minute, and I was like, Yeah, that's right. Someone will. That's kind of a no-brainer. There are plenty of people in the world, and this will find the audience it's supposed to find. … [I didn't] just want to tell myself that every now and then when I needed to hear it, but rather find a way to live in that truth.
WM: What do you think is the most difficult thing you've gone through mentally?
HH: Honestly, I'm just gonna stick with the same subject. I really struggled for a couple of years because I was writing and turning in all these songs and my identity was very enmeshed in what I made and what a song did numbers wise. You also have to consider the fact that, for several years, most of my friends were people that were working with me, and not having a song do well and not being on the road all year meant that I wouldn't be around the people I really wanted to be around.
The biggest thing for me to overcome was the internal beliefs and stories I made up about my worth in the context of I would write over a hundred songs a year and I would turn them in to one specific person and they weren't someone who would find a lot of the music that I make super valuable. They were looking for a very specific thing, and I'm always wanting to grow. I'm always wanting to try something and dive deeper into something unknown. So, it was a lot of, Am I making bad music if this one person doesn't love it? And then I realized, no, I'm making a lot of music that has value, that has purpose, that has so much of me in it. And they're looking for a very specific thing to accomplish a very specific goal. Those are two separate things. Understanding that continues to be the longest road.
That's why I have a paper airplane tattoo. [Because it's] understanding that I'm going to make something that I'm really proud of and someone out there needs it and once it's made into the paper airplane with the lyrics on the paper, once the song is finished, and you throw it out into the world, that's all you have control over. All I can do is show up fully, make the music the best that I can make it, and then trust that it's going to find the right person rather than judging how good a song is by how well it did week one on a specific chart. A song that might not do as well is still as valuable as the song that blew everything out of the water, and my value as a human doesn't change whether the song blows up [or not].
WM: Aside from reshaping how you view your worth, how do you take care of yourself mentally?
HH: I finally splurged on this car without a roof last year, and it was one of the best dumb decisions I've ever made because I take it out at least once a week and just get air and fresh perspective. [Even] during the pandemic, I started going out and just taking rides on this scooter, which barely goes like 30 or 40 miles an hour, but it was enough to get me out of the house and see things differently. So, as simple and silly as it is, that's really valuable [because] I'm not focusing on my overwhelming thoughts.
Other things [I use] for self-care are acupuncture, sensory deprivation tanks, and Legos. I've gotten back into building Legos lately just because it's a way for me to feel like I'm accomplishing something—I'm building a piece of art—but I also don't have to make it up [laughs]. I can follow the instructions. 
WM: What mental health advice would you give your younger self?
HH: Chill the fuck out [laughs]. Not everything is catastrophic. … Find ways to enjoy everything that you experience [and] if there is anxiety, if there are negative experiences, it'll be OK. … I would tell younger me to just chill out, take a deep breath, and spend more energy enjoying where you are [instead of] thinking about where you're not or thinking about where you wanna be. 
WM: Was it hard for you to get past anxiety when you were younger?
HH: Yeah. I still experience spirals. Like, if I'm not able to catch it at the front end, I feel emotions quite deeply because I've opened myself up to that through making music. And from a feeling standpoint, from a body standpoint, once you start feeling anxiety at a certain level, there's not a whole lot you can do immediately to just wipe it out. You really have to work with it, and you have to know yourself well enough to design exercises around: OK, I know that I'm in this space, it's really difficult for me to get out and I have to be patient with myself.
It's so funny to me because all of the biggest spirals I've had in my life were completely made up and they were totally imaginary and they were just "what if"s that I would spiral in. And none of the things ever happened [laughs]. Like, I can definitively say that all the biggest spirals in my life turned out to be very minimal things that didn't actually matter at all. So I dealt with that as a kid, and it's still something I have to be very aware of because it's very easy for me to go down an imaginary rollercoaster of "what if." 
I can tell myself that this spiral is completely made up and none of this is real, [but] it doesn't matter because I'm feeling it so heavy that I'm not gonna trick [my brain and body] into acting different. So one of the most valuable tools that I've put into practice is recognizing when [a spiral] starts and backing up from it to observe [things around me]. I am anxious. No, I FEEL anxious. I am in a house, in a kitchen. The sun is out, the grass is green, it just rained. It's gorgeous outside, and it's quite cool. I'm comfortable. I still feel anxious, but it allows me to give it some context and zoom out for a second. Like, We can pick that up later, but let's just change what we're focusing on, you know?
This interview has been edited and condensed for length and clarity.
Wondermind does not provide medical advice, diagnosis, or treatment. Any information published on this website or by this brand is not intended as a replacement for medical advice. Always consult a qualified health or mental health professional with any questions or concerns about your mental health.