WM x BUICK
08.01.23
Powered By
How to Build Your Mental Fitness Toolkit
Do the work now, and thank yourself later.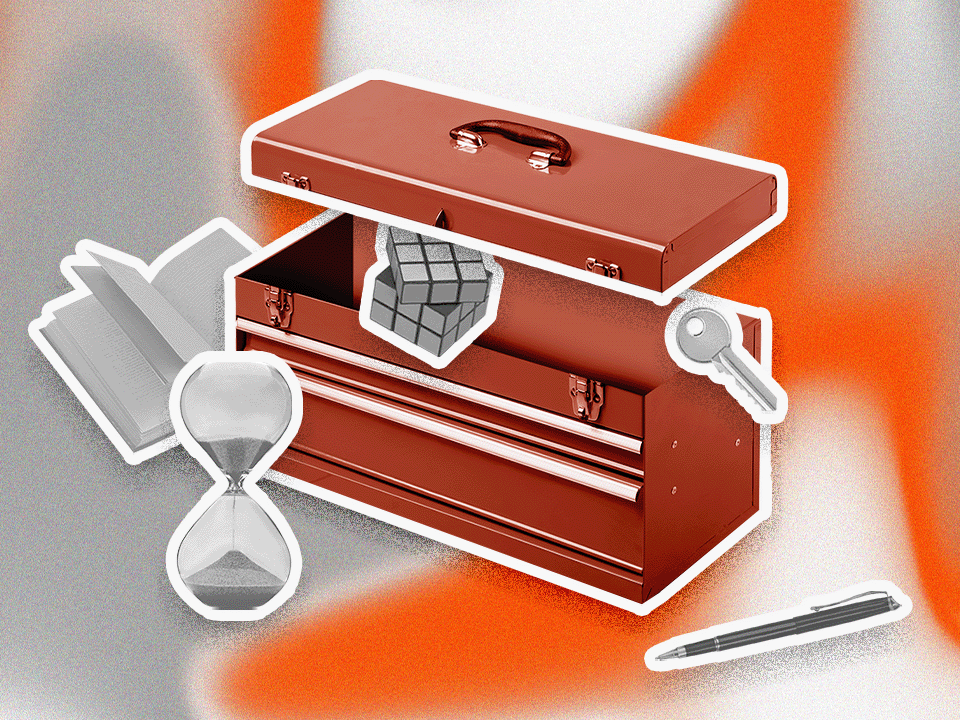 Shutterstock / Wondermind
Like many things we swear we're going to get to and then end up re-adding to our to-do list every single day, prioritizing mental fitness is often easier said than done. It's one thing to think, I should do this, and another to actually get down to business and make it happen. Usually, it's not for lack of wanting to get it done—it's that knowing where to start is really hard. And that can be enough to prevent you from making any moves. If that sounds like you, we're about to change your life: It's time to build a mental fitness toolkit.
By figuring out what coping strategies and life hacks best address your mental health needs—and laying out a plan for when to use them—you'll be way more prepared to deal the next time chaos ensues. No more wasting time wondering where to start. More mental fitness, less mental work? Sign us up!
Below, Jessica Stern, PhD, clinical psychologist at NYU Langone Health and member of the Wondermind Advisory Committee, shares exactly how to build your mental fitness toolkit and make sure it's always on-hand and ready when you need to dig in and do the work.
What is a mental fitness toolkit?
We're so glad you asked. "A mental fitness toolkit is a set of skills and coping strategies to help you manage and maximize your mental wellness," says Dr. Stern. Those skills and coping strategies—tools, if you will—can be a mix of internal and external things that help you manage difficult situations or negative thought patterns when they pop up and threaten to hold you back, Dr. Stern explains.
Your toolkit can contain everything from therapy, to journaling, to meditation, to a list of positive affirmations you pull out and repeat when you're drowning in self-doubt. Really, it's any combination of activities or items that help bring you back to neutral when things get tough.
Because you're a special and unique individual (aren't we all?), your toolkit is going to look very different from someone else's, Dr. Stern says. We all face different challenges and have different needs when it comes to mental fitness. So, naturally, the tools we need on hand will vary. Your personality even plays a role in what types of strategies you like most, Dr. Stern adds. "Some people may respond to very goal-oriented coping strategies, whereas other people might like more soulful or intuitive practices."
On that note, the things that help you this month may be wildly different from what helps you six months from now. "As we grow and change, we might need different things in our lives," Dr. Stern says.
Start by reflecting on your biggest mental health needs.
So, how do you go about deciding what to put in your personalized kit? "Step one can be to reflect on your past," Dr. Stern suggests. "Think about the different types of things that arose in your life or in your mind over the last few weeks or months that you could use a skill or coping strategy for."
Then, look at what patterns are coming up—this will reveal what sort of tools you tend to need over and over again. Do you often struggle with things like overwhelm? Loneliness? Anger? Anxiety? Insecurity?
"From there, you can build a toolkit with the things you typically need," suggests Dr. Stern. If you're not sure where to start, consider what strategies have actually helped you with these situations in the past. Maybe that included things like talking it out with someone you love or leaning into a particular routine. Maybe strategies like meditation, breathwork, movement, therapy, medication, or journaling worked for certain situations in the past.
It's not unlike thinking about all the DIY projects you've done over the years that always require the same four tools, which you somehow always lose, so you finally wise up and keep a little bag of those bad boys in your closet for next time. (No? Just us?)
Crowdsource some ideas.
If you're drawing a blank, that's OK. Dr. Stern suggests polling your people about what helps them out when they're struggling with their mental health. "Sometimes people know the things they need help with but don't know what kind of help or skills or tools to use, and this is where I would consult with people that you trust," she says.
You could ask your therapist, of course, but it doesn't have to be them. "Check in with people in your life that are trustworthy and safe and fill your cup up, and ask them how they cope with things," Dr. Stern says. They might just recommend some really useful things you hadn't considered throwing into the mix.
Literally assemble your toolkit.
Once you've brainstormed what tools you need, how can you actually curate this kit so that it's not just a vague idea bopping around in your brain but something you can actually pull from and use? Again, the form your toolkit takes should be personalized to you.
"It's very dependent on what your mind tends to do well with," Dr. Stern says. Maybe for you that means a color-coded spreadsheet that lists out your strategies and when to use them. Maybe it's a digital mood board with tons of screenshots, links, and notes to yourself. If you're more of a hard-copy person, you can put together a legit folder that houses things like your journal, helpful print-outs, and more. Or maybe you go out and buy a literal toolbox to house all this plus other physical objects that help you cope.
"Go with whatever feels intuitive and helpful and whatever is going to have the lowest barrier to access as possible," Dr. Stern says. Easy to remember and access is good, too, especially if you need to dig in during a time of crisis. So if just jotting things down on a piece of paper or your Notes App is the easiest thing for you, go with that.
Know that your toolkit is a constant work in progress.
Just like you, your toolkit should be constantly evolving. Every couple of months, do a quick check-in to make sure the items in your toolkit are still relevant to your current mental health state and most pressing needs. If it doesn't feel like your current tools are cutting it anymore, don't be afraid to do a quick cleanout and revamp.
"When you're frequently noticing that you're stressed or overwhelmed or self-critical, or you feel like there's a struggle you're having with the external world around you, this may be an indication you need to change course on your go-to skills or coping strategies," Dr. Stern says. It might be time to try something new.
Another critical time to do some polishing: when you're going through a major life change, like a long-distance move, new job, loss, or breakup. "I recommend identifying if there are any new or changed needs in that new chapter of your life," Dr. Stern says.
Wondermind does not provide medical advice, diagnosis, or treatment. Any information published on this website or by this brand is not intended as a replacement for medical advice. Always consult a qualified health or mental health professional with any questions or concerns about your mental health.