Explainer
06.30.23
What's the Difference Between Psychiatrists and Psychologists?
Not sure which to choose? We gotchu!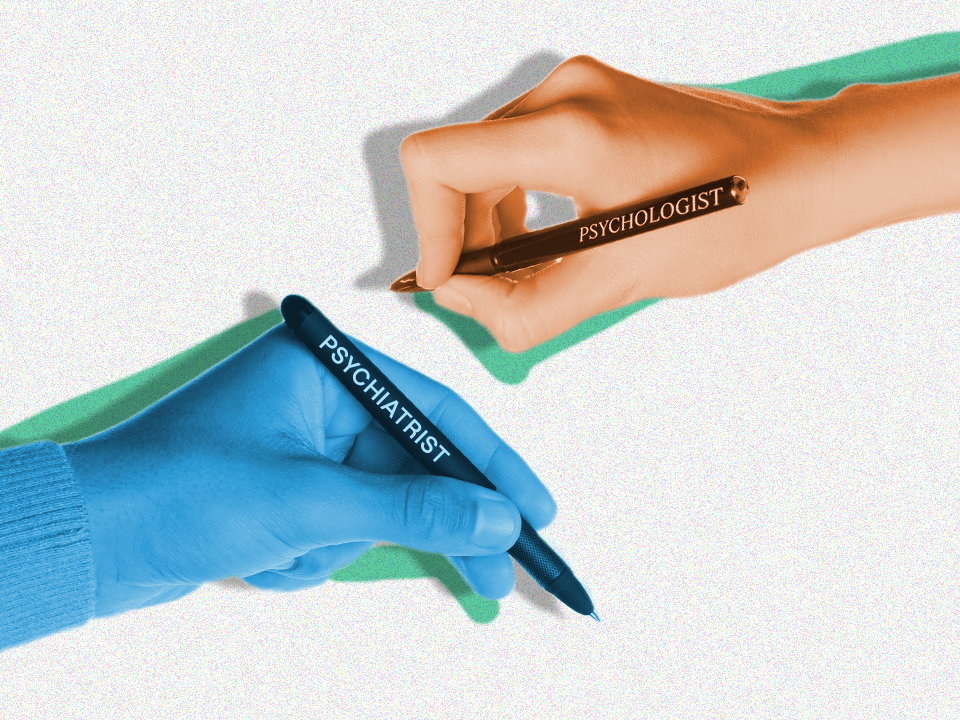 Shutterstock / Wondermind
If it's been a while since your last Psych 101 class or you're totally new to seeking mental health help, figuring out what kind of mental health professional is best for your specific situation can be kinda tough. Maybe you know someone who sees a cool psychiatrist for their ADHD meds and someone else who visits a psychologist every week for therapy—but what the hell is the difference, and which is right for you? If those exact Qs have led you to Google "psychiatrist vs psychologist," welcome. We got you.
For starters, psychiatrists are medical doctors who focus on mental health, and psychologists are mental health providers who can provide talk therapy. Of course, these experts can work in a lot of different fields. Psychologists can coach corporations on how to support their employees and psychiatrists can research pharmaceutical treatments, but here we're talking about psychiatrists and psychologists you'd see regularly for mental health help, since—and this is just a hunch—you might be considering that.
While both psychiatrists and psychologists can diagnose and treat mental health conditions, their education, training, and the way they help manage their patients' conditions differ. Whether you're looking to find someone ASAP or you're just curious, here's the difference between psychologists and psychiatrists and what they can do for you. (Heads up: We'll be focusing on U.S.-based mental health pros in this piece, so keep in mind that the training, credentials, etc. in other countries may vary.)
They have different training.
Since psychiatrists are medical doctors, they go to (you guessed it!) medical school for an MD or DO degree. Then, after taking a state licensing exam, they do four years of psychiatry training (residency), where they learn how to diagnose and treat mental health conditions using medication and psychotherapy, per the American Psychiatric Association. If they want to specialize in something like sleep, addiction, or child psychiatry, they can do more training (fellowships) in health care settings. About half of psychiatrists in the U.S. have their own practice, but they can also work in places like hospitals and clinics, according to the American Psychiatric Association.
As for psychologists, they aren't medical doctors, but they have to be licensed in their state and get a doctoral degree (PhD, PsyD, or EdD) in psychology to learn about things like human behavior and diagnosing and treating mental health conditions, according to the American Psychological Association. In general, psychologists study different types of psychotherapy like client-centered therapy, cognitive behavioral therapy (CBT), and others, explains licensed psychologist Ryan Howes, PhD, who's a member of Wondermind's Advisory Committee.
After they get that doctoral degree, psychologists practice working with clients during a year-long internship, where they put their therapy skills to use in clinics or hospitals, says prescribing psychologist David Shearer, PhD, MSCP.
All psychiatrists can prescribe mental health meds, but not all psychologists can.
If you need mental health meds for things like OCD, depression, anxiety, or bipolar disorder and you can access a psychiatrist, these mental health pros could be your best bet for getting a prescription. Together, you can work on finding a medication and dosage that makes sense for you.
If you can't find a psychiatrist, some psychologists (called prescribing psychologists), can also prescribe meds if they're licensed to do so in certain states or by U.S. government health services or the military, according to the American Psychological Association. These licensed psychologists have to do the same work as the non-prescribing kind, plus they need to get a separate master's of science in clinical psychopharmacology, per the American Psychological Association.
That said, some states limit the types of mental health meds prescribing psychologists can prescribe or who they can prescribe to, says Dr. Shearer. In that case, you'd need to get referred to a psychiatrist.
Psychiatrists won't always provide therapy, but psychologists do.
If you're looking to resolve issues from your past or learn to cope with mental health symptoms (or both, TBH), licensed psychologists can use therapy to help you meet your mental health goals. That could mean learning to change your thoughts and behaviors with CBT or learning to accept them with acceptance and commitment therapy. "[If] I have one person who has a specific issue they want to work on, like trying to be more assertive with their boss, we explore the origins of this problem and work on ways to help them build confidence," Dr. Howes says.
Psychiatrists can also use therapy to help patients with their mental health, but many psychiatrists choose to focus solely on prescribing mental health meds because that's what they're interested in or that's what they have time for, says board-certified adult psychiatrist Katrina Furey, MD, co-host of the podcast "Analyze Scripts."
Psychiatrists will ask you about your health history.
If you're going to see a psychiatrist to figure out whether medications could help treat your mental health symptoms, a lot of the time they'll do labs like bloodwork to rule out any medical conditions that could be responsible for whatever is going on with you, Dr. Furey says. For example, hypothyroidism has been linked to depression, so it would make sense for a psychiatrist to rule that out if you've been feeling depressed.
Doing different medical tests can also help them monitor the side effects of the medications you're on. As a prescribing psychologist, Dr. Shearer says he also orders lab work and EKGs to ensure that the meds he wants to prescribe are safe for his patients who have issues like heart conditions.
Psychologists who don't have prescribing authority (so, most of them) can't actually order tests for you, but they might still ask about your overall medical history to help rule out health concerns, says Dr. Howes.
You'll need to see a psychologist more often.
If you see a psychologist for therapy, you'll typically go once a week or more because it helps you and your therapist stay on track with your goals, Dr. Howes says. "If there's been a long break between sessions due to a vacation or illness or anything else, it often takes a session or two to get back in the groove of introspection, getting curious about yourself, and accessing your emotions," he explains.
Working with a psychiatrist to get your prescription is generally way less time-consuming. In the beginning, you'll usually see them more frequently (think: every two or four weeks) when you're starting or switching meds. Then, you'll see them once every few months or even twice a year to check in, says psychiatrist Juan Romero-Gaddi, MD, also a member of Wondermind's Advisory Committee.
How to decide whether to go to a psychiatrist vs a psychologist.
First of all, you don't have to choose. You can totally use both if your situation warrants it and you have the means. Actually, if you're already seeing a psychiatrist who doesn't offer therapy, they might refer you to a psychologist, and vice versa.
But if you haven't seen any type of mental health professional before, think about what you're dealing with. When you're going through something that's situational (like job loss or adjusting to change) or relational (abuse, grief, divorce), you may want to start with a psychologist or other licensed mental health provider who offers therapy, says Dr. Howes. If you have intense symptoms like mania or hallucinations that are messing with your day-to-day life or depression that makes it hard to get out of bed, a psychiatrist might be more helpful, he suggests.
Of course, other factors can also influence who you reach out to. If you've been feeling anxious lately and you find a psychiatrist who specializes in treating anxiety with meds AND therapy, they might be a better option than a psychologist who doesn't regularly treat anxiety. Also, things like the cost per session and insurance coverage matter a lot too, so it's fine to take those into account.
Still not really sure what the heck's going on with you but know you need some type of help? You can test drive your options by calling psychiatrists and psychologists and telling them what you're going through mentally, suggests Dr. Howes. They usually have free consultations available. "This can give you an idea of what to expect and which path may be best for you," he says. Some good places to kick off your search? The American Psychological Association, the American Psychiatric Association, and Psychology Today.
Wondermind does not provide medical advice, diagnosis, or treatment. Any information published on this website or by this brand is not intended as a replacement for medical advice. Always consult a qualified health or mental health professional with any questions or concerns about your mental health.