Explainer
04.03.23
What Is Shadow Work, and Should You Be Doing It?
Let's get uncomfortable (but…in a good way).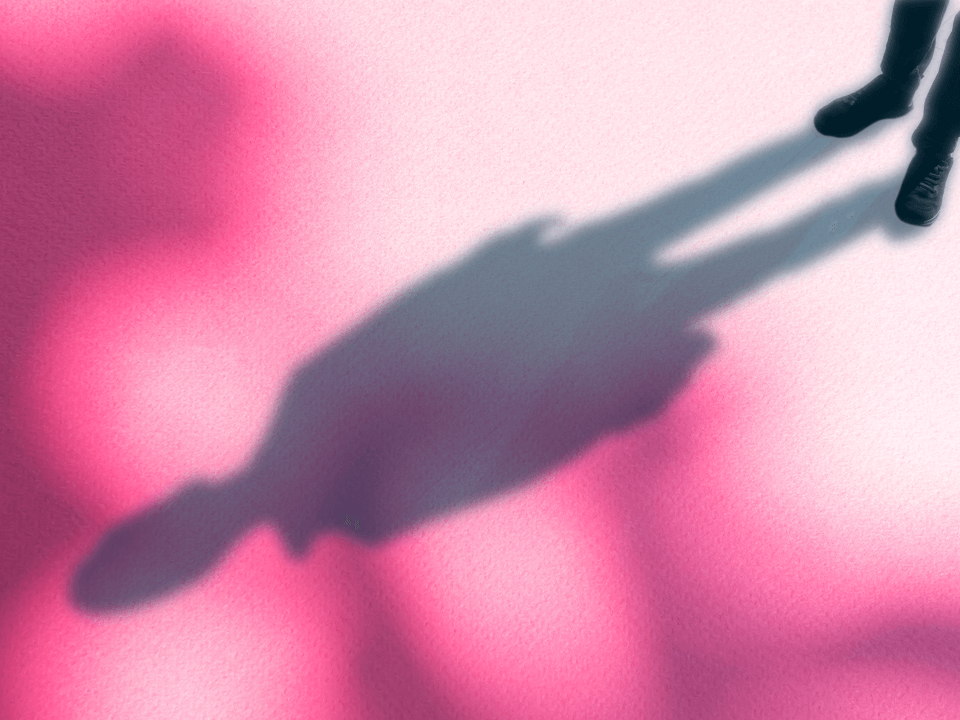 Shutterstock / Wondermind
Here's a term that's getting a lot of buzz lately: shadow work. Maybe you've heard a friend say they're deep in their shadow work era, or maybe you've seen one of the countless TikTok videos on the concept (since there are nearly a billion views for this hashtag…seriously). But don't feel left out if you're still a little iffy on the specifics of shadow work and how (or even why) you'd do it. It's actually a lot less mysterious than it sounds. Let's get into it.
Shadow work may be trending now, but the concept of having a "shadow" actually dates back to the influential psychiatrist and psychoanalyst Carl Jung. Jung famously described our shadow as "that hidden, repressed, for the most part inferior and guilt-laden personality whose ultimate ramifications reach back into the realm of our animal ancestors and so comprise the whole historical aspect of the unconscious." Heavy stuff, right?
Basically, Jung believed that we should explore the parts of ourselves that may be less palatable to other people (and ourselves) instead of only trying to emphasize the parts that other people have deemed worthy (like our calm demeanor or our people-pleasing tendencies). Emotions that get a lot of flak like jealousy and anger, or even traits like being loud or silly, could all be part of your shadow self. Oftentimes, people abandon these shadowy feels or personality quirks in order to be loved and get their needs met by their caregivers, explains Nina Polyné, PsyD, a licensed clinical psychologist and Wondermind Advisory Committee member.
So, what is shadow work?
If your shadow houses all the less-than-shiny parts of yourself that you maybe try to downplay with others, shadow work "gives an individual the opportunity to reclaim certain aspects of [the] self," says Dr. Polyné. "This work offers us the opportunity to re-develop into our whole selves," she adds.
For example, say you learned from an early age that it was safest for you to keep your opinions to yourself around your parents. You might feel like speaking up or being your full self around your family feels really uncomfortable. But embracing your outspoken side might help you feel more at home in your friendships or make choices that better suit who you want to be in the world.
It's also an opportunity to get curious about parts of ourselves that we're not so proud of, says Lisa Marie Bobby, PhD, LMFT, founder of Growing Self Counseling and Coaching in Denver, CO and the host of the Love, Happiness and Success podcast. For instance, maybe you have a tendency to snap at a loved one, and even just thinking about that fact makes you super uncomfortable. Dr. Bobby explains that shadow work might prompt you to actually look at and investigate that behavior, asking yourself things like: "What was my motivation when I snapped at them? What need was I trying to get met?" The tricky part of shadow work is to look curiously at these less-than-fun parts of oneself without internalizing it and assuming you're just a bad, mean person.
To be clear, embracing your shadow doesn't mean encouraging bad behavior. It's not an excuse to scream at someone so that you can embrace the anger your family told you was unacceptable, Dr. Polyné explains.
Instead, being aware of these parts of ourselves helps us gain a better understanding of our values, which we can use to make decisions that align with our true self—not just the person we want people to see.
Is shadow work a type of therapy?
While not technically a therapeutic modality, plenty of mental health professionals use a form of the technique, says Dr. Bobby.
If you're really interested in shadow work, you might want to look for a Jungian therapist (aka someone who approaches therapy through the lens of Carl Jung's theories) who might focus on things like dreams and archetypes as a way to dig into your unconscious self. But therapists from many backgrounds do shadow work, too. A lot of shadow work centers on looking for the "why" behind what you're doing, Dr. Bobby explains. For example, if you're snapping at your loved one, a cognitive behavioral therapist might help you identify the thoughts and beliefs that tend to kick in when you snap—like that your loved one is judging you—and help you examine them.
Who should try shadow work?
Dr. Polyné says shadow work can help you show up more authentically, have more compassion for yourself and other people, and learn to deeply trust yourself, she explains. "Every human can benefit from shadow work," she emphasizes. It can be done on your own, but working with a therapist can provide more emotional safety and keep you from going down a shame spiral. The goal is not to highlight your worst qualities and get rid of them—it's to make space to explore your whole self, Dr. Bobby says.
There are a few circumstances where shadow work might not be appropriate. If you're already experiencing thoughts or emotions that are difficult to handle, shadow work might not be a good move—especially by yourself. And if you start shadow work and walk away hating yourself, berating yourself, or having nightmares, take a pause and get additional support from a therapist before continuing, Dr. Bobby says.
So how do I do shadow work?
If you want to hang out with your shadow for a while, journaling can be a good way to start, Dr. Polyné says. "The most straightforward way to do shadow work is to identify experiences or interactions where you felt inferior to others, tension in the body, or feelings of jealousy, envy, or anger," she explains. "And then journal about them." This kind of self-reflection work helps you pinpoint the parts of yourself that you may be keeping under wraps and start to question why that might be.
Here are a few journal prompts Dr. Polyné suggests to bring some illumination to your shadow:
Are there qualities about yourself that feel too shameful to share with others?
Have you ever been dishonest about who you are, your likes/dislikes, or your personality?
When was the last time you felt embarrassed, and why?
Are there times you don't want to share something you have with others (like your time or an item), but you don't speak up because you fear being judged?
What assumptions do you tend to make about others?
"This exercise creates more awareness, and from this space of consciousness, you can make more aligned decisions and choices moving forward," Dr. Polyné says.
For example, maybe the last time you felt embarrassed was when a friend pointed out that you're super talkative. Noodling on that can help you pick apart why this was so cringey to you and what it says about your values and how you want others to perceive you. From there, start to ask yourself questions like, "What are some things I believe about talkative people?" and "Where did I learn that being talkative was a bad thing?" These questions can provide some clarity on where this all started for you and what it would look like if you accepted being a talkative person rather than thinking it needed to be hidden.
Another shadow work exercise is to think of something you've been teased about—and then find ways to engage with it. "For example, if you loved to express yourself by singing or dancing as a kid but you were told it was not an acceptable way to behave, try outing your shadow self expression by finding safe spaces to sing and dance, whether with a trusted friend or peer," Dr. Polyné says. If that feels impossible, you can even start when you're alone. At first, it might feel weird—but keep engaging with this hidden part of yourself.
"Over time, and with patience for yourself, you might find that you could really care less what others think, as long as you are happy and energized by it," she says. And that's one of the goals of shadow work: to embrace all parts of yourself.
As with any work on ourselves, don't expect big changes overnight. And you also don't have to dig into every piece of your shadow self in one session. "Uncovering our shadow is a part of our lifetime journey," Dr. Polyné says. "Allow yourself to explore your shadow self as it comes up, and remember to offer yourself lots of compassion and grace."
Wondermind does not provide medical advice, diagnosis, or treatment. Any information published on this website or by this brand is not intended as a replacement for medical advice. Always consult a qualified health or mental health professional with any questions or concerns about your mental health.