Stories
03.07.23
10 TV Shows With Relatable Mental Health Storylines
Don't sleep on these titles.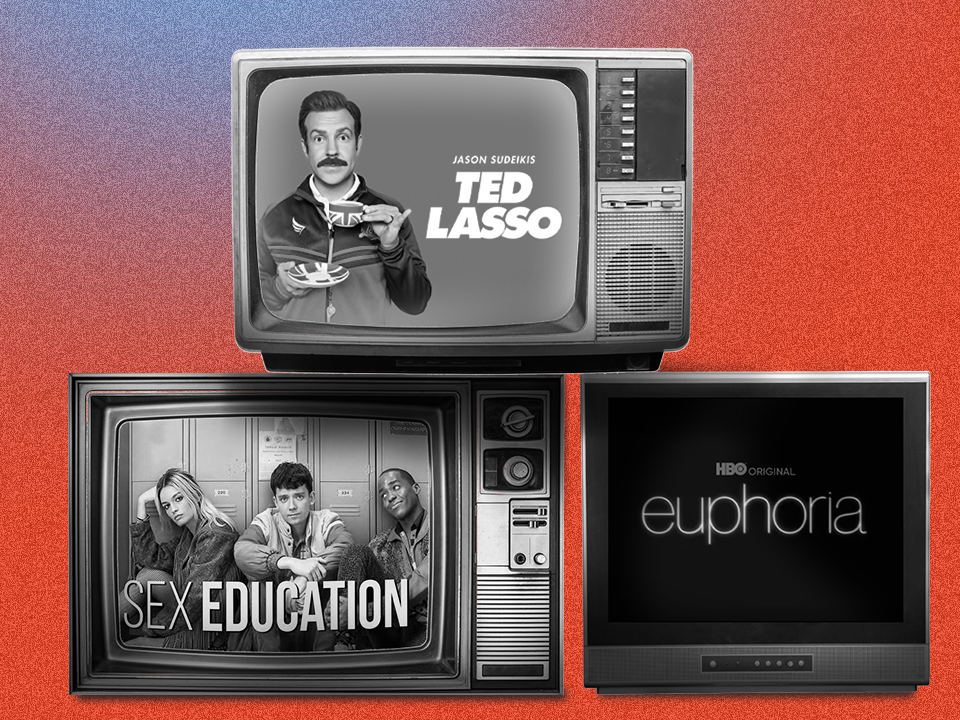 Shutterstock / Wondermind
As Marcus from Ginny & Georgia wisely said, "Everyone has shit." And it's true, we all have our struggles—and it doesn't do us any good to pretend like mental health isn't on our minds. Thankfully, talking about mental health over brunch with your friends or in passing with your coworkers is more of a thing than it's ever been. And TV writers are catching on, embracing storylines that dive into all the complicated stuff that goes on in our brains by greenlighting shows about mental illness or featuring characters who are going through it.
I mean, raise your hand if you felt incredibly seen by that Euphoria episode where all Rue can bring herself to do is watch Love Island in bed for days on end. Sometimes that's just how it is! As someone who lives with mental illness, I love when a show rises to the challenge of destigmatizing mental health. TV is often dismissed as just a fun way to pass the time, but it has the power to spread awareness, help viewers feel a little less alone, and encourage people to reach out for support (thank you to all the shows that include crisis hotlines!).
Of course, the entertainment biz still has a long way to go when it comes to fostering inclusive, realistic, and responsible mental health convos that take shape with complex characters who aren't tokenized. That ultimately starts behind the scenes by creating safe workspaces for everyone, including people with mental health conditions, and giving more people the opportunity to tell diverse stories that center mental health. 
That said, there are a few shows already illustrating how managing mental health looks different for everyone and how struggles aren't resolved after just one episode. So, if you're looking for a new TV fave that might speak to you and help you feel a little less alone (or if you just want to see if your pick made it on the list), here are 10 shows I recommend for realistic and relatable portrayals of mental health.
Ginny & Georgia
Netflix's comedy-drama follows teenage Ginny (Antonia Gentry) and her mother, Georgia (Brianne Howey), as they attempt to settle into a seemingly picturesque small town while trying to dodge Georgia's dark past. When the series isn't focused on poisonous plants and school plays, the plot often involves a variety of mental health topics. 
In Season 2, Ginny uses self-harm to cope with her anxiety, the trauma of her difficult childhood, and the burden of keeping her mother's secrets. Eventually, she confides in her father and starts seeing a therapist, who also helps her process the difficulties of being a Black biracial girl in a predominantly white town. 
Then there's Ginny's boyfriend, Marcus (Felix Mallard), who goes through an isolating depressive episode that leads to their breakup. And her friend Abby also struggles with self-esteem, severe body image issues, and an eating disorder in the wake of her parents' divorce.
The show does a great job of diving deep into multiple characters' complex emotions, and none of the mental health plotlines feel like they're done for shock or trauma porn. The series also isn't afraid to incorporate some humor, which is refreshing since making light of mental health symptoms is a super common coping mechanism.
It's also worth mentioning that the Ginny & Georgia writers consult a psychologist and work closely with Mental Health America, a non-profit focused on promoting mental health and supporting those who need care, Variety reports. So, yeah, this show is definitely making an effort to handle these stories in a responsible way.
Degrassi: The Next Generation
The iconic Canadian teen drama follows in the steps of its predecessors Degrassi High and Degrassi Junior High, depicting the turbulent lives of students at the fictional Degrassi Community School.
When I was younger, the storylines were so easy to connect with because it was a show about teens for teens—plus, they even cast actual teens, which isn't a given in Hollywood (Love Jenna Ortega in Wednesday, but she isn't exactly a sophomore in high school).
One storyline that stands out after all these years is Campbell's (Dylan Everett), a hockey player with severe depression who dies by suicide in Season 12. Instead of just being a "very special episode," Campbell's trajectory encompasses an entire season, and his depression isn't portrayed as a linear descent into darkness. He also has moments where he seems genuinely happy, which shows the complexity of that mental health issue. 
The show didn't get things 100% right all of the time—Emma's anorexia storyline wraps up way too quickly for instance—but it feels like the writers try to talk about issues important to teens and approach the subjects with care. They often provide hotlines, PSAs, and special interviews with the cast and creators after particularly difficult episodes. The Degrassi franchise arguably paved the way for mental health representation in teen dramas.
Spinning Out
The Netflix drama follows competitive ice skater Kat (Kaya Scodelario), who suffers from a serious injury and has to make some difficult decisions about her skating career, all while navigating romantic relationships and dealing with family troubles. The series focuses just as much on mental health as it does skating—both Kat and her mother, Carol (January Jones), have bipolar disorder, which the family tries their best to conceal.
Even though it would be nice if these characters felt comfortable being open about their mental health, that's not the reality for a lot of people. Showing Kat and Carol navigating mental health stigma and shame within their family and overcompensating to appear "normal" to their peers is just as important as showing characters who are more forthcoming about their mental health. With this approach, the show helps viewers understand some of the baby steps that can help someone move past the stigma, which could help a fan through their own mental health struggles.
The series also shows Kat not taking her medication, leading to a manic episode where she goes on a binge of risky behavior, which includes excessive spending, partying, and sabotaging her relationships. Ultimately, this helps normalize the highs and lows of bipolar disorder and helps educate people who might not understand what "manic" really means in the context of specific mental health conditions. 
Spinning Out was sadly canceled after just one season, but it still deserves to be watched if you're looking for realistic storylines that aren't wrapped up in a tidy bow.
Sex Education
The British comedy-drama centers on teenage Otis (Asa Butterfield) and his friends as they deal with the awkwardness and angst that comes with adolescence. Otis' mother, Jean (Gillian Anderson), is a sex therapist who offers him well-meaning but over-the-top advice about sex and relationships. While the series is a comedy, it also focuses on a number of serious subjects including abortion, divorce, and coming out and how these impact the characters' emotional health.
For starters, there's Aimee (Aimee Lou Wood), who struggles to deal with her trauma after initially seeming to downplay being sexually assaulted on a bus. Eventually, her classmates help her feel confident enough to get back on the bus and are there to support her through it. But this storyline continues into Season 3 when Aimee talks about how she'd rather be alone than be intimate with anyone, something she used to embrace. Luckily, talking to her friends about this helps Aimee see that talking to a mental health pro could help her process everything she went through.
Then there's Jackson (Kedar Williams-Stirling), a competitive swimmer who's secretly battling severe anxiety and panic attacks. At one point, his anxiety becomes so unbearable that he physically harms himself to sabotage his swimming career and relieve some of that pressure. Jackson's friend Viv (Chinenye Ezeudu) eventually tells his moms about how much he's struggling, which he's pissed about at first, but it ultimately leads to him getting professional help.
These aren't the only storylines that highlight mental health in the show, but they definitely show how leaning on others for support (even if you're reluctant to at first) can make all the difference when it comes to taking care of your mental health. No one should have to deal with these types of struggles on their own, and the Sex Education kids prove there's power in community.
Sex Education uses some humor to make these topics feel a little less scary, so if you're looking for a show that doesn't feel too dark when talking about heavy subjects, this could be the one for you.
BoJack Horseman
The adult animated black comedy centers around an anthropomorphic horse named BoJack (voiced by Will Arnett), a cynical, self-centered former sitcom star who's determined to stage a comeback with a ghostwritten autobiography. Along the way, he navigates turbulent relationships, deals with family secrets, and struggles to grapple with his past.
But just because the series is animated doesn't mean it's at all lighthearted. In Season 3's "That's Too Much, Man!" episode, Sarah Lynn (Kristen Schall) relapses after nine months of sobriety and passes away from an overdose. Schall even won an Emmy for her performance, which ultimately humanized the struggles of substance misuse.
The show illustrates how characters like Sarah and BoJack aren't hopeless villains—they really do want to get better and do better. And it captures the way depression often has its ups and downs and presents differently in everyone in a frank and honest way that's hard to come by in adult animation.
Euphoria
The HBO drama follows Rue (Zendaya), a teen grappling with grief, which leads to severe mental illness and substance misuse (seriously, what is she going to do about that missing suitcase). Over the show's first two seasons, she relapses several times, which results in major complications with her family, friends, and budding love interest, Jules (Hunter Schafer). Zendaya's performance thoroughly captures the gritty side of mental health, showing the unsafe lengths Rue would go to get drugs and lie about being sober, and diving into a heartbreakingly honest conversation about why Rue doesn't want to commit to sobriety.
Plus, the special episode "Fuck Anyone Who's Not a Sea Blob," which Schafer co-wrote, is especially worth watching for a more in-depth look at Jules and her emotional state. It tackles her thoughts about gender and femininity, the deep wounds her mother's abandonment caused, and her resentment about feeling like she has to be responsible for Rue's sobriety and safety.
Although Euphoria can be over the top in many ways (just how did Lexi get away with her school play that shows her sister popping molly and grinding on a carousel?!) and make you want to adopt the characters' bold style, it doesn't feel like it's glamorizing the mental health issues. The series does get some aspects of mental health right by showing the frequent lows the Euphoria teens weather, which is crucial to ensure these storylines are actually responsible and don't make being in toxic relationships or misusing drugs seem fun.
Now, Euphoria is a lot to take in and isn't without its faults. If you're considering watching it for the first time and are worried about any potentially triggering images or dialogue, it's better to err on the safe side and skip this one or read some episode recaps so you can get a better feel for the various plots.
Normal People
Based on the bestselling novel by Sally Rooney, the Irish romantic drama series unravels the complicated relationship between Connell (Paul Mescal) and Marianne (Daisy Egar-Jones) and how it evolves from the end of their secondary school years to their time as undergraduate students. Although the series is hyped up for its steamy scenes and hot cast, Connell's struggles with depression and anxiety shouldn't be overlooked.
Throughout the series, Connell represents the subtler, less-talked-about ways depression can manifest, like how he is often completely drained of energy during his depressive spells, struggling to even make eye contact. He also suffers from panic attacks and struggles to deal with guilt and grief after his close friend dies by suicide.
Openly discussing mental health and asking for help is still tough for many men, so Normal People moves these mental health convos forward by showing how its male protagonist deals with complicated emotions.
Black-ish
The ABC sitcom is about an upper-middle-class Black family navigating work, school, relationships, cultural differences, and more. The Johnson family includes Andre "Dre" Johnson (Anthony Anderson), Dr. Rainbow "Bow" Johnson (Tracee Ellis Ross), and their five children. The show tackled postpartum depression in Season 2, showing Bow struggling mentally and emotionally after giving birth.
The episode "Mother Nature" (Season 2, Episode 1), which was pitched by Black-ish executive producer and writer Corey Nickerson, who based it on her own experience with postpartum depression, aired on World Mental Health Day. Postpartum depression still carries a lot of stigma for mothers in real life, so depicting it on a popular television show—especially with Black characters at the center—helped normalize this type of depression and show that someone isn't broken or a bad parent because of it. 
On top of showing viewers Bow's experience with postpartum depression, Black-ish also takes us through what this time period was like for the rest of the fam, who was unsure of how to help. Not knowing what to do or say when a loved one is struggling is something so many people can relate to, so this storyline felt so validating in more ways than one.
Crazy Ex-Girlfriend
The musical comedy-drama centers on Rebecca (Rachel Bloom), a successful lawyer who impulsively uproots her life from New York City to West Covina, California, to chase down Josh (Vincent Rodriguez III), whom she briefly dated at high school summer camp. Rebecca claims she's only trying to find happiness in her life and that Josh was not the reason for her move, but she soon ends up in a tumultuous relationship with her former beau.
On the surface, the show sounds like it's just a campy fun time, but the writers actually go deep with storylines about borderline personality disorder and suicide. In Season 3, Rebecca attempts suicide and is subsequently diagnosed with borderline personality disorder. After her diagnosis, she attempts to take control of her mental health and make positive changes in her career and relationships.
One thing the series gets right is how it doesn't resort to filling Rebecca's personality with stereotypes of borderline personality disorder, a diagnosis that's still heavily misunderstood and sometimes falsely associated with multiple personalities or manipulation. Rebecca is a complex character who has her struggles but is still a lovable person that fans continue to root for.
Ted Lasso
In this sports comedy-drama, Ted (Jason Sudeikis), a college football coach, is suddenly recruited to coach a Premier League English soccer team despite the fact that he has no experience with soccer (the team's owner devised an evil genius plan and hired Ted to sabotage the team). Ted gradually wins over AFC Richmond with his compassionate and goofy approach to coaching. In the process, he eventually opens up about losing his father to suicide when he was a kid. Viewers also see how depression and panic attacks can sneak up on him, sometimes even during games.
In Season 2, Ted reluctantly starts going to therapy, which hits at how some people might know they need extra support but hold back because therapy can seem scary and weird and might mean you have to do some (or a lot of) internal work. In showing Ted's conflicting feelings about talking to a pro and how he and his therapist ultimately develop a sweet professional relationship, the show makes therapy feel a little less daunting. Plus, too often on TV shows, it feels like therapy is either never considered a valid option or it's just tacked on at the end of a plot as a quick solution, never spoken of again. By actually showing therapy on screen and making it a huge part of Ted's storyline, Ted Lasso changes the game.
Wondermind does not provide medical advice, diagnosis, or treatment. Any information published on this website or by this brand is not intended as a replacement for medical advice. Always consult a qualified health or mental health professional with any questions or concerns about your mental health.