Explainer
07.20.23
When Do Body Image Issues Become Body Dysmorphic Disorder?
The mirror (and your brain) is deceiving you.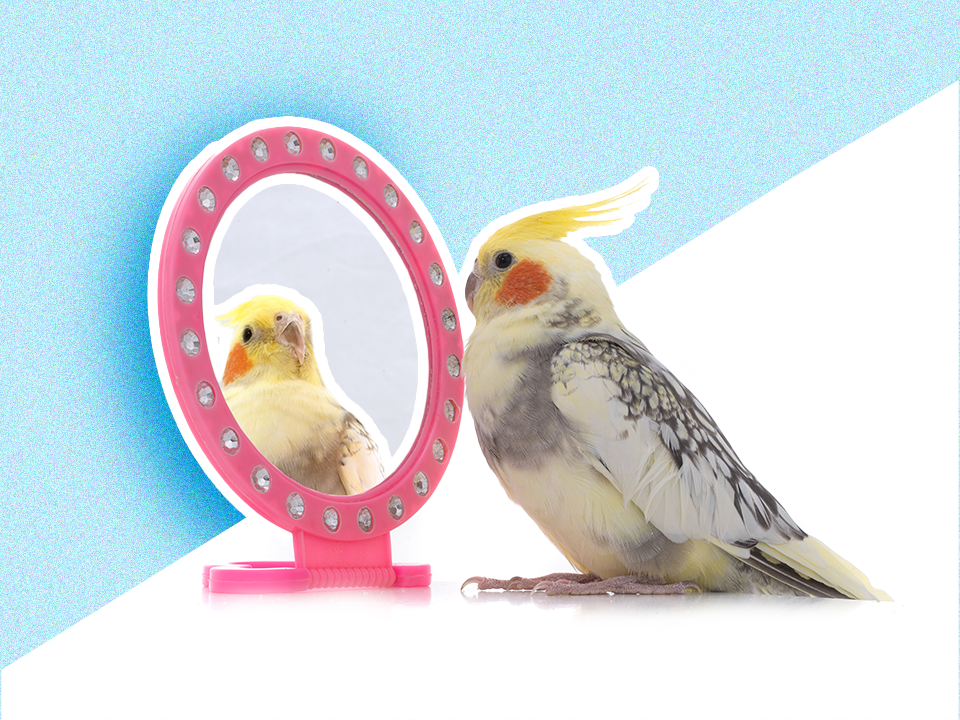 Shutterstock / Wondermind
I'm gonna go ahead and assume that there's at least one thing about your gorgeous self that you're not pleased with. Maybe feeling crappy about that thing has manifested in some dickish self-talk or even led to canceling plans after trying on most of your closet. Unfortunately, that's a pretty common experience for anyone with a body living in a place with high standards, internet access, and diet culture. And if you've ever heard about body dysmorphic disorder, you've probably wondered if your own self-image woes fall into that category. So, what is body dysmorphia anyway? We're so glad you asked.
Here, we discuss when body image issues can become a clinical diagnosis of body dysmorphic disorder (BDD) and the differences between the two. Plus, we talk about BDD causes and treatment.
One quick thing before we dive into the details: Mental health is complex and everyone has a unique experience, so don't go diagnosing yourself just because you read a few articles on the internet (though, we do appreciate you stopping by to learn a few things). If this resonates with you, consider it a jumping-off point in your journey to getting care. OK, let's get into it...
What is body dysmorphic disorder?
If you are one of the roughly 1.9% of adults with BDD, you likely find yourself constantly worrying about parts of your body you see as flaws that aren't really noticeable to other people, according to the Diagnostic and Statistical Manual of Mental Disorders (DSM-5-TR). 
While that might sound like your entire middle-school class, in order to be diagnosed with this mental health condition, you'd need to spend hours a day stressing about those physical parts of you that no one else seems to be able to see, says licensed clinical psychologist Jennifer Greenberg, PsyD, who works with people with BDD as the Director of Translational Research at Massachusetts General Hospital's Center for OCD and Related Disorders.
BDD falls under the umbrella of obsessive-compulsive and related disorders (like OCD), which means those super negative and sometimes intrusive thoughts about how you look can lead to repetitive behaviors called compulsions. That can look like trying to hide or fix those things you really, really dislike about yourself or obsessively checking to see how they look to the point that it's interrupting your day, Dr. Greenberg says. You might also bring up those things to the people around you to get some reassurance that they're actually fine (not that it helps), per the DSM-5-TR.
Sometimes, BDD symptoms can overlap with other mental health concerns, but a diagnosis of BDD means your symptoms aren't better explained by another condition, like an eating disorder. Although, Dr. Greenberg explains, if someone with BDD also meets the criteria for an eating disorder, they could be diagnosed with both.
When do body image issues become BDD?
One of the biggest differences between your run-of-the-mill crappy body image and this mental health disorder is that the thing you're obsessing over is extremely hard for other people to see, says Dr. Greenberg. While some people with BDD might be completely convinced that the thing others tell them isn't visible very much is, others could know on some level that the thing they feel is wrong with them actually isn't, per the DSM-5-TR. The problem is that no matter what side of this spectrum they fall on, the obsessive thoughts and compulsions keep coming.
Listen, this is not to say that it's healthy to feel really shitty about acne, your hair, or any other part of your appearance that's visible to the outside world. But, even if that thing makes you feel truly embarrassed, depressed, or anxious, it's not the same as having BDD.
We sorta mentioned this earlier, but the other thing that sets BDD apart is that, if you have this diagnosis, you could spend an average of three to eight hours per day on those compulsive behaviors (checking, picking, fixing), says Dr. Greenberg. And all of this makes school or work or any day-to-day activities really hard, she says.
If you have BDD you might also avoid social things like hanging with friends, going to school or work, or running errands. In some extreme cases, being consumed with anxiety about how you look could keep you from leaving the house, Dr. Greenberg says. When you do go out, you might spend most of that time ruminating over the things people do or say to decipher whether they were judging you, she adds.
To sum it up, having a bad body image is definitely not good for your mind, but a BDD diagnosis means your entire life is basically run by this disorder.
What causes BDD?
While it's not 100% clear what triggers body dysmorphia, a combo of factors can up your risk. The most obvious is having a close relative who has BDD, but being related to someone who has OCD can increase your chances of a BDD diagnosis too, according to the DSM-5-TR.
Of course, how you're raised can also play a part, Dr. Greenberg says. For example, some research suggests people with BDD are more likely to have experienced childhood trauma than those who don't have it. And, in Dr. Greenberg's experience, people with BDD often report getting a lot of attention (good or bad) based on how they looked growing up. It's possible that those moments could lead to hyperfixating on your body or believing that your worth is based on how you look, she adds. Plus, growing up in a society with unrealistic beauty standards and values appearance over everything else doesn't help either, she notes.
How is body dysmorphia treated?
Whether you have BDD or not, if body image issues are keeping you from living your best life, it's worth seeking help—and cognitive behavioral therapy (CBT) is a great way to go, says Dr. Greenberg.
CBT teaches you to reframe your negative thoughts about your appearance so that they're more gentle and realistic, like how you'd talk to a friend, she says. A therapist can use CBT to help you see that no one cares about the thing that's bothering you as much as you think they do (hello, spotlight effect!), she explains.
CBT can also help you learn to stop judging yourself (or others) based on looks by challenging you to get out of your head and into the present moment, Dr. Greenberg says. So, during a conversation where you'd normally be thinking about your face or body or whatever, you're more focused on what the other person is saying and how you're feeling about their words.
When treating BDD specifically, CBT can help you understand that your compulsions aren't useful, says Dr. Greenberg. "The more that you fix or hide the way that you look, the more it reinforces your unhelpful beliefs about appearance. It keeps you stuck," she explains. A therapist might ask you to try going out in public without automatically covering up, checking your reflection, or whatever compulsions you usually rely on (aka exposure and response prevention), she says.
Medication can help too. Selective serotonin reuptake inhibitors (SSRIs) are a class of meds that increase the amount of serotonin in your brain, which, for some, lessens those appearance-related obsessive thoughts. That can make it easier to control your compulsions, says Dr. Greenberg. They can also help depression symptoms associated with BDD, she notes.
Unfortunately, BDD won't go away on its own, and if it goes untreated, it can get worse, Dr. Greenberg says. So if you think you're dealing with extreme body image issues like BDD, it's a good idea to see a professional who can give you a proper assessment and suggestions for effective treatment.
Wondermind does not provide medical advice, diagnosis, or treatment. Any information published on this website or by this brand is not intended as a replacement for medical advice. Always consult a qualified health or mental health professional with any questions or concerns about your mental health.