Q&A
05.04.23
An Important Pep Talk From the Ever-Changing ALOK
The comedian and author opens up about finding joy again and the right to exist and change.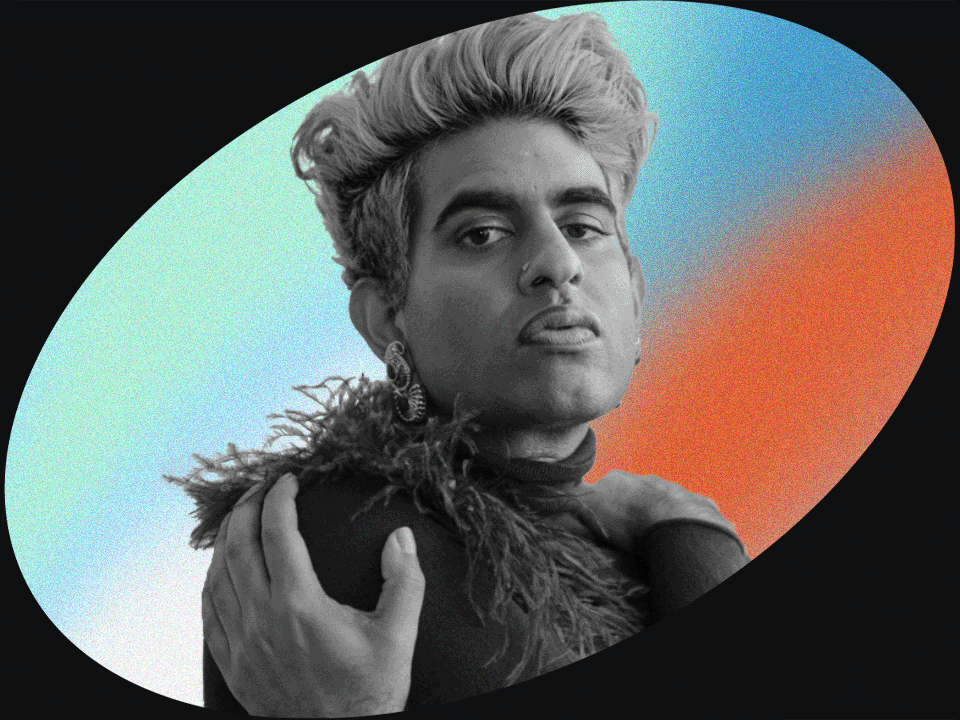 Photo Credit: Celeste Sloman
You might think someone who hosted a "Valentine's Cry-In" event and "Feelings Workshops" has always been comfortable getting unfiltered, but ALOK has put in the work to get to where they are now. The comedian, poet, and deliverer of the sharpest plot twist ever tells Wondermind, "It felt like so much of my relationships with other people were tied under the myth that we were all OK, and that if we had any issues, we had to deal with them on our own in order to return back to the unit." Now, thanks to finding a community that accepts them for who they are and whoever they might become in the future, ALOK is free to be themselves and able to feel more emotions than ever before.
Here, the multi-hyphenate artist talks about depression, vulnerability, community, and giving themselves permission to switch it up. 
[Sign up here to never miss these candid conversations delivered straight to your inbox.]
WM: How are you doing lately?
ALOK: I'm trying to observe my life without having a story there, without having to say, "I am sad" or, "I'm happy." What I'm finding is that there's a little glimmer of truth in all of it at the same time. So I guess I would say that I am becoming. I'm in a continual process of figuring it out. Sometimes it feels full of elation and ease, and sometimes it feels full of despair and doubt. But I'm very keenly aware of the fact that I'm alive. That's how I'm doing.
WM: As a writer, public speaker, and educator, what helps you protect your peace when you're often asked to talk about experiences related to your identity or mental health that you don't always want to get into?
ALOK: I'm getting a lot better at showing up and saying, "Hey, I don't want to talk about that right now." For a long time, I felt like I had to out of a sense of obligation or duty. I had this sense of, I have to sacrifice my own well-being in order to advocate for all of us. Now I realize that's a false binary, like all of them. I am part of the community that I'm advocating for. Would I allow that kind of disdain, that kind of sadness for anyone else? No. Why would I allow that for myself?
So I've started to understand that I don't have to be emotionally available for everyone. And that's hard because when you're a marginalized person and say, "I'm not emotionally available for you," people perceive you as a threat. People think you're being disgruntled or ungrateful, so you have to deal with that added baggage of knowing that you're not going to be congratulated or rewarded. People aren't going to say, "Thank you for claiming space." They're going to say, "Why not?"
WM: What's something you do for your mental health on a regular basis?
ALOK: I'm a firm believer in the power and poetry of a dinner date with a friend. It's my primary means of grounding myself. Just being able to have one of those languid, 2-, 3-, 4-, 5-hour conversations where you're just synthesizing all the things you've been thinking and feeling.
What's so important about that is having people in my life mirror back to me that they're rooting for me, so that I'm remembering I'm not in this alone. Having people who don't require me to be one thing and grant me permission to be figuring it out … is one of the most powerful embraces I've ever had. It continually gives me the stamina and the fuel to keep going because it feels like most of the time I'm drowning. But when I'm having a real heart-to-heart with someone who I love, I remember, OK, I can do this. That's why I feel. mental health is a collective project—it requires this coming together. We can't just heal in silos. We need each other.
WM: Have you always been open to having these conversations?
ALOK: I suppose I grew up in a family, in a community, in a culture, and in a world where I was made to feel like if I expressed myself, I was betraying the larger social unit and that I would be exiled. It felt like so much of my relationships with other people were tied under the myth that we were all OK, and that if we had any issues, we had to deal with them on our own in order to return back to the unit. I was not just told but incentivized to keep quiet about what I felt my entire life, and it made a shell of my existence. It made me feel very hollow, like I was in a costume, not actually me, like I was dissociated apostrophes-in-the-sky "ALOK," not actual ALOK.
When I started to accept my gender, my sexuality, and myself, I made a promise to myself to never have to go back to that. And I was finally able to unlock so many emotions I had never allowed myself to feel. I could listen to any song and feel an emotional connection. I could go to the most boring rom-com and be like, "That's me." I just felt so interconnected with everything, and it was so precious to me. I realized that that was worth fighting for, that being present is worth fighting for.
So whenever I'm embattled with that question, "Am I ready to be vulnerable?" I remind myself what it feels like when I live a life that's not, and I remind myself what it feels like when I'm emotionally present. … I thought that this was a before and after, but that's not often how healing is. You have to continually make the choice in a world that ritualizes conformity and emotional repression. To be vulnerable is a courageous act, and I think a necessary one.
WM: Going back to your dinner dates, how did finding a sense of true belonging and community transform your mental health?
ALOK: It totally changed my life because I met people who loved me and were proud of me before I was capable of loving and being proud of myself. And I trusted these people and thought they were amazing. So I was like, "If I trust your point of view, and your point of view is that I'm OK, maybe I'm OK." I had to kind of outsource my negative self-talk and say, "Here are all the ways in which I'm cruel to myself." Then my friends would mirror back to me, "That's not what we see in you." That gave me permission to love myself in a different way.
The way I knew it was true belonging is that I've been through many different iterations of myself because that's what being human actually is. It's that you feel like you figured it out, and then you change. True friendships afford the space for change in transformation. And true belonging doesn't require us to betray ourselves—it actually encourages us to become ourselves.
A lot of my old relationships were stuck in stagnant images of who I should be or who I was. So I was having to spend so much energy trying to cosplay as that old version of myself rather than allowing the fullness of myself to come in. And it comes in small comments when people say, "Well, you are always someone who…" Well, "always" is many things. But among them, it's a form of incapacitating us from actually saying, "I get to change."
Maybe the only "always" I'll commit to is: I always believe that I should have the right to change. That's what I feel scares people about trans and non-binary people—that we are publicly templating this intimate journey of changing. We're showing people you get to change your mind. You get to change your life. You get to change your name. You get to change. That's been so antithetical to the versions of love we've been taught that require us to stay still. It's not that we're just pushing a new definition of gender. We're actually advancing a new definition of love—one that says you get to change and still be worthy of love.
WM: Where do you pull some of your self-love and happiness from these days?
ALOK: I've been reading a lot. And by reading, in 2023, I mean listening to audiobooks. My toxic trait is listening to audiobooks at 2x [speed]. OK, don't judge me. I apologize to all the extremely talented narrators out there whose voices become chipmunks in my ears. You're doing a great job, sweetie. Keep it up. For a long time, I was just reading non-fiction to try to understand history or the world or new talking points for the latest interview. To fall back in love with literature has been so meaningful to me because it was one of my first loves. When my life felt impossible, I could read a novel and learn that my world was one of many worlds, and that it was possible to redefine reality.
So I'm falling back in love with possibility. I feel so much more creative inspiration in the world. I remember that what I see is not permanent, that everything is changing, and that I'm a rough draft. That's another thing that literature teaches me: No one's first draft is supreme. We have to continually revise, revise, revise. When I hear a beautiful sentence in my ear in a chipmunk voice, I think how much work went into the construction of that sentence. Then I think how much work goes into the construction of my happiness, and then I'm committed back to it.
WM: If you could go back and tell your younger self something, what would you say?
ALOK: Do not lose your capacity to be amazed by the world. One of the biggest casualties of my struggles with mental health has been forgetting how miraculous it is that we're here, how stunning and incredible it is that the sun goes up and down, how phenomenal and absurd it is that we have a thing called seasons. I feel deeply sad that that "have" might become "had."
What I'm really trying to remember is that depression, in my experience, is the worst social media filter because it's actually filtering our entire social reality that dulls our capacity to recognize the wonder-making that's happening all around us. Yes, I am on brand, thank you so much. To truly have a wonder of mind is to enhance our capacity to witness what is wonderful around us.
I think I had that as a young person. … So I'm trying to reignite that. Something my younger self can teach me is it's not corny, it's not shameful to be amazed by things because being amazed by things reminds us why we're here, why being alive can be so fun.
WM: Any words of encouragement you'd like to leave us with?
ALOK: Unfortunately, I'm coming to you from the United States where we've seen an extreme acceleration of anti-LGBTQ legislation, and this is resulting in profoundly adverse mental health outcomes for my community. A lot of us are struggling a lot right now and feeling impossible. I want to offer a word of love and encouragement because I know that for many people right now, it feels really bleak.
What I wanted to say is not that things are going to get better, because I'm not sure, but I wanted to say that you deserve to exist. You deserve to have a voice. You deserve to be beautiful, and this world is so much more beautiful with you here. In fact, we actually need you here because the world would be so much less beautiful without you. You're an integral part of this country and of this world, and I'm so grateful—I'm so geeked out to be able to exist alongside you. Whenever you're feeling despair, remember that there are people who genuinely want you to be here and are so grateful that you've gifted us with your authenticity.
This interview has been edited and condensed for length and clarity.
Wondermind does not provide medical advice, diagnosis, or treatment. Any information published on this website or by this brand is not intended as a replacement for medical advice. Always consult a qualified health or mental health professional with any questions or concerns about your mental health.