Essay
10.25.23
7 Ways Beyoncé's Renaissance Era Basically Healed Me
More than a year later, 'Break My Soul' remains my spiritual balm.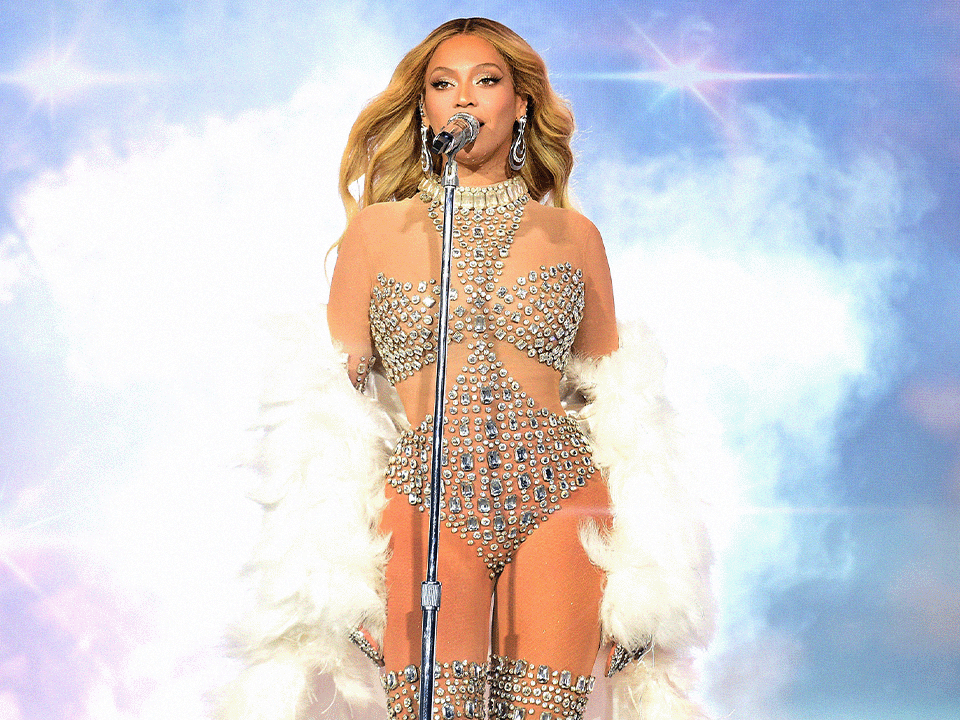 I remember the beginning of Beyoncé's Renaissance era like it was yesterday. June 2022 was coming to an end, and I, Dr. P. Ryan Grant, a budding bad bitch, was also a hot mess. I was a broke psychology grad recently out of a situationship, two months and one licensure exam away from starting my career as a psychologist. And I constantly second-guessed myself.
But right as I was navigating a personal storm, my forever fave Beyoncé Knowles-Carter dropped a single, "Break My Soul." It had been seven years since her explosive rock- and country-infused Lemonade album. And with this one track, Bey gave us a single that embodied the house and disco stylings of Grace Jones, Robin S., and Crystal Waters.
With the single on repeat, I momentarily escaped the stress of that unsuccessful situationship and moved my body carelessly as I ushered in this brand new Bey era—an era that reminded me of Saturday nights I spent as a kiddo, uninhibited, free from anxiety, and dancing in my room to house mixes on Philadelphia's radio. The soul-stirring vibe made me forget about all the compounding B.S. At that moment, I knew that whatever Bey was ready to serve, I was ready to receive.
And then, of course, came Renaissance—a full-length dance album that embodies all things Black and gay. To say that this album healed me would be an understatement. So, if you too are feeling like a passenger on the hot mess express, I'd encourage you to grab some headphones, cancel your plans, and buckle up. And if that feels hyperbolic, let me explain just a few ways that Beyoncé's Renaissance changed my mental health for the better.
It helped me see myself.
In a time when politicians are pushing homophobic rhetoric (laws restricting bodily autonomy, ignorant book bans—you know the type), Beyoncé gathered a Justice League of LGBTQIA+ creatives and influences (TS Madison, Syd, Big Freedia, and Moi "Miss Honey" Renee, among others) and made a musical masterpiece that unabashedly saluted the queer community on a global, mainstream level.
As I listened to Renaissance promptly at midnight on July 29, 2022, I was speechless and overcome with joy and gratitude for Beyoncé for seeing me—seeing other queer folxs (like her Uncle Johnny, who inspired the album)—and giving us our time to shine.
As a child, I remember being bullied for people assuming I was gay, and I remember having no representations for what a successful, free, and completely out gay Black man could be. Now, joy surrounds me as I witness the biggest pop star of our lifetime provide the imagery I craved as a kid, affirming that the identities I was bullied for are what make me amazing.
In my book, Internalized Homonegativity Among Same Gender Loving Black Men, I reflect on how, whenever we see people who look like us or share our identities thriving and achieving more than what we've been told we can, our brains begin rejecting the limitations put on us and register our full potential. I've been scared to speak, set boundaries, or just exist in various spaces because of the softness of my voice, the curviness of my body, the thickness of my glasses. But Bey inspired me to celebrate the individual I'm blessed to be by outwardly celebrating people like me—in front of the entire world.
It affirmed my direction.
After I sent that failed situationship "to the left," it felt like a little of my confidence walked out the door with him. I was unsure of myself and my choices.
Still, Bey's Renaissance told me to remember who the fuck I was. "Alien Superstar" reminds me that I'm "one of one," and if this man couldn't recognize it, another one would. "Move" stresses that when I enter any space, fear, insecurity, and uncertainty need to "part like the Red Sea" (shoutout Grace Jones). And "Thique" encouraged me to look in the mirror and remember that the winner in this story was me.
The album gave me the confidence boost I needed to close a chapter. Nothing could hold me back from the season of greatness I was entering.
It validated my childhood struggles.
Renaissance was also there this summer, when I learned a relative had little to no capacity for my queerness. I was embarrassed and immediately reverted to being a shy kiddo who cowered under stings of bullying and peer rejection, and who felt like he had no community and no space to exist fully without judgment. I blamed myself.
To be honest, my challenges with staying fully present and confident are often fueled by past (and current) rejection or neglect that's directly linked to my identity. And can't we all relate to that? Whether we've had early experiences of rejection, neglect, bullying, or an emotionally unstable environment, many of our present challenges (relational, mental, or emotional) can be traced to past hurt. I've seen that among my clients.
It's true what those TikTok girlies talking about "healing your inner child" or "reparenting yourself," say: Acknowledging past pains and finding ways to heal those hurts can benefit you today. In my case, healing meant diving into the affirming words of the Renaissance album.
It might sound too simplistic to be true, but sometimes when you're going through it, you just need a simple positive affirmation to pull yourself back into a healthy mindset.
Renaissance challenged me (and still does) to be audacious in my existence and not waste time with people who don't have the capacity to accept or love me. Instead of dimming my light, I remembered the lyrics in "Cozy" that encouraged me to get "comfortable in my skin [and] cozy with who I am." The words of "Church Girl" reminded me that "I ain't tryna hurt nobody" and "nobody can judge me but me." As I listen to this album (over and over again), I can't help but feel invigorated by the call of "Break My Soul" to "release my mind" and "let go of the stress"—the family stress, man stress, job stress, the list goes on.
It became a source of hope.
It would be almost a year (which felt like a lifetime) before Beyoncé kicked off The Renaissance World Tour in Sweden on May 10, 2023. But knowing this tour was going to happen gave me hope when I was still navigating the impacts of the pandemic and struggling to find some normalcy in my life. Imagine chilling (or Zooming) with your homies, catching up on life, lamenting about bills, or figuring out the cesspool dating scene, and someone says, "Yeah, but that Renaissance Tour, though!" Everyone immediately fell into a positive, more relaxed space, was ready to belt, "Tip, tip, tip on hardwood floors!" and share their testimony of how Beyoncé and her Renaissance had made life a little more bearable.
It gave me courage.
A week before I saw Beyoncé's show in Houston, I headed to my family's home country of Jamaica to attend a celebration for the LGBTQ+ community at a welcoming resort (an important detail in a historically and contemporarily homophobic island). But fear flooded my mind and body before the plane touched down. I thought, Bitch, is this a trap? What if the rumors of gay folx getting imprisoned or killed are true and you end up jailed or worse? My heart raced, butterflies filled my belly, and beads of sweat dotted my forehead. I couldn't believe I dared to visit as an openly gay Black man! I was showing up in a way that's been forbidden, watered down, and suppressed by my church, school, peers, family, and by society for decades.
To regulate my fears, I slipped on my headphones and turned on—duh—Renaissance and was immediately encouraged by lyrics like, "If you don't seek it, you won't see it // That we all know," and, "Looking for something that lives inside me." As I listened to "Break My Soul" (yes, again!), it felt like Bey was telling me to shed the expectations, insecurities, and biases that have run my life and left me feeling unworthy of humanity, freedom, and love. Basically, I can create my own version of happiness. And, not for nothing, I was reminded "I'm That Girl," and that "these motherfuckers ain't stopping mе."
To be clear, her bars didn't necessarily erase all my fears, and I believe I would've still gone on this trip had Renaissance never been released, but it did make me a whole lot more confident. Bey's, "you can have the stress and not take less," lyrics reinforced that going scared is better than not going at all—something I've learned in my work as a therapist. With all those affirmations, I was ready to strut into paradise in all my Black gay glory, with my butterflies, sweat, and pounding heart.
It fostered community.
On Sunday, September 23, 2023, in H-Town, I finally witnessed the phenomenal Beyoncé Giselle Knowles-Carter in person at a packed stadium in her hometown. And I came prepared, dressed in my "doms in the back" black sheer cutout top, leather corset belt, "Miss Honey" choker, and black Louboutin ankle boots with a four-inch heel.
At the show, I felt part of a loving community of so many other Black and queer people who could relate to these same emotions. We were a community that, while at the concert, was free and safe to be us. A feeling of catharsis overtook me, tears welled up in my eyes, my feet bounced up and down with every song change (in heeled Loubis, remember), and my heart raced. Even though I'd return to the stress of the external world in under two hours, I felt connected, affirmed, and supported knowing I was surrounded by people who shared the same values. And that feeling stuck with me even after the concert.
It helped me enter a new phase of my life.
We're still, presumably, only in the first stage of this three-act project (yup, the upcoming concert movie is still just the beginning), and—just like the rest of the Beyhive—I can't wait for what comes next.
Through her artistry, Beyoncé has given me a blueprint for what life can be if I get out of my head and get into the present. I can transform into my best Beyoncé. I can show up despite fear or embarrassment. I can become an example of how the world can be a freer, safer, more affirming place. Who knows, maybe I can be a triple threat psychologist, podcaster, and first Black gay male Real Housewife (Bravo, let's talk). But the first step is remembering that I'm "one of one." I owe it to myself and others to live out loud.
Wondermind does not provide medical advice, diagnosis, or treatment. Any information published on this website or by this brand is not intended as a replacement for medical advice. Always consult a qualified health or mental health professional with any questions or concerns about your mental health.