Essay
11.07.23
I Tried Energy Healing So You Don't Have To
The vibes are vibing.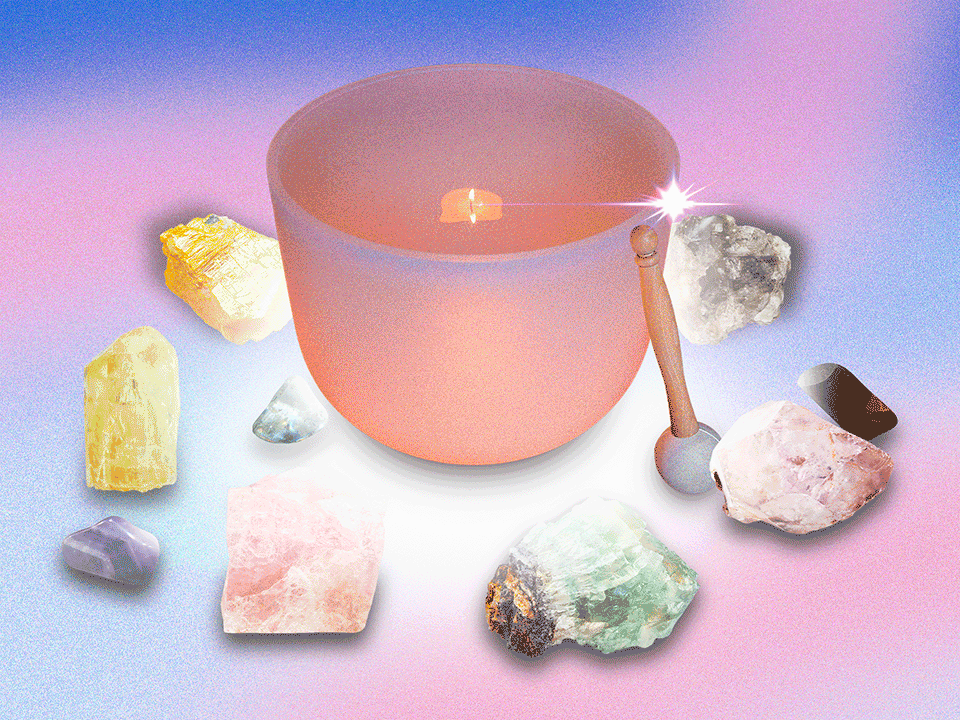 Shutterstock / Wondermind
If your Google search history or social media feed includes things like "benefits of selenite" or "sound baths for energy clearing," you get it. If not, consider this your official notice: The energy-healing era hath commenced.
Case in point: Wellness TikTok recently finished up its hot girl walk and moved on to deeper topics like reparenting yourself and healing from intergenerational trauma. Energy healing services are starting to pop up at some wellness spas and therapy practices. Even the fitness-focused Alo Moves app dropped a Reiki series complete with meditation and sound baths recently. Honestly, it's enough to make anyone facing an existential crisis ready to throw down some cash—or at least pick up a few crystals.
I may look like a seasoned health editor who can Where's Waldo a wellness scam from many a social feed—and I am—but I'm also an energy-curious gal just looking to heal her shit.
So when I had the chance to work with an energy healer back in March (Hi, Johnlyn!), I was like, "Sure." Eight months and many sessions later, I've become the friend who says, "You know what my energy healer would say about that?"
I feel like this is probably a good time to mention that I am and will continue to be talk therapy's number one fan. I've been seeing my licensed therapist (a cognitive behavioral wizard) for half a decade, and she's helped me manage or overcome a ton of life drama.
But this past winter/spring was an especially tough one. Without risking a vulnerability hangover, it's safe to say that I've been navigating some super-important relationships and figuring out how to set boundaries within them. And while my therapist continued to help me deconstruct my brain and put it back together, I felt really stuck. I was in my own way but didn't know what my next move should be.
Healing, but make it energetic
Anyway, enter energy healing. During my first session with Johnlyn over Zoom, she tells me a little bit about her process. It starts with chit-chatting about anything that's bugging me, then she spiritually tunes into the universe/God/whatever you'd like to label a higher power, and she takes note of things that might be helpful to bring up later in the process.
Then we started getting weird. She tells me to close my eyes, put my left hand on my heart, and just breathe normally before asking me to picture myself (or maybe my younger self? I forget, to be honest) at a park and to pick something fun to do. I immediately make the only correct choice and select the swings (kidding, but also, swings rule). She explains that I should picture myself on the swings just hanging out.
Then she asks me to scan my body from head to toe, noticing any sensations coming up. At the time, my eyelids felt really heavy and my brain was foggy, a thing that had been going on for a couple of weeks. We sit with that for a sec, and she says that she's noticing some energy coming up within me that wants to be moved. She asks if it's OK for her to shift it for me. I'm like, let's do this, and she waves her hands to clear the stale vibes that are ready to see themselves out.
After our 90-minute session, she left me with some homework: Pay attention to the physical sensations that come up for no apparent reason, like my heavy eyelids or nauseous stomach. Instead of trying to explain why those sensations are happening, just feel that they're there. According to Johnlyn, doing this can help you start to shift your own energy, which helps you process the underlying emotions without having to verbalize what you're feeling or why.
What is happening?
Just a little background: While energy healing modalities are not new (more on that in sec), some Western researchers began categorizing practices like Johnlyn's as "energy medicine" in the 1980s, according to an article published in the International Journal of Yoga.
Researchers and practitioners have also tried to come up with an explanation as to what "energy" even is. Ultimately, they landed on "a massless field, not necessarily electromagnetic, that surrounds and permeates living bodies and affects the body," according to an overview of research published in the journal Global Advances in Health and Medicine. Smart people call this a biofield.
The idea is that those who work with energy to make you feel better are "channeling healing energy" through their hands "into the client's body to restore a normal energy balance and, therefore, health," according to the National Center for Complementary and Integrative Health. While Johnlyn's style (and probably every healer's) is unique, achieving that "energy balance" seems to be the goal of any kind of energetic healing—even the kind over Zoom.
If you're like, OK, but how? Same. There are a lot of hypotheses but they mostly come back to theories in quantum physics, according to a paper published in Global Advances in Health and Medicine.
I get that this sounds suspicious, but some data suggests that energy healing can lead to some noticeable changes in people's well-being. Take this review of research from Frontiers in Psychology, which says that the (very limited) existing studies about Reiki, a form of energy healing, suggest it's more effective at treating things like stress, anxiety, depression, and burnout than a placebo.
And, for what it's worth, this small observational study found that health care workers who received four 20-minute sessions of remote Reiki reported better sleep and less anxiety, stress, and pain. So there's something to say Zoom energy healing is not a scam.
Physics and research aside, people have practiced energy healing in many forms, including classical Chinese medicine (CCM), for thousands of years, says Niko Karelas, LAc, an energetic and spiritual healer with a masters in acupuncture who studied Classical Chinese medicine, Reiki, cupping, sound healing, and other energy healing methods. CCM is intended to treat the body, spirit, and soul together by clearing a path for Qi, or "life force energy," to flow through you, Karelas explains.
The philosophy is that certain points in your body (called meridians in Chinese medicine) correspond to different physical and emotional parts of you. And when energy can flow freely to these points and throughout your system, it positively impacts your physical body and your emotions, says Karelas.
Achieving that flow is also part of other energy healing modalities, like the ones that utilize chakras, explains Victoria Kirtley, MA, an Akashic medium and spiritual coach who received her master's degree from Oxford's school of experimental psychology.
Karelas says that, in his practice (which often includes Reiki, crystals, sound therapy, cupping, and acupuncture) energy healing gets your body to a very chill homeostasis by clearing physical and emotional knots or blockages. It's like a spiritual massage, if you will. And, by getting you into rest mode, energy healing is thought to promote physical and emotional healing, Karelas adds.
Not to be a downer, but the scientific proof energy healing works that way is definitely lacking. Though some studies looked at the biological changes in humans before and after energy healing therapies—like this 2021 randomized controlled trial—the evidence isn't quite there.
That said, one study found that burned out health care workers who received Reiki treatments had changes in their body temp and heart rate variability afterward. That could indicate the treatment impacted their parasympathetic nervous system—or the part of your nervous system that helps you "rest and digest." And, in a rat study, lab rats who received Reiki (love that for them) were less likely to be stressed out by loud noises than ones who didn't.
What energy healing feels like
Karelas recommended I try a session with him to do my own energy healing study. Naturally, I was on board.
I filled out roughly 10 pages of health info at Sage and Sound, a spa-like situation that offers (kind of expensive but seemingly worth it) energy healing, sound baths, and classes on things like breathwork and meditation. Afterward, Karelas looked at my tongue, took my pulse in three places, and read my face—all very standard classical Chinese medicine stuff, he says. Then I got up on the table face-down (this is a clothes-on experience, by the way) and the search for homeostasis began.
It started with Karelas putting one of my hands between his palms saying, "You are safe, you are safe," a few times. The hands are related to the heart chakra, he says, so this is an important step in letting your body know it's OK to calm the fuck down. Then he used this back massager-like thing that, I assume, shook up my internal vibes. After that, he placed sound bowls on each of my chakras and gonged them several times. At some point Karelas also gonged (this a verb, yes?) a really big gong to the left of the table too. All of this was to get those energies moving and tune them to the same frequency as the sound itself, he explains.
Then the Reiki started. He placed hands along my chakras one at a time with some gentle pressure. Honestly, the rest of this process got a little foggy (assuming that was the homeostasis kicking in), but I started to notice a weird tightness in the front of my throat. It kept up through the craniosacral work, where Karelas massaged my head and kind of cradled it before doing the same with my feet. Karelas also did some really beautiful chanting toward the end.
When it was all over, he told me my assignment was to sing and/or dance for five minutes a day to express energies and emotions, and also to take Epsom salt baths once a week with a teaspoon of baking soda in the water. Oh, and that tightness? That was my throat chakra coming to life to express energy that I'd kept on the DL, Karelas explained. "That's incredible," he added. (Cut to me shrug smiling like Kevin James.)
On my way home, I was so, so tired. I felt like I took a Benadryl. I texted Karelas who said this is common and means my body is in that sweet rest and digest mode, which is a great sign of potential healing to come.
Yeah, but does it work?
Um, not no? Listen, I have not lived in an energy-healing clinical trial for the last eight months, but what I can say is that I've made some massive changes since this whole thing began.
Admittedly, at least some of those shifts had something to do with the time-spent-focusing-on-my-energy factor increasing approximately 100% since January 2023. But I also gained a new perspective on the same old problems I'd been talking circles around in talk therapy (like, why don't I stop communicating with this person who's been making me feel shitty? What's holding me back from doing that?) And these services/treatments//divine-energy channeling experiences gave me another way to come at those issues with fresh eyes.
To be honest, the answers didn't always come up right away. Most of the time, I didn't leave the Zoom room full of wise intel from my inner child. But, over the next several months, I found myself finally making moves on things that I'd felt stuck on for literally years. I blocked the number of someone who deserved it ages ago. I turned down a commitment I made a year and a half ago because it no longer felt like something I wanted (and maybe never did). The amount of aha moments I've experienced since starting this whole thing seems significant.
It's fair to ask if this is all just a coincidence. But, to me, combining energy healing with my usual therapy added a little spiritual or energetic push to get me to do the things I'd been dragging my feet about for years.
Yes, it can be incredibly beneficial to talk it out with a licensed mental health pro. They can help you recognize and change unhelpful thought patterns and beliefs and develop healthier coping skills, says Kirtley. And also, we might not always be able to verbalize or consciously recognize everything that's happened to us, especially deep traumas, she adds. And that's where energy healing might provide a fresh perspective.
With energy work, "you get the benefit of being able to heal really deep unconscious programming and traumas that are tough to reach through dialogue," Kirtley explains. "But [through talk therapy] you also have the awareness of what the hell is going on."
That's why Karelas also tells his clients to seek therapy if they aren't already doing it. He says that when the people he treats are already working through their thoughts and feelings with a licensed therapist, they might get more out of his healing sessions.
Kirtley says my aha moments are evidence of this therapy cocktail working its magic. "Maybe there was an energetic/emotional blockage or misalignment that prevented you from seeing things the way that you do now, and when that was released, the answer became glaringly obvious," she says. "Having the insight that you actually don't want to do something indicates that the choice wasn't authentic; it stemmed from a pattern, belief, or construct that wasn't working in your favor." In summary, once that bullshit is cleared, there's nothing to persuade me from doing anything other than what I wanted.
So, should you designate a dump truck of money to these sessions? As a health editor who loves some double-blind clinical trials, I can't say that there is proof that energy healing will fix your life. But if, like me, you've been working with a therapist for a while and you still can't figure out why you're like this, maybe an energy healing-fueled epiphany is what you need. What I'm saying is, if you have the money and can responsibly spend it on a healer who helps you learn more about yourself, then why the hell not?
Wondermind does not provide medical advice, diagnosis, or treatment. Any information published on this website or by this brand is not intended as a replacement for medical advice. Always consult a qualified health or mental health professional with any questions or concerns about your mental health.