Q&A
06.30.23
Gia Kim Is Proud of Her Mental Health Progress
The 'XO, Kitty' star opens up about recovering from an eating disorder, navigating depression during college, and connecting with her ancestors.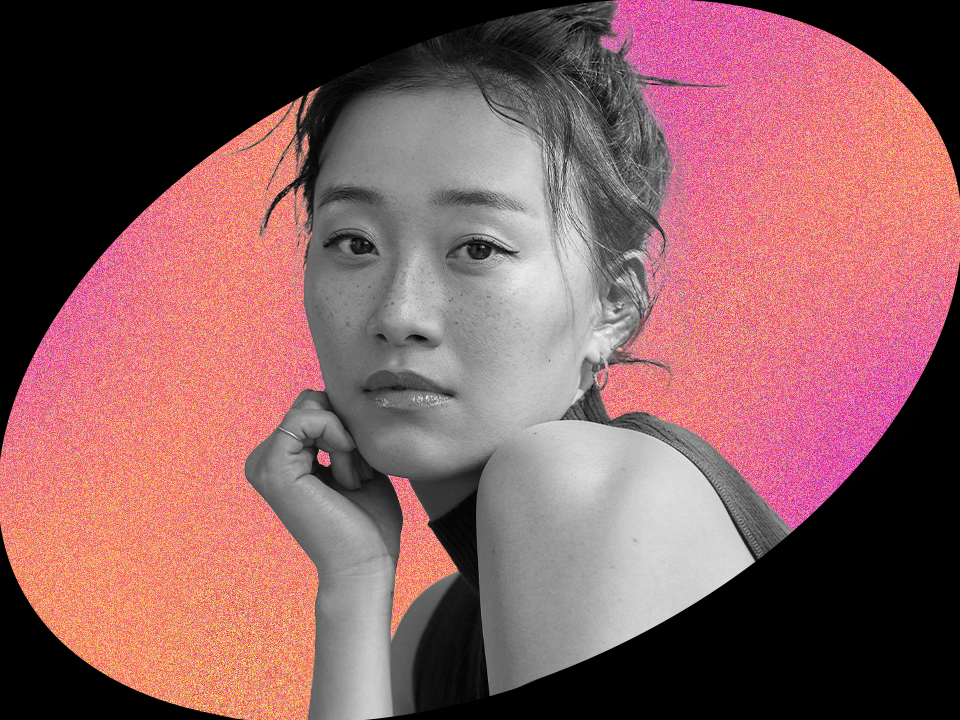 Photo Credit: Emily Sandifer
When XO, Kitty premiered in May, Gia Kim strutted her way into the hearts of Netflix subscribers as Yuri Han. As the HBIC of KISS (the Korean Independent School of Seoul), Yuri's scheming often made her seem like the show's villain, but there's a lot of heart behind the character. Trust it's one of the best shows out and perfect for any fan of the To All the Boys franchise.
Offscreen, though, Kim is much more inviting than Yuri initially was. And, if you can believe it, the talented actor had a case of imposter syndrome before the show became a hit, she tells Wondermind. Luckily, now that the show is out and receiving a ton of praise, she's excited to dive into Season 2, which was just greenlit. "I would love to see how Yuri's life changes now that she's come out to her closest person, her family, and her mom. But also, she has yet to do that with her dad, and that's a whole other thing," she says, adding that this is just the beginning of Yuri's journey to being her true self in public.
When she's not playing Yuri, Kim is into art, carpool karaoke, and taking care of her mental health. At least five minutes of her day is dedicated to mindfulness practices and setting intentions, she says, and she frequently reminds herself that she's not on this life journey alone. "I know that wisdom, as well as trauma, has been passed down to me," she says. "And it's my job to break those generational 'curses' or trauma and not pass that on to future generations and also receive the gifts from my ancestors and take them with me and make use of them in my lifetime."
Here, Kim opens up about her mental health journey, from working through depression and confidence obstacles to learning to accept all the complicated feelings that pop up in her mind.
[Sign up here to never miss these candid conversations delivered straight to your inbox.]
WM: How are you doing lately?
Gia Kim: I have been great. I have been overwhelmed in terms of physically feeling like I'm demanded in different spaces at different times, so I'm physically tired, but I am very happy and grateful.
WM: What moments or time periods in your mental health journey stand out to you?
GK: When I was the most depressed (but didn't know I was depressed) was during my exchange semester back in college. I think I was seasonally depressed because I got, like, three hours of sun. I was in Denmark, and it was hard to adjust to that kind of climate. I didn't know I was depressed until I looked back, and I was like, Whoa, I was not doing so well. [Laughs]
I also had a lot of vivid, morbid dreams around that time and really missed my family. They were in my dreams a lot, and I was not eating very well. I think everything just fed into each other … It was a vicious circle at the time.
WM: Is there anything that you're really proud of in your mental health journey?
GK: I think I am proud of where I am now in terms of my mental health and how I manage my mental health on a daily basis. When we're younger, we don't have the lingo, we don't really know much about it, and we haven't educated ourselves enough on it to know how to deal with it.
But mental health has always been such a big issue for me, and it's been very tied to my eating disorder as well. Something I'm very proud of is that, I don't know if I can say I fully recovered from it, but I'm definitely on that recovery journey. I've been on it for the last maybe two years now. Two years ago was kind of like peak eating disorder and depression—it was just going hand in hand. And I made an active choice back then to be like, I am gonna end this vicious circle and do something about it differently this time.
So, first of all, I swore off any sort of dieting 'cause I was just a slave to all sorts of diets at the time. That also kinda made me gain weight at the beginning, but then I just started finding my own rhythm and my natural body weight once I decided I'm not gonna put myself through drastic, insane, toxic diets anymore. Since then, I think my mental health has been a lot more stable because before it was way too linked to the number on the scale and what I eat, what I look like, what size I wear, and all of this. That, I can proudly say I've worked through with the help of some professionals that I started following online, like dietitians and people who specifically deal with eating disorders and mental health. I am in a much better space now.
WM: Were there any specific things that helped you on that journey?
GK: On Instagram, my Explore page used to be filled with "how to lose belly fat" [posts]. I started saying, "Not interested," to all of those pages and fed the algorithm in a way that I wanted to work for me. … And even with pictures of very skinny girls that maybe I used to wanna look like, I would hide [those] from my feed. Even if they were my friends, honestly. I did everything I could to get rid of any sort of trigger that would make me want to put myself through something drastic again. So I started doing those things and really controlling what I expose myself to in terms of information and the toxic diet culture. Getting rid of bad habits one by one helped along the way.
WM: You've talked about befriending your shadows. Can you share what that looks like for you and what makes up your shadows?
GK: I know that I have people-pleasing tendencies, and that's something that I used to not even be aware of because "people-pleaser" wasn't even a term when I was a kid. Since I've become aware of it, obviously I've been working towards not doing that. But it's just qualities that I see as negative. I think I've always been like, "Oh, I'm not that." Or when it would creep up inside me—something like jealousy, for instance—I would just ignore it and be like, "Oh, that's not me." You know?
But then I realized I'm a human being, and I do believe in the duality of things. There's light, there's shadow, and I have to love both sides because I'm comprised of both of those things—not just the light qualities, as I would like to believe.
So when these seemingly negative or darker things come up, don't ignore it. Acknowledge it. Think about where it comes from so that maybe you don't act upon it, but you can at least give it space and acknowledge it because it is a part of me as much as I want to acknowledge and celebrate my more positive, lighter sides.
WM: What's the best mental health advice that you've received?
GK: This is something one of my yoga teachers said in a class, and it's helped me every time I feel really overwhelmed. She said, "All that matters is that you are here." The initial reaction is like, "What does that mean?" But when I think about it, it's true. I am here in my body, and that's really all that matters. All this bullshit that's going on around you, that is all outside of you. And that means as long as you're breathing, you have a choice to make. … Every time I feel overwhelmed or I'm worrying about something or I'm overthinking something, I'm like, none of that matters.
WM: Are there any mental health goals that you're working on?
GK: I felt like my time hasn't been my time a lot of the time [laughs]. I feel like I'm being tested to really make time for myself, for my mental health, and for mindfulness. Otherwise, I feel like I just get swept away, and then the next thing I know, my last journal entry was like a month ago. So I think even taking five minutes to do something that I know works for me, like maybe pulling an [oracle] card or journaling or listening to music and quietness. I think I'm being tested to really squeeze that into my routine as much as I can. 'Cause otherwise, I'll be like, "Oh, I'll do it later." That later never comes.
WM: What else would you like to add about the importance of mental health?
GK: At this point in my life, nothing is more important than my mental health because nothing is worth ruining my mental health over. And I realized that through the phases where I would just fall into depression just because of a number on a scale and my body image and all of this. And it's just like, Why am I living if I'm gonna be depressed and sad over not important things?
That's why having women who have gone through something similar and talk about it openly gives me a lot of comfort, and [I know I'm not] alone in dealing with this. ... I just hope that going forward I can continue to build that kind of community who can talk about these things openly and help each other on that journey.
This interview has been edited and condensed for length and clarity.
Wondermind does not provide medical advice, diagnosis, or treatment. Any information published on this website or by this brand is not intended as a replacement for medical advice. Always consult a qualified health or mental health professional with any questions or concerns about your mental health.