Stories
05.26.23
11 Things People With Bipolar Disorder Want You to Know
No, meds won't make you a "boring potato."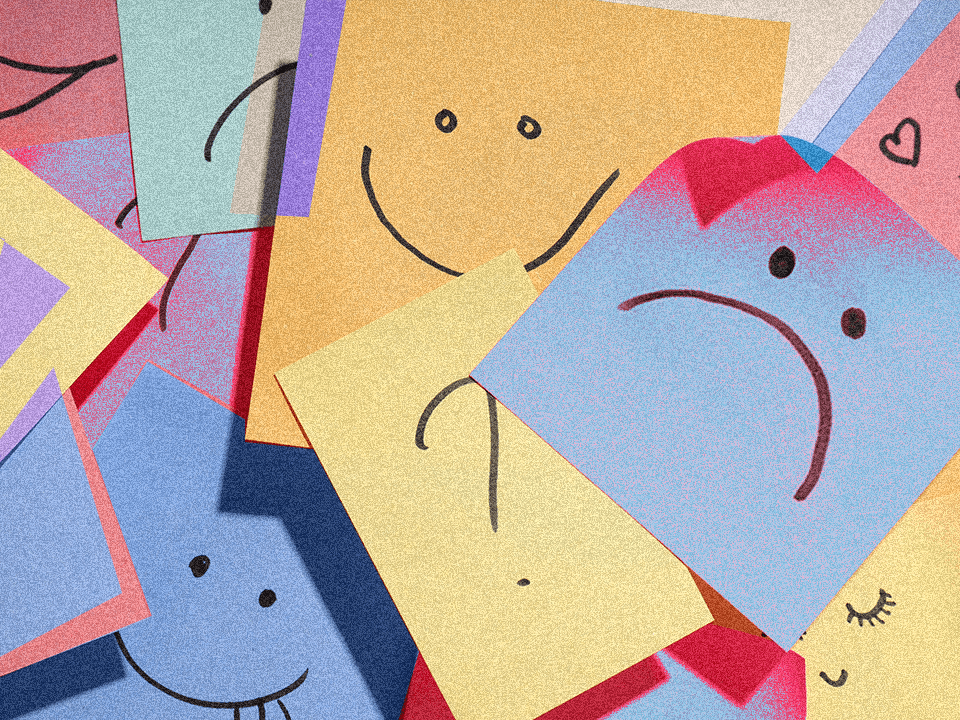 Shutterstock / Wondermind
Heads up: This article mentions the topic of suicide and self-harm if you want to skip it.
Amber, 27, notices that some people shy away from getting to know her when they find out she has bipolar disorder. Some have even called her "crazy" when she's reached out for help, she says. And she's not the only one noticing the stigma. Three in five people with a mood disorder like bipolar said they get treated differently once others hear about their diagnosis, according to a National Alliance on Mental Illness (NAMI) survey from 2021.
Despite the progress society has made in raising awareness of mental health issues, there's still a lot of shame attached to bipolar disorder. Amber sees this stigma when the media mainly paints people like her as being erratic 24/7 and only really features them in "crisis mode," she says. Brandon, 30, sees it when he posts videos about his bipolar disorder and people leave massive generalizations in the comment sections. And Tara, 41, saw it when a former boss told her never to disclose her diagnosis in the office. Ever. This just shows that the less you understand the condition, the easier it is for you to make assumptions about how a person with bipolar thinks, feels, or acts.
What it all comes down to is that bipolar disorder is often an "invisible disability, and people don't understand what they can't see," says Brandon. This is why Christina, 34, who spent years advocating for herself before she got a diagnosis, says more awareness is crucial. Setting the record straight about what bipolar disorder is (and isn't) and calling out harmful stereotypes can get people to be a bit more empathetic and understanding when they find out somebody has the disorder, Christina notes.
So, some bipolar 101 to start: Bipolar disorder means someone has significant shifts in energy and mood that can interfere with their everyday life. To break it down even further, there are three main types. In bipolar I, someone experiences episodes of uber elevated, energetic, and/or irritable mood (aka mania), plus the lows of depression and sometimes milder elevated mood episodes (aka hypomania). In bipolar II, they have depressive episodes and hypomania. With cyclothymia, a person deals with less intense and shorter hypomania and depression symptoms that don't quite fit a bipolar II diagnosis, and it lasts for at least two years, per the American Psychological Association.
People with bipolar disorder can also have mixed episodes where they have a combo of both manic and depressive symptoms, like feeling hopeless and sad but also very energized, according to the National Institute of Mental Health (NIMH).
Even if you do know all this info, you might still consciously or subconsciously have some preconceived notions about people with bipolar disorder. To help chip away at the stigma, we spoke to people with a range of experiences living with the condition. Here's what they want those not living with it—or those who were just diagnosed and have a million and one questions—to remember.
1. Bipolar disorder is not the same thing as having mood swings.
"It's normal for everybody to feel sad, to feel anxious, to feel hyper, to feel happy, to feel elated," says therapist Amanda Eldabh, LCSW, who also happens to have bipolar II. It's only when those changes in mood last for days, weeks, or more and impact how you function in daily life that they could fall into bipolar disorder territory, she clarifies.
"I know guys whose ex-girlfriends had extreme reactions, tempers, or were unreasonable, and they labeled them as bipolar," recalls Tara, who has bipolar I. "While we do experience extreme moods, it's not typically a sudden change. We experience moods that can be extremely high or low ... [and] may last days or weeks. It's very different from someone getting angry or reacting in an extreme [way]."
Amber, who also has bipolar I, wants to clear up this misconception too. "These episodes are more than just a feeling. They impact behaviors and thought-processing. In manic episodes, I become rageful and convince myself that other people are conspiring against me," she shares. "It seems like people are talking to me in a foreign language, my speech becomes illogical and rapid, and I have trouble sleeping."
When Amber is depressed, she says she feels like she can't breathe. "I convince myself that everyone would be better off without me, especially when dealing with the repercussions of my manic episodes," she adds.
2. Bipolar disorder is treatable.
Thinking that bipolar disorder can't be treated just adds to the stigma that it's this dreadful "life sentence," says Eldabh. It can be treated with a combo of meds and psychotherapy, plus lifestyle changes (like a consistent routine and fam/friend support), per the NIMH.
That said, treatment will look different for each person. For Eldabh, it's a mood stabilizer and an antidepressant (that she says are lifesaving), along with regular meditation and mindfulness. For Brandon, who has bipolar I, mood stabilizers help him not wake up with this "impending sense of doom." Also, the antipsychotic he's on helps with the paranoia that everyone was judging him, which makes doing things outside of his apartment so much easier, he says.
For Cat, 31, who was told by psychiatrists that she either has cyclothymia or bipolar II, treatment looks like therapy and a mood stabilizer. Exercise and journaling help her overall mental health, and she goes to support groups to hear from people with similar symptoms as a reminder she's not alone.
3. No two people will experience bipolar disorder in the exact same way.
Maybe you're generalizing what you think you know about bipolar disorder based on one interaction you've had with a cousin, friend, or co-worker. To avoid stereotyping, it's good to know different people experience bipolar disorder differently, says Christina.
For example, Eldabh and Christina both have bipolar II. When Eldabh is hypomanic, she says she'll get impulsive. Sometimes that means spending too much money, being hypersexual, or going on a random road trip without much thought. Christina says she'll have a bunch of flowing ideas (she'll write a full essay or tons of jokes for a new stand-up routine), she'll have extra energy, and she'll call or text people more than usual.
4. Mania isn't necessarily a fun experience.
Amber says people always assume that mania is euphoric, and while it can be for some who have bipolar disorder, it's not fun or a good time, in her opinion. When she's in manic episodes, "it feels as if I'm screaming on the inside but can't control my actions and what I say on the outside," she says. These episodes are exhausting for her—but she can't sleep—and they can sometimes lead to self-harm. She also can experience delusions (a sign of psychosis) where she'll speak super illogically and think people are targeting her.
Similarly, Brandon says that, for him, there's really no positive aspect to mania even if the extreme confidence he felt was a nice change. In his first manic episode—which happened during the Covid pandemic—he had this elaborate delusion that people wanted to hurt him because he was figuring out his family members were criminals. So mania was really scary, and he ended up in the hospital for mental health treatment.
5. And hypomania isn't just being in a good mood.
Christina was first diagnosed with depression when she was 14, and it wasn't until her mid-20s that she had periods of high energy and euphoria that she later realized were hypomania from bipolar II. But even when she told psychiatrists about her symptoms, it took years for a doctor to listen her and confirm the diagnosis she'd already suspected. One psychiatrist even said he thought she was just in a good mood because life was good (WTF!).
Equating hypomania to a "just a good mood" (whether you're a mental health professional or not) is simplifying a symptom that, for some people, can mess with a normal sleep schedule and cause impulsive behavior. Brandon says his bouts of hypomania—which happen a couple times a year and don't include delusions—feel similar to mania in that he's much more impulsive than usual (even if he does feel more in control of those impulses when he's hypomanic as opposed to manic).
6. Bipolar disorder doesn't make people dangerous.
Sometimes Brandon will see comments on his videos about bipolar disorder from people who say their loved ones have verbally lashed out at them, and they'll continue on to claim that every person with the disorder is like this. "It's sad because they obviously went through something really traumatic with someone with bipolar disorder, but the issue, obviously, is that it's such a blanket statement," Brandon notes.
Saying that all people with bipolar disorder will lash out perpetuates the stereotype that those with the disorder—especially those with severe forms of mania—are violent. In reality, just because someone with bipolar disorder can be irritable during manic episodes, doesn't mean they will become violent, says clinical social worker Kirsten Bolton, LICSW, who works with patients who have bipolar disorder or psychotic disorders in one of McLean Hospital's residential treatment programs. Plus, someone with bipolar disorder is way more likely to be a victim of violence than a perpetrator of violence, she adds.
7. People with bipolar disorder aren't always manic or depressed.
Christina was nervous colleagues would think she was "unstable" once they found out that she had bipolar II and that it might cloud their judgment about what she could bring to the table as an employee. "I was worried people would think, Oh my gosh, who knows what version we're gonna get today at the office? " she says.
But it's not like Christina is either hypomanic or depressed all day, every day. Her mood is at a stable baseline the vast majority of the time thanks to the medication she's on, she says. As Tara explains it: It's not like a yo-yo. It's more like a rollercoaster where she has extreme moods broken up by periods where she feels like herself.
This baseline or stable mood is called euthymia, says Sarah Sperry, PhD, assistant professor of psychiatry at the University of Michigan and an associate director in the university's Heinz C. Prechter Bipolar Research Program. Even without medication, people with bipolar disorder still experience a baseline mood and aren't just constantly fluctuating between manic and depressive symptoms, she says. Plus, it's important to note that not every big emotion experienced is due to someone's bipolar disorder—everyone has big feelings and they aren't necessarily a symptom just because you live with bipolar disorder.
8. You can have bipolar disorder and be in healthy partnerships.
Cat felt like it would be impossible to keep up a healthy love life since she hadn't seen any positive examples of that in the media. "I have seen our society sexualize bipolar disorder with phrases and memes, saying things like, 'People with bipolar disorder are great for one night stands but not girlfriend/boyfriend/partner material 'cause they're always gonna be crazy,'" Cat explains.
As she learned about her own diagnosis and continued to live with her condition, she realized that wasn't true. She reports that she's been in a happy, monogamous relationship for two and a half years now, and she says it's important to know that bipolar disorder does not disqualify you from having meaningful bonds.
9. Bipolar II isn't necessarily less severe than bipolar I.
Eldabh says a lot of people think because she has bipolar II (and not bipolar I) and she's successful as a mental health professional that she doesn't struggle—and that's not fair to assume. For her, bipolar II can be debilitating. For example, she attempted suicide during a hypomanic episode in the past.
Not to mention, depressive episodes in bipolar II can actually be longer and come on more often than depression in bipolar I, according to the Diagnostic and Statistical Manual of Mental Disorders (DSM-5-TR). For Eldabh, her depressive episodes can be intense and sometimes manifest as intense guilt and regret for things she did during a hypomanic episode, which can lead to suicidal thoughts.
10. Bipolar disorder meds don't turn you into a zombie.
At first, Cat fell into the trap of thinking she would be emotionless once she started mood stabilizers to level out her extreme highs and lows. "I thought medication would make me a boring potato because I thought creativity, bubbliness, and friendliness came hand in hand with what I now know can be hypomania," she says. But Cat found out that she can be joyful, bubbly, and excited even when she's not hypomanic.
We're happy to report that Cat is NOT a boring potato. Her periods of hypomania and depression aren't as long or intense because of her meds, and she still taps into her creative side as an artist, she says. Facts: Cat painted a giant canvas of a whale while jamming out to Rihanna after the last Super Bowl, and she continues to do makeup gigs for film and photoshoots.
Bottom line: It's a major misconception that all mental health meds will flatten your emotions. Sure, that might be the case for some people depending on what they're taking—Nick, 36, who has bipolar II, says he thinks his combo of meds was partially to blame for his "stifled" emotions—but that's not something that'll 100% happen.
11. And getting off medication isn't really the goal for most people with bipolar disorder.
Since there's such a stigma around mental health meds in general, Brandon says people always assume he wants to stop taking them as soon as possible. But, turns out, he's finally found stability after 20 years, so he's for sure staying on them, he says. "I'm under the impression that I will be on medicine the rest of my life, and I've accepted that," he adds.
It's true that a lot of people with bipolar disorder take medication to help prevent future mood episodes and reduce symptoms in between episodes—so the majority of those living with the disorder will stay on meds, explains Dr. Sperry. But some people can decrease their meds or go off of them depending on their circumstances, she says.
Thanks to medication, help from mental health professionals, and social support, Amber says she's living a fulfilling life. "Bipolar disorder may be an obstacle you have to live with, but it does not need to define where you will go and who you want to be," she assures.
Wondermind does not provide medical advice, diagnosis, or treatment. Any information published on this website or by this brand is not intended as a replacement for medical advice. Always consult a qualified health or mental health professional with any questions or concerns about your mental health.