Stories
05.02.23
10 Lies People Told Their Therapists
Being for real is easier said than done.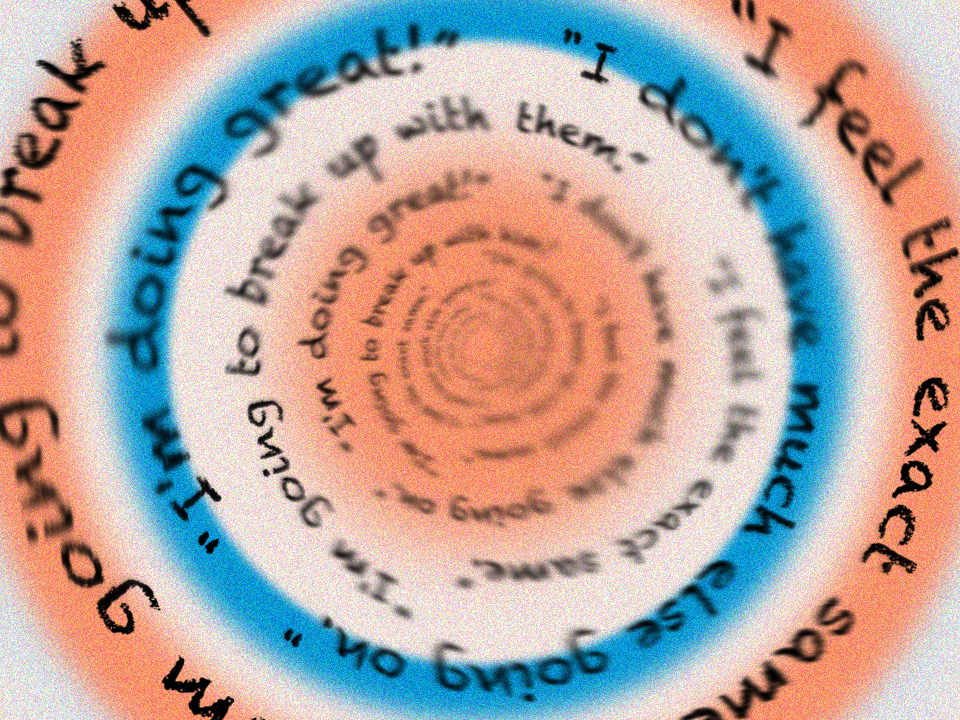 Shutterstock / Wondermind
Heads up: This article deals with suicide in case you want to skip it.
If someone says they've never lied to their therapist or conveniently left some crucial piece of information out of their session, well, they might be lying. Honestly, filtering yourself is just a part of life for most of us. From saying you're fine when you're totally not to code-switching in the workplace and biting your tongue in front of your opinionated in-laws, there's no shortage of situations where you do not feel free to be you. And while almost every therapist will tell you that therapy is the one place to be unapologetically yourself, it can also sometimes be the hardest place to get brutally honest.
Even if you know deep down that filtering yourself means you won't reap all the benefits you're paying for, that doesn't make it any easier for some of us to open up in therapy. Sometimes you just don't feel safe. Maybe you're not ready to talk about the thing or you're worried about what they'd think of you if you really got real with them. At the end of the day, you're only human.
It's so easy to feel alone or ashamed or weird about being guarded with your therapist since baring your soul is usually touted as a cornerstone of therapy. But this is actually a pretty common experience among therapy-goers. So if you rarely tell your pro what's up or have spun entire fake storylines (yeah, this is a thing), I hope reading the stories below makes you feel seen.
So let's be real for a sec, shall we? Here are 10 very real lies (or omissions) that people actually told their therapists. May you learn from their experiences and maybe even feel better about finally getting unfiltered.
1. I lied about feeling better.
"The only thing I'm scared of is my therapy sessions coming to an end. I'm scared my therapist will think I'm better and that I should move on. So sometimes I lie and tell my therapist that nothing has changed or I feel worse, even if I've had some good days. I can't move on. … I'm scared of being alone again." —Takuro M., 24
2. I lied about why I was really there.
"As soon as I stepped into my therapist's office, I could feel my heart racing. I knew what I needed to talk about, but I didn't want to. 'I've been OK,' I lied. 'Just some family problems, but they don't really affect me.' My therapist nodded, but I could tell she wasn't fully convinced. … We talked about the weather, politics, and our favorite TV shows. But as much as I tried to distract myself, the memories and hallucinations kept creeping up on me. I felt like I was drowning in my own thoughts.
Finally, one day, I couldn't take it anymore. I broke down in tears and told my therapist the truth. I told her about the traumatic events that had been haunting me and how I had been suffering from strong hallucinations and flashbacks. I sobbed, 'I didn't mean to lie to you. I just didn't want to be vulnerable.'
That conversation was a turning point for me. I realized that it was okay to be vulnerable and there was no shame in admitting when we're struggling. With my therapist's help, I was able to confront my trauma and start the healing process." —Cécile, 20
3. I gloss over the negative details.
"My therapist will sometimes ask me whether I experienced certain situations, thoughts, or feelings as a child, and I usually gloss over the truth to avoid painting people in a negative light. For the most part, the people in my life had the best intentions, and I don't want my therapist to have a bad perception of them. And sometimes I'll act like the tactics and suggestions my therapist gives me seem like they'll help me when I know deep down that I've already tried them or that there's a reason why they won't help. I don't ever want to seem rude or dismissive because I care about what everyone thinks of me—even my therapist." —Kiley A., 23
4. I said I did my therapy homework, but…
"I met my therapist a year ago. I was suffering from my anxieties, and I hadn't told anybody. I had strict parents and there was never a right time for me to share this with them. My therapist suggested I talk about my anxiety with my parents, but I never had the courage to do it because my overthinking never let me. So I lied and said I opened up to them and am doing great. Eventually, I had to tell my therapist the truth. She supported me in every way possible." —Anonymous, 19
5. I skipped over the unhealthy relationship patterns.
"I'm polyamorous, and I have a partner who doesn't know how to handle his own emotions. I often found his moods unpredictable, and I would 'hurt his feelings' by doing normal things, which left me feeling as though I was walking on eggshells. … I glossed over much of our relationship in therapy because I knew it wasn't healthy. … Obviously, I knew this was a bad sign, but I loved him, so I just kept it to myself. Eventually, I did talk to my therapist, and my partner began therapy too. Now that my partner and I are working hard to get to a healthy place, I'm trying to be more honest with my therapist, but it's hard. As a self-aware person, I never lied to a therapist before this, even about my worst, most selfish thoughts. But letting a partner cloud my judgment just felt so embarrassing." —Anonymous, 30
6. I didn't tell them just how bad it was getting.
"I was diagnosed with ADHD by my primary care doctor when I was 23. I took medication as prescribed, and as the dosage got higher, my mental health declined more and more. I started going to a therapist again, but I was so afraid to tell them I was having suicidal thoughts and ideation because I was afraid of what would happen. Fast forward seven years, and over and over again I omitted that I was experiencing severe depression and anxiety. … Luckily, my family picked up on my behavior changes and stepped in. This allowed me to be radically honest with my therapist and with my family. I was so afraid of being judged and lonely because of what I was feeling, but now I'm not afraid anymore" —Jessica C., 28
7. I avoided a hard story from my past.
"For the first six months with my therapist, I omitted my experience of being displaced from my home because I was afraid the therapist would pathologize a family member who is important to me. Omitting this story caused extra therapy anxiety. Eventually, I told my therapist I was keeping her at arm's length and had a difficult story I hadn't yet disclosed, which led to important and interesting work around secrecy. A year later, I still haven't told the story but feel the details are less important than the transparency about the story's existence. It would've been a lot easier if I said from session one, 'There's a challenging experience from my past that I'm not ready to talk about' to save myself all the internal fear and debate around disclosure. She's been respectful and has never asked me to tell her." —Anonymous, 26
8. I kept skipping the important stuff.
"I didn't tell my therapist that I suffer from severe dissociation. I kept forgetting about it until one day when I was on my way home right after therapy, I wrote to my therapist about it and we addressed it right at the beginning of our next session. … These days, I feel more comfortable telling the truth about how I actually feel, and that lets me be more honest with myself. I put on this 'I'm happy' mask less frequently." —Heidi F., 21
9. I avoided talking about my suicidal thoughts.
"I was going through a difficult time during 2020 and 2021. Between my move from Puerto Rico to Florida on my own [and] missing family and friends, my anxiety built up in ways I never imagined, and I suffered a severe depressive episode. It was too much to bear, and my mind was already starting to play with the idea of suicide to just escape the pain and loneliness I was feeling. Although I always had the support of family and friends, I still felt alone in this world. I met with a therapist but did not come clean about my suicidal thoughts, which [felt like] not caring if I was here tomorrow or not. I was avoiding having to hear the 'hospitalization' word, which carried a huge stigma for me at the time. Eventually, [my thoughts] became worse and I had to come clean about how deep of a hole I was in. I eventually went through a partial hospitalization, and it was the best thing I could have done—that's when they gave me my diagnosis of having generalized anxiety disorder." —Taisha V. HZ, 27
10. I tried to make it sound like things weren't that bad.
"My parents were always very concerned with appearances, and, on some level, I felt that not being perfect or having problems was my fault and meant there was something wrong with me. When I started going to therapy in high school, I never felt like I could be honest with my therapist. I would always automatically edit my responses to make my situation sound not as bad or just completely lie if there was no way to spin it to be more positive. I was convinced the therapist would say my circumstances were my fault. It took me years before I really understood that my therapist was there to help me navigate things. For therapy to work, I had to share what I needed help with." —Sahara P., 30
Quotes have been edited and condensed for length and clarity.
Wondermind does not provide medical advice, diagnosis, or treatment. Any information published on this website or by this brand is not intended as a replacement for medical advice. Always consult a qualified health or mental health professional with any questions or concerns about your mental health.