Q&A
09.28.23
Jordan Chiles Has No Time for Bully Bots
Plus, the Olympic silver medalist explains how she's healing from a coach body-shaming her and more.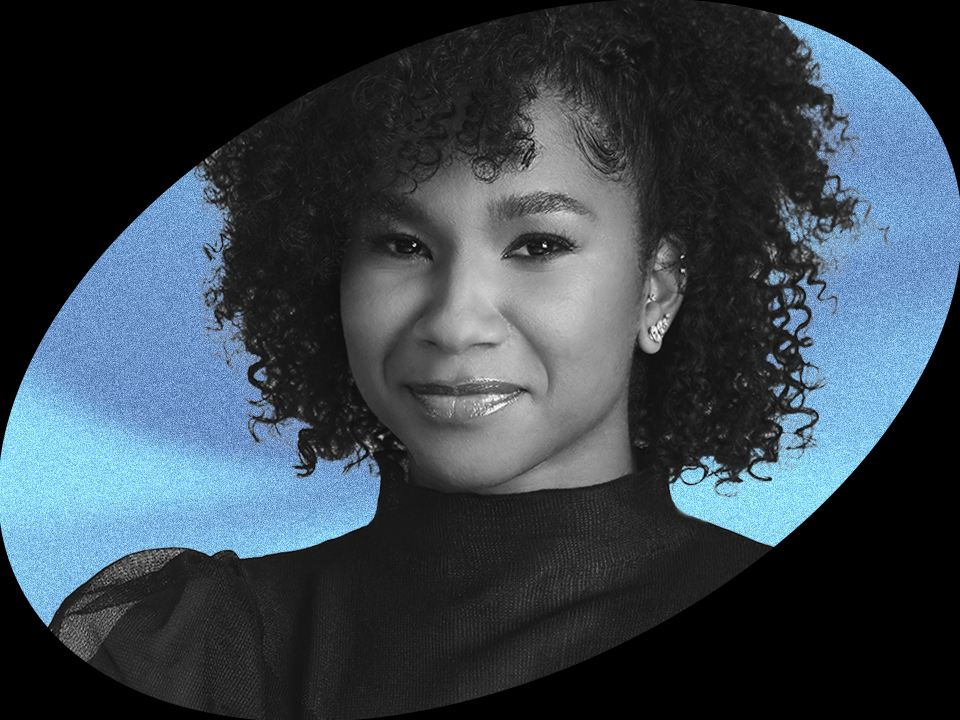 Photo Credit: JSquared Photography
You may know Jordan Chiles from her iconic Normani and Doja Cat or '90s hip-hop floor routines as a UCLA gymnast or her team silver medal at the Tokyo Olympics. Either way, what's always set her apart from the competition—especially in such an intense, perfectionistic sport—are her good vibes.
And as she continues to compete in the U.S. and abroad, deferring her UCLA studies to train for the Paris 2024 Olympics next summer, she keeps up the positive energy by reminding herself to strive to be the best version of Jordan Chiles and no one else, she tells Wondermind.
That best-version-of-herself work is exactly what Chiles is all about lately, making time for her friends and family and prioritizing her mental health along the way.
Here, Chiles talks about how she deals with online bullies, healing from body-shaming, why she decided to see a sports psychologist, and more.
[Sign up here to never miss these candid conversations delivered straight to your inbox.]
WM: How are you doing lately?
Jordan Chiles: Lately, I've been training, doing everything that I can to stay focused, especially knowing that selection camp is coming up for the World Championships and Pan American Games. [Editor's note: Right after we caught up with Chiles she found out she'll be going overseas this October to compete in the Pan American Games.] I've been able to relax and enjoy the time with family and my little puppers, Chanel and Versace. So I've just been really focusing on myself and making sure I'm mentally and physically OK. I'm taking this year and this time to really just do this for myself. … [Ending my second NCAA gymnastics season] with [two national] titles and then going straight into the elite realm, it's been really cool and really fun.
WM: How do you make sure you're having fun as you compete?
JC: The fun comes from, I think, just realizing that the sport isn't something that should stress you out too much. Obviously, it's hard physically and mentally when you come from college back into elite [competition] since those are two different atmospheres and expectations.
I really just kind of go out there. I'm not going to take any negative comments or negative energy that's going to be thrown at me because, at the end of the day, no matter what you do, there's going to be a comment about it. So I ignore that, and I really enjoy what I'm doing. My sport is fun. My sport is something that not everybody has the ability to do and has the opportunity [to do]. I really take that into consideration, and I make sure I can remember each and every moment that I have and just be the person I am.
It's really cool to be able to just be myself. That's where a lot of that fun comes into play. It's me being who I am and enjoying those moments that I have, especially with the team, the coaches, the other girls.
WM: Speaking of negative comments, you've talked about online bullying in the past. How do you navigate social media without getting too caught up in that negativity?
JC: I call them bully bots. For me, when I was younger, my mom handled all of that. But now, I kind of just laugh at it. For a while, it was really hard knowing that people did call me names or said I didn't deserve to do this or [were] looking [at me] differently, but, in my eyes, it always makes me stronger because I like to prove people wrong. It's cool to know that I've been able to progress with the mental part of it.
Actually, at the National Championships [a few weeks ago], I had to delete Twitter because there were a lot of comments that did hit me that day. Obviously, it is a day-by-day situation, whether you find good things or you find bad things. … But I look at it as: Not everybody has the ability to do what I'm doing, so they want to be involved as much as they can, whether it's good or bad. … I either challenge people on [their comments] or just let it be. It depends.
WM: What's one thing about your mental health that you're still working on?
JC: I stress a lot, and I don't know where it comes from. I just had a conversation with my dad the other night, and he was like, "So what's going on?" And I'm like, "Yeahhh, I don't know. I'm just stressing. I'm stressed." And it can come from many different things, whether it's within my sport, whether it's business-wise, whether it's family or friends. I just never know in that moment where it's coming from, so I kind of shut down, which is not good because then it's like, how is somebody supposed to help you? That's something I've been trying to work on—trying to speak to somebody to figure out where the stress is coming from. It's been a work in progress.
WM: Are there other people aside from your parents you talk to when you're feeling overwhelmed?
JC: Sometimes I'll talk to my dogs—I'm not gonna to lie. I look at them and be like, "So this is what happened." But, a lot of times, I will talk to friends or my sisters. I'm the youngest of five, so having older siblings is really cool because they've gone through a lot of stuff within their lives as well. My nieces sometimes will get on the phone [too, and] they'll cheer me up.
Honestly, everybody always asks me, "How is it having your family as your support system? I feel like sometimes it can get overwhelming." And I'm like, "No, not at all." I'm very family-oriented, so we tell each other a lot of things.
WM: In the past, you've opened up about being body-shamed by a former coach. What have you learned as you've healed from that?
JC: I'm going to be very truthful. The healing process took me a while because that's something, as a little girl, you don't want to hear. My body-shaming was about me being African American, my skin color, not looking like everybody, and my weight. So I think it took me all the way until I was 19 years old to heal. When it really, really hit me that this lady [was] really coming at me, I was around 14 or 15. So from that time period until I was 19, it was really hard. But at the end of the day, I learned a lot from it.
I learned affirmations to say to myself. I learned to embrace who I was. Sometimes I still get triggered when people say certain things, but then I have to remember it's OK. … Healing-wise, I want to say I'm at 95%, but I really focused the last few years on making sure [I tell myself], Everything is not always going to be perfect, but you're going to be perfect within yourself. You're beautiful. Your body is perfect how it is.
I always tell myself, I'm Jordan Chiles for a reason, and I'm just going to keep being her as best [I can].
WM: Now that you've come to this self-acceptance, how would you complete this sentence? Jordan Chiles is ______.
JC: I would use the word resilient. I think there have been a lot of times when I've been shut down so much. [But] now I've been able to use my power, and I feel very resilient and [like] I'm allowed to speak.
WM: I know some athletes go to sports psychologists. Have you gone to any in the past?
JC: Yes, I was with a sports psychologist right before the Tokyo Olympics for about four months. She really helped me. A lot of [our sessions were about] my past history with my old coach. At first, I was like, I'm about to tell this lady my whole entire life and I don't know who she is, but it helped me a lot. It helped me realize I could let go of things, especially my past. Obviously, it's really hard when you go to somebody and you're just like, I don't know how to let go of it. [Everything's] triggering. But she was able to [help me] not even think about it.
I really enjoyed it. I do recommend to a lot of people out there, if you do need a sports psychologist or a therapist, do it. … If you feel like [talking to] your family or your friends isn't working for you, sometimes it's easier to rant to somebody you don't know.
WM: Was that the first time you'd ever talked to a mental health professional?
JC: Fully, yes. The very first time [I saw a mental health professional] I was young. My parents realized that I did need help. It was just like, I don't know what's going on with my daughter. But for me, it was like, Why do I need help? I don't even know this person, so I didn't complete it. … When I was younger, I was like, I feel like [therapy's] not going to do anything. It's not going to benefit me in any way, shape, or form. So what's the point? 
Even before my first session [this time around], there was still a lot of that back and forth [with] myself, wondering if I wanted to walk through the door or not.
[But] my mom came to me and presented it in a different way. She said that I should look at it as a tool that's available to help me, just like physical therapy but for my mind. She said if I felt like I didn't want to set up another meeting after the first [one] that's fine because it has to be totally my decision. I think I was just ready.
WM: What was the most important lesson that you learned while working with your sports psychologist?
JC: Knowing that there's always someone that's going to be right by your side, no matter any circumstance, whether it's good or bad. You're always going to have that shoulder to cry on when you need it. And then knowing that there's always going to be a good lesson [you can] learn from [situations]. Take that part and not so much the negatives.
WM: We'll end with a cheesy question. If you could rate your mental health right now out of a perfect 10, what score would you give it?
JC: I think I would give myself a 9.975 because there are still little things that I have to fix within myself mentally, and so giving that extra .025 will [get] me that perfect 10.
This interview has been edited and condensed for length and clarity.
Wondermind does not provide medical advice, diagnosis, or treatment. Any information published on this website or by this brand is not intended as a replacement for medical advice. Always consult a qualified health or mental health professional with any questions or concerns about your mental health.