Q&A
06.15.23
Best-Selling Author V.E. Schwab Is No Stranger to Rejection
"Accepting that rejection is the cost of participation is essential."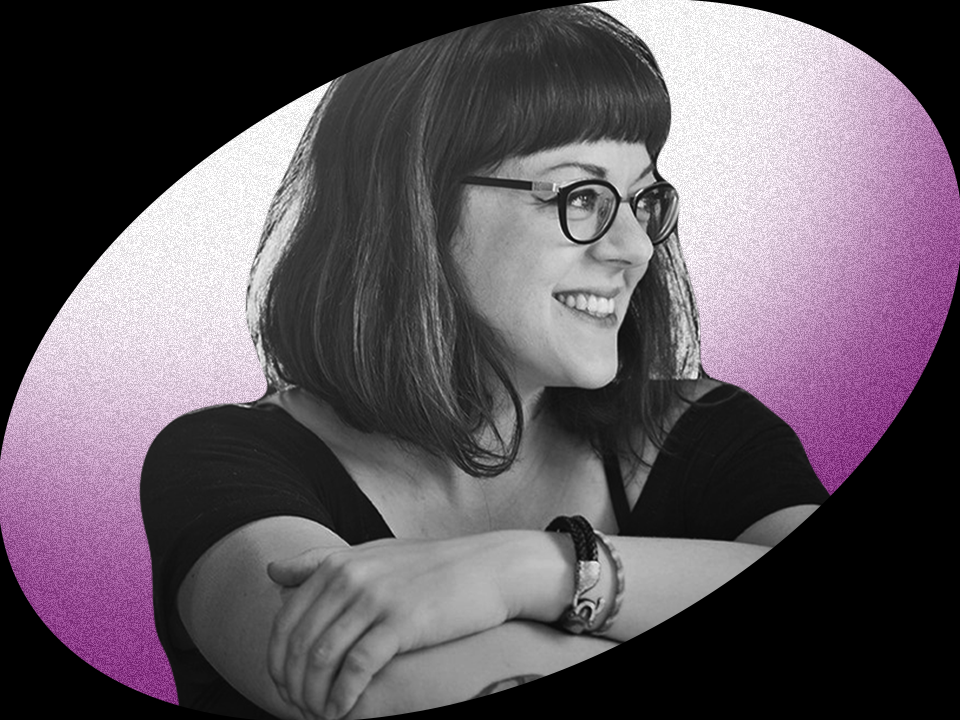 Photo courtesy of V.E. Schwab
Despite having over a dozen best-selling books to her name, V.E. Schwab says they still get rejected at least once a month. "Rejection and waiting and the instability and the insecurity is all part of the process. It's so easy in creative fields for worth and work to become inextricable," Schwab tells Wondermind.
As a self-described anxious creative, Schwab decided early on in their career to be transparent about their own mental health so others going through the same publishing hurdles would feel less alone. "If you feel like it's only you, it feels like an indictment of your own ability instead of the fact that things are hard."
Whether it's writing her own complicated emotions into the characters in her novels or using her platform to advocate for other authors living with mental illness, Schwab has built her career on authenticity and honesty. Below, Schwab opens up about their mental health journey, learning to cope with rejection, and the terrifying thoughts keeping them up at night.
[Sign up here to never miss these candid conversations delivered straight to your inbox.]
Heads up: When you buy something through our retail links, we may earn an affiliate commission.
WM: What's something you do to take care of your mental health every day?
VES: Rain or shine, cold or warm, I take my dog for a walk on the beach every morning. Something about starting my day with the vastness of nature and feeling really small … it's one of the most grounding things I can think of. It's the very first thing I do before I've even had a pot of tea or any breakfast and it's just really my favorite way to start the day.
WM: Why is destigmatizing mental illness important to you?
VES: I made it a point to talk about my creative health, and mental health went hand-in-hand with it. It would've been disingenuous to talk about one thing and not the other. Mental health is also a really big component in my writing. It's a theme. People think it's easy for me [to talk about mental health]. It's not; it's terrifying. But enough people come up to me and say, "Thank you for talking about this thing," or "I felt less alone," and really, that's the whole point of it. If I can make one other person—especially another creative person—feel less alone in their struggle from my point in my career, I think that can be heartening. It makes it worth it—as uncomfortable as it is for me. If I have a platform and I don't use it, what's the point?
WM: How do you deal with failure or negative feedback from readers?
VES: The one thing that gets easier, the more books you have, is that you engage with people for whom your work is essential. Reading is entirely subjective, and sometimes we find the right content at the wrong time or it's simply the wrong content. It is not our job to write a story for everyone. That is a one-directional route to mediocrity. There's no such thing. So what you try and do is write for an audience of one. For yourself. And then it becomes an incredible boon when somebody does connect with it, when somebody has this passionate association. And when it doesn't land for someone in that way, it's a lot easier to shrug off.
Every other aspect of writing has gotten harder for me. The more books I have out, my own mental happiness treadmill kicks in and I'm constantly resetting the markers. I struggle a lot with down talk. I struggle a lot with getting into negative head spirals. This week's head spiral is the metric system of social media and like, Why are my view counts on my stories down this week? and, What is it saying about me? and, Is it that my people don't like me anymore or should I be putting more energy into creating content, but then I have a finite amount of energy that needs to go towards my books, but then what does it matter if nobody is reading my books because I'm not generating enough? I was lying awake yesterday morning at 6 a.m. thinking about this, and [that] doesn't lead to any form of fulfillment. It's so hard, and I don't ever wanna pretend like you become immune to it.
Accepting that rejection is the cost of participation is essential. Understand that the only way to avoid rejection is to not participate. And that is your choice, but that's also the only way to guarantee you don't get what you want. I mean, I can say that, and yet, in the last 48 hours, I have spent a solid four to five hours obsessing over things outside my control. … At the end of the day, the only thing in my control are the words on the page. That's what I need to come back to whenever I feel myself spiraling: What do I have control over?
WM: Can you tell me about when you first realized you had OCD and panic disorder?
VES: I've honestly figured out a lot of my mental health through the act of creating and assigning things to characters that I'm not always ready to handle with myself. I remember writing August Flynn who's in This Savage Song and has this cyclical thinking where he spirals in his own mind. It was a lot easier for me to explore that part of myself through him. It was really hard to write a character like Henry Strauss in The Invisible Life of Addie LaRue, who is so directly me.
I had a lot of stuff in my childhood which contributed to my ability to handle mental health now. Like I had—and still have—a very severe God complex because I grew up with an ill parent. When you have a sick parent, it's easy to become obsessed with this idea of, If I just am vigilant enough, if I just pay enough attention, I can keep this person safe or keep this person alive. Unfortunately, that did translate into a lot of my OCD tendencies because it's verified. The worst thing that can happen for mental health is when you have a fear or a phobia and it's rewarded. Because I was hypervigilant, I did prevent several really close calls with a parent and then that incentivizes mental illness, because your brain is saying, What if, what if, what if? And then you're proving your brain right. It's something I still struggle with.
I would say my anxiety and panic disorder really reached a fever pitch when I started publishing. … I would go on tour and I would have panic attacks, and I would white knuckle it through the event and the moment the event was over I would just implode. I would have a night-long panic attack. Because I spent so much time pretending to everyone around me that I was OK, it would elevate my panic. One of the best things I ever did was speaking about it publicly and letting my team know and letting readers know this is a thing I'm struggling with and like, "Here's what I need, and here's what we're gonna do." It's one of the reasons I don't do signings anymore. I sign everything beforehand because I know I essentially have about a four-hour ticking clock from the moment an event starts, and if I go past a certain amount of time, my anxiety has just been keying up and it's gonna crack.
WM: Would you be open to sharing your journey with medication?
VES: Going on medication is one of the best things that ever happened to me. It does not solve everything, [it] simply elevates my baseline. It's not that I never have panic attacks, not that I never feel things building, but it takes a considerable amount more to set me off. Before, one bad hour could trigger a panic attack. I've been on SSRIs now for almost a decade. And it honestly saved my life in a lot of ways. I don't like talking about it as a catch-all because it's not. There's a huge amount of things I do in my daily life which also help. For me, exercise and physical movement is a luxury I have but is also deeply important to maintaining mental health and burning off anxious energy and recentering myself. I was really loath to go on medication for a really long time because I thought, What if it interrupts my creativity? What if it changes my brain? And it did change my brain, but that change was to help balance a level of chemical nervousness, a level of chemical inability to process anxiety. I am operating at such a high vibration all the time and all it does is make it a little easier to handle.
WM: Your new book deals with PTSD and chronic pain, how does this reflect your own experience with these struggles?
VES: PTSD has really related a lot to my own upbringing and being in a hypervigilant environment and how it's really hard to kind of disengage from these tendencies. Because I write fantasy, I found a way to put this into my characters. There are two brothers in this Shades of Magic series and now in Threads of Power who are tied together in a way where one brother is literally keeping the other one alive. But, because of that, there is also this pain shared between them where when one suffers, the other one suffers. And it creates a very complex dynamic. Oftentimes, mental health and the psychological struggles and the aftermath of trauma gets explained in really reductive or minimalist ways in stories. And the fact is it is a complex web of experience and action and reaction.
I get frustrated when stories show trauma but then, as the stories continue, there's no aftermath. … So that is a thing I am really deeply interested in investigating because I think it helps my characters feel more human. The fact is, when we move through complex circumstances in life, yes, it's incredible that we come through them, but the expectation that we come through them unscathed is so unrealistic it feels like it's not actually doing a service. It's lionizing characters in a way we can't lionize humans and simplifying characters in a way we can't simplify humans.
My interest in everything I do is simply to make my characters feel as real as possible. Part of that reality is when they go through really difficult things, those things sink their teeth into them and they kind of drag behind them like a shadow. It's one of the ways to not only carry a story forward from book to book, but to make sure my characters grow in realistic ways. 'Cause it's not about showing strength as the entire shaking off of trauma. Strength is the ability to live through it and to deal and to cope and to face these traumas in time.
WM: How did your journey discovering your own sexuality impact your mental health?
VES: I don't wanna claim that journey is complete. That is a journey I am still on. I do not feel realized in any way. One of the scariest parts for me of being a public figure is this expectation that when I make any form of declaration about myself, it's permanent. And it's really a huge amount of pressure for somebody who is very much still figuring it out. … I don't like labels for that reason. It's one of the reasons I'll use queer or gay, but I don't really use lesbian very often because I'm still trying to figure out my relationship to everything.
What I know is I don't believe in a binary. I don't ever believe in the simplicity of here or there. I think it's all such an extraordinary spectrum. I'm just trying to be honest about the fact that that journey is an ongoing thing. Sometimes there's an immense amount of pressure to step out of the closet and know exactly who you are and who you've always been. That's one version. And another version is the person who's still going room to room trying to find where they fit or trying to think if they wanna be in the house at all.
WM: As a best-selling author, how do you cope with the pressure of constantly living up to the expectations of your previous novels?
VES: I'll be very honest with you, I'm 22 books in [and] my greatest fear professionally is somebody saying "Her last book was better." What I try to do is not make it qualitative in that way. I always say I never want my books to be apples to apples. I want it to be an apple, an orange, a pineapple, a pear. I want each of my books to be mine.
I don't like the phrase better or worse because I think that leads to creative paralysis. Do you judge it based on the number of book sales? Do you judge it based on the number of people who have tattoos based on that series? Do you judge it on the people for whom a book saved their life? Do you judge it upon which book made someone a reader? How do you decide which book has the most merit? I try really hard to set a different creative challenge for myself every time to try and prevent that level of comparison. Does the fear live inside me every day? Of course. But I try to make sure the thing I wanna achieve in each book is deeply personal to me in a way that readers probably won't know.
The more work you have to choose from, the more people will disagree, so you have to just accept that and let the book be the best version of itself and be the most intentional version of itself and let go of the arbitrary metrics of popularity.
WM: What's one piece of advice you'd give to your younger self?
VES: Not to be in such a hurry. Because I started [my career] as a teenager, I was so impatient to be taken seriously. You—as a creator, as a writer—have to take yourself seriously before anyone else will. But I was in such a hurry and patience is a thing I have always really struggled with.
One of the first tattoos I ever got, I got when I was 19. And I was really impatient 'cause I was a swimmer and there was this very limited window I had before I needed to get back in the pool, and a tattoo needs like three weeks to heal. I was so impatient that I went and I got this tattoo and it has a typo. The thing is, it's a very easy-to-fix typo. It's a Latin U that should be an A. It's in a gothic script. Very easy to fix. I will not let myself fix it. I will not let myself get this typo corrected because I still, at 35, need the reminder to slow down, take a breath, and not be so impatient.
I'm completely impatient as a human being. And I really wish I could have told myself, "Take a breath; it's OK. Not everything has to happen right now."
Wondermind does not provide medical advice, diagnosis, or treatment. Any information published on this website or by this brand is not intended as a replacement for medical advice. Always consult a qualified health or mental health professional with any questions or concerns about your mental health.