WM x ASICS
05.16.23
Powered By

Why Valarie Allman Didn't Feel So Golden After the Olympics
"I just don't think I was prepared for what it felt like to be a top dog."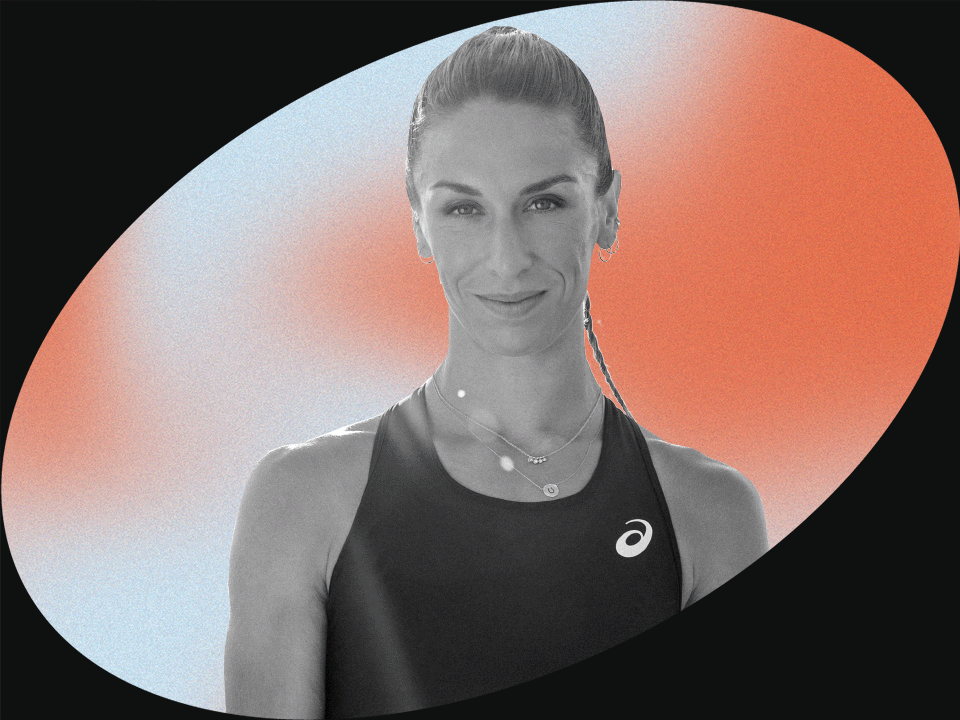 Photo Credit: Courtesy of ASICS
Not many people feel the euphoric pride of being a top-performing athlete on the highest (and we mean HIGHEST) level. Valarie Allman knows, though. She knows because she won the Olympic discus gold medal in summer 2021 and, almost one year later, claimed the first discus medal for American women in World Championship history (a bronze). She also holds the U.S. record for farthest throw in women's discus.
But intense lows can come crashing in after those highs, Allman tells Wondermind. She says she wasn't prepared for how down she became following the Olympics. For Allman, much of it stemmed from the pressure to live up to that gold medal—and the fear of not doing so. It took a year to get out of that dark place.
FYI, Allman isn't alone in her experience. A number of Olympic and Paralympic athletes we've previously spoken to have said the same thing about the post-Games blues (see: Dani Aravich, Brenna Huckaby, and Gabby Thomas).
While she's living in a better mental space now, Allman is the first to admit that she's still working on keeping disappointments from weighing heavily on her. As she gears up for the Paris 2024 Summer Olympics, she's trying to take a beat and enjoy her competitions pressure-free.
Here, the ASICS athlete talks to Wondermind about overcoming rocky self-confidence, finding her footing after the Olympics, and learning to celebrate accomplishments without next-big-thing worries.
[Sign up here to never miss these candid conversations delivered straight to your inbox.]
WM: How are you doing lately?
Valarie Allman: Overall, I would say that I'm doing well. For me, it's actually really interesting doing this interview at this time of year because it's right before my season's about to start, and it's after a long period of just putting in work and hoping that it's going to show itself in a material way when that first meet comes up. So normally I'm feeling a lot of anxiety during this time, but I feel proud of the work that I've put in. I feel much more prepared than normal at this time, which feels really good to be able to say.
WM: What was it like adjusting to all of that increased attention post Olympics?
VA: In sport, I feel like the Olympics is one of those words that you say and people get really excited and they want to talk about it, and winning the Olympics is something I'm really proud of. But, truthfully, I wasn't quite ready to win in a lot of ways. I wasn't prepared for what comes with something like that—people's joy and excitement they have that they can't help but express to you. You know what I mean? As an introvert, it was hard for me to always be open to putting myself out there and talking about the experiences, and I wasn't prepared for how much people would be wanting to share in that. And I think I kind of weirdly interpreted that as putting even more pressure on myself for 2022, which, looking back, was so silly to do.
I should have just enjoyed that more and used it as a positive memento heading to the next year. But I took it as like: Oh my gosh, there's more people following along. I want to put up better results. I want to do something even more spectacular. And I think that kind of took over, and feeling an awareness of people wanting to be part of the journey was really hard to accept. But being on the other side of facing adversity and feeling, in the moment, that the [World] bronze medal was maybe a letdown, now I say it's a rose gold medal. I've come to some good growth about it. It's made it a lot easier just to be able to talk openly to people and recognize it is a journey, and that's what makes it so special, not just trying to win, not just being on top.
WM: How are you able to celebrate in the moment and not automatically look to the future?
VA: I'm really actually trying to work on all three things: How do I gain confidence and joy from things that have happened? How do I be as in the moment as I can to really take advantage of the things that are happening? And how do I also plan for the future to look forward to an event and be excited about it rather than stressed? ... If I'm traveling to a new place, finding a restaurant I'm super excited [about] or having a family member come along—something that makes it feel like more than just that athletic data point—has made kind of the three elements of time feel better and makes it easier to find joy in different events that are happening.
When you spend so much time on the road or in a routine or working so hard, being able to share whatever the outcome is, good or bad, with the people you really care about the most just ends up adding a lot more meaning. So, for me, bringing home with me is something that's really, really important.
WM: During competition, do you focus on emotions that you're feeling or do you try to tune those out?
VA: I think it's a bit of both. It's impossible not to have good and bad thoughts. This last year, I definitely dealt with a lot of competition anxiety of feeling like I needed to live up to winning the Olympics and just needing to perform well and not be a failure, which took away from the excitement of preparing for competition and having that excited, ready-to-go-after-it feeling. ... I think when I'm at my best, I'm aware of the nervous tension I have. I'm aware of the excitement that's in my body, but, ideally, you try to do things that make you feel grounded. What are the songs you like to listen to? Who are the people you want to surround yourself [with]? Do I want to go for a walk to clear my head? How can I create that ideal energy where I feel definitely charged but in control?
WM: You wrote in an IG post that "it's easy to let one meet really take a toll on your self-confidence." How do you deal with that?
VA: It's a good question, and I feel like I'm still working through a lot of these things. In my personal journey, I graduated college and the pandemic happened. I dove really, really into working hard and pursuing this passion. I won the Olympics, and I definitely didn't quite know how to view myself last year. I figured it out but didn't feel satisfied about it. And now, this year, I'm trying to use all this experience [to see] how I can be just more stable. How can I make the highs still feel really enjoyable and positive but not as high and the lows not feel as low? How can I show up and be prepared for the good and the bad, and then also walk into the next day and still feel grounded and content and more certain of who I am rather than still being affected by those performances? I think anytime you pour your time, your identity, your energy into something you really care about and it doesn't go well, you do have to give yourself space to process that.
But I think you have to be able to, then, recognize the only way to move forward is to get yourself excited about the next thing and figure out how to turn that pain or that thing I wish would've been different into a learning experience. What I've tried to do is really surround important events with a perimeter of people that I love or things that I really care about so it feels like more than just that one data point and also letting myself feel proud of giving my all, even if it didn't go exactly as I was hoping.
WM: When your confidence on the field falters, does that impact your confidence in yourself outside of sports?
VA: Totally. It's tough. ... Nowadays, I've intentionally chosen a pretty unbalanced life to really try to be the best in the world at something. And when things aren't going well, the small piece of the pie that isn't in that, it's impossible for it not to be affected. For me, that is a big challenge of: How can I have one consistent identity, not athlete Valarie and normal-person Valarie? I just want to be Valarie and I work really hard at my job and I also have a fulfilled life that I'm proud of. But it's easy to get so consumed with pursuing a dream, pursuing a goal, and letting your scale get really off. ... I think it can be pretty jarring and feel pretty isolating when you hit a rough patch and you look around and realize how much you've given towards a goal.
WM: So what are you most proud of outside of athletics?
VA: Oh my gosh, what a tough question [laughs]. I think that does show that this is really something I'm trying to work on. I really try to pride myself in being a great friend and a great family member. I think those relationships are things that are super [important] to me, [like] being a good dog mom. I think those connections are really what I've tried to pour myself into.
WM: What is the hardest thing mentally that you've ever had to go through?
VA: The Olympics has definitely been the hardest thing I've gone through. If I get emotional, I'm sorry, but it really was really hard. It really was really hard. It felt so good to accomplish something that you worked so hard for, but then I think I was so caught off guard by just feeling so sad after and not knowing why. And something about everyone expecting me to be so happy and those emotions not feeling authentic was just really, really challenging to work through. I think it took over so much of how I viewed myself, which was really difficult even though it was something so good, but for some reason it didn't feel very good. I don't know. I don't know if it just became the concept of feeling like I had to live up to it or [not knowing] what [to] accomplish next, but it just was really, really hard.
WM: Thank you for sharing. Do you remember how long it took you to get out of that headspace?
VA: It was, honestly, this last fall. It took a full year. Because I think I wanted to fill that hole, and there's something really therapeutic about getting into the same routine that I was doing before the Olympics, but I don't think I was actually healing, which was the hard part. So, in a lot of ways, it was pretty liberating to not win World Championships because whatever self-imposed pressure I was putting on myself felt gone, which was really nice.
I really, really loved this narrative I created in my head of being the underdog. It was so fun to be the one on the rise and to be chasing the people in my sport that always had been on the top. And I just don't think I was prepared for what it felt like to be a top dog. The truth is, I think the fear of losing is so much more intense than actually losing. You lose a meet, you see the people you love, there's a tomorrow—that part wasn't actually difficult. But for months [when] something was coming up, [I felt like] if I didn't win, [it] would dramatically change how I viewed myself or [it would] make me an imposter for winning the Olympics.
All of this was self-imposed, right? Everyone in my life really was just supportive and encouraging. I just made this up that if I couldn't do it again, it made me less credible, which I think was hard. But it was really in the fall that I felt more free, which felt so good.
Obviously the next Olympics is coming up, and I think it's been really good to have to work through this and recognize that so much changes in three years. Just because you win one Olympics does not mean you're going to win the next one. And the funny thing is when people ask you about the Olympics, they're like, "Oh, are you going for the next one? Go for gold!" And it's really hard to go for gold, let me tell you, people. It is so hard to go for gold. But I commend any athlete or any person who goes after something that is a big, big thing that they're trying to chase.
WM: What were some of the things that helped you get into a better headspace?
VA: It was a combination of time and people. ... There was so much Covid testing, facilities were closed, and it didn't feel possible to get together with friends during those times. Even the next year, I was trying to recreate that same routine and it just led to feeling pretty isolated, which was hard. So I think the reset led to me hanging out with friends again and doing more balance things: FaceTiming the people that I really care about, meeting up with friends at the dog park, talking with my coach about a lot of these emotions [all] made those identities of human Valarie and athlete Valarie really start merging together.
I really didn't think I was going to get emotional. With people I'm close to, I've had this conversation so many times, and it's just confusing. I think that's the hard thing. And that's just a testament to taking care of your mental health. A lot of times when you're struggling, it does feel irrational or hard to understand, but that's exactly why it's so good to find the right people or get support or get help because it doesn't need to make sense. You just need to be able to work through it and find the resources to help you understand it for yourself.
WM: Outside of preparing for the next Olympics, what are your goals for 2023?
VA: I really want to enjoy the season. I do have a desire to take in all the opportunities and competitions and travel and everything that comes with choosing this profession. I just want to be the best version of myself I can. I think I lost that a bit. When I've felt most proud, it is when I'm just comparing myself to myself, and I want to feel like I gave it my all and I'm proud of whatever that looks like.
WM: How has your view of mental health changed throughout your career and life?
VA: I have come to realize that my body will always follow my brain, which has just made me have such great respect and way more appreciation for putting effort and care into protecting and working on my mental health. I used to believe that training physically was really all you needed to be prepared for competing well as an athlete. But so much of it is how you talk to yourself and the lens [through which] you think about what you're doing. And your thoughts can very, very quickly turn into feelings and then turn into actions. You have to just give yourself space to make sure that you feel good about the headspace you're in and try to be intentional about working on your mental health.
This interview has been edited and condensed for length and clarity.
Wondermind does not provide medical advice, diagnosis, or treatment. Any information published on this website or by this brand is not intended as a replacement for medical advice. Always consult a qualified health or mental health professional with any questions or concerns about your mental health.