Q&A
09.15.23
Valentina Wants You to Know That You Are More Than Your Traumas
The 'Drag Race' legend opens up about fame and depression.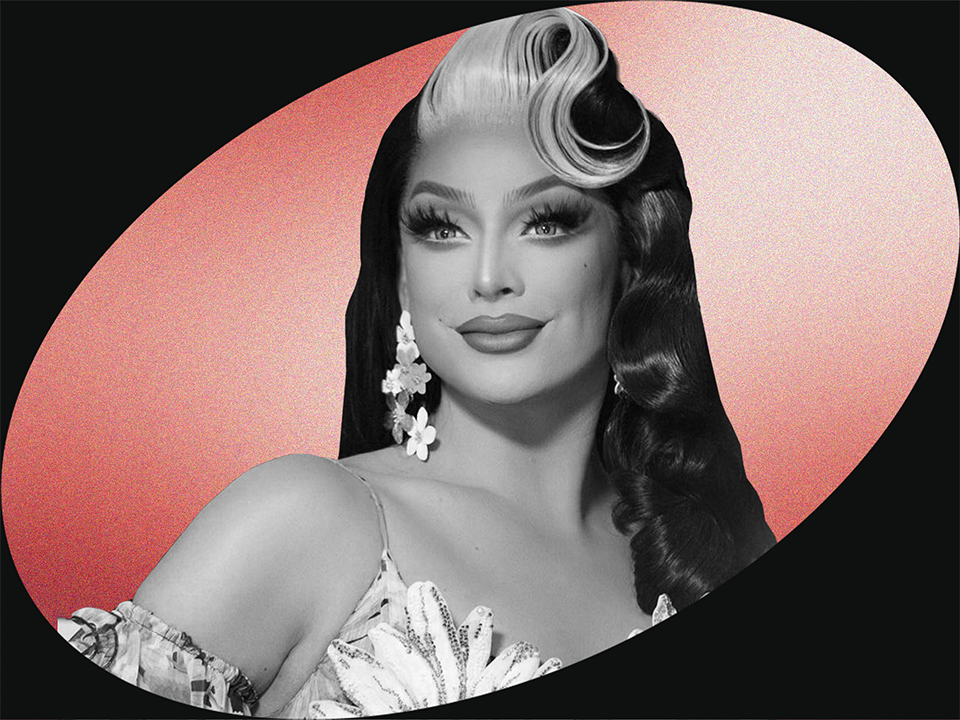 Photo Credit: @ernestocasillas/ Wondermind
As a two-time contestant on RuPaul's Drag Race (Season 9 and All Stars 4), the glamorous and hilarious Valentina quickly became a fan favorite. And it didn't take long for industry bosses to catch on and cast her in productions like In the Heights and Rent:Live.
This year, Valentina continued to delight fans as a host, judge, and mentor on Drag Race México (streaming on Wow Presents Plus). And, on top of everything, she always finds a way to be an outspoken mental health advocate, recently partnering with the Trevor Project México and the Hispanic Federation to raise awareness around crisis prevention resources.
Here, Valentina opens up about taking care of her mental well-being in the spotlight, being the source of her own healing, and her praise for the young LGBTQ+ community.
[Sign up here to never miss these candid conversations delivered straight to your inbox.]
WM: How are you doing lately?
Valentina: I'm doing very well lately. I'm very grounded at home, preparing for a lot that's to come. A lot of my career is planning for things in advance and manifesting a very bright future, so I'm doing good.
WM: You're all about being confident and proud of who you are. What's giving you confidence these days?
Valentina: Not being perfect. I'm really confident in knowing that I'm the source of all the solutions for my life, for my career, for the love that I have. I am the source, and as long as I'm at my purest form of authenticity and maintaining great mental health, I can have more. That really does require confidence in knowing that maybe I'm not gonna be OK all the time. So I'm really confident in not being perfect and being OK with the reality of life being made of highs and lows.
WM: When you're having a low moment, is there anything that helps you lift your mood or helps you process those emotions?
Valentina: Positive affirmations. Do not dwell on the things you cannot control and control the things you can. Meaning: Don't fast forward too much into the future where you're stressed out about things that haven't happened. Worry about what's at arm's length, and worry about that specifically and first to get to the next level.
Also, don't come forward in life with all the baggage of your previous traumas. Sometimes in the present, you can use previous trauma to say, "Sorry, I'm reacting this way because things have happened to me in the past." That's another thing that is really good to work on because life does not consist of your previous traumas. People don't always know that you've been through that, so you shouldn't bring that to the table. Trying to detach from it and allowing things to be in their purest form without your trauma being involved is really helpful. And really focus on curing your spirit and know: I'm not a bag of trauma, and I'm not making this person pay for something that I've been through. I think there's something in that, and all those tools can help alleviate engaging in toxic behavior or allowing anxiety to come into your life.
WM: When you reflect on your mental health journey, what stands out?
Valentina: Well, I definitely would say that I've been to the depths of my despair recently, and it was the very lowest point of my depression. I've been depressed constantly since I could remember as a child. I had such a low that I got so scared that I never wanna go back to that point. It was so low that I'm so strong now on the other side and making sure my body doesn't fall into the trap of depression to the point where I'm riddled with these thoughts of suicide in my mind. I've never gotten to that point. But once you get to that side, it's not really somewhere you wanna ever go back. … It was a pivotal point in my life to find purpose, to be reborn, to rise from the ashes like a phoenix, like I've done many, many times. But this time, it hit different.
WM: As somebody who has had depressive episodes before, have you been able to notice any triggers that let you know you need to check in on your mental health?
Valentina: I'm always practicing ways to stay grounded nowadays, but I really do think I live such an intense lifestyle. I'm not your average everyday person. First and foremost, I'm an artist, so I'm extremely creative. Second, I'm queer, so I'm already combating the rules of society by being non-binary and being in a system that is created to work against me. Finally, I am a public figure [living a] celebrity lifestyle, which is a big sacrifice to my mental health, my privacy, my autonomy of deciding who I am and where I go and what I should be.
The expectations to maintain a level head and to say the right thing and to always be "on" and to be professional and to always be smiling—eventually you just wanna be a regular human being. So it causes a lot of distress to my mental health because a lot of times I'm projecting the "correct" way [to be] and being a good role model, and I am ignoring the true, authentic feelings as a person that can only work so many hours, as a person that also maybe needs to use the restroom or has personal things going on in their life. You can't always bring that forth, so it can work your mental health. It can make you susceptible to working for three weeks for hours and hours and hours at a time where you've been evaluated by cameras, by microphones, by people, by companies.
There eventually comes a point where you get privacy and realize you're not OK. Then you realize, now behind these closed doors, I have to authentically express that maybe I'm not doing too well. Maybe I need to eat. Maybe I need to sit and talk with somebody 'cause what I just went through was really difficult and I was being analyzed constantly. … That's the only little moment in time you have before you have to go back out and smile for the cameras again. It is a very big challenge to navigate this side of celebrity while somehow inside being like, Well, I'm still a human being and a person that is fighting to live in Los Angeles that is trying to create a name for themselves as a queer artist that has maybe been through trauma where I have been assaulted on the streets. So when I have people rushing and coming up to me, I do also have a fear of not feeling safe, especially if I'm alone. These are things that I'm navigating with my mental health as a person who is still navigating my gender identity and who is a sensitive person.
So to be strong in my mental health is something that I now take care of fiercely because mental health is wealth. … It will get you to be strong, will get you to be experienced, will get you to be a professional. Nothing can pay for that stability. …You have to have that mental health and you have to set boundaries and put a limit on what is possible, sustainable, and realistic. If you don't voice those things, then you're just going to get swallowed up by the system. It's gonna use you like a robot.
I really hope people are engaged in knowing what their trigger points are, how to take care of their body, when to feed themselves, how to sleep, and how to engage in and maintain relationships.
WM: Do you have anyone you feel comfortable talking about your mental health with?
Valentina: I've started therapy. I'm a very spiritual person as well. I am a very strong person, and I like to make sure that what I'm doing to engage my mental health is an everyday thing. … I also make sure that I have a lot of amazing friends that I talk things through with. And a lot of what I'm doing is a lot of soul searching. I do a lot of traveling and connecting. Right now, I have a trip planned to go to Chihuahua, where my dad was born. My dad passed away four years ago, and I have this trip planned to do this soul searching of where I come from and root myself in the ground from the land where my dad was born. I really feel that's gonna help heal some things and connect me with my father in a way. … And I'm very lucky to be loved and blessed to have a great community of friends that understand me and tell me the truth.
WM: As a member of the LGBTQ+ community and a Trevor Project ambassador, what mental health advice would you share with young people in the community?
Valentina: Find how to release the tension and reach full authenticity or [do] the best that you can getting closer to the parts of yourself that are there that you're not allowing to come through. 'Cause there's a lot of things that we're combating with society, our families, our gender identity, our sexuality, puberty, and just life experiences. Dive deep, and whatever is for you will be for you. And [remember] the power of manifestation. You have to imagine and see [your dreams], and it'll happen. Energy is real.
WM: What else would you like to add about mental health?
Valentina: We need to be speaking about how mental health is an important tool and engaging in healthy mental health practices in the workplace, amongst your family, amongst your friends. And know that it's OK to ask for help. Our government should be helping and funding good mental health for every citizen. It's something we should be pushing for … because we are running around this country without any help, without an ability to really feel secure or know how to survive mental health issues. We should really start talking about mental health amongst ourselves and encouraging each other.
You know, my dad passed away and my mother is widowed. And she's from a different generation—going to therapy was never something she would've ever felt proud of. It would've been something she maybe had a little bit of shame around. But we've been talking through things and my mom went and got help and went through a process of healing, and that is OK. We need to undo that stigma.
Finally, I really compliment the queer youth and Gen Z who really embrace therapy and engage in good mental health practices and [fight for] the progress of language and pronouns. I really applaud them for that mentality. I would hope that people from my generation and generations further back bring them on board and realize that it's to our benefit and the benefit of society to evolve.
After so many years of having a hard life and never talking to anybody about it … I hope people can learn to heal and know they can be the source.
This interview has been edited and condensed for length and clarity.
Wondermind does not provide medical advice, diagnosis, or treatment. Any information published on this website or by this brand is not intended as a replacement for medical advice. Always consult a qualified health or mental health professional with any questions or concerns about your mental health.