Q&A
12.28.22
Pro Skier Drew Petersen Is Grateful to Still Be Alive
Being diagnosed with bipolar II and PTSD made him feel like a science project, but it was also super validating.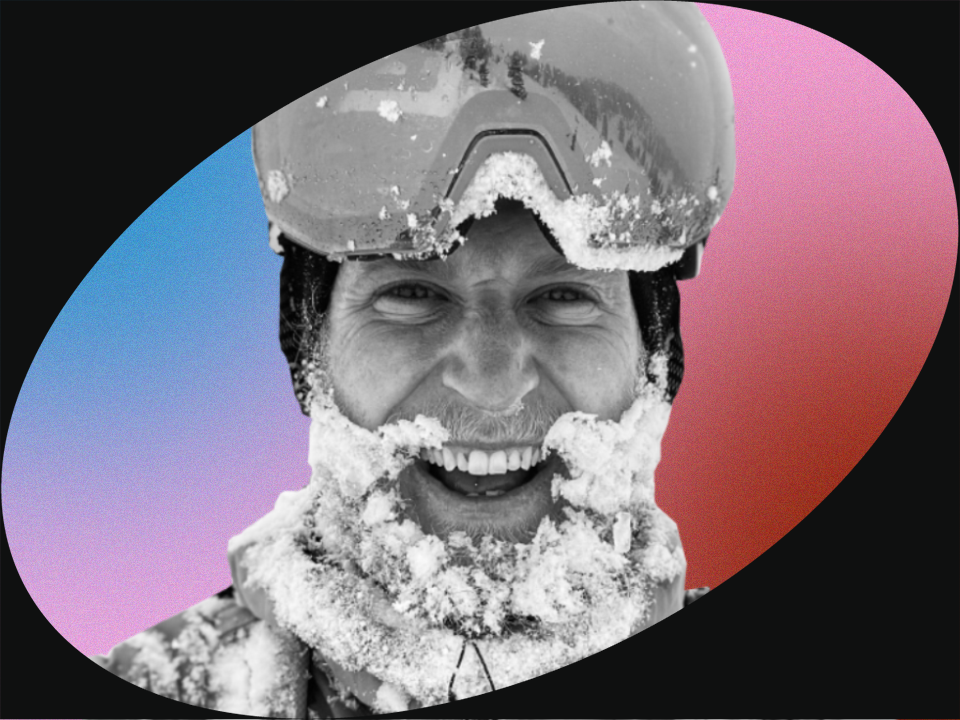 Photo Credit: Courtesy of Drew Petersen
Heads up: The following article discusses suicidal ideation.
Drew Petersen began his professional career as a backcountry skier when he was 19. He's climbed and skied down enormous powder-covered mountains, getting filmed along the way. In 2017, doctors told Petersen that he was lucky to be relatively unscathed after a rock he describes as the size of a microwave landed on him while ascending Oregon's Mount Hood. Though he physically recovered, the effects the accident had on him mentally were difficult to ignore and exacerbated struggles he dealt with since he was a kid.
Here, Petersen talks to Wondermind about overcoming PTSD post accident; navigating a bipolar II disorder diagnosis; finding strength in therapy; and embracing (yes!) the wonderfully complicated, sometimes scary, often beautiful human experience. He shares all this because, he says, "the people who are struggling and feeling the deepest, darkest pain need to know that they're not alone."
[Sign up here to never miss these candid conversations delivered straight to your inbox.]
WM: How are you doing lately?
Drew Petersen: Big picture, I'm doing really well. Big picture, I'm living the life that I want to be living. I've found a lot of meaning in what I'm doing, and I've found my purpose, my North Star, and my compass for being here on this planet. That compass is on shaping and changing the future and culture of mental health.
On a smaller scale, I've definitely kind of been in a little bit of a whirlwind. I've been traveling nonstop the past three months. This week I'm home, and I think I'm sleeping in my own bed for five nights in a row, which is the first time since the middle of August. So I'm very happy to be home. While, you know, it's primarily good work that I enjoy, I'm definitely feeling it. And for me, having bipolar II disorder, I really need routine and consistency in my life, so that's definitely been a bit of a struggle. I'm just trying to lean back onto that mental health toolkit that I've built to avoid going into a depressive episode.
WM: And what's in your mental health toolkit?
DP: Previously, my mental health toolkit was almost exclusively just outdoor athletic pursuits. And those are still really key to me. But my journey has been about building a much bigger toolkit. For me, it's still skiing and running, but in addition to that, it's making sure that I'm taking some alone time and continuing talk therapy. I just scheduled a couple appointments with my therapist yesterday. Also, getting consistent and quality sleep is just really key for keeping equilibrium in my brain. I have a daily meditation practice and a daily gratitude practice where I write down a list of 10 things I'm grateful for both on a macro and micro scale. Everything from a hot cup of tea to being on this planet.
Another part of that mental health toolkit is leaning into working on creative projects and trying to center back to where I find meaning in what I'm doing. And then another part that I'm constantly trying to work on is building a stronger social life, which is still a challenge. A lot of my professional life is online, so as much as I love how many people I get to connect with digitally, in-person interaction is where it's at. And it also means going from a social life that was primarily built on friendships based around skiing and drinking, to having real depth in my friendships and creating really solid connections.
I'm almost three years sober, so sobriety's part of the toolkit too.
WM: You said in your short film, Ups and Downs, that skiing gave you "emotional control" growing up. Can you elaborate on that?
DP: On a basic level, skiing releases a lot of positive chemicals in your brain by being outside, but also, for me, where I found a lot of emotional control was when I was taking risks and I was skiing really hard. If you're skiing fast and jumping off cliffs, like I say in my film, that's gonna be a rush of chemicals to your brain and that's gonna feel really good. That actually speaks to a conversation with my neurologist the first day that I met him [in 2019]. ... He was the first person to make me see that it was emotional control I was getting from skiing at a young age that I wasn't able to get elsewhere.
I also used skiing to distract from and avoid my emotions and some of my personal internal struggles. ... As I got older, skiing became really the only source of stability or happiness in my life. I used it to, in many ways, keep going.
WM: Growing up, when was the first time you remember struggling mentally?
DP: The earliest memory that I have of suicidal thoughts is from when I was 9 or 10 years old. I was in the fourth or fifth grade, and the memory that I have is from being in my elementary school. And it took a lot of years of therapy for me to even remember the memories of struggling when I was a kid. It was just a survival instinct by my brain to tuck them away in a file cabinet and try to forget them. Honestly, those memories are something that I still struggle with and something that I'm still working through in therapy and trying to unpack.
With a lot of the work I've put in, I've been able to heal over a lot of my wounds. A lot of 'em are still scars—some of 'em still pretty ugly scars—but the memories from when I was a kid...they're still open wounds and I still feel a lot of pain from that.
As a kid, everything that I felt was at 110%, both good and bad, high and low, and happy and sad. I definitely had an all-or-nothing mentality. I always had to be the best with skiing or with school, but that runs out. When something would go wrong, I'd also freak out and get really angry, so in hindsight, that full spectrum at both ends made a lot of sense after I got that [bipolar II] diagnosis [in 2019].
WM: You also mention in the film that getting a PTSD diagnosis from your therapist in the fall of 2018 was validating. Why was that?
DP: When I was diagnosed with PTSD 15 months after a near-death accident, it validated what I was feeling in that I wasn't making it up. It was really going on, and having a diagnosis meant that there was something we would do about it too. On a broader scale, I think diagnoses are like a double-edged sword sometimes. For me, especially when I was so deep in these struggles and so deep in my mental health journey, a diagnosis just made me feel like a science project. But then the flip side of that is exactly what I said: It's validating. It means that what you're experiencing is real, and it means that there's something we can do about it.
WM: You said in your film that being a pro skier isn't your whole identity and neither is being a person with bipolar disorder. Can you walk me through how you came to that mindset?
DP: A crisis of identity was a really big part of the overall struggle for me, especially my identity as a professional skier. I had been dreaming of being a professional skier since I was in elementary school when teachers asked, "What do you want to be when you grow up?" And it took a lot of work to make that happen. Then, I was struggling with physical injuries, mental illness, and concussion problems and the neurological fallout of that [post-concussion syndrome]. And it really seemed like everything that I had worked for was going to be taken away.
I really felt like going through this experience was going to define me as someone who had thought about killing myself. When I was in therapy and really deep into depressive and suicidal episodes, that was how I was defining myself. Those diagnoses are really easy for someone on the outside to see as an explanation of my identity or an explanation of how I act, and so I felt like I was getting my identity boiled down to that.
But the experience of being able to come into acceptance with all these different parts of myself ultimately comes down to: All of these things can be true. I am my own person. I am defined, and my identity is defined, by who I am and who I am when I look in the mirror. It doesn't matter what other people define me as. It doesn't matter what other people see my identity as. ... Who I am is so many different aspects and adjectives, and it's how I carry myself in the world. It's not just a job or a diagnosis.
WM: How do you define yourself now?
DP: I am a deeply passionate, spiritual being and human who is intimately connected to the earth and to the mountains. I am someone who enjoys celebrating the beauty and vibrance of being alive on this planet. I am also someone who embraces the depths and the pain of the human existence. I am someone who is very grateful to still be alive and to be on a path to help other people. I'm also someone who is on a lifelong path of personal growth. That's who I am.
WM: What was going to therapy like for you?
DP: A flaw and a strength of mine is that all-or-nothing mindset, so when I went, I was committed, but it took a really long fucking time to go. It was 15 months after that accident, and I was in a really dark place. It took a really long time to actually follow through with asking for help. Then, once I did, my very first appointment, my therapist asked me if I was thinking about killing myself, and I said yes. That was the first time in my whole life that I'd said yes. Even with those memories that I have of being a kid, I'd never actually said it to anyone. I mean, what's empowering about that is that finally someone knew. It wasn't only me.
It was pretty obvious to me that it was PTSD, and I think I maybe got too locked into like, "If I heal this PTSD, I'm fine." I went about it with a goal that I was gonna be alright if I took care of this. I processed the accident and got myself to a good place with it, but I wasn't fine 'cause we had just kind of broken the lid on what I had bottled up for my whole life. ... I do still see [this therapist].
WM: What message do you have for people who are on the fence about going to therapy?
DP: Therapy is just a structured way to learn how to live your life better, and that can help every single person on this planet. So, if you're wondering if therapy's for you, or you're like, "Well, I'm not struggling that bad," or like, "I don't think anything's actually wrong with me," you don't need any qualifier to benefit from therapy.
I think that there are a lot of people who are curious about therapy, who are questioning their self-worth and questioning if their struggles are valid [enough] to need help from another person. And ultimately, if you're a human being on this planet, you are worthy of help and love and understanding and a place to be yourself. That's it.
This interview has been edited and condensed for length and clarity.
If you or someone you know is experiencing suicidal thoughts, the 988 Suicide and Crisis Lifeline, formerly known as the National Suicide Prevention Lifeline, is available 24/7.
Wondermind does not provide medical advice, diagnosis, or treatment. Any information published on this website or by this brand is not intended as a replacement for medical advice. Always consult a qualified health or mental health professional with any questions or concerns about your mental health.