Q&A
08.23.23
Skyh Black's Mental Health Routine Might Make You Blush
The actor opens up about dealing with his feelings and going to couples therapy.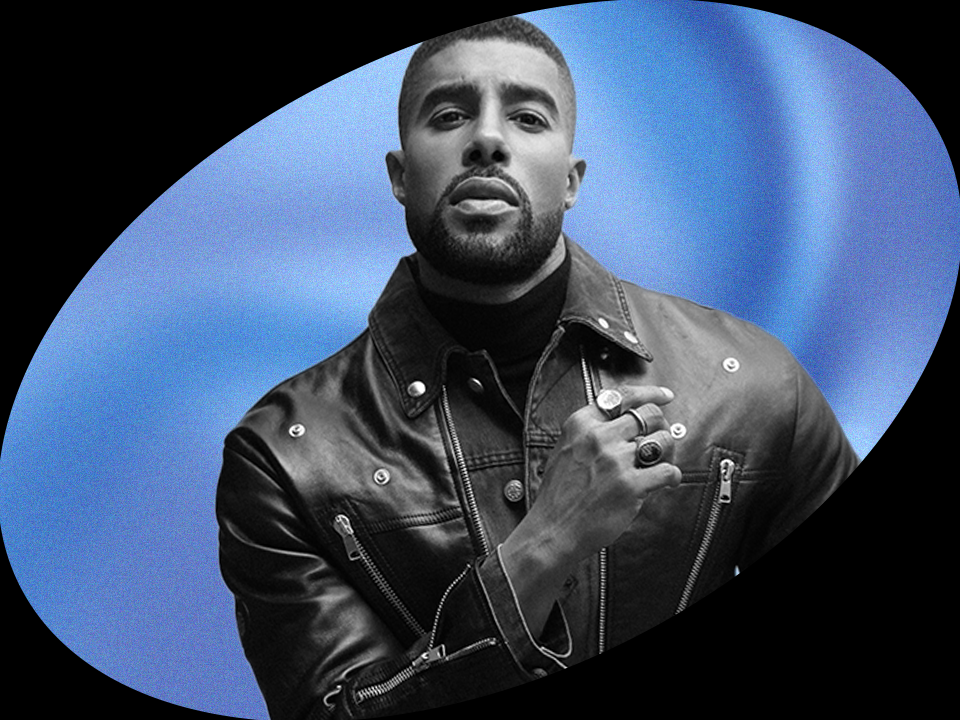 Photo Credit: Tyren Redd Photography
We proudly stand with the WGA and SAG-AFTRA. As such, this interview does not focus on the promotion of any particular project.
For Skyh Black (aka Skyh Alvester Black), the past three years have been a time for leveling-up in every way possible. From valet parking cars just before the pandemic and experiencing financial insecurity to landing a breakout role on a hit series and getting engaged to fellow actor KJ Smith, it's safe to say there's a lot going on in Black's life.
"No one ever really talks about that transition phase where you're like, OK, wow. My life is changing, and it's all great. However, it's moving really, really fast. You don't want it to stop, but it's moving fast," he tells Wondermind. It's also been a time to get intentional about his mental health and continue to let go of unhelpful stigmas around getting vulnerable.
Here, the actor and producer sits down for a mental health check-in and talks about his self-care routine, the importance of believing in yourself, and why couples therapy is actually fun.
[Sign up here to never miss these candid conversations delivered straight to your inbox.]
WM: How are you doing lately?
Skyh Black: Usually I would say I'm doing great. I honestly am doing great. However, I'm gonna start being more honest, and especially since we're talking about mental health, which is one of my favorite subjects. I'm mitigating my transition in life as effectively as I can because it's happening so fast, but I'm doing well.
WM: What helps you manage those feelings and make sure you're processing all these changes?
SB: It's been a learning process of what I need. Before I was just on the hustle, go, go, go. I still am on the same hustle, but it looks different. I check in with myself pretty much every morning. I have a thing now where I don't like any disturbance of anything from the time that I wake up to the time that I start whatever I'm gonna do that day. The first hour has to be peace, whatever that peace involves. I talk to God before my feet touch the floor, before I pick up my phone—that's just me. And honestly, I go out in my backyard in the buff [laughs] and literally just lay in the sun. I do it every morning. And when used effectively, I think medical marijuana is great for mental health and for managing anxiety or anything like that. I'm a huge fan. And recreationally—I'm not gonna sit up here and lie [laughs].
WM: What mindset shift helped you change how you look at life?
SB: When I let go as far as me being a person and auditioning and caring about what the people on the other side wanted. It freed me to just experience life so I can portray life better. I felt like I was getting stifled by, Damn, I don't know what they want. Did I do what they wanted? Did I get it right for casting? And it's like, guess what? This is my interpretation. I did the work in investing and trying to investigate as much as I could possibly investigate at this time about this character and this circumstance. And if I'm confident that I did the work and I did it to the best of my ability at this moment, that's enough.
What's for me is for me. No one can take it away and vice versa. I can't have something that was meant for someone else. That freed my mind so much.
WM: You're a supporter of going to therapy. What has your experience been like, and how did you find a therapist?
SB: I asked around, and I listened to people's conversations a lot. I actually asked a castmate on one of the movies that I did earlier this year. I had an experience, and I said, "Hey, who do you talk to? Because I like the person you are now and the energy you have. How did you get that?" He recommended a therapist to me and I started going and I think it's essential.
We take on so much—excuse my language—shit every single day. And how do you unpack that? Think of yourself as a house, right? If you keep putting things in the house and never clean it out, you're a hoarder and there's no space to move around effectively. For me, especially as a man and especially as a Black man, it's never discussed. It's never talked about. It's almost taboo, and I don't know why because we need an outlet. Everybody needs somebody to talk to.
SB: To identify the problem right there. What is going on with me right now? Right in this moment and right in this second, can I fix it right now? Am I in a place to be able to fix it? Sometimes yes, sometimes no. However, I have to take a moment to just assess what it is so I can deal with it with the effective tools. And also, call yourself on your bullshit. A lot of stuff that happens to us, a lot of times we are the cause. Not all the time, but sometimes there's something in us that we can work on. 
My fiancée and I, before we get married, we are actively in couples therapy every week to talk about everything that is happening with us in our lives and how it affects us as a unit. We're very strong on getting to the root of the problem so you can fix it.
It's fun, actually. I mean, it's fun 'cause you learn more about your partner. Are you gonna be laughing and joking the whole time? No, not at all. 'Cause we're two individuals, and I'm sure we get on each other's nerves even though we love the hell out of each other. You need to get that out and talk about it so your space can be clean. We get closer than ever [through therapy]. 
WM: As a Black man who has felt like you have to be extra conscious about how you project your feelings, how do you navigate that while still communicating your emotions or needs?
SB: For me, it's still a daily process. … I feel that right now in this space in my life as a Black man and being a Black entertainer in the public eye, I feel like there are a lot of "can'ts" that go on with Black men. Black men cannot show anger or emotion in public whatsoever for fear of getting killed. We take on a lot. Every day we take on microaggressions just like everyone else. We take on racism constantly. … We also cannot cry.
But we are sometimes the root cause of why we can't. I'm going to make a blanket statement, but more often than not in the Black community, you're soft if you share vulnerability or emotion. That wasn't celebrated in our community. So we, in turn, now do it to ourselves.
So as Black men, how do you release? We hurt, we get sad, and then we don't know how to express it because we've never been taught. We've never had the skills. When your daughter falls, you go, "Oh, come here, baby. Are you OK?" When your son falls, you say, "Get up. Don't be a punk." You are systematically muting my emotion every single time you do that. As I got older and became an actor and explored my own emotions, it was hard. Effective communication without rage or anger was hard. Just hearing was hard, and loving was hard.
And how do you now mitigate life when life is telling you what you are, your skin color, how you feel, and everything is wrong and bad? I think starting the conversation is the first step. … You can't have a solution if the problem is never discovered.
WM: You've also been honest about previously struggling to want to be alive. Do you mind sharing what helped you continue on?
SB: Faith. And honestly my grandmother. My grandfather had just passed, and I didn't want to hurt her. That's the honest to God truth because I felt that at that point, I was like, Well, God, if my dreams are this big and it's not happening, just let me know. There's nothing else I really want to do. But I can't take much more by myself, and I'm ready to leave. … One night I was literally just on the way to work to the valet job, and I was like, I'm so tired.
I called one of my best friends, and I said, "I'm sorry, bro. I can't do it anymore." And he told me, "Remember your grandmother and remember the promise you made to her that you would take care of her." That is the only thing that kept me going at that vulnerable moment. Then, the faith just kicked in. You have to believe in yourself. You have to believe in yourself more than anybody believes in you. … And having a healthy circle is imperative.
WM: What mental health advice do you want to leave readers with?
SB: Choose to better yourself. Make a choice every day to really be better. … Take time to assess yourself and say, "Hey, what am I contributing to my life in a negative way? And how can I change that?" Because if you change you, everything else around you starts to change. I know that for certain.
This interview has been edited and condensed for length and clarity.
If you or someone you know is in crisis, please contact the National Suicide Prevention Lifeline at 988 or The Trevor Project by calling 1-866-488-7386 or texting "START" to 678-678.
Wondermind does not provide medical advice, diagnosis, or treatment. Any information published on this website or by this brand is not intended as a replacement for medical advice. Always consult a qualified health or mental health professional with any questions or concerns about your mental health.