Q&A
06.22.23
Zoe Colletti Is Learning to Love Herself Exactly As She Is
She's not reading mean comments, thank you very much.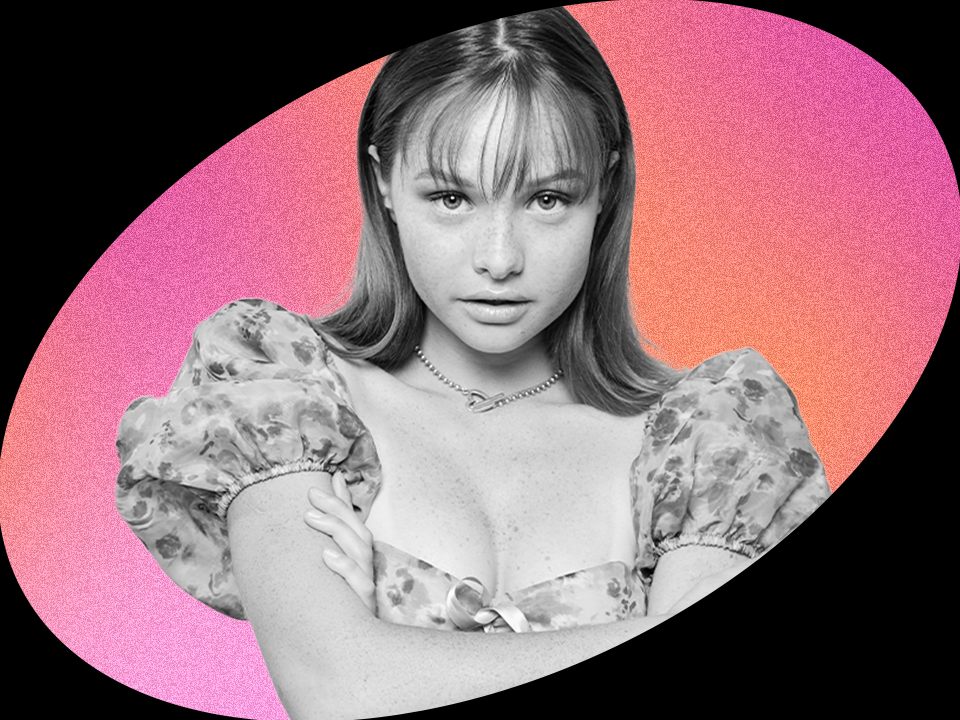 Photo courtesy of Zoe Colletti
If sunshine were a person, it would be Zoe Colletti.
The actor, best known for her roles in Boo, Bitch and Only Murders in the Building, sports her vintage-inspired swimsuit top—complete with cuddly kittens and flower-sniffing ducklings—as she settles in for the virtual interview. Everything from her makeup and rainbow-colored nails to the tiny bows in her hair perfectly encapsulates who she is as a person: vibrant, bubbly, and unwavering in knowing exactly who she is.
The newly appointed creative designer for Kitty and Vibe, a swimsuit brand dedicated to inclusive size offerings, Colletti is channeling her own journey towards self-confidence with the patterns she dreamed up for the brand.
Born with Hischsprung's disease, a congenital condition where the large intestine becomes blocked, Colletti underwent a series of surgeries and procedures that left her abdomen visibly scarred. As a kid, it was something she was insecure about, but now the 21-year-old is embracing her scars as something that makes her totally unique.
Below, Colletti shares how she's protecting her mental health, coping with lifelong anxiety, and learning to love her body exactly the way it is.
[Sign up here to never miss these candid conversations delivered straight to your inbox.]
Heads up: When you buy something through our retail links, we may earn an affiliate commission.
WM: What's something you do to take care of your mental health every day?
Zoe Colletti: I'm a huge reader. Jumping into the world of a book is so good for my brain. It just relaxes me so much. I read like two books a week. … I just finished reading the A Court of Thorns and Roses series, which TikTok was going mad over. I burned through it so quickly. I'm sad now. [Laughs]
WM: In your new role as a creative designer at Kitty and Vibe, how do you want people to feel in your swimsuit designs?
ZC: It was definitely difficult feeling totally confident in my own skin. It's something that I honestly still struggle with today, which is a huge reason why I'm super excited to be able to work with Kitty and Vibe. I have a ton of scarring all over my stomach from the surgeries that I had when I was young. So during summertime, wearing bathing suits was a little bit nerve-wracking. There's one specific scar that I have on my stomach that kind of puckers a little bit. I've always been super self-conscious about trying to cover that up, even in clothes, so it was a lot to kind of learn to be OK with that.
As I've gotten older, I think I've really taken ownership of [my scars], and I think it's something that is cool and is an outward expression of the story I've had and what I've been through.
WM: Why was it important for you to make swimsuits people can feel confident in?
ZC: I want people to feel like they are the coolest, hottest, most stylish girl on the entire planet. I know that shopping for bathing suits, wearing bathing suits, the whole nine yards is generally a somewhat stressful experience. So I want anyone that puts these bathing suits on to feel confident in who they are. And, coming from me, it's a shout-out to all the people in the world that will put on this bathing suit that have visible scarring. Rock it. You look cool.
WM: Can you tell me a bit about your own confidence journey when it came to wearing swimsuits?
ZC: For me, my biggest insecurity growing up, and even still now, was that kind of puckered scar that I was talking about. It's sort of like on my lower stomach and it's very visible and almost gives me like a little baby pooch from the way that I was kind of Frankenstein-sewed back up when I was a baby. [Laughs] So [it took] accepting that that's how it looks, and I think I can rock it and be like, Alright, well, it is what it is. That's what I look like.
I've gotten some comments that are not the nicest, but you learn to live with it. I don't read them. I read one nasty comment and I've never looked back. But, I do feel like I am working towards getting to a point of feeling truly happy with how I look, and working on this collaboration and knowing that I'm gonna be sending this message to thousands of other people has honestly helped with my own confidence of being like, Hey, you know what, if I wanna be promoting this message to other people, I should also be heavily promoting that to myself as well. And so it's been really therapeutic and great for my mental health as well.
WM: What advice would you give to people struggling with body confidence?
ZC: For me, it's trying not to overanalyze. … I tend to pick out one specific thing that I don't like or that I'm not happy with and I'll let that marinate inside of my brain until I'm like, Oh God, it's the worst thing ever. [Try] to not ever get stuck too badly on one single insecurity, and look at the overall picture of not just your outer beauty, but your inner beauty as well. If we're focusing on anything, that really should be the most important thing: how beautiful you are on the inside. I truly do believe that radiates out of you if you have a good spirit and good energy.
WM: As an actor and TikToker, how do you protect your peace while putting yourself in the public eye?
ZC: I've been very fortunate to not have gotten a ton of backlash or bad responses [on social media], even when it comes to reviews. There have been times when I've read things that aren't the nicest and it can impact you in a negative way. But I've really tried to not look. That's the best way I've tried to combat it; I rarely read reviews for things I've been in or look at comments on posts that I put up. If people are writing nice things, cool, but if they're not, I don't need to know. Outta sight outta mind.
WM: Do you have any advice for others who might be dealing with online trolls?
ZC: It's tough, to say the least. I think it's particularly hard when you're in school and it's people that you know and have to see in real life that are hiding behind a screen and saying things a heck of a lot meaner than they would to your face. I think that's really difficult to deal with knowing they're not just bots that you can [dismiss as] not real. Having a close-knit group of friends or keeping your family close to you, and really making sure that you know who you are at your core and that what people say about you, you can't control in any way, shape, or form. Work on really truly knowing who you are as a person and believing that.
WM: What aspect of your mental health still feels like a work in progress?
ZC: It kind of depends on the day that you're talking to me. In general, I would say I struggle with anxiety the most. I am really terrible at picking the skin on my fingers. I've done that ever since I was little. That's something I struggle with on a daily basis. I'll probably have anxiety as my pal for the rest of my life, but I can learn to hang out with her and we can get along a little bit better. That's my goal.
WM: What are some of your strategies for coping with anxiety?
ZC: To be completely open and honest with you, over the past two years, I started [an antidepressant]. I love it. It's great. I have been doing so much better. I am a huge advocate for—if you are ready and in a place to be open to it—medication because it's worked really well for me. And I'm super into finding hobbies that I really love, and if I'm ever feeling stressed or anxious I do [them]. I [also] love my family. I keep my family super close. Having a great support system with you; I think all those things can help you out a little bit on your journey.
WM: What is the hardest mental health lesson you've had to learn?
ZC: That's a tough question. I think the hardest thing that I've had to work through would just be self-confidence and how it affects my relationships with friends and family and how it affects my view of myself. Just really trying to figure out who the heck I am coming into being an adult through Covid as well. It was like all of a sudden life is just shut down, and I went from being 18 to 20, and I'm like, Oh my gosh, I was a teenager in high school and now I'm a full grown adult apparently, and I don't really feel like it. I think [I'm] really trying to give myself a break while I'm figuring out who I am.
WM: What are you grateful for right now?
ZC: I am grateful for so many things. Honestly. I'm grateful to be working with Kitty and Vibe 'cause they're an amazing company. I'm grateful to be able to be at home with my family. I'm sitting at the pool right now getting ready to use my bathing suit. I would say mostly I'm grateful for having just a fantastic group of friends and family around me that, no matter what I'm going through or if I'm having a terrible day or the best day of my life, they're there to support me and stick with me through whatever crazy emotion I'm feeling that day.
Wondermind does not provide medical advice, diagnosis, or treatment. Any information published on this website or by this brand is not intended as a replacement for medical advice. Always consult a qualified health or mental health professional with any questions or concerns about your mental health.