Pro Tips
01.17.23
How to Help Someone With Depression
Step 1: Remember they didn't choose this.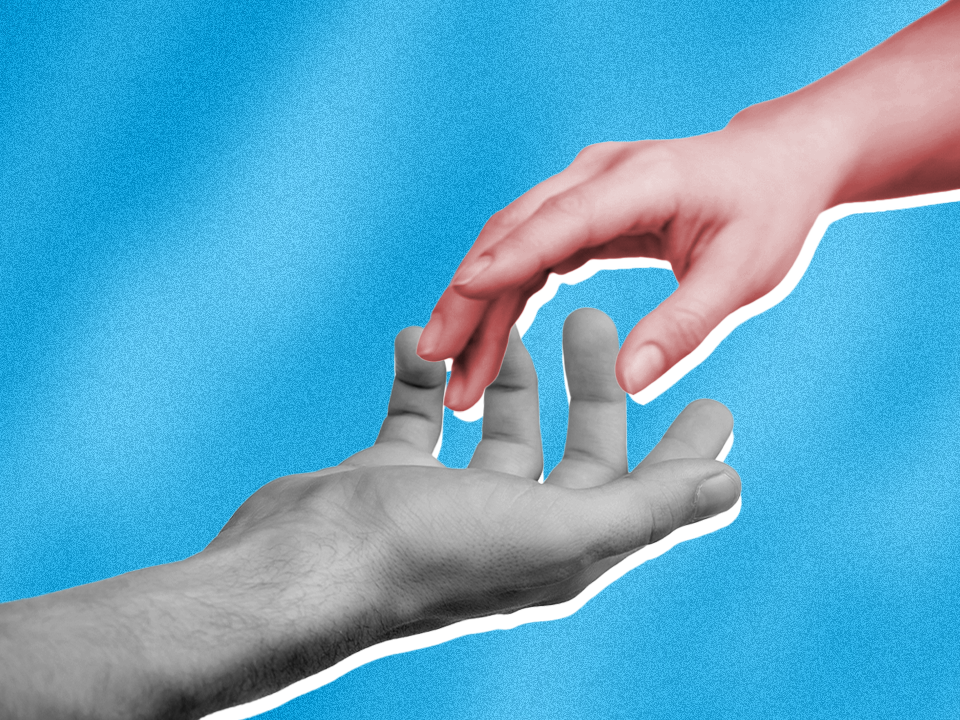 Shutterstock / Wondermind
Anna C.*, 25, says her debilitating anxiety and depression began in late 2022. "In the beginning, I've noticed, there are more downs than ups, and that's really difficult," she explains. "I have this person that was my old self, and I just want that person back." While she's now in therapy and on mental health meds, if you asked her how to help someone with depression, emotional support from those closest to her is huge.
If you want to be that source of support for a friend, significant other, or family member going through depression, that's awesome! Go you! But the first things you need to establish are how much of your time and energy you're willing to offer, psychotherapist Claudia Garcia, LICSW, explains. Otherwise, it's super easy to burn out by giving, giving, giving to someone, she says. And Totally Fried You won't be able to problem solve your own life let alone that of a person who's dealing with depression.
Another thing to note before offering an assist: Not everyone will want the same type of support—or they may not be ready for help at all. In those cases, not forcing your support onto them is key. With those ground rules in mind, there's a lot you can do to be there for a friend, partner, or family member who's dealing with depression, according to therapists and to people who've been depressed before. Hopefully these tips help you help them.
Look for changes in behavior.
Since there are many types of depression, it's not a great idea to try to diagnose someone or make assumptions about what a person in your life is going through, says Garcia. So leave the actual diagnostic process to the pros. But taking note of any changes in their behavior that seem like symptoms of depression can clue you into what might be going on and give you an opening to check in, says clinical psychologist Sally Weinstein, PhD, associate director of the University of Illinois Center on Depression and Resilience.
If someone is talking about how they don't bring anything good to the people around them or if they're ruminating over past mistakes or bad experiences that really stuck with them, this could be a sign of depression, Dr. Weinstein says. Are they crying more than usual? Are they withdrawing from social situations and keeping to themselves more often? Are they turning down plans, not texting or calling back, avoiding doing the things that they once enjoyed or not finding those things fun? (For instance, some of the teens who see Dr. Weinstein for depression say even video games aren't fun anymore.) If so, they could be dealing with depression or a depressive episode, says Dr. Weinstein.
People with depression can also seem lethargic, or, on the other end of the spectrum, agitated and restless, Dr. Weinstein says. FWIW, kids with depression specifically can seem more irritable a lot of the time instead of having a depressed mood, she notes.
You might also see changes in their sleep or eating habits—they could be oversleeping, overeating, sleeping too few hours, or not eating as much, says Dr. Weinstein.
Of course, the signs of depression aren't always obvious. People are good at masking what they're feeling, says Dr. Weinstein. For example, your college bestie's IG feed might be chock-full of vacation selfies and cool adventures with friends, but that doesn't necessarily track with what's going on with them emotionally. So even if someone seems happy, they may have feelings of guilt, worthlessness, and sadness that are typical of a depressive episode, she says.
Ask how they are and listen.
If you're not sure what to say to someone who's going through depression, start with something simple like, "I've been thinking about you. How are you?" says Dr. Weinstein. Hearing stuff like that from friends and family makes Lindsay A., 37, who was diagnosed with major depressive disorder (MDD) about four years ago, feel like she's loved even when she's not as present in their relationship.
Anna C. likes when her family checks in to see how she's doing. "When you're in a state like that, you feel like a burden and you feel like you have to—even if you're a people pleaser—prioritize yourself before other people," she says. (As you should!) But when her fam checks in, it shows that they're giving her the mic and willing to have open, honest convos about what she's going through, Anna C. adds.
Anna C. also says it's been nice to talk to her partner about how her depression affects their relationship and what to expect moving forward. Although she's the one going through it, she wants to hear how he feels, since she knows it's not easy to see someone you love depressed. It's important to note that your loved one—whether it's your S.O., fam member, or friend—may not be up to talking about your relationship and your own feelings about their depression. When in doubt, ask.
Validate their experience.
If they do open up about how they're feeling, you can remind them that depression isn't something they're making up. It's a very real condition that, like medical issues, can get better with the right treatment, says Dr. Weinstein.
What you probably shouldn't say: Anything along the lines of, "What do you have in your life to be depressed about?" is not great. It's really invalidating to point out all the good things they have in life, even if you're just trying to make them feel better, because that implies that they're making a choice to be depressed, Dr. Weinstein explains. "You know, you wouldn't ask someone, 'Why do you have asthma? You have such a good job.'"
It depends on the person, but Lindsay A. says that, in her experience, "toxic positivity"—like "choose happiness!" or "be positive!"—is a big DON'T. It implies that you can just bibbidi-bobbidi-boo your depression away. While people can take steps in their everyday lives and with mental health professionals to manage depression, there's no magic wand.
Share your own struggles (within reason).
Another way to normalize and validate what they're going through is bringing up similar mental health issues you've experienced, says Dr. Weinstein. You can talk about what feelings came up for you at your lowest points, or you can share small or big life hacks that helped you deal with depression or another mental health condition. Of course, the goal isn't to talk about yourself just to talk about yourself. It's to give them info about your experience for their benefit, not yours, says Dr. Weinstein.
Hearing from people in her life who went through mental health struggles of their own has made Anna C. feel like she's not alone in her depression, especially as she continues to work on finding what treatment is best for her. "I wish people were more open and willing to talk about [their mental health] because it is a very real and serious thing," she says. Progress isn't linear by any means, and that's also something people should talk about, she adds.
Ask what support they need.
If you're not sure what someone who is (or you suspect is) depressed needs, ask. That can make them feel like you're there for them, even if they didn't ask for help, says Lindsay A. If they aren't sure what they need, ask what barriers they're up against when trying to feel better, Dr. Weinstein says. Is it stigma? Maybe they need to talk to other people who've been in a similar position before.
Anna C. found that she felt better when her family suggested things instead of flat-out telling her—or demanding—to try X, Y, Z for her depression. Anna C. ultimately decided to spend extra time away from her job, and her family suggested she take a walk with them or watch a movie with them—little activities that they thought might help during that break. There were no expectations for her to accept, and not having that pressure—plus, not hearing them as demands—felt supportive to her, she says.
Offer to help them do life.
If your loved one isn't sure what they need, lending them an assist with things they might not have the energy to do can be super helpful, Dr. Weinstein says. Depression can often interfere with planning and organization, which affects someone's ability to do day-to-day tasks, Dr. Weinstein explains. "I think people don't realize that it's not as simple as: Get up out of bed and go do something you like doing," Anna C. says. So, offer to bring over groceries or meals. See if they need help cleaning up their room or doing laundry.
Lindsay A. says at some of her lowest points, "my best friend, who is more like a sister to me, has pretty much forced me out of the house when she knows I've been neglecting basic needs like eating and nourishing my body," she says. From her perspective, it takes a very special kind of relationship to be able to do that, so she suggests not just showing up without warning if you don't live with them.
Offer to help them find support.
Unless you are a mental health pro trained in depression management and treatment, your help might not be enough, says Garcia. If someone is disclosing heavy stuff that you're not so sure you can handle, or if they seem to be really struggling, that's when it could be time to bring up expert mental health support. It's not always the best approach to tell a fam member, friend, or partner that they need mental health support because they might not be ready for it (or it may not be realistic for them). But something like, "Have you looked into speaking to someone?" is a subtle way in, suggests Garcia.
If they just don't have the energy to find a mental health pro, offer a hand, says Dr. Weinstein. Anything you can do to help make the process of navigating the health care system easier is fair game—just ask them first! You can offer to help them research therapists or psychiatrists covered by their insurance (or therapists outside of their insurance if that's financially doable for them), says Dr. Weinstein. Psychology Today is a good directory to start with. You can offer to go with them to appointments for moral support too.
You can also offer to look up helplines for them if they're interested but don't have the energy to do it themselves, Dr. Weinstein says. For starters, there's 988 for crises, as well as additional support lines for you (family and caregivers) and people with mental health conditions, like the Substance Abuse and Mental Health Services Administration's (SAMHSA) National Helpline and National Alliance on Mental Illness (NAMI) Helpline. And you can search for support groups on the Depression and Bipolar Support Alliance website.
Know when to call for immediate support.
Since people with depression sometimes have thoughts of suicide, they may come to you about it, says Dr. Weinstein. If someone does discuss suicidal ideation with you, you don't necessarily need to call for help right away, but it's a good idea to gauge how pressing the situation is, she says. "Talk with that person about those thoughts to get a sense of their ability to keep themselves safe, their intent to act on those thoughts, and if they've made a plan to act on those thoughts," she advises.
If their life is in danger, it's best to call 911 or bring them to a hospital ASAP, Dr. Weinstein says. Remember that 988 is an option in less dire situations to get in touch with someone who can listen and also help you and the person in crisis decide if calling 911 is necessary, especially if you're worried about the potential harm of bringing in a police presence.
Let them know you're there.
You can't force anyone to accept your help—and if they're really adamant that they don't want it, you should give them space and periodically check in on them to remind them you're around if they need you, says Dr. Weinstein. If it's someone you don't live with, maybe text them on your way to the grocery store to ask if you can pick anything up for them. If it's your roommate or partner, ask how they're doing and if they're looking for help or not.
Lindsay A.'s friends will keep reaching out to tell her about plans even when she says she's going to be MIA because of her depression. It's something she's specifically asked them to do because it makes her feel included, she says. "This definitely helps my depression by making me feel a little less isolated."
Even when Anna C.'s family didn't agree with her choice to take extended time off of work for her mental health, they still asked her what she needed and listened to her talk about how she was feeling. Just showing up regardless of if you agree with how your loved one is choosing to navigate their depression can be extremely powerful.  
*Name has been changed.
Wondermind does not provide medical advice, diagnosis, or treatment. Any information published on this website or by this brand is not intended as a replacement for medical advice. Always consult a qualified health or mental health professional with any questions or concerns about your mental health.