Q&A
09.06.23
Kiana Madeira Is Slowing Down
"I feel like the world is designed for us to play on hard mode."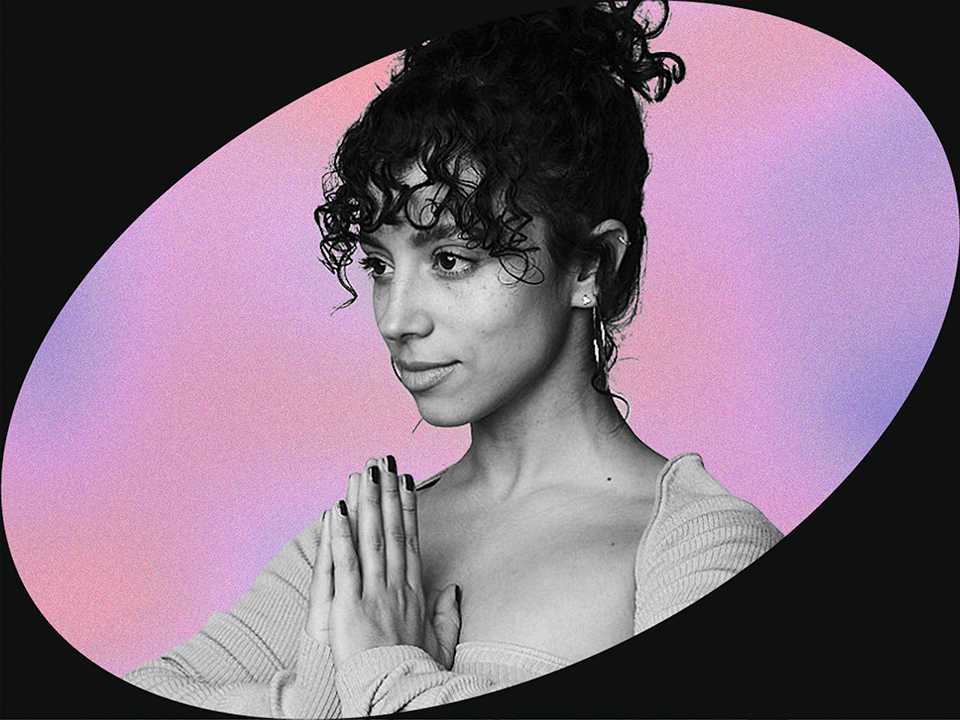 This interview was conducted prior to the SAG-AFTRA strike and does not focus on the promotion of any particular project. We proudly stand with the WGA and SAG-AFTRA.
If there's one thing actor Kiana Madeira is going to do (well, aside from delivering powerful performances in movies like Perfect Addiction and Brother), it's making sure she takes care of her mind by tapping into mindfulness exercises, her faith, and therapy. "I feel like the world is designed for us to play on hard mode," she tells Wondermind. "But the more I connect with God, the more God gives me the courage to actually go to therapy and meditate and read self-help books. God tells me that life is supposed to be enjoyed, and I think all of these practices for mental health are tools to help us live a joyful life."
Here, the actor sits down for a mental health check-in and shares what her journey has been like, from learning to be confident to getting comfortable with spending time alone.
[Sign up here to never miss these candid conversations delivered straight to your inbox.]
WM: What's bringing you joy or feels invigorating to you right now?
Kiana Madeira: Something I'm investigating right now and I'm really curious about is slowing things down. I'm reading this book called The Things You Can See Only When You Slow Down, and it's bringing me a lot of joy because for a lot of my life, my mental state was dependent on how busy my life was. I'm starting to learn that if my mind is at peace, the world outside of me is also at peace. Even if from an outside perspective it's very chaotic, I can actually experience peace just by slowing things down internally. That has me really excited lately.
WM: What has your mental health journey been like over the years?
KM: My mental health journey has been interesting, complex, and, I think, beautiful. Most specifically, I grew up in the industry, so I started acting when I was 10. I wasn't a child star or anything; I actually got my first pretty big break right after high school, so that was probably a blessing in disguise because I got to have a normal childhood.
But I quickly started to experience a lot of body image issues late into my teens and early into my 20s. I wasn't even really [aware] that I was struggling with that. I developed an eating disorder when I was around 20, and, honestly, I didn't even think it was a thing until a year or two went by and I started doing yoga at a home studio in Canada where I'm from.
Starting my yoga practice was the first time I actually slowed down and really checked in with myself and realized I've been abusing my body and I've been kind of obsessed with maintaining a specific body image. [I thought] it would help me book roles and help me excel in my career. But really, the years that I was struggling with my eating disorder were the only years that I've never worked. So it was an interesting time for me. When I was 22, thank God, I was able to overcome that eating disorder and really prioritize my mental health.
It's been a journey ever since. There are times where it's still a struggle. I think speaking about things like that is really important. … But I'm 30 now, and I was able to overcome those things, and I'm still working on maintaining my self-worth on a daily basis.
WM: Were there any coping tools or mental health exercises in addition to yoga that helped you through your eating disorder?
KM: I [try] my hardest not to get caught up in everything. Social media, for me, is huge. As humans, our minds are not actually programmed to intake so much information. As we scroll on social media, we're subconsciously comparing ourselves to people we don't know and also photos that are likely not even natural. Not having the presence of mind and just mindlessly scrolling is a dangerous trap.
I really set intentions every day to limit my time on social media. If I am going to log on to Instagram, I have an intention. I want to connect with my fans or post something that I want to promote, and then I log out and I delete the app.
We naturally get swept up in [social media and comparison], and I don't even think it's a fair fight for us to try to be on social media all day and think that it's not going to have a negative impact on our mind.
WM: When you disconnect, how do you like to spend your time?
KM: My favorite way is meditating. I love closing my eyes and breathing and going inward. At first when you start meditating, I think it can be really daunting and your mind goes crazy. But after developing the practice, it feels like the most peaceful place in the world. It's so simple when you're sitting in silence and you're breathing. Throughout the years, it's helped me to think about my thoughts as clouds in the sky. When I'm meditating, thoughts come up, but I just gently let them float away. That visual really helps me.
I also pray a lot. I'm Christian, and I feel like my faith has helped me so much. Knowing that I'm not alone and reading scripture in the Bible really helps remind me of who I am, not who the world says I am and not what negative thoughts sometimes tell me I am.
WM: What gives you confidence?
KM: I feel at my best when I am walking my own path and making decisions for myself. That includes eating what I want to eat and not drinking if I'm out. Even though it sometimes feels like that's the social thing to do, if I make a decision that I'm not going to drink tonight, that makes me feel really confident. Or vice versa. Sometimes I want to drink and have a good time. That makes me feel confident too. I [feel most confident when I'm] making decisions for myself and checking in with myself before I give into the pressures of what I think society wants me to be.
WM: You seem to be really good about staying present, staying true to yourself, and being comfortable alone. Have you always been like that, or was there a learning curve?
KM: Honestly, I haven't always been like that. I am a middle child in my family, so growing up, I actually never really had my own room; I shared with my sister. Then immediately from moving out of that house, I moved in with Lovell [Adams-Gray]. I've never really had my own space.
Only when I started traveling for acting and filming in remote locations did I actually get to spend time by myself. It was shocking at first. I was very uncomfortable with it. I was so used to always having family or friends around, and I think it made me really sad. In the beginning, I felt very lonely, but then I started to really learn about myself. I started to learn how to cook. I started to investigate what makes me happy alone. I picked up playing the guitar, which is something that I did just for me.
It's been a process, and it didn't always come naturally to me. I think I made an intention to go inward and ask myself those questions. What do I want to do that's just for me—not to better my career, not to improve my acting, not to impress other people? In my own space, what makes me happy?
I'm still learning, honestly. I definitely still feel anxious when I'm alone sometimes. I'm like a busybody. I feel like I always need to be doing something to fill the time. So I'm consistently working on checking myself and slowing things down.
WM: If you could go back, what mental health advice would you give your younger self?
KM: Make time for myself, embrace being alone, embrace my emotions. … I've always craved understanding myself. I would tell my younger self to be easy on myself and give myself grace because it's a journey. Don't let anxiety or fear prevent you from continuing on the path of really getting to know yourself.
This interview has been edited and condensed for length and clarity.
Wondermind does not provide medical advice, diagnosis, or treatment. Any information published on this website or by this brand is not intended as a replacement for medical advice. Always consult a qualified health or mental health professional with any questions or concerns about your mental health.