Stories
10.05.23
37 Genius Mental Health Day Ideas You'll Want to Steal Immediately
Number 21 is on to something.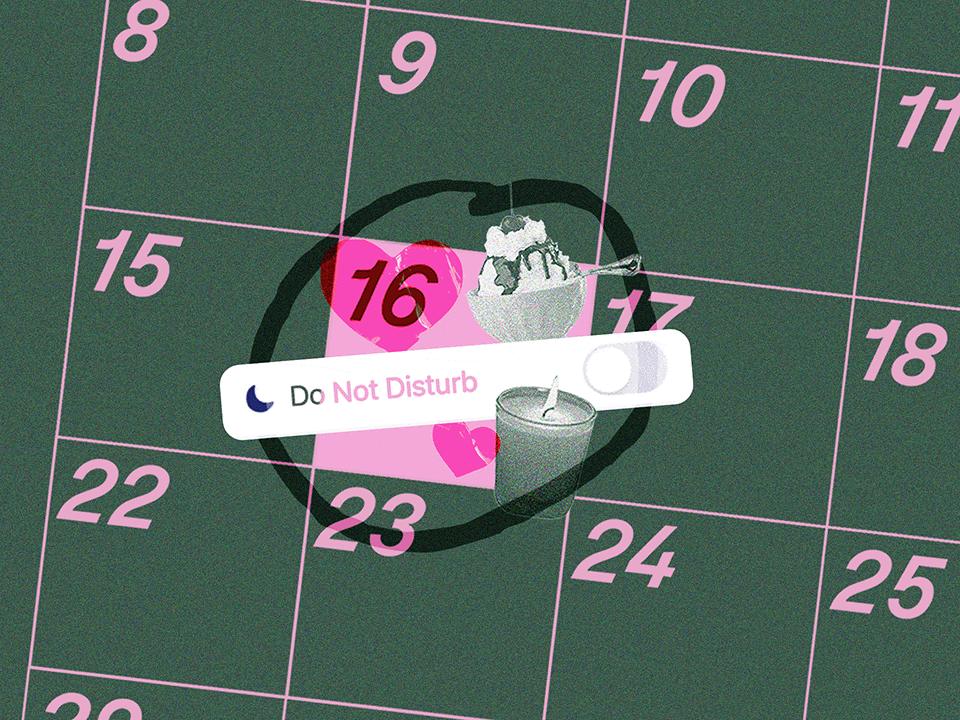 Shutterstock / Wondermind
In 2023, most of us are very on board with the idea of a mental health day—and if you're not, you might be the exact person who needs one the most. Deadlines, family stuff, social things, and health issues can leave any human in need of a break to recharge (read: avoid an emotional meltdown).
Obviously though, that's easier said than done. We all have some version of an unavoidable event or project coming up (even if that's re-learning Algebra II to help your kid with homework) that makes taking time off a challenge. And when you do find the perfect moment to chill out, your untouched life chores or work inbox pile up. It's enough to make you say, Well, let's never do that again.
With so many hurdles, it's understandable if mental health days take a back seat. But that's kind of exactly why we need them. "In a world that often pushes us to our limits, taking a moment for ourselves is a radical act of self-love," explains therapist Anastasia Locklin, LMFT. Mental health days give you time to process how you're really doing, check in with the people you care about, reduce stress levels, and set yourself up for success, she adds. For the unconvinced, just know that taking time now could mean avoiding burnout when it's less convenient in the future.
OK, assuming you're on board, there's also the issue of, "What does one do on a mental health day?" And maybe that's why you're here? The annoying but also kind of awesome answer is: There is no right way to do it. That said, you can tailor your activities to your current mental situation. Say you're totally cashed out, burnt to a crisp. In that case, giving yourself space to ask, What am I feeling?, let your guard down, and refill your cup can help you feel human again, Locklin suggests. You could try meditation, journaling, preparing a soul-nourishing meal (maybe some mac and cheese like your grandma used to make?), resting in bed, or hitting up a close friend.
If your mental health day goal is more burnout prevention than crisis management, you can also try more energizing activities, like checking out an art exhibit, conquering a hiking trail, or taking a virtual writing workshop. Honestly, whatever brings you joy (TV! Reading! Sitting on your porch!), do that, she adds.
If you're at a total loss, here are 37 ideas for your next mental health day (or afternoon, or hour, or whatever you can swing) from people who've been there. Enjoy the chill!
1. Do a life inventory.
"Notice what kind of media you're consuming and what kind of people you're surrounding yourself with. Ask yourself often if you're being exposed to people and things that are in line with your values and if your boundaries are being respected. If not, you're much more likely to experience burnout and compassion fatigue (for yourself and others)." —therapist Kylani St. Clair, LMHC
2. Find a recipe that takes eight hours.
"When I need to take some time for myself, I really love making a recipe that takes all day so I can have a distraction for a while and don't have to focus on anything else. Plus, it has a little reward at the end of it to make it all worthwhile." —Katie C., 25
3. Find a fun distraction.
"I like to keep my mental health breaks simple: I find a place where I can be alone and gather my thoughts. Then, I'll engage in a mindless activity, like checking social media or playing video games for a fun distraction." —Damon A., 37
4. Get a change of scenery.
"If I have a full day and the weather is nice, I love to take a long walk across the bridge from Manhattan to Brooklyn and wander around different neighborhoods. I'll also make time to read or write on my roof. If the weather is bad, I'm lighting a candle, curling up with my cat on the couch, and watching a few (read: severallll) episodes of anime." —Marilyn L., 29
5. Go to your happy place.
"My favorite mental health day routine includes working out, showering, listening to a few new songs, calling my best friend, and going to Disney for a few hours. I try my best not to check my emails on these days, however, it can be a challenge. I think the most important part for me is to make sure I'm doing something fun and enjoyable." —Casey C., 24
6. Take a mini mental health moment.
"I'm pretty prone to burnout, so whenever I do reach that point during the workday, I walk away from my computer and watch an episode of Broad City or Bob's Burgers before getting back to work. Those 30 minutes bring me so much joy every single time." —Grace G., 32
7. "Ground on the go."
"I used to wait until I had 'free time' to practice self-care. The truth is, unless I create the time, it doesn't happen. So, I need a way to practice grounding even when I am busy. As a therapist, I don't always have more than 15 minutes between sessions, so I had to get better at a practice I call 'grounding on the go.' This practice includes a range of things like deep breathing for a few minutes, taking off my shoes, stretching, centering my thoughts on gratitude and affirmations like, 'I am complete. I am grounded. I am ready for what comes next.' I also try journaling, eating a peppermint, diffusing essential oils, and more. These practices are small ways to re-center ourselves multiple times throughout the day. They help me stay connected to myself." —therapist and consultant Moe Ari Brown, LMFT
8. Check in on your goals.
"When I take a mental health day, I always go for a walk outside and listen to music. I also love planning and journaling. For me, these go hand in hand in helping me take care of my financial health, which benefits my mental health over the long term. I love to plan for future expenses and see how I'm doing with paying off my student debt and working toward my savings goals. I also journal to reflect on what I'm feeling in relation to my career, finances, friendships, and anything else I've been thinking about." —Cassidy R., 24
9. Let your emotions flow.
"First, I have a good cry over everything that had me overwhelmed. I definitely feel a lot better after I let everything out, and then I can move on to release the endorphins. I play catch with my kid, have a family wrestle, or start a tickle fight to get the fun times going." —Dana, 25
10. Take charge of the aux.
"I love to do yoga and aerial silks for exercise. Reading poetry books is also very calming and helps me reset. Another activity I like to do is go on night drives. It puts me in a calm mood. I'll usually take that time to listen to some of my favorite music, like alternative or R&B. Listening to artists like BANKS, Olivia Rodrigo, Arctic Monkeys, SZA, and Bryson Tiller helps me reset." —Lauryn J., 24
11. Focus on your needs.
"It's very common for many who have gone through traumatic or stressful life events to focus on meeting other people's needs at the cost of emotional and physical needs. They typically engage in this behavior out of guilt or desire to feel needed or useful and find their self-worth. I've learned that self-care also means you are no longer the 'yes person' who used to dim your own light to gain approval, acceptance, and validation and that you start living for yourself, not others.
You can learn to detach from other people's feelings, beliefs, and values so that you are not constantly enmeshed with the world around you. Detachment doesn't mean you don't care. It simply means you learn to love, care, and be involved with others without being a savior or trying to convince them to see and understand you." —therapist Sachiko Tate, LMSW
12. Set up the perfect spa day.
"During a mental health day off, I enjoy taking a bath while I watch a comfort show. I go all out with a bath bomb, bath salts, oils, bubble bars, dried flowers, and herbs. I put on a face and lip mask and make a margarita or some infused water. Then, I prop up my laptop to watch a show (usually something light, like a comedy). Lately, I've been watching Netflix's Heartstopper because it's cute. The rest of the day includes a walk and some delicious food, typically some form of Asian cuisine, and always something sweet." —Danielle B., 30
13. Reframe any guilt.
"Sometimes escaping to a new day sounds good enough, so I nap for most of it. This also helps me replenish my social battery. Writing (or, more accurately, scribbling) in my journal about any thought that makes me feel discomfort helps because of how visceral the feeling of relief is. To deal with guilt, my therapist suggested focusing on the opposing emotion, pride. Guilty for wasting a sunny afternoon? Nope, I'm proud I prioritized myself and what I needed." —Saia, 23
14. Write letters to your friends.
"Something I've found recently that calms me down is writing letters to my friends—even when we're texting almost daily. It's a great way to slow down and process what's happened over the span of a few weeks—almost like journaling, but you get to see how they're doing too, and it feels like a pen pal you talk to every day." —Katie C., 25
15. Don't look at the clock.
"I'm most relaxed when I don't have to follow a set schedule. A mental health day for me means the freedom to do whatever I want whenever I want and not be committed to being at a certain place at a certain time (the way I need to for work). Going to the beach, reading a good book, baking, and crafting (knitting, jewelry making, etc.) are all things that bring me joy and help me to relax." —Tomoko N., 49
16. Take a few deep breaths.
"Practice mindfulness. For a small break, start with deep breathing. Slowly and deeply inhale through your nose like you are smelling flowers, then exhale through our mouth like you are blowing out candles. You can also practice mindfulness and staying present when you eat, exercise, or talk with a loved one. —licensed psychologist Bryan O. Rojas-Araúz, PhD
17. Drink from your favorite cup.
"Personally, I like do-nothing days. I do whatever I want or nothing at all. But if I'm working, between clients I make a point to stretch, get up and walk around, and, ideally, go outside even for two minutes to get some fresh air. And never underestimate the power of using your favorite mug for a mini joy moment!" —therapist Xochilt Alamillo, LCSW
18. Catch up on content.
"I like to spend some time watching YouTube videos of my favorite K-pop group, ATEEZ. They release lots of video content, and I save them for my mental health day. This gives me something to look forward to and keeps me going. I also take an 'everything' shower and read a good book." —Anonymous
19. Definitely do not set an alarm.
"The first thing I do is wake up and get out of bed whenever I want. If I want to lay in bed for half the day, I'll do it. I also don't cook. I just order food and then spend the rest of the day playing music." —Anonymous
20. Put your social battery to good use.
"I work remotely and take care of my 5-month-old daughter during the week, so when I have time to unplug, that's exactly what I do. I'm getting my nails done and booking a pedicure, but even something as simple as walking around the mall is a detox for me. I'm following up on brunch and lunch outings with friends and spending time with family. I'm having my favorite food (burgers!). When I only have a few hours or even just an hour, I'm catching up on a favorite TV show or napping, especially when the little one is sleeping too." —Alexia M., 33
21. Two words: blanket fort.
"I build a blanket fort in my closet, which has been deemed 'the Cozy Zone' where I can play games or watch comfort shows. I also like to draw while listening to music that fits my mood. I try to not take on activities that take too much mental energy or that contribute to me needing a mental health day in the first place." —Kelsey B., 27
22. Connect with your faith.
"In the past, it was extremely difficult to cater to my mental health because it felt like a chore. I was constantly surrounded by death and trauma growing up, and between being a full-time student-athlete and working, I just felt depleted. It seemed like no matter how much I tried to 'just breathe,' the chaos was still there.
I later realized that you can't have a healthy mind without a healthy soul. My soul was tarnished and broken for most of my life, but after I accepted my reality for what it was and worked on building my spirituality, my mental health followed.
There's one prayer that always gets me through tough times and grounds me: 'God, thank you. When life seems like too much, you are there to help me face another day. Remind me to put you first and depend on you more and less on my abilities and strength. I want to remember you each day and be excited by all that you are doing in my life even when it's difficult to see.' Feed yourself, and you'll be able to feed the world." —Naeve D., 22
23. Give thanks.
"Gratitude is a tool we often forget to engage with, but simply slowing down and noting the things we are grateful for can improve our outlook on life. We can do this by keeping a gratitude journal, approaching each interaction with gratitude, or telling our loved ones what we appreciate about them." —licensed psychologist Bryan O. Rojas-Araúz, PhD
24. Lean on your family.
"When I'm having a hard time, I like to read my favorite comic, maybe stay at my parents' house, and hug my dogs." —Belen G., 28
25. Treat yourself.
"My perfect mental health day includes a deep tissue massage—they're so good for relieving all the physical tension that comes with having depression. I also love to watch old TV shows for familiarity and comfort. Shows like Parks & Recreation, Shrill, or the Australian sitcom Kath & Kim always do the trick. Lastly, I put on some rock music and go for a walk to get coffee and some kind of weird and wonderful cake." —Polly A., 34
26. Take advantage of work breaks.
"I'm currently a limited permit therapist who works at a residential eating disorder clinic and sees 20 clients a week in a private practice. Sometimes my only break exists when I'm in my car heading from one practice to another. I savor that hour by listening to a non-mental-health-related podcast, one that is purely just for laughs. It allows any heaviness I carried from one job to dissipate before I'm ready to go again!" —Brianna Paruolo, MHC-LP, MSED
27. Plan amazing solo dates.
"Lately, I've been taking myself out on a date to a little cafe and eating and drinking something delicious free of distraction." —Lindsay A., 38
28. Celebrate your culture.
"La cultura cura: Culture heals, and being around community, food, and traditions (whether they are ours or others') can have an incredibly positive impact on our mental health because, as people, we are wired for connection. In a growing multicultural world, we have many opportunities to celebrate where we come from while also celebrating the beauty and diversity that exist all around us." —licensed psychologist Bryan O. Rojas-Araúz, PhD
29. Make a mini self-care guide.
"Caring for your mental health is not just reactive; there needs to be equal care given to prevention and maintenance. Keep a journal or use an app to list the kinds of things that you enjoy, what soothes your inner child(ren), your favorite nutritious foods that are easily accessible, etc. Add to this list over time so that you can rely on it when you're too overwhelmed to make decisions or need some guidance from a more regulated version of you." —Kylani St. Clair, LMHC
30. Make progress on your adventure list.
"I love spending the day by myself and going to a restaurant I've always wanted to try. I also avoid emails and work messages at all costs!" —Alyssa L., 33
31. Think about what you want to gain from your breaks.
"I love balancing lots of different types of self-care, like scheduling a full spa day, editing my closet, or making myself a nice meal at home. My goal is to always focus on self-care that restores my energy, offers me more mental and emotional clarity, or acts as a form of soothing and grounding. Keeping my self-care goals clear helps me be more effective in choosing what will meet my needs in a particular moment." —therapist Meghan Watson, RP
32. Listen to your body and find little ways to spark joy.
"I have severe PTSD, and when I'm able to take a mental health day, I declutter my room in the morning, take a shower, and prepare my favorite latte in my most beautiful mug. I'm not working at all on this special day, and I fight feeling guilty for doing absolutely nothing! I also listen and sing along to some positive music, draw, or write something. If my body allows me to do some yoga, then it really becomes a perfect day. Finally, I also take a little time to scroll through positive affirmations and posts of cute dogs." —Rajaa E., 33
33. Take care of your space.
"This might sound odd, but I LOVE to clean on my self-care days. It is something mindless that makes me feel really good. I'm also an introvert and homebody, so having a nice clean home to relax in is a great feeling." —Jillian S., 29
34. Find ways to laugh.
"Often I am too ill to leave my house, so I escape into comedy. Laughter releases my mental health demons in a different way, and I am grateful for every minute of it. Solitude can, at times, be the salve my mind has been craving. It has a way of reminding my weary brain that I am enough." —Ash J., 40
35. I open up to Krishna.
"I sit in front of Krishna (I'm Indian and Hindu), and I talk to him about all the things I'm grateful for and anything that's causing emotional pain or trauma. I cry, but also realize that no matter what, I always have myself and Krishna." —Khushi S., 18
36. I avoid emotional traffic jams.
"I prioritize mindful two-minute check-ins at least twice a day to honestly answer how I'm doing. This habit helps me live authentically and avoid heavy feelings piling up. On the weekends, I take care of my mind by spending at least 30 minutes with nothing planned. As a therapist, mother, and busy human, I have found that this time of just being has been so helpful in managing overwhelm." —therapist Tania Molinar Castillo, LCSW
37. I pitch in.
"It's simple, but I hangout and watch a movie with my friends who've just had a kid; helping them by cooking makes me feel good and gets me out of my own head. Other days, I'll also make a simple meal, find a series to rewatch, put on new bed sheets, take an 'everything' shower, and get in bed with my food and TV show. Overall, I try to listen to my gut, because I usually know what I need." —Imre V. T., 24
Quotes have been edited and condensed for length and clarity.
Wondermind does not provide medical advice, diagnosis, or treatment. Any information published on this website or by this brand is not intended as a replacement for medical advice. Always consult a qualified health or mental health professional with any questions or concerns about your mental health.