Pro Tips
09.01.23
11 Podcast Episodes That Feel Like Therapy
…According to a therapist.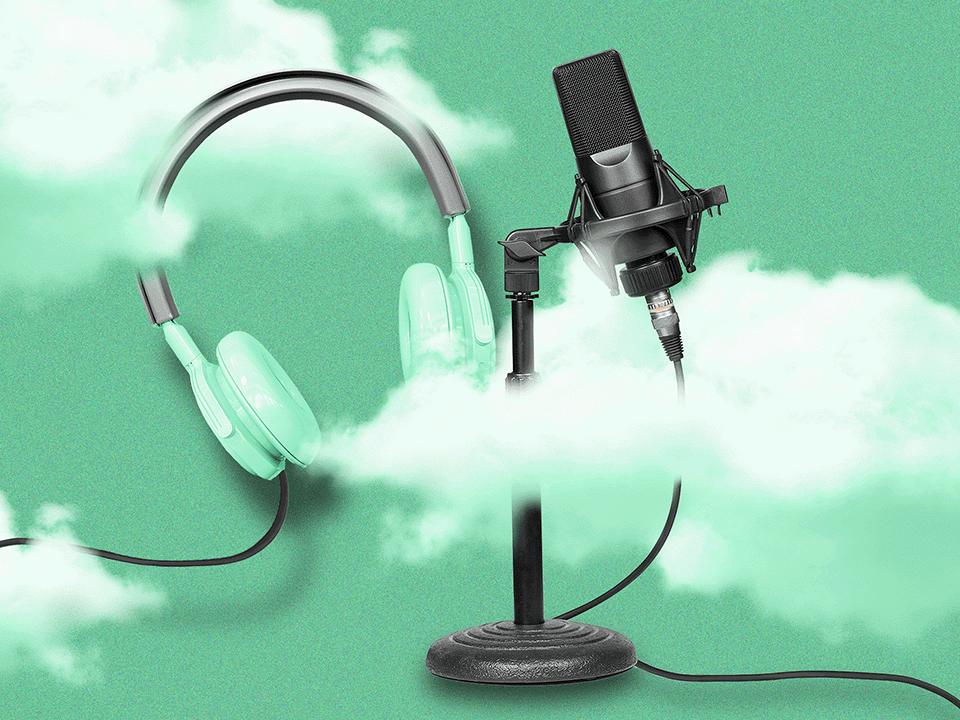 Shutterstock / Wondermind
If you've ever been so into a podcast episode that you stayed in your car for an awkwardly long time after pulling into the garage, you get it. The same goes if you listened to an episode and had to text your friends about all the things you just learned or that made you cackle. You are my people. In my humble opinion as a licensed clinical social worker, big fan of therapy, and host of the podcast The Grit Show, the best mental health podcast episodes feel intimate and personal in a way other mediums can't replicate.
A good podcast makes you feel like the host is sitting right next to you, chatting through a thing you totally relate to. And while, no, a podcast (even one hosted by a therapist) is not a substitute for working with a mental health professional one-on-one, podcasts give us access to insights that can feel therapeutic. They can serve as an opportunity to connect with thought leaders and therapists who provide education, motivation, and perspective.
A podcast can also be a source of psychoeducation, a tool used widely by clinicians and therapists to help their clients learn more about a diagnosis, symptoms, or why things are the way they are. As someone who struggled to get an adult ADHD diagnosis, the Being Well episode on ADHD 2.0 with Dr. John Ratey helped me understand my previously puzzling behaviors and normalized my experience.
If you're looking for info on topics you might not be ready to discuss with anyone except a therapist, mental health podcasts might help you find (virtual) community with those facing similar experiences and challenges as you. You can also search for hosts and shows that resonate with your experience, culture, and beliefs.
Whatever you're here for, doing a little background sleuthing on the source of the podcasts' tips and insight can ensure the info you're gathering is legit. For example, if you're looking to learn more about a mental health topic or get advice that you can use right away, podcasts featuring licensed mental health professionals are a solid bet.
To make your life easier, I went ahead and found a bunch of great podcasts and specific episodes featuring mental health pros that feel like therapy to me. Take what resonates and leave the rest!
On The Mel Robbins Podcast, best-selling author and TEDx speaker, Mel Robbins shares relatable stories and advice on how to make changes and get motivated. A lot of her content focuses on her experiences hitting what she calls "rock bottom" while struggling with anxiety and undiagnosed ADHD.
With the help of clinical psychologist Becky Kennedy, PhD, co-founder of the parenting platform Good Inside, this episode tackles triggers and parenting. Whether you have kids or not, you'll learn how triggers form and ways to keep them from turning you into a reactive mess when things go wrong. Robbins also talks about how her daughter's anxiety triggers hers (fun!) and Dr. Kennedy explains how you can pinpoint your own triggers and find new ways to respond. 
Two normal dudes with a podcast set out to improve their mental health, and that's the premise of The Fit Mess: A Men's Mental Health Podcast, hosted by Jeremy Grater and Zach Tucker. Over the last few years, they've covered everything from grief and the benefits of crying it out to the benefits of complaining.
In this 34-minute show, the guys chat with psychiatrist Jud Brewer, MD, PhD, a neuroscientist currently serving as the director of research and innovation at Brown University's Mindfulness Center. Dr. Brewer explains how cycles of worry or fear can become a habit and how you can break it. Tune in and 35 minutes from now you'll know how to interrupt that highly annoying cycle.
Nuances: Beyond first impressions with the Asian diaspora is a podcast about being a part of the Asian community. And while that might not seem like a mental health-focused show, the host musician LAZOU and her guests go deep with convos around the AAPI experience, the psychological impact of racism, and self-love. 
In this episode, psychotherapist Rita Phetmixay, LCSW, who's also the host of her own podcast Healing Out Lao'd discusses the challenges of finding a therapist that understands cultural differences, like her parents' lack of boundaries. While Western cultures have become increasingly accepting of putting barriers in place, Phetmixay explains the importance of respecting the family's role in Asian cultures while helping clients set boundaries. Honestly, that's just the tip of the iceberg, but if you're part of the AAPI community, a mental health pro, or just someone really interested in getting boundaries right, this episode is worth the next hour of your life.
On this podcast, psychologist Joy Harden Bradford, PhD, founder of Therapy for Black Girls and host of this podcast with the same name shares her tips and interviews other experts for insight on how you can make small changes to improve your mental health and maybe even your life (yep, it's that good).
If you've felt like you're faking it but never making it, this conversation between Dr. Bradford and psychologist and author Lisa Orbé-Austin, PhD, is for you. You'll learn what imposter syndrome really means, why you might be making it worse for yourself, and how perfectionism isn't a thing to humblebrag about. You'll also get smart ways to recognize the root of your imposter syndrome, so you can shut it down.
Wondermind's podcast Baggage Drop is a series of short episodes (as in 10 minutes or less) that work together to help you set goals, find motivation, and overcome obstacles. You'll get clear guidance from licensed mental health experts and hear how this advice is helping other listeners. In this episode, clinical psychologist Nina Polyné, PsyD, shares how finding self-compassion can help you tackle any hurdles that get in the way of your goals. For best results, start with the first episode!
Town Hall: A Black Queer Podcast with Bob the Drag Queen & Peppermint is a podcast about living at the intersection of a Black and LGBTQ+ identity. If you identify as either (or both!), listening to the former RuPaul's Drag Race stars share their lived experiences will make you feel seen and also probably laugh really hard. Though the podcast isn't all about mental health, the hosts' and guests' storytelling might feel a bit like the support group you never knew you needed.
For example, in this episode, Bob the Drag Queen and Peppermint hear from three guests about their mental health challenges, like ADHD, suicidal ideation, and depression. You'll learn about how these folks manage their symptoms and hear tips from therapist Jessica Fleming, LPC, if you're experiencing the same things. Fleming talks about how valuable it is to tell your story, like these listeners just did, and shares how to find the language to express your identity to people who don't quite get it yet. Like I said, it's the support group you didn't know you needed.
The Grit Show, hosted by yours truly, is meant for anyone who's overcome a lot, goes above and beyond to take care of others, and often forgets to do the same for themselves. That's why every episode has actionable takeaways you can use to improve your life in small ways immediately.
In this episode, I spoke to therapist and social worker Will Halpin, LICSW, about Internal Family Systems (IFS), a therapeutic modality that encourages you to accept all parts of yourself, even the ones you might not like so much. Halpin explains what this kind of therapy is like and how thinking of yourself in parts can help you cope and become your best self.
On Good Inside with Dr. Becky, clinical psychologist Becky Kennedy, PhD, offers parents straightforward information on helping your kids become good people without using the reward and punishment style of parenting most of us were raised with. From talking to kids about hard things to handling back-to-school anxiety, Dr. Becky tackles the issues so many of us feel clueless about.
This one features psychologist Kristen Neff, PhD, an associate professor of educational psychology at the University of Texas at Austin who studies self-compassion. Dr. Neff talks about the awkward moment when she went off in front of other parents at the zoo and explains what she learned from that experience. Plus, she dives into the ways self-compassion enables you to raise really cool (and emotionally regulated) kids.
On Being Well with Forrest Hanson and Dr. Rick Hanson, Forrest Hanson and his dad clinical psychologist Rick Hanson, PhD, chat with mental health pros and other experts about things like self-esteem, relationships, and motivation. It's got everything!
This episode featuring clinical psychologist Sue Johnson, Ed.D., founder of Emotionally Focused Therapy (EFT), digs into navigating conflict with your partner. Johnson explains how her couples therapy modality tackles unhelpful patterns of communicating by targeting the patterns and interactions (see: conflict), rather than the people involved. But even if your relationship is basically perfect, you'll also pick up ways to get closer with your partner through conversation, something I think we could all benefit from, amirite?
Trauma has become a bit of a buzzword as more people (or all of TikTok) become more acquainted with therapy speak. But it's also a concept that's hard to understand and maybe even embarrassing to admit you're struggling with. The Healing Trauma Podcast, hosted by trauma recovery coach Monique Koven, breaks down things like complex PTSD (something Koven was diagnosed with), dissociation, and intergenerational trauma. So you'll end each episode feeling more knowledgeable and maybe less alone.
In this episode, Koven speaks with clinical psychologist Lindsay C. Gibson, PsyD, author of Adult Children of Emotionally Immature Parents, about the psychological impact of growing up with parents who weren't capable of empathizing with their kids. If you ever felt like something was off in your family dynamic but couldn't really name it, this episode might be just what you need to get a better understanding. You'll learn more about what's outside your control (like your parents' emotions) and how you can be the parent you needed then right now.
In her podcast Take Out Therapy, therapist Rebecca Hunter, MSW, breaks down common problems and how to solve them in 20-minute episodes. Dealing with failure, moving on from relationships that aren't working, and how to relax without calling yourself lazy, Hunter's content will make you feel seen. In this episode about ~setting boundaries~ she explains how you can set them with yourself (your screen time report will thank me later), friends who don't make you feel good, and other parts of your life that aren't working right now. Look at you living an emotionally sustainable life!
Wondermind does not provide medical advice, diagnosis, or treatment. Any information published on this website or by this brand is not intended as a replacement for medical advice. Always consult a qualified health or mental health professional with any questions or concerns about your mental health.