Pro Tips
10.27.23
How to Self-Soothe When Everything Is a Lot
You might not be able to change things, but you can feel a little bit better.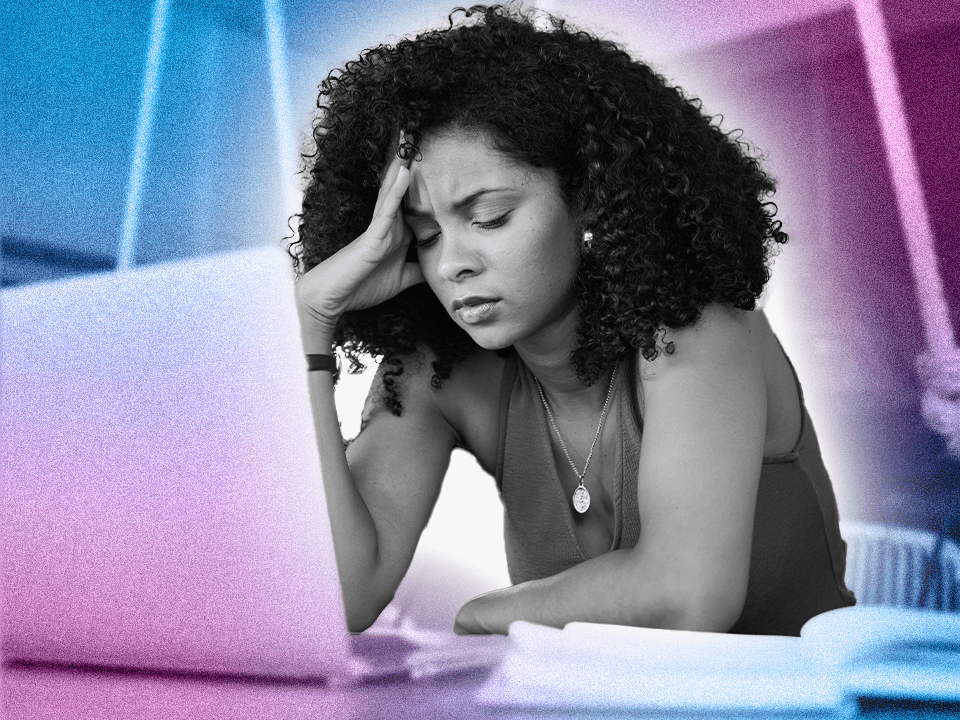 Shutterstock / Wondermind
Sometimes things are just objectively awful. When faced with horrible tragedies and disheartening situations, even the tried-and-true mental health advice (talk to a therapist, check in on your people, get enough sleep, etc.) can feel unhelpful or unrealistic. Maybe you're going through the motions and getting through the day (which is a huge accomplishment!), but when it comes to regulating your emotions, you're really struggling.
In times like these, a little self-soothing can go a long way. "Self-soothing is anything that we do to help regulate our emotional state that we don't need anyone else for," says licensed psychologist Rachel Goldman, PhD, clinical assistant professor of psychiatry at NYU Grossman School of Medicine. It's a specific type of coping skill that you can do pretty much whenever and wherever. And while it may not turn a situation around, it can help keep you grounded and emotionally stable in turbulent times.
So what counts as self-soothing?
We all learn to self-soothe when we're very young—like, fresh out of the womb, basically. A classic example: a baby sucking their thumb. As an adult, you may not consciously know that you're self-soothing when you do it because a lot of these behaviors are subconscious, says clinical psychologist Marilisa Morea, PsyD, owner and director of Monarch Therapy and Wellness Center in Thornhill, Ontario.
On that note, it's probably the right time to mention that some self-soothing behaviors can be maladaptive (see: unhealthy coping mechanisms that aren't exactly helpful and productive), Dr. Morea adds, like tugging on your hair, picking your nails, or numbing out with drugs or alcohol. So you want to be aware if your soothing habits have any negative consequences or turn into compulsions.
But otherwise, self-soothing is generally really great for keeping our internal thermostats in check. "It's important to remember that there is not one best type of self-soothing technique," Dr. Goldman says. For instance, some people might calm down when they try a breathing exercise or repeat a specific affirmation while others might just get even more frustrated by those tactics. Find what works for you.
If you're not sure where to start, here are a few expert-backed self-soothing techniques to try the next time you're feeling especially anxious, scared, overwhelmed, or hopeless (or all of the above).
1. Make breathing more of a thing.
"A breathing exercise is one of my go-to recommendations because it immediately slows our breathing down and works on the physiological level," Dr. Goldman says. Any kind of deep, focused breathing works, but here are a few to try:
Diaphragmatic breathing (belly breathing): Focus on the stomach (rather than the chest) moving up and down with each breath. Hot tip: Place a hand on your stomach and your chest to make sure that you're really engaging your diaphragm.
5-finger breathing: Trace the fingers of one hand with the other hand, inhaling in as you trace up and exhaling as you trace down.
Box breathing: Breathe in for four seconds, hold for four seconds, exhale for four seconds, and hold for four seconds.
4-7-8 breathing: Inhale for four seconds, hold for seven seconds, exhale for eight seconds.
The goal is to repeat any of these intentional breathing patterns as many times as you need to slow down your breathing and your heart rate, which in turn can help calm your nerves.
2. Give yourself a walking mission.
Going for a walk is a great way to release nervous energy, Dr. Morea notes, but adding some mindfulness into it can help pull you away from your negative emotions and into the calming present. "As you walk, count how many red cars you see, or count trees and describe what they look like to you—how many leaves you think they have, or what shade of green it is," Dr. Morea says. You can even count how many good dogs you see on the walk. The point is just to focus your attention while you're also getting a little movement and fresh air.
3. Fidget away.
Fidget spinners became an overnight phenomenon for a reason: They give you something to focus on and something to do with your hands when you're teeming with nervous energy. And you don't need a special device to benefit: A piece of jewelry or clothing that you can play with can also do the trick, Dr. Morea says.
4. Literally chill.
It may seem like the opposite of soothing, but hear us out. A lot of people describe cold plunges as really soothing. That's because it essentially shocks your system, Dr. Morea explains. "It literally slows down blood flow, which helps calm down breathing," she says. It can also provide some welcome distraction because it's kind of hard to focus on your anxious thoughts when your face or body is submerged in freezing cold water. Not really somewhere you can take a quick dunk? Sucking on an ice cube or rubbing one on your pressure points can have a similar effect, she adds.
5. Think about someone who makes you feel safe.
"When we're feeling scared, what we want to do is create a sense of safety," Dr. Morea says. Even if you can't physically be with or talk to your emotional support person (or animal), try focusing your thoughts on them for a little while, suggest Dr. Morea. That might look like scrolling through photos of your cat, rereading a particularly sweet email from your dad, or journaling about how safe someone in your life makes you feel.
6. Go full blanket burrito mode.
When there's no one there to hug you, do the next best thing: Wrap yourself up in a big, warm blanket. Hot tip: Toss that baby in the dryer first, Dr. Morea recommends. Lying on a fluffy pillow or putting on a big, luxurious-feeling sweater can do the trick, too. It's all about using your sense of touch to feel calm and grounded.
7. Get a little dose of nostalgia.
Another way to feel safe and calm amidst the chaos is to do something nostalgic that brings up happier (or even just less stressful) memories. Cue up your playlist from high school or that trip you had a blast on. Or put on your comfort show from growing up, even if it's just background noise, Dr. Morea suggests. Hearing a familiar sound that sparks positive memories can have a real impact on your emotional state.
8. Smell all the good smells.
Scent is another great self-soothing technique, Dr. Goldman says. "Oftentimes when we are in a heightened emotional state we need to reground ourselves, and using our senses can help us come back to the present moment." So light your favorite candle for stress relief. You can also try some aromatherapy for mental health (lavender tends to be calming while peppermint can help with focus). Or you can even make your own feel-good scents by baking. Some people find the actual activity soothing in itself, while others may just benefit from the sweet, sweet smell of cookies or a loaf of bread wafting throughout their home, Dr. Morea says.
9. Move in whatever way feels good to you.
"When we are feeling low, we want to counteract that with behavioral activation," Dr. Morea says. This can really help get you out of a low point, but it doesn't need to be a whole sweaty thing. Stretching, yoga, and self-massage are all great options for getting some movement into your body and brain—without adding another (potentially overwhelming) thing to your to-do list. That said, if lifting heavy weights or taking a 45-minute workout class are self-soothing to you, go ahead and pencil that into your day.
10. Do something mindless.
If you're feeling overwhelmed and stuck, it can be impossible to know how to start moving forward. Dr. Morea suggests doing something mindless and repetitive, whether it's a to-do item like folding laundry or something you enjoy like crocheting or doing a puzzle. "It's something that you don't need to think about but can help you release energy in that moment," Dr. Morea says. Plus, just the simple act of doing something when you're otherwise feeling powerless can sometimes take the edge off your anxiety.
11. Name something (anything) that's going right in your life.
Even when there's a lot to be mad or sad about, there's always at least one thing to be grateful for. Focus on that, Dr. Morea recommends. Do you have a roof over your head? Do you have a warm bed to sleep in? Do you have dinner on the table? Do you have a partner who loves and supports you? You don't have to love everything that's going on in your life or the world around you to recognize the bits and pieces of good that do exist.
Wondermind does not provide medical advice, diagnosis, or treatment. Any information published on this website or by this brand is not intended as a replacement for medical advice. Always consult a qualified health or mental health professional with any questions or concerns about your mental health.