Stories
09.15.23
16 Latinx People on How They Take Care of Their Mental Health
"I started to care less about what anyone thinks."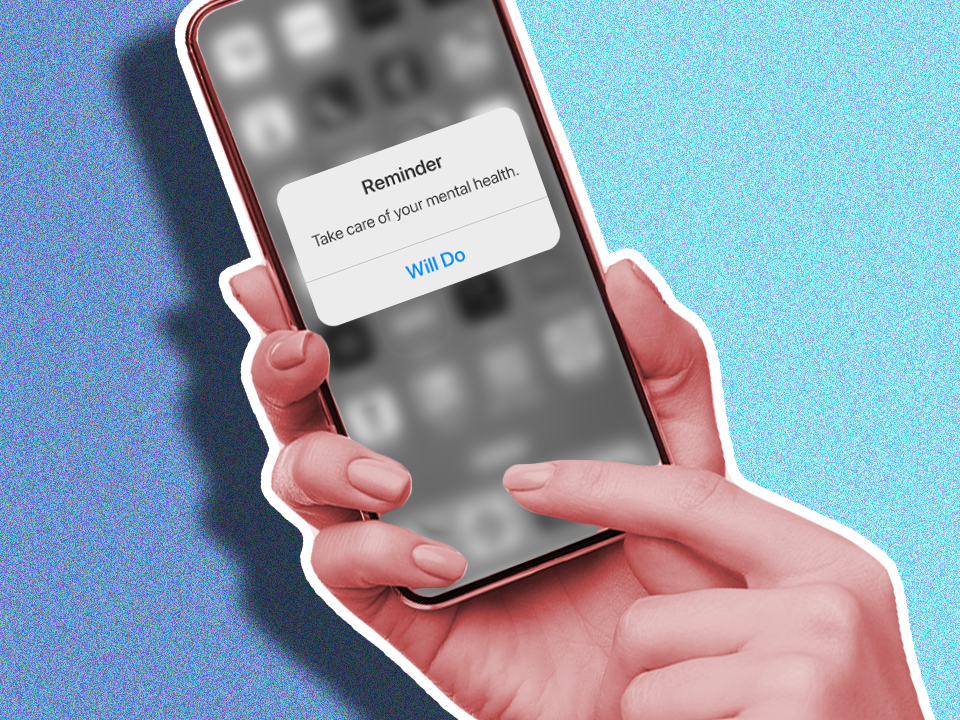 Shutterstock / Wondermind
The Latinx community has never been a monolith, yet many of our cultures share similar customs and beliefs that have carried on throughout generations. While there's so much to be proud of and celebrate, one not-so-great tradition is discounting people who have mental health conditions. "[Some people] fear that if you get diagnosed with a mental health condition, you are going to be labeled as 'crazy,'" says Venezuelan psychiatrist Juan Romero-Gaddi, MD.
The reason that can feel so scary is that once you've been labeled, you might get the sense that the stigma will never go away. Oh, and there's also the worry that a mental health condition could bring shame or embarrassment to your friends and family, adds Dr. Romero-Gaddi. Yeah, that's a lot of pressure to keep your struggles to yourself.
While those are legitimate concerns, the solution to de-stigmatizing mental health is the exact thing many in our community are scared to do. "If we talk about it with others, we can decrease that barrier," explains Dr. Romero-Gaddi. That's why many Latinx people, especially younger generations, are doing what they can to be more open about their mental health journeys and educate others.
With that in mind, we asked Latinx people to share their best advice for the community when it comes to prioritizing their mental health. Who knows, their super relatable stories below might just inspire you to strike up a convo about mental health with someone you love.
1. Prioritize your needs.
"At this point in my life taking care of my mental health means prioritizing my needs above all else. Whether it's more sleep or cleaning out my drawers instead of doing something for somebody else. I can't perform in any area of my life if I let my mental health slowly decline.
It's been extremely challenging, but I have found that sticking to my routine and avoiding stepping outside of my regimen really helps me reduce stress and keep my mental health balanced. I also make sure I am always doing at least one positive thing for myself daily.
I think it's important to remember that not every day can be a win. Even on those really dark days, you can still find one nice thing to do for yourself, and those actions carry a compound interest. The next bad day will be slightly less bad. Hang in there and remember that you are not your thoughts. You can let a thought visit, let it go, and move on." —Gabriela Trujillo, founder and CEO of Alamar Cosmetics
2. Listen to yourself, not others.
"There are a couple of ways I take care of my mental health, but the most important one for me is going to therapy. I think when I was younger, I wouldn't be so open about going to therapy, taking prescribed medication, or even admitting I was battling depression because I had that fear of being perceived as 'weaker' or 'crazy.' As I got older, I started to care less about what anyone thinks; I'm just living in my truth." —Brenda B., 29
3. Do what you love.
"For me, taking care of my mental health means doing activities that I find meaningful and enjoyable, making sure to get enough sleep, and embracing solitude. I meditate daily. I try my best to set goals and priorities. I also practice gratitude and focus on positivity. But, most importantly, I've been working on being more present and staying connected." —Esmeralda Baez, author of Reset and Reboot: Regaining Mindfulness
4. Say yes to yourself.
"Taking care of my mental health means prioritizing my peace of mind and my values to feel proud of who I am. Also, going to therapy for me was life-changing. It helped me understand who I am and why some things were happening to me. I learned to hear my inner voice and to know when to take a moment for a deep breath when I needed it.
I just turned 30 this year, and I learned to let myself cry whenever I need to. I always felt growing up that crying was a sign of weakness, and now I understand how powerful it is to let your feelings out and feel each emotion. I find so much healing in that." —Ydelays Rodriguez, founder and CEO of Golden Dream Beauty
5. Learn to set boundaries.
"Prioritizing my mental health has been a difficult but impactful journey. One of the hardest steps was to remove people that harmed my mental health, including my family. With time, I have realized that in order for me to feel at peace I need to feel respected and validated. I have also begun taking care of my body and being more active to give my mind clarity.
I'm really proud to have co-created a company with my wife where we are able to celebrate and talk about all aspects of our lives, including mental health. It's important to be open and talk about our feelings to normalize these life experiences." —Veronica Vasquez, COO and Co-Founder of Shop JZD
6. Find a good work-life balance.
"Taking care of my mental health means being able to care for and prioritize my mind, spirit, and emotional well-being. I have a demanding lifestyle, so being able to balance myself out with various activities that relieve stress is important for me." —Rebecca Alvarez Story, Sexologist and Founder of Bloomi
7. Embrace gratitude.
"I have come to the conclusion that absolutely no other entity on this planet can make me happy except the person I look at every morning in the mirror. When I wake up, I get on my knees to pray and meditate for 15 to 20 minutes. This gets me in the right mental state to understand how grateful I am to be where I am in life and for the chance to be the best version of myself." —Jose Daniel S., 30
8. Carve out time for self-care.
"Taking care of my mental health is one of the highest acts of self-love. I schedule it out as I do for everything else. Sometimes, for me, there are days where mental health is just craving a bit of numbing and escapism, not thinking about being productive and just eating popcorn while watching Sex And The City for the 11th time." —Letón Pé, musician
9. Slow down.
"I grew up in a Mexican household where I was instructed to always work hard, even on days off. I tied my self-worth to productivity. I thought I had to overwork and put myself last, which led to burnout. It wasn't until I became a mom that I truly had to unlearn all of this. I take care of my mental health by putting myself first, communicating my needs, and setting boundaries. However, I do find that having a long morning routine, where I read my newspaper on the porch before work, truly helps." —Maria A.
10. Be intentional.
"Caring for my mental health isn't easy, but I have been fortunate to see a therapist who has helped me understand myself, my wounds, and how to manage some of what I am holding. I count on love and support from my family and friends, I take walks, I pray, I meditate, and I take deep breaths when I need help getting centered. Caring for my mental health is still a work in progress, but it's something I'm continuously learning to be more intentional about." —Mónica Ramírez, Founder and President of Justice for Migrant Women, co-founder of The Latinx House
11. Ask for help.
"I've always been a high-functioning anxious person with the ability to compartmentalize, but the effect of the pandemic on me as an entrepreneur had me in long-term fight or flight mode. I've always used exercise as a way to manage my anxiety with group fitness or running, but with time, the anxiety got a bit more intense. Then, I signed up for virtual therapy, and I've been working with the same therapist for over two years. When my anxiety evolved into depression and my thoughts became dark and obsessive, I realized it was time for medication. It was a decision I didn't take lightly. I decided it was time to add medication into my routine as an additional tool to give me the quality of life I deserved." —Lissette M. Rios, founder of Chic Influence
12. Look inward.
"A few years back I would have said that taking care of my mental health was looking inward and being OK with myself. But everything changed after becoming a mom. Now it meant looking inward, enlisting the help of a therapist to process my emotions, and then figuring out how to let go. As a type A, first-gen Latine daughter, it took a long time to internally examine and then let go. [It also] means having a more positive relationship with myself, being in a state of equilibrium, and—as a Pisces—my metaphorical little fishies swimming in sync." —Linda Dianne, Co-Founder of Diversify Social Media
13. Express yourself.
"Taking care of my mental health involves a commitment to being present with my own needs, conducting regular check-ins with myself, and maintaining boundaries. This practice requires creating a thoughtful space for my thoughts and emotions, especially when my inner self seeks a creative outlet. While embracing this approach is sometimes challenging within a collective culture, I've come to understand that it's a crucial first step. This enables me to truly listen to my body, instincts, and intuitions, which helps me identify and address my needs effectively." —Delsy Sandoval, LMFT and Producer of Ocu-Pasión Podcast
14. Embrace therapy.
"When I first started seeing a psychologist I kept it a secret from most of my friends and family because I was afraid of what they would think. … Now, after 10 years, I love talking about how my therapist has guided me to make choices to attract the life I want. But it's only because I've trained myself to pay no mind to what others think. … Now that I'm a mama, I see how my mental health affects my babies and their moods too. My kids deserve to be coached through this world by a woman who is discovering the best version of herself." —Heidi Rojas, artist and songwriter
15. Be your own advocate.
"I've given myself permission to not answer the phone or respond to a text from someone who makes me feel bad. Letting go of people you care about but aren't able to return that care in a healthy way is hard but not impossible. This might take more than a few tries, but it's part of advocating for your own boundaries and being mindful of your own mental health." —Margo Candela, author of Underneath It All and The Neapolitan Sisters
16. Carve out time for yourself.
"I've been doing Transcendental Meditation for five years and see a therapist regularly. As a new mom who works, it has been a challenge to find ways to get some time for myself. However, with time, I realized I must prioritize myself, even if it's only five minutes, to quiet my mind, love, and take care of myself. This gives me the power to show up and ensure that I'm present and able to look after my family, friends, and community. If I didn't have the ability to prioritize my needs, I couldn't show up for my community and my family. We have a responsibility to care for ourselves, even when it gets hard." —Olga Segura, co-founder of The Latinx House
Wondermind does not provide medical advice, diagnosis, or treatment. Any information published on this website or by this brand is not intended as a replacement for medical advice. Always consult a qualified health or mental health professional with any questions or concerns about your mental health.